Archive for February 2012 | Monthly archive page
In addition to smoking cigarettes and making toast in the bathtub, you may now put paraffin candles on your "to avoid" list.  Lighting one of these wax candles can release toxins such as toluene and benzene into the atmosphere.  Far from the relaxing or romantic gesture that these flammable favorites are intended to represent, paraffin could in fact cause cancer, dizziness or asthma if used on a regular basis.  In 2009, researchers presented their findings to the annual American Chemical Society's meeting in Washington, and identified paraffin candles as a previously unrecognized source of indoor air pollution.  The National Candle Association maintains that paraffin is not toxic as it is approved by the FDA, but those with allergies, asthma, chemical sensitivities, or other concerns about the use of petroleum products would do best to purchase beeswax or soy candles.
Soy candles made from hydrogenated soybean oil, and beeswax produced by the bodies of the humble insect, are clean-burning, last longer than paraffin, are environmentally friendly, and do not drip or leave sooty deposits.  Beeswax in particular produces negative ions, which have been shown to increase the production of serotonin in the brain and elevate mood.  As a business that is concerned with the health of the human animal and the spaces they inhabit, Bambu Batu carries a only soy and beeswax candles, including scented and unscented lines from Big Dipper Wax Works, VegePure and Sparx.
Now that you have been enlightened and want to get rid of those old paraffin offenders, there are a few resources that may help you to dispose of them with the minimum of environmental impact.  "Take-back" programs such as the Western Lake Superior Sanitary District in Duluth, MN  or ecycler.com accepts old paraffin candles or crayons via the post and recycles them into campfire starters or new drawing tools.  Earth911 is an excellent site that allows you to find the appropriate resting place for just about anything, or if you are feeling crafty, you can even make your own ski wax with old candles.
Lighten your load and get rid of the old oil-based tea lights and tapers for something a little more natural!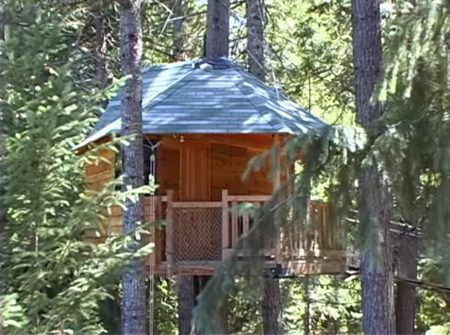 Star Wars fans, tree huggers, and perpetual children rejoice, an Oregon man living in Cave Junction has done what many of us have long dreamed of doing.  Michael Garnier has built what might possibly be the largest concentration of treehouses in the world.  Dubbed the "Ewok Village", the collection of houses complement the state's "tree-mendous" and "tree-riffic" forests.
After leaving the Army from his post as a Green Beret medic, Garnier decided that he wanted to make a living off of the scenery without having to cut it down in the process.   He loved to work with wood, and began crafting picture propellers that use the eye's natural responses towards the rapid shift between light and shadow to produce what he refers to as an "organic, psychedelic kaleidoscope".  After trying his hand at constructing fences, pole barns, and furniture, Garnier found that renting his treehouses as vacation lodgings allowed him an income and a way to give people a new perspective on how to use the land. He also sells the parts and plans of his own invention for those who wish to construct their own mansion in the branches.
Designed to work with the tree's natural biology, each house incorporates techniques that allow for the structures to become a part of the plant's anatomy.  Eventually, attaching bolts and supports merge with the trunk and branches, creating the least obtrusive and strongest possible foundation for the dwellings.  Interconnected houses utilize sliding brackets that accommodate for wind and growth.  Complete with furnishings, spiral staircases, toilets, and windows opening onto the canopy, the houses resemble comfortable, upscale cabins.  Bridges connect each residence, and luggage and cleaning supplies are hoisted from the ground by ropes and pulleys.  His own house is an 1800 sq foot building that is supported by seven trees and may be the largest treehouse ever constructed.
Between Garnier's prolific use of tree puns, amazing houses, and reportedly amazing meals cooked at this unique bed and breakfast, I am longing for an excuse to visit rural Oregon.  Branch out from a boring, tradition hotel or camping tent and leaf for a trip for the world's most incredible treesort!
Visit the Tree Houses website for complete details.