Archive for May 2012 | Monthly archive page
Looking for clothing with conviction?  Sustainable style with sense?  Apparel with altruism?  Join SLO Green Drinks and HumanKind Fair Trade for the Eco Fashion Show on Thursday, May 31 at the Steynberg Gallery (1531 Monterey St) from 6-9pm.  The event will feature attire from local retailers, including HumaKind Fair Trade, Hemp Shak, Curio, Nekkidd and yours truly, Bambu Batu! Mingle with your fellow fashionistas as you watch the night's lineup of dance and music performances, take part in the silent auction, and grab a drink or a bite to eat from the cafe.  All proceeds will benefit HumanKind Fair Trade, a non-profit store that provides vital income for artisans and farmers in the developing world.
Tickets are $10 presale (available at Steynberg and HumanKind) or $15 at the door.  See you by the runway!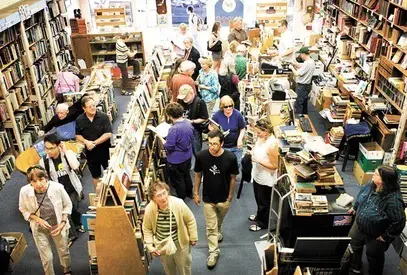 As a relatively small, anxious human, I am normally very uncomfortable with the word "mob".  I immediately picture villagers with pitchforks, trashcans on fire, and bloated, greasy-haired wiseguys in pinstripe suits.  But what if there was something that could transform the negative connotation of "mob" into something far more optimistic, and perhaps even beneficial?
Help save your cherished local businesses by creating a "cash mob"!  These happenings are commerce-oriented versions of flash mobs, where participants use social media to arrive at an agreed upon small businesses at a specific time and make a minimum $10 purchase.  By spending money at a local establishment, cash mobs hope to provide a little economic stimulus and generate some publicity around the kind of independently owned shops that make our downtown so unique.
San Luis Obispo's resident cash mob committee has chosen Phoenix Bookstore (990, Monterey St.) as the site for their next event.  On Monday, May 7, at 6pm, come browse the shelves for a favorite gently-used read and show your love for a town institution.
Any ideas for the next cash mob?  Who would you like to see pleasantly surprised?
(Photo Source: Joe Johnston, The Tribune, Tuesday, May 8, 2012 )