Archive for January 2013 | Monthly archive page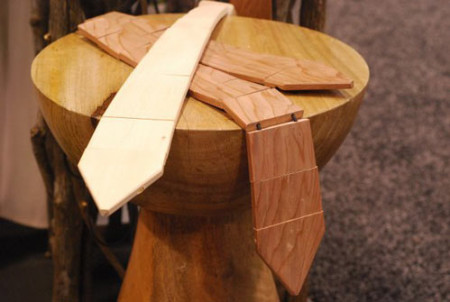 When it comes to tying a tie, there are some of us who could swear we were working with ten thumbs. Why not skip the whole mess altogether and don a wooden necktie or bow tie from Wood Thumb?  The lightweight wooden ties are held together with an elastic cord, making them supple and flexible. They come in two sizes, and start at $34 a piece.
In addition to offering uniquely crafted gifts, Wood Thumb is an enthusiastic member of their community, holding weekly community dinners and beer-drinking events. Proud residents of the Dogpatch area of the city, they are always up for a good conversation with other artisans and businesses. For their next endeavor, may we suggest bamboo? Based in San Francisco, each of their accessories are hand-made in the USA using reclaimed redwood sourced from around the Bay Area.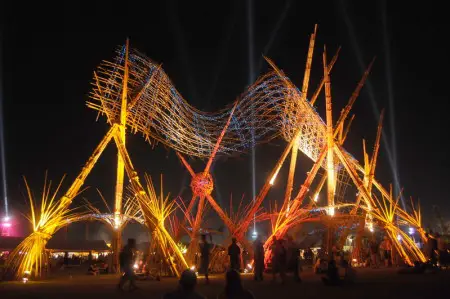 Through their sustainable, high-performance bamboo structures, Bamboo DNA supports arts and culture around the world. Founded by New York artist and designer Gerard Minakawa, the company specializes in building sets and stages for a network of performers, as well as sculptural installations for museums and galleries. Minakawa holds BFA from the Rhode Island School of Design and has had previous experience teaching classes and studying under indigenous craftsmen in Bolivia. Bamboo DNA has created installations and sculptures for such big events as the Coachella Music Festival, Lightning in a Bottle, Burning Man, and LACMA Muse.
When choosing the right bamboo for a project, Minakawa carefully selects each pole and panel, paying attention to the slightest variations and personality of the material. Taken together in a cohesive whole, the bamboo takes on certain performance characteristics that exemplify strength, organic shape, and versatility. While intuitive for him, he finds the greatest challenge is teaching others how to identify these traits. The initial stages involve plenty of team collaboration, sketches, and 3D computer models.
Once the bamboo is selected, it is time to build on site. While some installations are custom-made, several are "kits" that can be re-used for multiple festivals. From mandalas to gigantic spiders, each endeavor takes a new set of skills and requirements. Regardless of size or scale, Bamboo DNA  is committed to showcasing the dynamism of one of the earth's most amazing plants.
Bamboo sounds like a great idea for the music industry. It's cheap, sustainable, and a great way to amplify vibration. Just take a look at the cheekily-named "loudbasstard", a zero energy amp made for iPhones, iTouch, and later version Android smartphones. Created by Koh Onozawa and Franz Ignacio, each pair is cut and dyed by hand in Cebu Philippines. Both a way to promote environmentally friendly design and empower the Philippine community, the loudbasstard takes advantage of native craftsmanship and materials to project your favorite tunes.
A simpler, more rustic version of the node speaker is also available through ibamboo. Open at both ends, the cylinder creates a "pseudo-stereo" effect for Apple phones and devices. Rough-hewn and with a black or natural finish, the grass with its own carrying case and recyclable box. Originally began as a Kickstarter campaign, the product has been so successful that it has been featured in the New York Times and is temporarily out of stock.
On a similar note, the iBam 2 combines high quality bamboo with efficient design. With a waterproof carrying case and carved box, the speaker is a perfect low-tech device to take on beach trips or anywhere it might be difficult to find an outlet. As an added bonus, every purchase helps workers and the reforestation effort in Southeast Asia.