Archive for April 2015 | Monthly archive page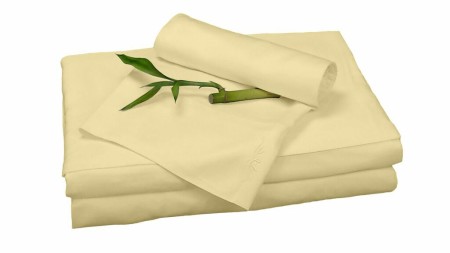 After many requests, we are very pleased to announce that we are now carrying bamboo sheet sets from BedVoyage in those hard-to-find specialty sizes, including Split King and Twin XL; we even carry bamboo crib sheets for pampering your precious little ones. This is all in addition to the standard bamboo sheet sets that we've been carrying for years—in sizes twin, full, queen, king and California king. Visit our  Bed and Bath page to view our complete selection of bamboo sheets, blanket and pillowcases.
In recent years, bamboo has become very well-known as the superior fabric for bed linens. Once you've slept on them, you'll understand why. Most of our blankets and sheets sets are available in a choice of nine colors. (The crib sheets come in seven colors.)
Benefits of Bamboo Sheet Sets
Bamboo is praised as 'the natural, green, and eco-friendly textile material of the 21st century' because of all of its amazing qualities.
BedVoyage rayon from bamboo fibers are made using an eco-friendly 'closed-loop' process, and the bamboo is grown organically and the raw materials are selected from non-polluted areas in Asia. BedVoyage linens are made in China from our certified textile plant that has passed the Social Responsibility Audit, as well as been certified by many of the top retailers.
Bamboo fibers are naturally hypo-allergenic, thermal regulating, moisture wicking, odor resistant and mildew resistant. As soft as silk, yet highly breathable, bamboo fiber is three to four times more absorbent than cotton due to its unparalleled micro-structure. This allows the sleeper to stay more dry and comfortable than they would with any other natural fabric. BedVoyage bamboo linens are thermal regulating as their insulating properties keep you cooler in the summer and warmer in the winter.
The 2015 Central Coast Sustainability Festival takes place this Saturday, May 2, at Mission Plaza in downtown San Luis Obispo. The festival, hosted by the Cal Poly Future Fuels Club, will feature bands, companies, alternative fuel and electric vehicles, and other projects all with one goal: making the world we live in more sustainable. Up to 30 businesses will be exhibiting their sustainable tech and cars, 2 bands (including San Luis Obispo's own Louder Space, and Attic Empire), and several food vendors will be there!
A big part of healthy living is definitely healthy eating. After taking a couple of classes from Virginia at Vert Foods, we've been on a sourdough kick. A healthy sourdough starter on the kitchen counter and endless possibilities at your fingertips.
Here's a super easy recipe that I adapted, replacing the commercial yeast with my starter. There are many reasons why you want to use the wild yeasts of a sourdough starter over the commercial yeast available in every grocery store. If you follow Vert Foods on their Facebook page, you'll learn about this and much more.
But now to the recipe:
Ingredients: 1c fed sourdough starter 200g (7oz) white flour 200g (7oz) whole wheat or rye flour 325g (11 fl.oz) filtered water 9g (~1.5 tsp) sea salt 3g (~0.5 tsp) bread spice* 150g (5oz) seeds (pumpkin, sunflower, sesame, flax,…)
*For making the bread spice, grind 2tsp fennel seeds, 2tsp anise seeds, 2tsp caraway seeds and 1 tsp coriander and mix. Store in an airtight container. This makes enough for about 4 loaves.
Instructions: The night before you want to bake, mix all ingredients EXCEPT the seeds into a loose dough ball in a non-reactive bowl (glass). It'll be very sticky. Cover and let it rise overnight.
In the morning (or whenever you're ready), deflate the dough, which will be significantly bigger and bubbly by then, and fold in the seeds. The dough is very wet, but it should stick together more than sticking to the bowl.
Grease a bread pan (mine is a 5.5" x 10.5" pyrex pan) and sprinkle it with corn meal or wheat bran (optional).
Poor your dough into the pan, sprinkle it with a bit of flour, cover it with a towel and keep it in a warm spot. I use the same towel for this every time. It has flour on it and I keep it in my proofing bowl.
After an hour or so, test the dough by poking it gently with a finger. If the hole dent pops half way back out, you're dough is ready for baking. If it pops right back out and disappears, let it rest a little longer. (Read more here about the myth of "double in size") Depending on how warm your selected spot is, this takes 30 min to 2h.
About 15 min before you think you'll be ready to bake, preheat your oven to 450º.
When your loaf is done proofing, mist it with water and sprinkle more seeds, oats, etc on top. Put it into the oven and bake for 20 min. Then turn your oven down to 400º, mist the top of the loaf again and return to oven for 25 more min.
Let it sit for a few minutes, then take it out of the pan. Wrap it into a towel and let it cool down completely before you cut into it. We have great selection of awesome bamboo cutting boards and I also highly recommend a good bread knife.
My German grandpa always said: "A good bread only needs butter on top." This bread really doesn't need anything else…
I'm just starting out with sourdough baking, so if any of you seasoned bakers out there have any tips on how to improve this recipe, please chime in and share your secrets!
What's your favorite sourdough recipe? Please share!
*EDITS & NOTES:* You can make a simpler bread by just using water, flour, salt and sourdough starter. Leave the seeds and bread spice out, or just sprinkle some seeds on top before you put the bread into the oven. It's just as yummy, I promise!
Also, you don't have to put corn meal or wheat germ into the pan either. Just grease it generously, and when you're bread comes out of the oven, let it sit in the pan for a few minutes. It should come out relatively easily.