Archive for May 2015 | Monthly archive page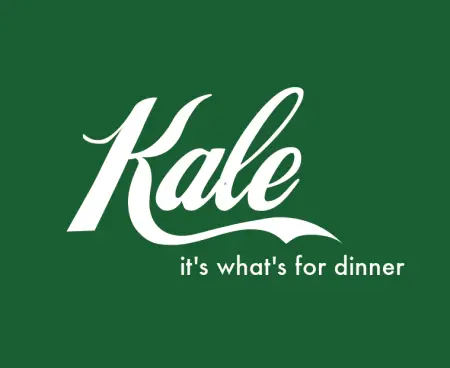 Three and a half years later, the "Kale it's what's for dinner" design remains our all-time best selling t-shirt. Printed on a super soft blend of 70% bamboo and 30% organic cotton, and emblazoned with a snarky yet whimsical message that promotes good nutrition while poking fun at the artery-bursting beef council and the tooth-rotting soft drink industry, it's something almost everyone can get into.
I still get compliments every time I wear, like today at the post office, as a matter of fact. The shirt has gotten good mileage, and never fails to earn a smile and a chuckle wherever I go. I usually don't have time to explain the whole "kale for marriage equality" story, which is a little bit long and complicated, but when I do, everyone just loves it all the more. (Full story HERE.)
While we parodied the beef slogan and the coca-cola logo, it's interesting to see how others have taken liberty in posting our "Kale it's what's for dinner" design, unattributed, on their websites and Facebook pages. But that's OK. Like bamboo, kale is a renewable resource, and unlike some things, there's more than enough of it to go around. So go ahead and dig in, because kale is still what's for dinner, not to mention breakfast and lunch. And, of course, it makes a great snack!
Charley Younge, a true pioneer in the field of bamboo products, passed away this week (May 17, 2015). For four decades Charley invigorated the sustainable building industry, as an enthusiastic promoter and advocate for bamboo, and a successful innovator who branded bamboo as a modern material.
Charley Younge is regarded as the pioneer of modern bamboo decorating products in Europe. As early as the 1970s, Younge was actively engaged with bamboo and earned an international reputation for his knowledge about the bamboo plant, its development and its versatility. Younge will also be remembered for founding the Dutch Bamboo Information Center (BIC), which has been largely responsible for bamboo's widespread success in Europe.
In 1993 Younge began selling bamboo flooring in Europe under the trademark of PLYBOO® which he himself developed. Three years earlier, the first bamboo flooring in Europe had already been laid. That flooring remains to this day, and to their full satisfaction, in the home of the Younge family in Schellinkhout, Netherlands.
Charley lives on in our memory, in our hearts, and in bamboo floors, countertops and kitchenwares across Europe and around the world. Our thoughts and prayers go out to his family. And with all due respect, let us remember the old adage: Only the good die Younge!
(Thanks to Susanne Lucas, one of North America's greatest bamboo advocates, for the factual details of this article.)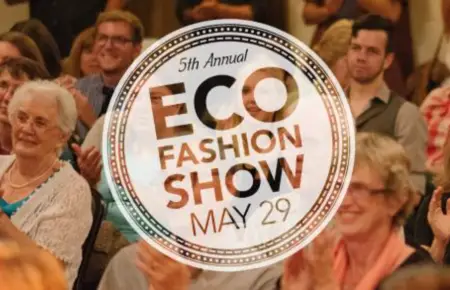 It's Memorial Day Weekend, and San Luis Obispo's natural fiber fashionistas know what that means. The 5th annual Eco Fashion Show is just days away, taking place at the Odd Fellows Hall at 520 Dana St., on Friday May 29, at 6:30 pm. A yearly fundraiser to benefit Humankind Fair Trade, a non-profit gift shop on Monterey Street, this year's Eco Fashion Fashion will feature several local purveyors of fine organic and re-used apparel.
Of course, no SLO Eco Fashion Show would be complete without showcasing outfits from Bambu Batu, Hemp Shak and Maule Wear, pillars of our local natural fibers community. Live Local Apparel will also be on the scene with their locally inspired and locally produced t-shirts and caps. Second hand clothiers like Curio, Ruby Rose, Threads and Castaways will also take part, touting the ecological benefits of used clothing. Re-use and reduce! A new addition this year, Eco Bambino will be representing the fashion trends for the little ones.
Good-looking models have been recruited from the community to show off five outfits from each participating business. Bambu Batu will feature a number of new styles, including our top-selling Felicity Dress, as well as other perennial favorites for men and women.
Be sure to stop by and see what else is new this season in the world in the eco fashion. Tickets are $15 in advance, or $20 at the door, and proceeds benefit Humankind Fair Trade, a non-profit shop that provides income to artisans and farmers in the developing world. Also check out the vendor fair before the show, and don't miss the silent auction, with some exceptionally nice gifts from each of the participating businesses.