Archive for November 2015 | Monthly archive page
Two days till Thanksgiving, and there's a sense of hustle bustle in the air. People are coming and going, plans are congealing, and calendars are being marked. So we thought we should spell out our plans for the next few weeks.
· Bambu Batu will continue to be open every day for the remainder of the year, with the exceptions of Thanksgiving (Nov.26) and Christmas Day (Dec.25).
· We are open the days before and after Thanksgiving, and the Saturday after Thanksgiving (Nov.28) marks our biggest sale event of the year, Green Saturday, also known as Small Business Saturday. Enjoy savings of 25% off any item in the store, as well as refreshments and a chance to win a set of deluxe bamboo towels.
· On the first Monday of December (12/7), Bambu Batu is hosting its first ever Invitation Only Holiday Boutique Sale, from 6-8 pm. The idea behind this event is three-fold: 1) To have fun shopping for a change. Why not invite your BFF and make it a girls night out? 2) To create a wishlist for yourself with items that you've tried on and checked out. You know – the right size AND the right color. We'll provide the list for you to fill out. And we'll keep it for you behind the counter. You can then tell your friends and family, who might be shopping for presents for you, to swing by Bambu Batu and ask for your wishlist. They can choose items from your list and you will still have the surprise of not knowing which item you'll receive. 3) To have the opportunity to shop for family and friends without them being around. We'll also have some fancy favor bags for each participant and a one-time store discount to be used that night.
· There will be no Art After Dark in the month of December or January.
· Bambu Batu will be open on Christmas Eve (Dec.24) until 4pm, closed on the 25th, and open again on the 26th.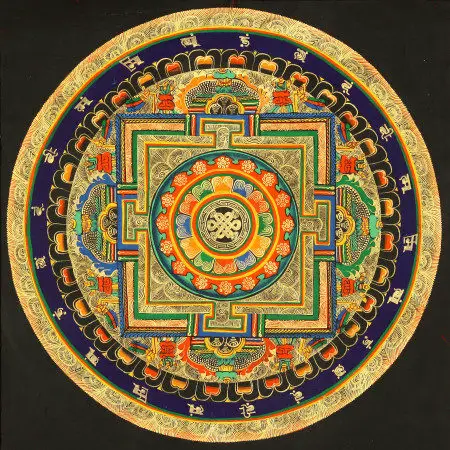 Even before the emergence of myths and drama, our ancestors produced symbols to express the quandary of their condition. No image encapsulates the pattern of human experience quite so precisely and succinctly as the ancient mandala, rendered most elegantly in the icons of Tibetan Buddhism, but dating back dozens of millennia to man's most primordial symbol making and as far forward as his most contemporary dream weaving.
Stripped bare of its elaborate ornamentation, the mandala essentially consists of three basic elements: a small circle, enclosed by a square, enclosed by a large circle. As I see it, these three simple shapes correspond ever so neatly with the three elementary components of every great story, namely every great myth that has endured the ages. In The Odyssey, the classic hero's tale, we have departure, adventure and return. In the Riddle of the Sphinx we hear of childhood, manhood and old age. The Book of Genesis speaks of Paradise, Paradise lost and Paradise regained, or in the parlance of the New Testament, we have birth, death and rebirth. These are but four of the best known examples, from which we could extrapolate ad infinitum to draw parallels with every familiar storyline.
In other words, the simple geometry of a mandala acts as a metaphor for the simple structure of the myth, which is a metaphor in itself. So, let's see if we can't do a little metaphorical unpacking here to unravel the symbols of the human experience.
Our story begins in the small circle. A one-sided shape with neither top nor bottom, the circle signifies wholeness, unity. This is the circle of bliss, in the ignorance of infancy, where the undeveloped psyche  draws no distinction between itself and the other. Then the child grows and enters the square, defined as having a top and a bottom, a left and a right, perfect pairs of opposites. As she encounters the unknown, the child must learn to classify things, to differentiate between good and bad, and to categorize the objects of her world into neat little boxes. The hero spends a lifetime navigating this terrain, which many mandalas aptly portray as an intricate maze, much like the labyrinth of the Minotaur.
The rigorous complexity of the square eventually takes its toll, and the individual longs for the simple unity it knew in the womb or in childhood. But there's no going home again. To fulfill his destiny, he must advance to the next level, and this metaphor functions equally well for every stage of development and maturation. When the going gets rough, you can't just move back in with your parents and resume the life of a happy child anymore than you can squeeze your toothpaste back into the tube. And yet, how many unhappy adults do we know who try to pass themselves off as happy adolescents?
Finally, the page rescues the princess; the martyr is reborn and crowned king; the Jedi knight reconciles the forces of darkness and light. The protagonist overcomes his challenge after grappling with the pairs of opposites, and he comes to terms with male and female, good and evil, right and wrong. The cycle is now completed in this state of enlightenment. He enters the higher circle and recognizes his oneness with an understanding he never had as a child. He has differentiated himself from the other, wrestled with the unknown, and now he embraces a unity vast enough to include all of it.
The terminology of archetypal psychology describes these three stages with marvelous clarity. The mandala diagram essentially illustrates what Carl Jung calls unconscious perfection (of childhood), conscious imperfection (of middle age), and conscious perfection (of old age). We may recall a passage of the Bible that puts it similarly. "Except ye become as a child, ye cannot enter into the Kingdom of Heaven." (Matthew 18:3) Indeed, the ultimate destination is a circle, just as the starting point is a circle, put a circle on a whole other order of magnitude.
It is vitally important, in the imagery of the mandala, that each shape is contained inside the other. Moving from one level to the next does not mean abandoning the previous stage, but requires the act of transcending and including. This is worth remembering through any and all stages of maturation, for the initiate will inevitably be tempted to reject his prior identity and cling to the "better" and more sophisticated self. But this is a mistake. The true sophisticate will retain all of it, understanding that even those inferior qualities contribute something valuable to the whole.
The large circle seems to represent the highest realm of consciousness, enlightened Buddhahood and oneness with the divine. For most of us then, the mandala provides a helpful roadmap for spiritual development, even as we realize we are unlikely to attain that state of total nirvana on any regular basis. It this case, it is useful to see the image a metaphor for incremental improvements, as we climb upward step by step. So don't get too comfortable when you reach the big circle; it is not the finish line, but merely the opening of the next mandala, in a cycle that repeats itself indefinitely, as we continue to step out of our comfort zones and into the unknown, always striving to include and transcend and grow as humans.
Finally, we can read the mandala as a metaphor for human development on a larger, historical scale. In antediluvian times, our as forefathers gathered around the fire, danced naked in the moonlight, and threw virgins off of the pyramids, they experienced a unity with god, or "participatio dei." Even in more recent history, the prophets and patriarchs of the Old Testament spoke to God, through angels and shrubs.
Only in the last three or four centuries, thanks to the paradigm shattering discoveries of Galileo, Kepler, Newton, etc., whose discoveries literally moved the earth, mankind has been driven into a quagmire of spiritual uncertainty where God is dead. We have succeeded in naming the elements, categorizing the life forms, and dating the universe, but we have separated ourselves from Mother Earth and Father Sky. We have learned to dominate our environment, but at what cost? The last century has seen a mad rush to return to the comfort of the small, infantile circle, in the form of religious fundamentalism, astrology and wicca. Yet we know that this regression will get us nowhere.
In order to thrive and regain the state of blissful unity, we must move forward, we must take the next step up that spiraling staircase. Our faith in the forces of the market are no substitute for an immovable faith in the All Father, but this is where we have arrived.  Adam Smith's invisible hand cannot replace Neptune's triton, but for many it has. To restore the lost paradise we must rediscover one another, we must reconnect with highest forms of human potential, we must abandon the false idolatry of materialism, and we must learn to see through the eyes of others as if they were our own.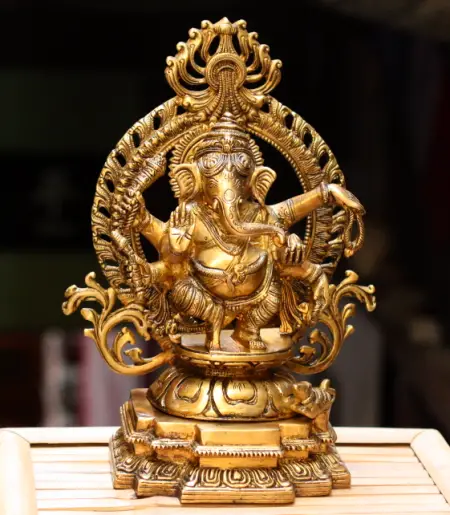 Some call him the elephant head, some call him the Remover of Obstacles. What is this fascination we have with the glorious Lord Ganesh, India's mighty and most revered elephant deity? None can deny the charm of the thick-skinned behemoth, the largest animal to walk on land since the ice age, with its chunky tree trunk legs, its floppy ears and that ridiculous protrusion of a trunk. Legend of both the savannah and the big top, the elephant lends itself easily to fairy tales and folklore; but take a close look at the iconography of Ganesh and you've got a regular circus of mythological exegesis.
Ganesh stands out unmistakably among any pantheon of gods, with his prepossessing elephant head, that of an animal widely associated with long life, strength and wisdom, not to mention a perspicacious memory. The symbolism is fairly explicit, and the disproportionate size of Ganesh's head suggests wisdom in every way. But a further look at the elephant noggin reveals more: his massive ears and his small, hidden mouth. Indeed, what could be a more universal indication of wisdom than to listen better and speak less? Proverbs Eastern and Western all point to this noble disposition. And when the face of wisdom has a nose like a 6-foot garden hose, we are reminded that wisdom is unremarkable without the virtue of good sense of humor.
Something about the face of an elephant, it never looks angry, never overly worried. And what good is wisdom, worldly or spiritual, without the ability to relax and laugh at your own shortcomings? Ganesh's healthy, round belly reiterates this air of joviality. He is one who laughs often and enjoys life, not overly concerned with asceticism and self-abnegation, unlike many other religious teachers.
Now, for some deeper layers of meaning, let's have a look at Ganesh's busy hands. The Indian deities are notorious for their many arms and hands, and hands are such an essential and defining characteristic of man as a species. (Consider the linguistic root of words like manual, from the latin manu, for hand.) This many-handedness, for me, signifies the super-human status of the gods. Not non-human, as western theology often suggests, dividing us from them (or from Him), but more than human, possessing our vital characteristics, only more so.
Representations of Ganesh typically show him with four or six hands, and although depictions can vary quite widely (with up to 20 or more hands), there are a number of standard accoutrements that the deity generally carries. One hand always holds something sweet and delicious, and it's often difficult to see what it is exactly—maybe a mango—but it tends to be in one of the lower hands, held near the belly and the end of the trunk. Materially, this signifies, like his jolly belly, Ganesh's ability to enjoy some of life's sweet pleasures. But spiritually, and more significantly, it suggests the sweet rewards of mental discipline, the kinds achieved through meditation and devotional practice. This divine delicacy, something reminiscent of the Manna from Heaven, is frequently held just below the trunk, where Ganesh seems to savor its aroma.
In the upper right hand, which we might reasonably consider to be the most important position, Ganesh is almost always wielding an axe. As with most images of destruction found in Indian mythology, this weapon is intended for chopping down evil and cutting it out of our lives. By evil, Ganesh really means to obliterate ignorance and illusion, the kinds of misunderstanding that lure us into cycles of suffering. Only by freeing ourselves from these fallacious paradigms, misconceptions about ourselves and the world around us, can we come close to finding enlightenment. The axe of Ganesh also serves to sever the bonds of attachment, the grasping and clinging. This attachment, to both objects and ideas, constrains us like chains, confining us to a narrow world view and preventing us from experiencing the world through clear, unfiltered eyes.
Across from the axe, in his upper left hand, Ganesh usually holds a rope. An implement of attachment, the rope would appear to act as a kind of counterpoint to the axe, suggesting the need to strike a balance between opposites. The rope is commonly identified as a yoke for leading an animal, which offers some interesting interpretation. Some say that Ganesh has harnessed an animal which leads him to his destination, underscoring the need to follow our passions in pursuit of our goals, again counterbalancing the axe which severs our desires and attachments. But I also see the rope as a tool for taming the inner beast, channeling the restless, primal energy and putting it to constructive use, the way our ancestors did when they domesticated the ox.
One more hand position worth mentioning, seen in the lower left hand of the Ganesh pictured above, is the open palm of protection. This virtually universal gesture of peace and providence can be found throughout the Buddhist and Hindu pantheon, as well as in the icons and images of western saints, including the Messiah himself. The protective hand reminds us of forces beyond our ken that guard our well being.
Another intriguing feature characteristic of many Ganesh masks and sculptures is the broken tusk, which can mean a few different things. One interpretation has to do with accepting the good with the bad, and not demanding perfection. The single broken tusk can also be thought of as the one flaw of an otherwise perfect figure. Consider Marilyn Monroe's dainty mole, or more significantly, the limp or scar that often afflicts a mythic hero. There are also a couple of anecdotal explanations. One reports that Ganesh lost a tusk in combat with his father Shiva, and another explains that Ganesh broke the tusk off himself to use as writing tool in transcribing the epic Mahabharata as it was dictated to him by the sage Vyasa.
Various depictions of Ganesh include countless qualities and signifiers, but I'd like to finish by looking at one last element, his vehicle, the little mouse (or rat) typically seen scurrying around the god's feet. The idea that the elephant uses a rodent as his vehicle strikes me as something like a zen koan, an irreconcilable riddle to be contemplated rather than solved. Like the the yin yang, and numerous other symbols and stories, this partnership leads us to consider the relationship between opposites, as we must learn to embrace light and dark, good and evil, great and small, together as one.
Furthermore, the mouse of legends and lore often acts a symbol for our thoughts: the squeaky, incessant sound from inside, that inner dialog that races back and forth across the floorboards of our mind. Try as we might, this inner soundtrack cannot be silenced. Likewise, the elephant may try and stomp out the pesky mouse, but his clumsy stumps are no match for a darting rodent. Yet, Lord Ganesh, with his superhuman cranium, has somehow managed to tame his thoughts, to quiet his mind, to control the seemingly uncontrollable. And that is the most divine feat of all. For thoughts are the forerunner of all things; our thoughts become our reality, so when we control our thoughts we control our world.
For an even more sophisticated interpretation, consider the rat. The rat is a pest, and we are pestered by our conscience. Our conscience speaks to us from the other side, reminding us of our transgressions and helping us distinguish between right and wrong. A healthy, well-developed conscience can guide us in our actions and our choices, and this guidance is the vehicle on which an enlightened creature moves forward.
Take a good look at the elephant god. Smile at his flappy ears and laugh at his dangling trunk. But also meditate on his wisdom and his mental prowess. Invoke him for strength and courage. Follow his example, learn to overcome the illusions and accept the contradictions, and soon you will be removing obstacles on your own.