Archive for April 2019 | Monthly archive page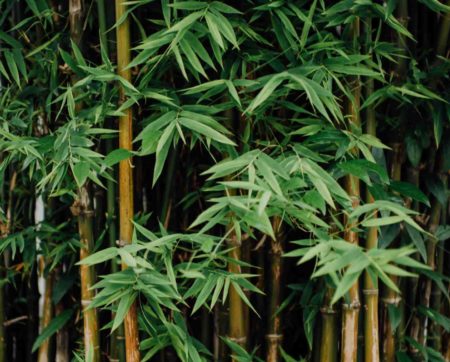 What are we supposed to think when something that's been around for five thousand years suddenly turns trendy? Yoga reaches the west, and it's like something brand new. The paleo diet gets resurrected from the ice age, and it's the culinary panacea. (Although I'm personally more fond of fermented foods, which also harken back to the stone age.) And then, of course, we have bamboo. It's the coolest thing to come off the farm since frozen peas.
No doubt, bamboo is anything but new. Asians have been cultivating bamboo for food, shelter and everything else since before westerners had even developed written language. Old school indeed.
But not everything crosses the globe as fast as the avian flu. Like yoga, meditation and kimchi, it seems that bamboo needed a few millennia to marinate and ferment on the Asian continent. Only then would it be ready for mass consumption in the east.
And it stands to reason. The Asians have always had a strong reputation for their patience and their ability to take the long view. Not like the Americans, with our insatiable appetites for instant gratification.
"Beware the sleeping dragon, for when she awakes the Earth will shake." Winston Churchill was referring to China when he issued this warning. But he could have just as easily been referring to any Chinese export, be it Buddhism, Beanie Babies, or bamboo.
Certainly, it hasn't taken long for bamboo to rise from its epic slumber. And in just a decade or two, it has sent a tremor through the foundations of the lumber, cotton and hemp industries. She appeared like a dragon, and today bamboo is everywhere.
Why bamboo?
The history of bamboo and its long list of benefits could fill an encyclopedia. Its uses, its properties, and its revered status in Asian are the stuff of myth and legend. Quite literally. But it's all very factual at the same time. So let's review the data.
Bamboo for sustainability
One of the biggest buzz words surrounding bamboo in the course of its recent resurgence has been "sustainability." Here's another concept that's turned a bit trendy, and thank goodness for that.
Instead of simply reaping and pillaging the earth's resources as quickly and thoroughly as possible, for the purpose of instant gain and maximum profit, sustainability emphasizes another model. Before the era of instant breakfasts and mass production, hunters and farmers understood their relationship with the earth to be more of a give and take.
After a relentless century or two of taking and taking, sustainability proposes to make giving great again. Prioritizing sustainability means taking the long view. It means recognizing the need to preserve our planet's resources and harvest them in a way that ensures that they won't run out.
Clearcutting forests to graze livestock or mono-crop palm trees is not sustainable. But cultivating plants that are readily renewable and give something back to the soil is.
Bamboo for cleaner air and a healthier earth
Bamboo is a perfect example of giving something back. Unlike most commercial crops, bamboo can be cultivated without a massive disruption to the local habitat. Bamboo naturally grows in vast forests. It takes very little from the soil, and its fallen leaves are enough to replenish the nutrients.
Moreover, bamboo is an excellent crop for carbon sequestration. In the same way that that the plant grows quickly, it also captures carbon dioxide more quickly, converting it into precious oxygen. What's more, bamboo acts as an excellent carbon sink, storing the carbon underground. That's because even as bamboo is harvested, the plant and its elaborate root system live on. (When tree are cut down, by contrast, great quantities of carbon are released into the atmosphere.)
In the fight against global warming, this is key. And as policy makers become increasingly aware of this fact, they are encouraging more farmers, especially in developing countries like India to use bamboo.
In fact, bamboo is so beneficial that conservationists are planting it across Africa and Asia to promote better soil health. Even when farmers aren't harvesting bamboo for its myriad uses, the plant still makes itself useful. Bamboo's robust root network, for example makes it ideal for holding the earth together, preventing erosion and landslides.
In other cases, bamboo can also loosen up degraded soil. In places where the landscape has been denuded, bamboo is proving effective in reviving the soil and restoring its fertility.
An alternative to monocropping
Most modern, commercial agriculture today is done with monocropping. That means taking hundreds or thousand of acres and planting them all with a single crop. Whatever used to live in that space—plant, animal or insect—is forcibly removed or exterminated. There's a great loss to biodiversity for one thing. But that's only the beginning.
Next, because the farm is devoted to just a single crop, the soil is going to be seriously depleted of certain nutrients. Also, any pests that enjoy nibbling on that crop are going to be having a field day. Typically, the solution to these two issues has been the heavy use of pesticides, herbicides and fertilizers. In other words, they spray the vast acreage with toxic chemicals to kill off weeds and bugs and replenish basic ingredients like nitrogen, phosphorous and potassium.
In contrast to this all-too-common practice of industrial agriculture, cultivated bamboo forests can thrive and maintain most of their natural biodiversity. As mature bamboo stalks are harvested, generally those older than five years, the rest of the forest continues to flourish. There is no unnatural susceptibility to pests, or impoverishment of the soil, or need to eliminate native habitats.
Renewability
One great advantage of bamboo over other crops is its perpetual growth habit. Bamboo is a grass, after all. And a bit like the grass in your lawn, you can mow it and watch it grow right back. In fact, cutting your grass actually encourages it to grow more, faster and stronger. Likewise with bamboo.
In some cases, homeowners find this property of renewability to be something of a nuisance. The tenacity of a well-established bamboo plant makes it almost impossible to remove. (See our article on Bamboo Containment and Removal.)
While it might devastate your flower beds and even upend your plumbing, the indomitability of bamboo makes it a dream come true for farmers. Imagine, the cycle of planting and harvesting, planting and harvesting, has been reduced to just harvesting and harvesting. Bamboo doesn't need to be replanted or rotated.
Bamboo truly grows like a weed. It's not uncommon for some varieties to stretch a foot or two a day, or more, in the growing season. Not only is that good news for the farmer looking forward to another bumper crop. Bamboo's high metabolism also makes it a boon for the atmosphere.
Compared to a stand of trees, an equal area of mature bamboo will produce about 35% more oxygen. That makes bamboo an excellent tool in the battle against greenhouse gases and climate change.
So can bamboo save the planet?
In the unending quest for instant gratification, a lot of people are looking for the silver bullet, the quick fix that will stop climate change in its tracks. But the kind of thinking that got us into this mess will not be the kind of thinking that gets us out of this mess. There is no single solution.
Planetary health is like your personal health. You can't simply take a multivitamin every day and go from sick to healthy. And you can't just rely on one plant to save the earth.
Of course, take your vitamins, and grow more bamboo, but that's only part of the solution. Obviously, if we remove all the corn from the midwest and replace it with bamboo native to China, we will have learned nothing. As much as anything, we need a new way of thinking.
Where monoculture is the problem, the only solution must be a polyculture of many different plants and resources. The holistic cure for the earth will include the use of more sustainable crops like hemp, bamboo and flax. It will also require a rich mixture of renewable energy sources. Solar can't do it all. Wind, geothermal and other innovations will have to play an important part in the healing process.
Versatility: the many uses of bamboo
I don't believe that bamboo can save the planet single-handedly, but it certainly can do a great number of things. So when people see that bamboo is stronger than oak, softer than cotton, faster growing than hemp, and almost impossible to eradicate, it's easy to see why they might look to it as the all-in-one answer.
Bamboo for lumber
When we think about the uses of bamboo, the first thing that probably comes to mind is its great potential as a timber alternative. Although technically a member of the grass family, bamboo looks and feels a lot more like wood.
When harvested mature and properly cured, it can be even harder than oak. So you've no doubt seen bamboo flooring used for a beautiful and functional effect. Also, bamboo cutting boards have become almost ubiquitous. And if bamboo can withstand the pressure of a thousand foot steps or the chopping of a cold steel cleaver, then what can't it do?
In fact, bamboo has become a popular material for all manner of construction. Historically, bamboo has long been the first choice for scaffolding. You'll still see it if you walk past a construction site anywhere in Asia. Compared to steel, it has comparable tensile strength and superior flexibility, and is remarkably easy to come by.
But today, modern architects around the world are taking bamboo to the next level. In Colombia, Simón Vélez has accomplished unthinkable things and built unbelievable temples and structures from bamboo. Meanwhile, in Hawaii, prefab bamboo houses have hit the market and revolutionized the way people think about green construction.
Straw bale is great and all. But once you've seen the sublime elegance of a bamboo home, you'll gladly to save the hay for the horses.
And even if you saw some bamboo flooring in the hardware store ten years ago, you won't believe what they can do with it today. The variety of grains is astonishing, and the quality just keeps getting better. Whether you're looking for new floors, kitchen cabinets, or wainscoting for the man cave, bamboo can do it. And all without cutting down a single tree.
As the look of bamboo lumber continues to grow more refined, the face of bamboo furniture is also looking more sophisticated. Sure, the old-school bamboo and rattan poles strapped together still look cool, especially if you're going for the tropical theme in a sunroom. But if you want something more clean and modern, the Gilligan's Island ensemble isn't going to cut it. Luckily, companies like Greenington Furniture in Washington are taking modern bamboo furnishings to a new heights.
Bamboo over cotton
Another recent bamboo innovation has taken the textile industry by storm. In the mid to late 90s, it looked like hemp was poised to become the next wonder fabric. But then along came bamboo, producing a marvelously soft fabric with unlimited applications.
Hemp continues to provide an excellent alternative for canvas and products that require durability, like jeans, shoes and backpacks, for example. But if you're looking for a soft t-shirt, nightgown, or pair of undies, you can't beat bamboo.
This remarkably soft material is also extremely absorbent, anti-bacterial, odor-resistant and temperature regulating. Some of the best and most popular uses of bamboo fabric include socks, t-shirts, towels and bed sheets. Honestly, there are few things I enjoy more than a high quality bamboo towel. A blend of half and half bamboo and cotton seems ideal for towels, for some reason.
And 100% bamboo bed sheets are the pinnacle of luxury. They're silky soft without being slippery smooth and sliding off the bed like satin. They also manage to feel warm in the winter and stay cool in the summer, thanks to bamboo's superior breathability.
Unlike hemp, bamboo textiles have not been around for thousands of years. This is a relatively new development. The process of making fabric from bamboo involves taking the entire plant—leaves, stalks and all—and pulping them in caustic soda. Caustic soda, also known as sodium hydroxide, is basically the same as lye, a standard ingredient in both commercial and homemade soap.
As the bamboo is reduced to a pulp, the cellulose is reconstituted into rayon type of material. Tencel©, viscose, lyocell and modal are all comparable cellulosic fibers. But from my experience, bamboo has a much different feel from any of those rayon shirts I was wearing back in the 80s. While rayon had a more synthetic feel, like nylon or polyester, bamboo is soft and breathable. It's the perfect material on a hot day, or for a humid climate.
And once again, the way bamboo grows much it a far more sustainable and superior resource than conventional cotton, which is extremely pesticide and herbicide intensive. Commercial cotton cultivation requires a monoculture, row after row of cotton. And when cotton grows like this, it becomes very susceptible to pests like the the boll weevil. It is also very demanding on the soil.
Also, compared to other cellulose materials, which may share some of bamboo's properties, bamboo's sustainability simply cannot be surpassed. Today, most viscose and rayon fibers are produced from wood pulp. And we know that bamboo will grow back faster than any tree.
Additional uses of bamboo
Besides bamboo flooring and bamboo socks, which have gone fairly mainstream, their are a host of other uses, ranging from the every day to the more obscure. If you go out for sushi or Thai food, for example, there's a very high likelihood that you'll be eating off of bamboo chopsticks. And since Asia and the rest of the world go through close to a billion pairs of chopsticks a day, it's essential to make them from a renewable material. Better still to eat with more durable, reusable chopsticks or utensils.
Another item we use so often that we barely think about it, is the toothbrush. It's not a single-use item, but most of us probably go through four or five toothbrushes in a year. And since the majority of toothbrushes are plastic, that means that mountains of discarded toothbrushes are forming all over the world.
Bamboo toothbrushes have grown very popular in the zero waste circles and among those of us looking for more sustainable forms of dental hygiene. The sleek bamboo is attractive, feels good in the hand, and will naturally biodegrade in a reasonable amount of time.
What's more, many bamboo toothbrushes are now using bristles made from bamboo charcoal. Charcoal bristles?! Yes, it may sound a bit counter-intuitive, but bamboo charcoal has fantastic cleansing properties. Not only does it whiten the teeth, but it is also antibacterial and leaches toxins. They're even making some excellent bamboo charcoal water filters for personal use.
One more item that's really gaining traction, is the bamboo bicycle. In the developing world, it's a concept that just makes perfect. Where material like steel is both scarce and expensive, bamboo makes an ideal substitute. In Ghana for example, a number of programs are working get more bamboo bicycles in the hands of students and young people. Those who could not afford the transportation to get to and from school are now zipping through cities and villages to get to class on their sturdy, lightweight bamboo bikes.
Meanwhile, in Europe and North America, high performance bamboo bikes are all the rage. Flexible, lightweight and esthetically pleasing, these bicycles make a bold pro-environmental statement, but also look very cool. Whether you're looking for an off-road mountain bike or a sleek speedster for the city, there's a bamboo bike to suit your needs.
The more you think about it, the list of things you can't make from bamboo just gets shorter and shorter. And again, we're not suggesting that we start making everything from bamboo and stop using anything else. There's nothing balanced or sustainable about that. But if we can substitute a durable bamboo product for a single-use plastic item, or do something to scale back on the global use of agricultural spraying, then yes, by all means.
Rich in history and tradition
As we've seen, the versatility and sustainability of bamboo makes it something of an incredible plant. It's certainly a natural resource that deserves to play a larger role on the world stage. But more than that, there is something truly special about bamboo that verges on the magical.
Bamboo's long legacy
Even before the dawn of recorded history, Asians were certainly making use of bamboo. It is and has always been one of the most prolific plants in that part of the world. Also, one of the easiest to harvest and work with. Harvesting the young shoots to eat requires no tools. And the simplest of handsaws is enough to harvest the mature poles. And other tropical grasses provide the string and strapping to attach the poles. No doubt that primitive Neanderthals were making use of this plentiful resource and fashioning bamboo spears to hunt down their mastodons.
Historians have traced the cultivation of bamboo back about 7,000 years. That's makes it one the oldest—if not the oldest—to be purposefully planted by man. Not surprising, given that it can be used for food, shelter, and weaponry, not to mention firewood.
An enchanted grass
A quick look at the fables and folklore of the east, and bamboo immediately stands out. Through China, India, Japan and southeast Asia, there are dozens of myths and legends in which bamboo features prominently. It is not unusual for bamboo to serve as the source of all life in some creation stories. Sometimes mankind sprouts from a bamboo shoot, and sometimes the creator bestows bamboo to man as the ultimate blessing.
Regardless of the exact role it plays in literature, it's clear that bamboo holds a position of supernatural importance in Asian cultures. In artwork, both ancient and modern, a splash of bamboo in the foreground or off to the side, conveys a certain mood. More than likely, the painting was done with a bamboo brush.
In Chinese art there is a motif of the "Four Gentleman". Referring to the Confucian model of a perfect gentleman, they cite four plants: the plum blossom, the orchid, the bamboo, and the chrysanthemum. These plants embody the highest standards of sublime beauty and refined elegance.
Chinese herbalists also look to bamboo for a variety of medicinal benefits. Shavings of young bamboo shoots are called Zhu ru. Cold and sweet to the taste, they are traditionally used to treat acute fevers and a number of other conditions, including deep coughing and vomiting. Bamboo leaves also contain flavonoids which can work as antioxidants to reduce inflammation, promote circulation, and inhibit allergy reactions.
And if you've ever walked through a forest of bamboo and listened to the canes knocking in the breeze, you know there's nothing else quite like it. This grass that grows like a tree, with poles as strong as steel but hollow on the inside, is a truly wondrous thing. It's no mystery why so many cultures and stories have associated it with something larger than life.
And today, as our earth faces threats and dangers which also appear larger than life, it's time to turn to bamboo. This enchanted plant that's been with us since time immemorial, a constant companion of our species, can play a vital role as we adapt the way we think, act and consume. Like bamboo, we are mere passengers on the mothership earth. It's time for mankind to bend in the breeze and acknowledge that we too can be humble on the inside.
Further reading
If you're mesmerized by the powerful potential of bamboo and want to know more about its colorful history and its manifold uses, please check out more articles from our blog.
Here's a short list of some of our most popular articles.
8 Best books about bamboo
The 20 best bamboo gardens in the world
The best bamboo for construction
Growing Bamboo: The complete how-to guide
Bamboo symbolism in legends and folklore
Bamboo Q & A: Ask the experts
You don't need to be a master guru of Eastern mysticism to recognize the sublime beauty of a Tibetan Buddhist Thangka. Simply take a close look at one of these traditional religious paintings, and you can practically feel your heart, mind and soul being swept away to a higher plane.
The magic and mystery of this sacred art form is nothing short of mesmerizing. But the more you know about the stories and symbols that go into these rich religious paintings, the more respect you feel for the wisdom that they depict.
DISCLOSURE: Some of the links in this article are affiliate links. This means that, at no additional cost to you, we will earn a small commission if you click through those links and make a purchase. This helps us meet the cost of maintaining our website and producing great articles.
The Thangka Tradition
Devotional Buddhists have special practices for creating a sense of sacred time and space, namely chanting and meditation. And though they don't exactly worship idols, it is common for Buddhists and Hindus to create altars and decorate them with paintings and statuary to help maintain that sacred presence.
Among the most powerful of such religious images are the Tibetan Buddhist Thangka paintings, part of a tradition that dates back roughly 1000 years. Thought to be a spin-off of the far older tradition of cave painting, these exquisitely decorated artworks are typically created to be light-weight and portable.
Most often depicting a specific deity or bodhisattva, the monks and votaries paint these religious icons on silk or paper, which is further protected by a silk cover, and then rolled up like a scroll. Especially conducive to the nomadic or hermetic lifestyle, the devotee can travel with his Thankga and unroll it whenever he sees fit, for times of prayer and meditation, for example.
I like to think of them as the bonsai trees of religious art. Originally, the Samurai warriors kept bonsai trees, which they could carry along on their extensive journeys. Something like a family member in their solitary lives, the Samurais cared for the trees and were able to enjoy a special connection with nature, wherever they went.
As with the bonsai trees, the Thangka paintings are created with extraordinary care and attention. With a high quality Thangka, the finished work should inspire a sense of divine reverence, and that's the same sort of devotion and concentration that the artists employ to produce these masterpieces.
Religious Imagery in the Thangkas
The variety of imagery in Thangka paintings has grown immense over the centuries, but traditionally, the artwork depicts a single Buddhist deity, a meaningful icon, or in some cases, a narrative scene.
DEITIES
Probably the most common subject of a Thangka painting is the Buddha, who may appear in his ascetic, meditating form as Shakyamuni, or in his more portly and jubilant incarnation as the Laughing Buddha. But the variations go on and on, eyes open or closed, hands lifted or clasped in prayer. The possibilities are endless. Check out this brilliant Buddha Thangka on Amazon for an example.
There's no definitive, orthodox interpretation of the symbolism, but it depends more on the experience of the beholder. You cannot judge a Thangka painting by any objective measure, only by the sort of feeling it produces in you. If you are decorating an altar or shrine, you'll want to consider the types of energy you wish to invoke, whether calming, invigorating, uplifting, transcendental, or something else.
Besides the venerable Buddha, there are dozens of other deities and bodhisattvas in the pantheon. One of the most popular and frequently depicted is Tara, who herself has a variety of avatars. We generally associate Tara with mindfulness and meditation.
Shop for Buddhist Thangka Paintings at AMAZON
The Green Tara, more specifically, invokes powers of protection from darkness, temptations and illusion. White Tara stands for health and longevity, as well as compassion. Here's an example of a spectacular Green Tara Thangka on Amazon.
Another highly revered bodhisattva, Avalokiteśvara represents the deepest embodiment of compassion. This deity can take either a male or female form, and very often appears as the goddess Quan Yin, frequently holding out a vessel to collect the tears of mankind's sorrow.
One of the most terrifying images to adorn the Buddhist Thangka is Chemchok Heruka with his twenty-one heads and forty-two hands. The Tibetan Book of the Dead speaks of the Hundred Peaceful and Wrathful Deities, and Chemchok Heruka is the most iconic of the 58 wrathful deities. He often appears in the presence of the 42 peaceful deities, including a panoply of buddhas, bodhisattvas and gatekeepers.
Shop for Buddhist Thangka Paintings at AMAZON
BUDDHIST ICONS
Instead of depicting a personal deity, another type of Buddhist religious art involves some highly symbolic icons. The most common of these symbols are the Mandala and the Wheel of Life, and both are well worth meditating over.
The Mandala
The Mandala holds a very special place in my own spiritual practice, and the first Thangka I acquired was a phenomenal Mandala painting from Bhutan. I have seen a few different explanations of this sacred geometric image, having to do with multiple worlds and layers of reality. But the following is my own interpretation of this cosmic symbol.
Mandalas come in many versions, but generally they feature a small circle at the center, enclosed by a square (or series of squares), finally surrounded by a greater circle. I read this pattern as a metaphor for psychological and spiritual development.
At birth we are in the small circle, at one with all things, unable to differentiate between self and other. This is the level of unconscious perfection. With time and age we learn, like Adam and Eve, to recognize the pairs of opposites. We enter the material world of squares, of us and them, heaven and earth, good and evil, the state of conscious imperfection.
Shop for Buddhist Thangka Paintings at AMAZON
Finally, with concentrated spiritual practice, we strive to enter the realm of cosmic unity, where all things are connected and interdependent. This is the state of enlightenment, the grand circle of conscious perfection. And in most Mandala paintings, the outer circle is surrounded by a multitude of Buddhas and bodhisattvas, enlightened beings.
The Om
The Om symbol shows up constantly in both Buddhist and Indian religious artwork. Surely you've seen the swirly icon on tattoos, yoga mats and tapestries. Often, the Om sits at the focal point of a mandala, in the center of the circle.
So what does it mean?
We frequently refer to Om as the sacred syllable. If you've ever attended a group meditation, you've probably heard or participated in the chanting of the Om. It represents the sound of everything in the universe resonating together. And in this sense, it signifies the interconnectedness of all things. It is the state of conscious perfection.
But some interpretations take it a step further, dividing the Om into parts. Like the mandala, an Om consists of three or four units. Alternately spelled a-u-m, each letter stands for a member of the Hindu Trimurti, the Indian trinity of gods, i.e. Brahma (creator), Vishnu (maintainer) and Shiva (destroyer or transformer).
You can think of the Om encompassing the three stages of life: birth, life and death. And you might also add the silence after the closing "m". In the silence we have a return to the source, and a restoration of the life force. The Om inside the mandala reminds us to meditate upon this and recognize that life and death, joy and sorrow, are all parts of an endless cycle in which all is one.
The Wheel of Life
A powerful symbol throughout world religions, but especially in the far east, Hindu and Buddhist traditions look the Wheel of Life as a representation of endless and ongoing reincarnation. Metaphorically, we can also think of the Wheel as a symbol of the ongoing back-and-forth struggle between desire and fulfillment, one of the chief themes in Buddhist philosophy.
One of the primary goals of Buddhist spiritual practice is to break free from this arduous cycle. The cycle, after all, is based on the illusion (Samsara) that desire can be fulfilled and that fulfillment will bring satisfaction. In fact, we know from experience that the fulfillment of one desire only leads to the birth of new desires and dissatisfactions. The initiate must choose then, to break the cycle, or to accept its inevitability.
The iconography in these Wheels of Life can be some of the most fascinating and intricate. Keep an eye out for the rendering of the Three Higher Realms, in the upper portions of the wheel, occupied by humans, gods and demi-gods. And then look at the bottom spokes of the wheel to find the Three Lower Realms, including the hells, the animal realm and the hungry ghost realm.
Check out some of these stunning Wheel of Life Thangka paintings at Amazon.
NARRATIVE SCENES
Less common, but more visually appealing for some, narrative scenes make up another genre of Thangka paintings. These works depict various scenes from Eastern mythology, including episodes from the Mahabharata or from the life of Lord Buddha. This type of imagery might look better in other parts of the house, not necessarily confined to the altar corner.
If there's a particular passage from Buddhist or Hindu mythology that really resonates for you, you can might find of beautiful Thangka painting of it somewhere. Although these sorts of Thangkas are much less common.
I'd be especially interested to find a detailed illustration of Arjuna and Krishna talking things over on the battlefield. The speech delivered by Krishna is one of the most profound passages in any sacred text. A depiction of young Buddha venturing outside the palace, encountering old age and sickness for the first time, would also make brilliant wall decor. Or, an image of Shiva lopping the head off of young Ganesh and replacing it with an elephant could really tie a room together.
Further reading
If you enjoy these sorts of philosophical excursions and interpretations, you'll also want to check out the following articles.
Meanings in the Mandala: Roadmap of the Mind
Tibetan Buddhist Sand Mandalas
Om is where the Heart is: Meditations on the One
The Symbolism of the Indian Ganesh
Archetypal Dimensions of Kermit the Frog
Bamboo Symbolism and Mythology