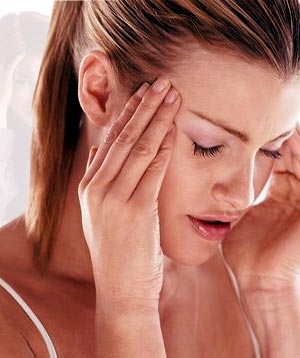 "No!  Ooooh no you don't!" Five minutes before I had to walk out the door to attend a music practice I started yelling at my own brain. "Don't you even think about it!"  A shining, electric splotch of quicksilver began to form on the left side of my visual field.  Like an oil slick, it began to spread its way towards my right eye, bleeding television static snow all over the entire universe.  Forget whatever else was on the schedule for the day.  It was time to hunker down, and wait for this migraine to pass.
Being chemically sensitive, I have relatively few options to combat the lightning storm in my head.  After a couple post brain-battering hours, I scoured the internet for some natural alternatives to prescription migraine medicines.  Here are a few of the most promising remedies:
1.  Butterbur- This plant, found growing in Northern Asia, Europe and areas of North America, can be taken as a tea, extract or capsule.  Studies have shown that 50-75 mg of butterbur extract twice a day decreased the occurrence of chronic migraines.  Side effects were generally mild digestive complaints.  Since the plant is in the ragweed family, those with grass allergies should avoid the drug.  Anyone with kidney and liver disease should seek an alternative remedy.
2.  Feverfew- This European herb has been used as a healer for headaches, arthritis, and fever for centuries.  In the 980's, it began to be used as a therapy for migraines.  Feverfew should not be taken with non-steroidal anti-inflammatory drugs (NSAIDs) because of its blood-thinning properties.  Due to some of its side effects (gas, diarrhea, vomiting, nervousness) and its close relation to chamomile, ragweed and yarrow, sufferers should consult their doctors concerning any allergies or sensitivities before taking the supplement.
3.  Magnesium- This element is found naturally in green vegetables and helps to regulate blood sugar, as well being essential to muscle and nerve function.  Around 300-600mg each day may reduce the frequency and severity of migraine attacks.  Magnesium citrate may be the most effective form, and it is not recommended taking a magnesium/calcium blend for headaches.
4.  5-HTP- 5 Hydroxytryptophan is a form of amino acid created in the body and used in the production of the neurotransmitter seratonin and the hormone melatonin.  It can be bought as a supplement derived from plant seeds.  At a dose of 600mg a day, 5-HTP may reduce the number of severe headaches.
5.  Niacin-  AKA Vitamin B3, taken right as the headache starts can relieve a good deal of the migraine's vice-like grip.
6.  Mangosteen-  This fruit has pain-easing and anti-inflammatory properties and can help with dulling sensitivity to stimuli.  Extract or smoothie should do the trick.
7.  Acupuncture-  For those who are not leery of needles, a visit to the acupuncturist could possibly manipulate the body's electrical signals enough to decrease the number and intensity of headaches.
8.  Aromatherapy- Essential oils are quick and inexpensive ways to combat pain and stress.  Chamomile, rosemary, lavender and peppermint have been noted as some of the most effective for migraines.  The oils can be placed in a diffuser, or applied directly to the temples, head and neck.  Coupled with a cool washcloth, the oils should provide relief from pain and nausea within fifteen minutes.
9.  Biofeedback- Through biofeedback, a person can learn to control and reduce the reactions that are triggered by severe headaches.  By noticing certain bodily fluctuations such as pulse, temperature and tension, a sufferer can bring these under conscious awareness and eventually identify and alter the patterns that appear during a migraine.  Devices that monitor the body's changes can be used at first in order to make the sensations available to be observed by the brain.  Eventually, biofeedback will aid the patient in preventing the headaches before they start and help lessen the pain through relaxation techniques.  Levels of stress hormones and seratonin have been lowered through biofeedback, affecting the rate and intensity of migraines.