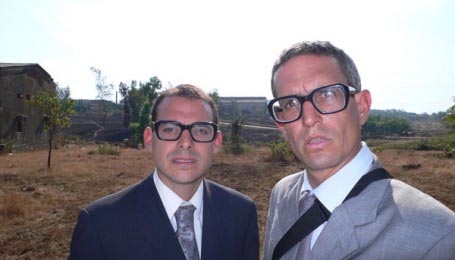 On the evening of November 1st, 2010, San Francisco's Castro neighborhood witnessed a procession of activists towing three faux-Chevron executives wearing gigantic, inflatable spheres atop hay bales pulled by their loyal, Hazmat suit-clad employees.  Streaming behind them were angry figures in skeleton suits and a number of passers-by that were encouraged to join in the strange parade.  Upon reaching Market and Castro and framed by a Chevron station in the background, the CEO's explained that their unusual attire was a defensive measure that would help them to ensure their survival against the future calamitous repercussions of climate change.  Their large, silver "grub suits", also known as  "Survivaballs", were intended to help protect our society's "most valuable citizens" from rising sea levels as well as violent retribution from other suffering, "less fiscally responsible" members of the community.
The November protest was created by the Yes Men, an absurdist performance-based activist group who utilize guerrilla theater tactics to call attention to the socially abhorrent behaviors of certain large corporations.  This particular event was intended to satirize recent political actions made by the CEOs of Chevron and the US Chamber of Commerce in relation to climate change policy.  The Yes Men originally began their social activism through the construction of parody websites.  After receiving substantial media attention over their sites lampooning then Presidential incumbent George W. Bush's homepage and the World Trade Center's "official" site in 2000, Yes Men founders Andy Bichlbaum and Mike Bonanno began to formulate a series of "identity correction" stunts.
The Yes Men, to their self-admitted surprise, have participated in many high-profile talks and symposiums largely due to a gross lack of fact-checking or close inspection of their satirical websites.  Beginning with the WTO and later moving on to corporations such as DOW Chemical, Union Carbide and McDonald's, these guerrilla performances were characterized by the creation of figures who were intended to be received as genuine, high-ranking members of each organization.  These spokesmen would espouse outrageous proposals to members of symposiums, business meetings and TV audiences based on the very real and immoral practices of the companies they putatively represented.  Almost all of their stunts were accompanied by long-winded speeches, computer animations, flow charts, food items, and outlandish costumes.
For video of their exploits, watch their first film The Yes Men,  and their most recent feature, The Yes Men Fix the World.  For a hilarious read, pick up their new book.  To become a Yes Man and join the ranks of concerned pranksters worldwide, visit the Yes Lab and say Yes to social reform!