Posts Tagged 'arbor'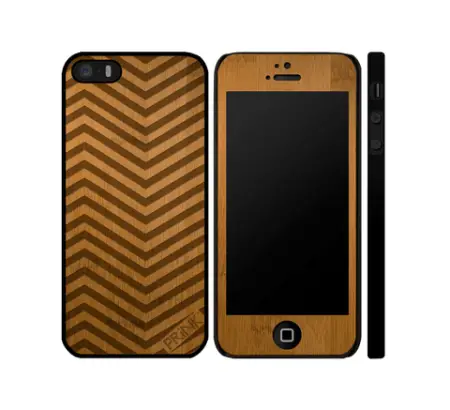 After spending a good chunk of hard-earned cash on a smartphone or tablet, it is wise to find a way to protect the device from all of the perils of the modern age. Your electronics may be powerful, but they are still susceptible to drops, cracks, scratches, and the occasional teething baby. Portland, Oregon-based company, PRiNK offers a fashionable and sustainable option for those who wish to remain tech-savvy while also keeping the health of the planet in mind. Once we saw that they produce shells for iPhone and iPad in bamboo, we took notice. Upon finding that they helped to fund the planting of 2,000 trees in the Pacific Northwest last year alone from the profits of their merchandise, we simply had to carry their cases. As an added bonus, they have a partnership with Arbor, one of the most enlightened bamboo clothing companies out there. As members of the Forest Stewardship Council and Fair Labor Association, you can be assured of a quality product that respects both humans and the environment.
Bambu Batu plans to be featuring several sizes of their bamboo mobile device cases for iPhones and iPads with the Arbor logo, our famous "Kale" emblem, stylish Om label, and "B Here Now" mantra. Custom etched designs are also available for anyone with a favorite image or artistic streak! Stay tuned for the newest exciting addition to the Bambu Batu family!
On the Central Coast, we are lucky to be able to camp in amazing weather all year round. From the coast to foothills, we love take our tents and sleeping bags and experience the great outdoors. At Bambu Batu, we are proud to carry a number of excellent products that will be a welcome addition to any nature nut's kit. Sustainable, strong, and lightweight, bamboo is an wonderful choice for your next romp through the wilderness.With the holidays coming up, why not swing by and pick up something for your friends and family that they will be sure to use and enjoy?
Eat- Why pack an entire drawer of heavy, metal silverware when you can take along a handy spork? Both spoon and fork, it comes  with its own cork pocket so that it can fit snugly into your trousers or backpack. For the full set of cutlery in a compact sleeve, bring along our To- Go Ware Bamboo Utensil Set, complete with carabiner to attach to your gear. If you are sick of paper plates for camp cookouts, we offer bamboo veneer plates which are just as lightweight as their wasteful relatives, but easier on the environment and able to be used a number of times.
Drink- Whether out on a hike or just lounging next to the campfire, it is extremely important to keep hydrated. Out bamboo-topped Klean Kanteens make sure you always have precious fluids on hand. Also check out our Bamboo Bottles with extra insulation and glass interior for tea, soup, or coffee! Our tea tumblers are fantastic for caffeine on-the-go as well as a beautiful way to display our flowering teas from local purveyor, Swan Sisters Tea and are handy for the office or the outdoors.
Be Merry- Of course, we have a whole store filled with amazing bamboo apparel which will keep you content from head to toe. When your body is comfortable, you are ready to enjoy nature to its fullest. Happy feet affect the rest of your bones, so grab a pair of super-comfortable bamboo socks before your next stroll. Soft, anti-microbial, and able to wick away moisture, they are a popular and fantastic gift for anyone on your list!  Don a new bamboo Arbor beanie for cold nights, wrap up in a Spun Bamboo sweatshirt, or hang around the cabin in some BambooDreams lounge pants.