Posts Tagged 'crowdsourcing'
No one wants pollution spewing into the air, waterways, or land near where they live. Yet with chemicals and substances that are naked to the human eye, how can you know with any certainty what is who or what is polluting your backyard? Thank heavens for the Internet and crowdsourcing. With the help of modern technology, scientists, and advocates across the world, you have access to the information you need to monitor your home habitat.
Poisoned Places- NPR and their Poisoned Places series has created an interactive map that allows the user to see how polluted their neck of the woods has become. They take their aggregate data from the U.S. Environmental Protection Agency: the Clean Air Act watch list, the Air Facility System (AFS), the Toxics Release Inventory (TRI) and the Risk Screening Environmental Indicators model (RSEI).
Superfund Sites Where you Live- The EPA allows you to find out if you are living next to a Superfund Site, or an area where pollutants or hazardous waste is located. The site also allows you see how the cleanups are progressing and access community resources that help educate and involve residents in the restoration of their neighborhoods.
Landsat Satellite Images- Pictures have the power to express what data sheets, charts, and tables are unable to infer. Google Landsat takes satellite images from space and through timelapse photography creates videos that chronicle urban development, climate change, and environmental destruction. Time magazine has compiled several of the most stunning pieces on their website.
Ventus: Developed by researchers at Arizona State University, Ventus is a computer game that uses crowdsourcing to track CO2 pollution from power plants across the world. Users are able to enter information as to the size, capacity, and output of each facility in a competition to win top honors from the website's founders. In addition to identifying the new plants springing up around the globe, Ventus can be used as a tool by policy makers and scientists looking to reform energy infrastructure.
U.S. NRC – Chances are if you live near a nuclear power facility, you are already aware of your radioactive neighbor. The US Nuclear Regulatory Commission offers several interactive maps that show the locations of nuclear power plants, waste storage and materials facilities.
As a climate scientist, tackling global warming is an immense challenge. The most basic information, such as the location of the world's fossil fuel-burning power plants and how much CO2 they emit, is difficult to obtain while sitting in an office. Through the power of crowdsourcing and the Internet, researchers at Arizona State University have created a computer game called Ventus that takes advantage of data provided by citizen scientists. Led by Kevin Gurney, the website operates on the belief that every facility in the world has at least a dozen or so people living or working near the plant that could provide valuable information. Players register through the page and are asked to provide the name and location of the plant along with what kind of fuel is used, how much electricity is produced, and the amount of CO2 released into the atmosphere. They are able to view all entries as well as make adjustments and edits. Participants who have provided the most useful data at the end of the year will win.
The team at ASU has already compiled a list of 25,000 plants through Google Earth. They estimate that there are over 30,000 fossil-fuel sites across the world, and the number is likely to grow as countries such as India and China continue to industrialize. With power plants accounting for nearly half of the world's CO2 output, understanding where and how much greenhouse gas is being expelled into the environment will be a powerful tool for governments and communities to use in shifting towards alternative sources of energy.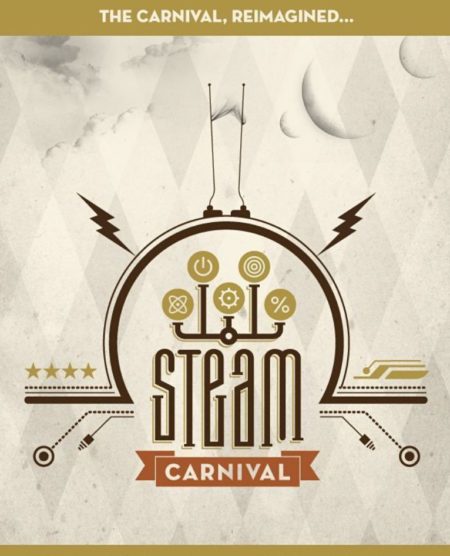 Chances are, if you are attempting to talk to a child about math and science, you will receive a look of mild boredom at best and outright disgust at worst. Yet, if you throw in the words "video games", "robots", "lasers", or "fire", you are sure to grab their attention. Confident that learning can be a fun and engaging experience, co-founders of Los Angeles-based Two Bit Circus, Brent Bushnell and Eric Gradman, have launched a spectacle that is certain to dazzle kids and adults alike. Prepare yourselves for the STEAM Carnival, a synthesis of entertainment and education that uses cutting edge technology and showmanship to delight and inform.
Currently the subject of a Kickstarter campaign, the STEAM Circus is hoping to raise funds to establish a state-of-the-art big tent affair complete with games, prizes, food, live entertainment, and the latest technology to inspire children to get excited about the arts and sciences. STEAM, or "Science, Technology, Engineering, Art, and Math" seeks to encourage kids to explore the world around them and become more involved in education. According to Naval STEM, only 33 percent of eighth graders show an interest in the disciplines, and a scant 6 percent of high school seniors will seek a major in the fields. With attractions like the motion capture mechanical bull, ignition ring toss, and human asteroid games, who wouldn't be thrilled to participate in the sciences?
Through digital art galleries, musical robots, fashion shows of wearable electronics, and a healthy dose of fire, the STEAM Carnival hopes to give the world of science a much needed boost in PR. Kids will be able to also sign up for a special kit that they will be able to take home to jumpstart their careers as future inventors. Slated to open in the spring of 2014, the event will begin in Los Angeles before traveling to San Francisco and cities beyond. Two Bit Circus is working towards raising enough money via crowdsourcing to invent new activities, reach out to schools, secure locations, and finalize production. Contribute today in order to bring the Carnival to life!