Posts Tagged 'ipad'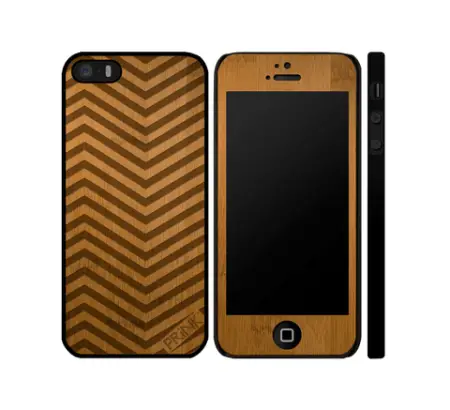 After spending a good chunk of hard-earned cash on a smartphone or tablet, it is wise to find a way to protect the device from all of the perils of the modern age. Your electronics may be powerful, but they are still susceptible to drops, cracks, scratches, and the occasional teething baby. Portland, Oregon-based company, PRiNK offers a fashionable and sustainable option for those who wish to remain tech-savvy while also keeping the health of the planet in mind. Once we saw that they produce shells for iPhone and iPad in bamboo, we took notice. Upon finding that they helped to fund the planting of 2,000 trees in the Pacific Northwest last year alone from the profits of their merchandise, we simply had to carry their cases. As an added bonus, they have a partnership with Arbor, one of the most enlightened bamboo clothing companies out there. As members of the Forest Stewardship Council and Fair Labor Association, you can be assured of a quality product that respects both humans and the environment.
Bambu Batu plans to be featuring several sizes of their bamboo mobile device cases for iPhones and iPads with the Arbor logo, our famous "Kale" emblem, stylish Om label, and "B Here Now" mantra. Custom etched designs are also available for anyone with a favorite image or artistic streak! Stay tuned for the newest exciting addition to the Bambu Batu family!
Bamboo has been used for centuries to build homes, fashion tools, and create textiles.  Now, in the modern era, bamboo is getting a high-tech makeover, protecting our smartphones and looking good in the process.
ADzero: Bamboo lovers, get ready for ADzero, the world's first bamboo smartphone, created by UK design student Kieron-Scott Woodhouse.  The body of the device is made from four-year-old organic bamboo, and has been treated to make the exterior extra-durable.  Mores sustainable and less energy intensive to produce than steel or plastic, bamboo is an excellent choice to protect the Android phone.  Bigger than the iPhone 4S but weighing less than half as much, the ADzero recently received a very warm welcome at London Design Week where fans were happy to hear that the prototype will be available for purchase by the end of 2012.
Twig Case Co.: For iPhone users, Twig Case Co. offers some stunning laser-etched bamboo and FSC Certified paper cases.  Made in Minnesota, the cases are more durable than wood, and range in style from sleek and modern to intricately carved.  As an added bonus, each case is shipped from their home base in reusable and compostable packaging.
Grove: Handmade in Portland, Grove creates iPhone and iPad cases for Apple aficionados. Laser engraved, the cases showcase the natural beauty of bamboo.  Individual pieces of the sturdy grass are bound together with water-based resins under pressure to provide strength and support for the phone. Each order is hand oiled and sanded, lending a feel of artisan craftsmanship.  Grove also features customized engraving, and pre-orders can be made through their website.