Posts Tagged 'Mothers'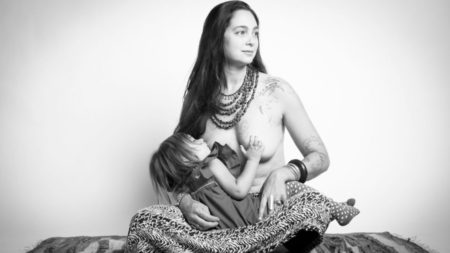 The modern media landscape is crammed with images of Photoshopped bodies and faces that look more like oil paintings than depictions of real life. What most people hardly ever see is the variations and idiosyncrasies of the female form throughout motherhood, particularly during and after pregnancy. Unless they are studying the captivating imagery of Jade Beall.
Arizona photographer Jade Beall became fascinated with the maternal figure after the birth of her son in 2012. Although the birth was uncomplicated and joyous, she fell into a postpartum depression because she felt ugly, ashamed, and unattractive. After taking nude self-portraits of herself with her child and posting them on her website, she received hundreds of positive comments. Realizing that her work could be used as an agent of healing and reclamation of one's physical self, she began the "A Beautiful Body" project. Through the series, she photographs her sitters for free, allowing them to heal from years of self-loathing, abuse, and disease.
Her first volume "A Beautiful Body" is primarily focused on mothers and their families. The book, which will be available in January, is the first of several which will deal with birth, aging, death, and beyond. Her edition is currently the subject of a Kickstarter campaign, which has already exceeded its target goal. Offering her talents to act as medicine for both subjects and viewers, the black and white photographs are powerful reminders that beauty lies in the ability to give and sustain life, love, and the embodiment of compassion.
*This is a now household phrase, thanks to Steve Jobs. And apparently, there's now an app for yoga. That's right boys and girls, you can yoga on the goga. Rough work meeting? Instead of a cup of coffee, step out for triangle pose or a series of hip openers. Can't make it to your 6 p.m. Vinyasa class? How about a quick round of power yoga at the park, or the highway rest stop, or even the airport.
With All-in YOGA (available from iTunes for just $1.99), or any other of a host of yoga apps, you can personalize your session by length of time, level of fitness, and intention. There are a few different formats, as well. You can have a narrator or flash cards if you chose.
The benefits of yoga are well known. From flexibility and core strength to mental discipline and focus, great for young and old, men and women. And now it's in your pocket!
Those who stand to benefit the most from this kind of easy access, are those who have hectic or strange schedules, such as mothers, artists and big time business folk. Though really, everyone can benefit from yoga. In the same way that anyone can enjoy a pair of bamboo yoga pants or a some bamboo athletic wear, whether they practice yoga or not. : )
Be on your merry way, smart phone users, and stand tall, because your posture is already improving! Namaste.