Posts Tagged 'education'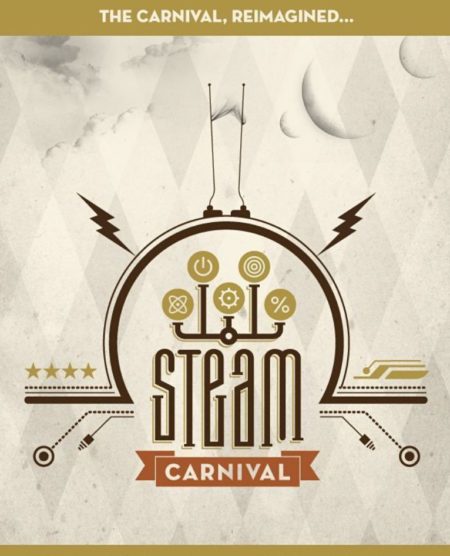 Chances are, if you are attempting to talk to a child about math and science, you will receive a look of mild boredom at best and outright disgust at worst. Yet, if you throw in the words "video games", "robots", "lasers", or "fire", you are sure to grab their attention. Confident that learning can be a fun and engaging experience, co-founders of Los Angeles-based Two Bit Circus, Brent Bushnell and Eric Gradman, have launched a spectacle that is certain to dazzle kids and adults alike. Prepare yourselves for the STEAM Carnival, a synthesis of entertainment and education that uses cutting edge technology and showmanship to delight and inform.
Currently the subject of a Kickstarter campaign, the STEAM Circus is hoping to raise funds to establish a state-of-the-art big tent affair complete with games, prizes, food, live entertainment, and the latest technology to inspire children to get excited about the arts and sciences. STEAM, or "Science, Technology, Engineering, Art, and Math" seeks to encourage kids to explore the world around them and become more involved in education. According to Naval STEM, only 33 percent of eighth graders show an interest in the disciplines, and a scant 6 percent of high school seniors will seek a major in the fields. With attractions like the motion capture mechanical bull, ignition ring toss, and human asteroid games, who wouldn't be thrilled to participate in the sciences?
Through digital art galleries, musical robots, fashion shows of wearable electronics, and a healthy dose of fire, the STEAM Carnival hopes to give the world of science a much needed boost in PR. Kids will be able to also sign up for a special kit that they will be able to take home to jumpstart their careers as future inventors. Slated to open in the spring of 2014, the event will begin in Los Angeles before traveling to San Francisco and cities beyond. Two Bit Circus is working towards raising enough money via crowdsourcing to invent new activities, reach out to schools, secure locations, and finalize production. Contribute today in order to bring the Carnival to life!
There are many questions in an expecting parent's mind. 'Boy or girl' is usually the first. Then 'breast feeding or formula?' Then 'public school or private?' On that daunting list of decision, parents may also want to consider Outside Now Nature Academy.
Outside Now is a small private school dedicated to teaching more than just your usual reading and 'rithmetic. It is a secondary level school that focuses on environmental issues, sustainability, the wilderness, and connection with wildlife based out of SLO. It's a very hands-on program taught by experienced instructors who are immensely passionate about the environment. In addition to the Nature Academy, they offer a preschool program called Sandpipers, for children ages 3-5.
Some things your little duckling will learn about:
Natural systems and eco-literacy Sustainability and permaculture principles Applied and traditional mathematics Literature and creative writing History, world cultures, and current events Leadership, conflict resolution, and group process Wilderness survival skills Bird language Animal tracking Edible and medicinal plants Basic woodworking and building techniques Fine arts and native crafting Growing and cooking healthy food
Even if you don't have children of your own, and you like what they're doing, contributions can be made on their website or at various fundraising events, including Dare To Wear Green-Fundraising Gala and Silent Auction, Saturday, March 19th. You might even win an item from Bambu Batu!
For more information about the instructors, curriculum, goals and tuition fees, visit Outside Now online.