Environmental forces are bringing about a transformation in the construction industry, demanding more ecological practices and materials. The old school is sure to resist these changes, but those who embrace the green tide will find themselves at the forefront of a new era. And as standards for sustainability rise in new construction, bamboo is likely to play an increasing role. So where can aspiring builders and designers find the best architecture schools that emphasize sustainability and alternative materials like bamboo?
Architecture and design programs across the country and around the world are placing an increased emphasis on sustainable methods and renewable materials like bamboo. The following article identifies some of the most reputable schools and universities that offer training and degrees in these exciting fields of the future.
A green revolution in an archaic industry
We are in the midst of another industrial revolution. Our current models and energy sources are proving unsustainable. Concrete, steel, and petroleum will soon join stone and bronze in the faded pages of history. It was good while it lasted, but mankind is due for yet another great leap. And for the well-educated architect, resilient bamboo could form the backbone of a new paradigm and the springboard that launches our civilization forward.
U.S. schools for sustainable architecture, engineering and design
To prepare for a career in green architecture and design, a quality education with an emphasis on sustainability is going to be essential. The following American universities have excellent reputations for their sustainable architecture and design programs.
Carnegie Mellon University
The CMU School of Architecture has a 5-year undergraduate program as well as Masters and Ph.D. programs for more advanced learning and research. The Master of Science in Sustainable Design (MSSD) will offer the most interesting course of study for those interested in green building. Students of the architecture school recently collaborated with design firm GBBN for a renovation of Sorrells Library which included a number of innovative bamboo elements.
Located in Pittsburg, PA, Carnegie Mellon is a private research university with roughly 7,000 undergraduates and 8,000 post-graduate students.
Cornell University
In its mission statement, Cornell's Department of Architecture, Art and Planning (Cornell AAP) proudly proclaims: "We advance research, scholarship, and critical and creative practices to build a more sustainable, just, and resilient world." With this commitment to sustainability and resilience, it's no surprise to see the school affiliated with so many projects involving bamboo construction.
In 2015, associate professor Jack Elliott headed a project in the Dominican Republic to build structures based on bamboo that would be safe from both hurricanes and earthquakes. The department is currently offering a course through its Rubi Lab that explores bamboo's potential as a building material in conjunction with other novel technologies.
Cornell is a private Ivy League university based in Ithaca, NY, with a total student population of about 26,000.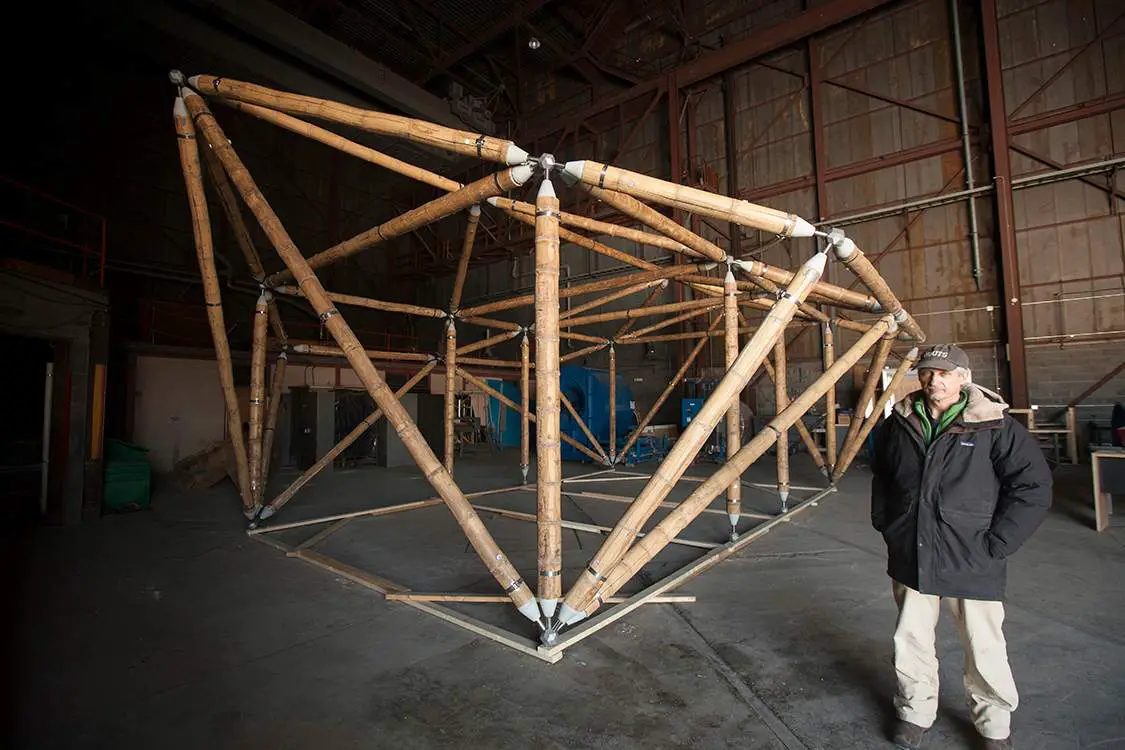 Kansas University
Kansas is a state more often associated with corn and cattle than with bamboo. But don't let the stereotypes discourage you. The KU School of Architecture and Design is involved in some very progressive projects related to renewable energy and bamboo engineering.
University researcher and design professor Lance Rake recently created a bamboo bike that uniquely combines eco-friendliness with a microeconomic production process. The Design Museum of Chicago proudly displayed Rake's bamboo creation in its 2018 exhibit entitled "Keep Moving".
KU is a public research university based in Lawrence, KS, with a total student population of 28,000 undergraduates.
University of California, Berkeley
UC Berkeley's College of Environmental Design (CED) is considered one of the top architecture programs in the country. The school offers a 4+2 course of study that combines 4 years of non-professional undergraduate study with a 2-year professional Master of Architecture degree. The Center for the Built Environment celebrates the school's long-time commitment to green building. In 2018, they offered students an opportunity to work and study directly with bamboo growers and designers in Ecuador.
University of California, Davis
UC Davis is the only school in the UC system to offer degrees in Landscape Architecture. They do not have an architecture department per se, but the school has partnered with other organizations, including the Regeneration Field Institute in Ecuador, to offer on-site training in bamboo cultivation and construction.
University of Southern California
The USC School of Architecture has a wide range of degree programs for undergraduate and postgraduate study. Additionally, they offer a multidisciplinary Certificate in Sustainable Design that addresses the skills and tools necessary to create manmade systems that operate in harmony with nature.
Assistant Professor Bhavna Sharma is probably the campus's most accomplished advocate for bamboo. Her research focuses on the use of natural materials in construction, and particularly the use of engineered bamboo to increase the resilience of the built environment.
With a total of about 700 graduate and undergraduate students, the School of Architecture is one of this private university's 22 professional schools.
Virginia Tech
Virginia Tech's College of Architecture and Urban Design (CAUS) has one of the most highly ranked architecture and design programs in the country. The school is actively involved in a variety of projects that demonstrate the value and viability of sustainable design. The LumenHaus project showcases the use of solar energy and has received international acclaim.
Assistant Professor Jonas Hauptman is currently working with colleagues Katie MacDonald and Kyle Schumann (now at the University of Tennessee) to research and develop better methods of processing bamboo as an engineered building material. In 2019 they received $71,000 in funding to sustain their ambitious research. Ultimately, the team hopes to develop new methods that will make bamboo a more useful and widely-accepted material in the traditionally-minded construction industry.
The CAUS is part of a public university based in Blacksburg, VA. The college serves a total of about 2,000 graduate and undergraduate students.
See our detailed article on Smart Bamboo for wiser construction to learn more..
European programs for sustainable architecture
For those looking for an international education in sustainable architecture and design, there are many options in Europe and Asia. Here are a couple of programs to consider.
Norwegian University of Science and Technology
Based in Trondheim, Norway, the Norwegian University of Science and Technology has a 2-year Master's program in Sustainable Architecture that aims to train building professionals in the use and development of competitive methods and solutions for lowering greenhouse gas emissions of the built environment in a life-cycle perspective. The school has been involved in research to improve the viability of bamboo as a composite building material.
NTNU's postgraduate program is open to international and Norwegian students who already have a 3-year Bachelor's degree in Architecture, Engineering or Urban Planning.
Polytechnic University of Catalonia, Barcelona
The Polytechnic University of Barcelona has a range of programs and departments focused on architecture, design, and engineering, with a strong emphasis on sustainability. Many students and faculty are engaged in research related to improving the technology related to bamboo construction.
Special courses in bamboo building
Bamboo U in Bali, Indonesia
Indonesia boasts some of the most impressive bamboo structures on earth, so it's a natural destination to learn more about the properties of this miraculous grass. And there's no better place to admire the stunning potential of bamboo architecture than at the Green School in Bali.
The Green School was set up in 2005 to train students for a future in sustainable living, environmental stewardship, and global citizenship. A decade later, Green School co-founder John Hardy launched Bamboo U, in collaboration with Orin Hardy and Maria Farrugia. Today, an elite faculty of innovative engineers and designers lead online and in-person courses highlighting the astonishing potential and practicality of bamboo construction as a greener, more sustainable solution. From one-day tours to 11-week immersion courses, no place on earth offers a comparable education in bamboo.
Take a look at our feature article about Bamboo U to learn more.
Natural Building Costa Rica
Natural Building Costa Rica is a private school, located in the picturesque Diamante Valley, offers fantastic retreats and workshops focusing on bamboo. Week-long immersion courses cover all topics of bamboo cultivation, harvesting, design, engineering and construction. No experience is required, just a genuine passion. Package deals include bamboo classes, daily yoga, comfortable accommodations, and meals with strictly organic, vegan, and locally-sourced ingredients.
Their website is no longer active, but you can find them on Facebook or contact Trey Abernathy for more details. You can also check out our complete article about bamboo in Costa Rica.
Bamboo school starts here
If you're ready to learn more about bamboo, you've come to the right place. To continue your education in this interdisciplinary world of botany and engineering, start by perusing some of these informative articles.