Fred Hornaday (that's me) has been active in the bamboo industry since 2006 when he opened America's first all-bamboo boutique in San Luis Obispo, California. Since 2020, he has been committed to expanding his impact and influence on a global scale.
Today, I work as a consultant with bamboo growers and producers all across the world. Some of the most interesting projects I've been involved with are in Thailand, Cameroon, Ghana, Nigeria, Kenya and Malawi. As tropical bamboo thrives most successfully in the developing world, where resources can be scarce, I specialize in helping growers develop effective strategies to turn this giant grass into a profitable crop that can restore degraded landscapes and revitalize disadvantaged communities.
From project assessment to species selection to monetization strategies, I'm determined to see bamboo growers succeed. We all have our roles to play in the existential struggle against Climate Change, and mine is to promote bamboo. This miraculous plant can work wonders for landscapes and for the atmosphere. But bamboo farming also needs to pencil out financially if we want to see it take off on a large scale.
Take a look at my TESTIMONIALS page to see what others are saying.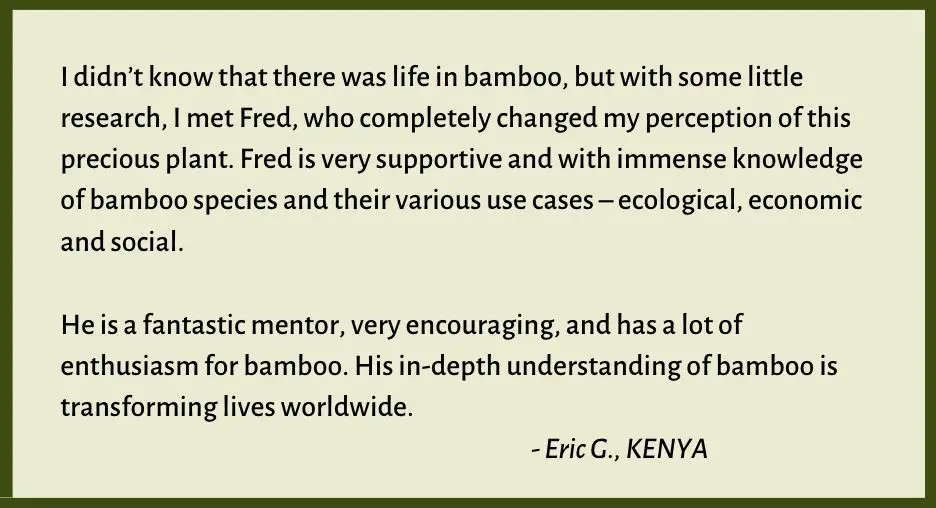 Below is a short list of bamboo consultation options. But we understand that every project is unique, so we can always be flexible. At the end of the day, what it's important is that the best bamboo farming and agroforestry projects can move forward successfully, while those that are overly fantastic and unrealistic are held back for further review and refinement.
We all want to see massive bamboo forests proliferate across the equatorial belt, but if an enormous and unreasonable plantation ends up a spectacular disaster, then it's a major setback for the entire industry and for bamboo growers everywhere. We aren't just here to promote bamboo, but to do so with prudence and care.
Bamboo Consultation options
BRAIN-PICKING SESSION – MOST POPULAR OPTION
For small-scale bamboo projects and those who are just flirting with the idea, a one-hour consultation is probably the best choice. This usually includes a high-level overview of the bamboo industry, with specific attention to your region or location. We cover the basic principles of bamboo cultivation and how to make a business out of it. Of course, we can focus on whatever areas you are most interested in and address your chief concerns.
SCHEDULE A CALL: $50/half-hour
Before signing up for a project assessment or a business, let's start with a short consultation. Should you decide to move forward with a higher level of service, we can apply the initial consultation fee to the balance.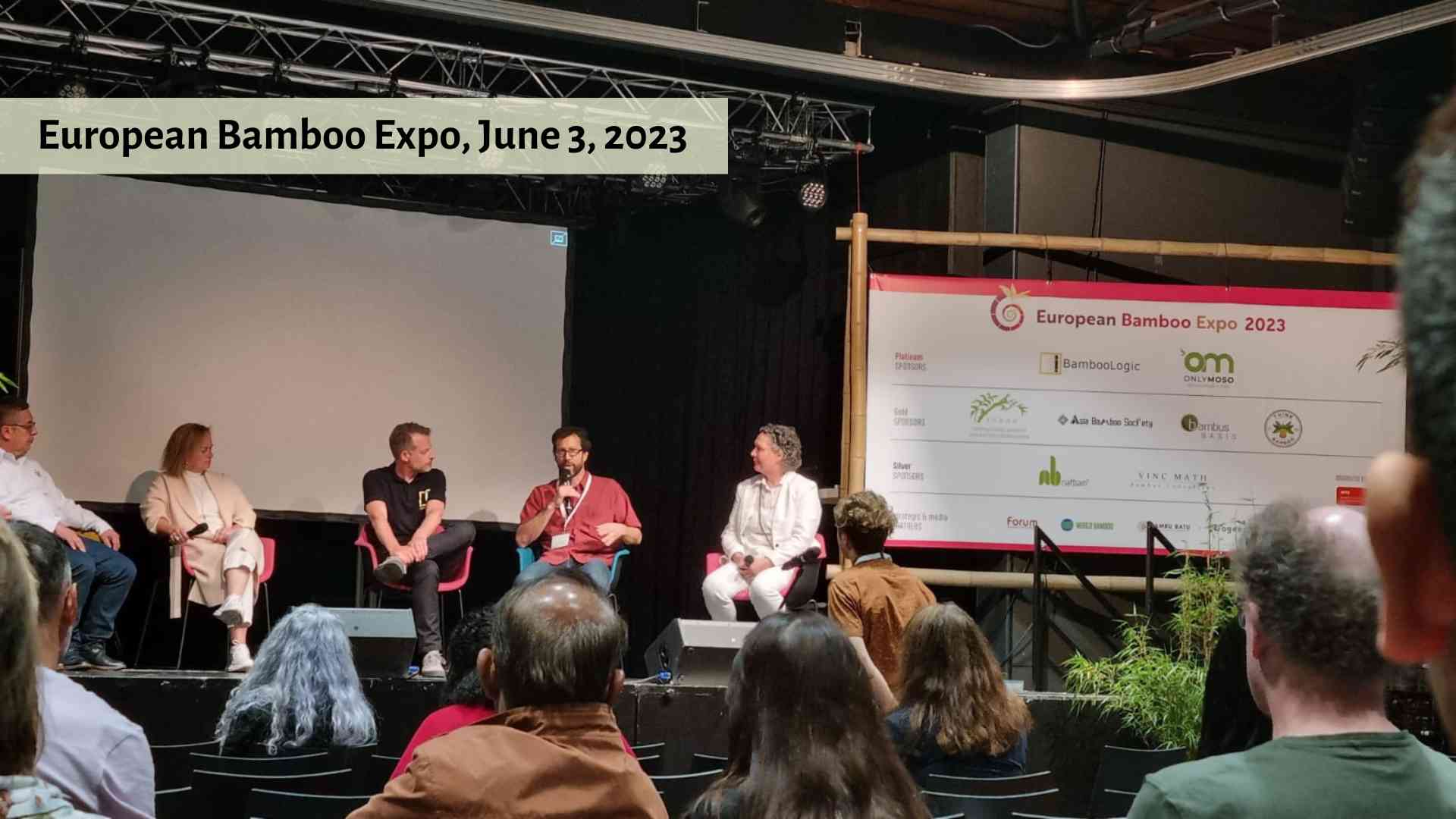 PROJECT ASSESSMENT
Before acquiring a massive tract of land, erecting a full-scale greenhouse, or ordering a boatload of machinery from the People's Republic, we need to conduct a careful assessment. To confirm the viability of the project and see that your expectations are in alignment with reality, we compile a thorough report (10-15 pages) that evaluates the land, the location, the choice of species, the timelines, and the various possible monetization strategies. We typically have two or three video conferences to go over the project, discuss the goals, and ensure that the assessment covers all the vital points.
$2,500 plus site optional visit
BUSINESS PLAN
The Business Plan includes all aspects of the Project Assessment with far greater attention to detail, especially concerning business models and financial projections. The final document is roughly 20 to 30 pages, plus spreadsheets and financials. We typically have three to five video conferences to go over the project, discuss the goals, and ensure that all the critical questions and contingencies are addressed.
$7,500 plus recommended site visit
ONGOING GUIDANCE AND SUPPORT
Keep a bamboo specialist on staff to oversee all manner of bamboo-related activities, including researching specific conditions, collaborating with peers and colleagues, planning business strategies, developing financial models, etc. Rates can vary depending on the size and scope of the projects and the level of time commitment.
$1,200-2,500/month
Speak with an expert
Due to the very high volume of emails received through the website, I'm no longer able to respond to every message personally. I continue to provide an abundance of free content on this website and through my YouTube channel.
To speak with me personally, please book a call through my Calendly: $90/one hour or $50/half-hour.
If my schedule doesn't work for you, just e-mail me and we'll set up a convenient time that works for both of us and as many of your team members as necessary. I'm happy to use Zoom, Google Meets, Whatsapp, or the platform of your choice.
Further reading
To learn more about bamboo, bamboo farming, and the enormous potential of this remarkable plant, take a look at some of these other articles.