A wonderland of verdant forests, fairy tale villages, and modern cities, Germany has almost everything the culturally curious tourist could ask for. But if it's tropical beaches and warm sunshine you desire, then you'll want to look elsewhere. Famously cold and gray, Germany is hardly a haven for our favorite plant, bamboo. Yet if you know where to go, you'll find that Germany has far more bamboo than you'd expect.
The spectacular Botanical Gardens of Berlin offer the best examples of bamboo in Germany, including tropical species grown in greenhouses and cold-hardy varieties that thrive outdoors. Potted bamboo is also a common sight along the bustling boulevards, especially in front of the many Asian restaurants. And determined museum-goers will even find a handful of bamboo artifacts among the city's formidable anthropological collections.
If it's bamboo tourism you're after, be sure to check out our list of the World's 20 Best Bamboo Gardens.
Searching for Bamboo in Berlin
I recently spent a week in Berlin, primarily for pleasure and sightseeing. I'd made a list of popular museums and monuments I intended to visit, but I also set out on a more novel quest to find Germany's best bamboo specimens.
Despite its urban setting and great distance from the equator, Berlin actually has a surprising variety of bamboo for the grass-loving enthusiast to enjoy. But you have to know where to look.
The Botanical Gardens of Berlin
On the southwest outskirts of the city, roughly a 20-minute tram (Strassenbahn) ride from the city center, you'll find the Botanical Garden and Botanical Museum of Berlin. Admission is a meager 6 euros, roughly equivalent to the price of a falafel sandwich, of which I enjoyed several on this short vacation.
Cold-hardy bamboos in Germany
Begin your stroll at a leisurely pace, because you could easily spend the entire day taking in this 40+ hectare spectacle of horticulture.
The outdoor spread, meticulously managed and maintained, is mostly arranged by geographical regions. So bamboo lovers should gradually make their way to the Chinese and Far Eastern portions of the park.
The greatest deterrent against growing bamboo in Germany is surely the northern European climate. The winters here are long with prolonged periods of freezing, sometimes dipping into negative Fahrenheit territory.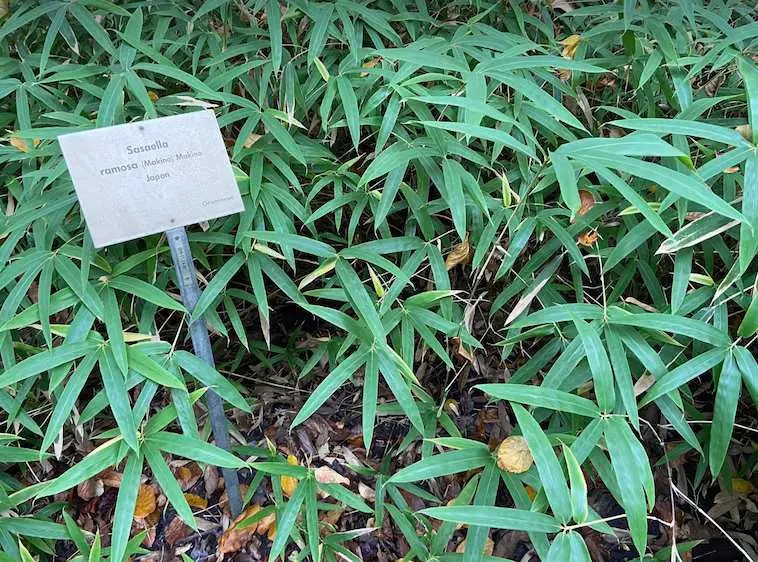 We know, however, that cold-hardy bamboo can grow in such inclement weather. Most of the temperate bamboo species are running varieties, like those of the common genus Phyllostachys. But the botanical experts of this German garden don't waste any space with the ordinary varieties of Phyllostachys that would grow so easily and spread so vigorously in this chilly setting.
The genus Sasaella, native to Japan and Korea, includes several species of cold-hardy dwarf bamboo. They do have a running growth habit, but their diminutive stature makes them easier to manage than most runners. They also make an ideal ground cover beneath a canopy of taller trees and shrubs.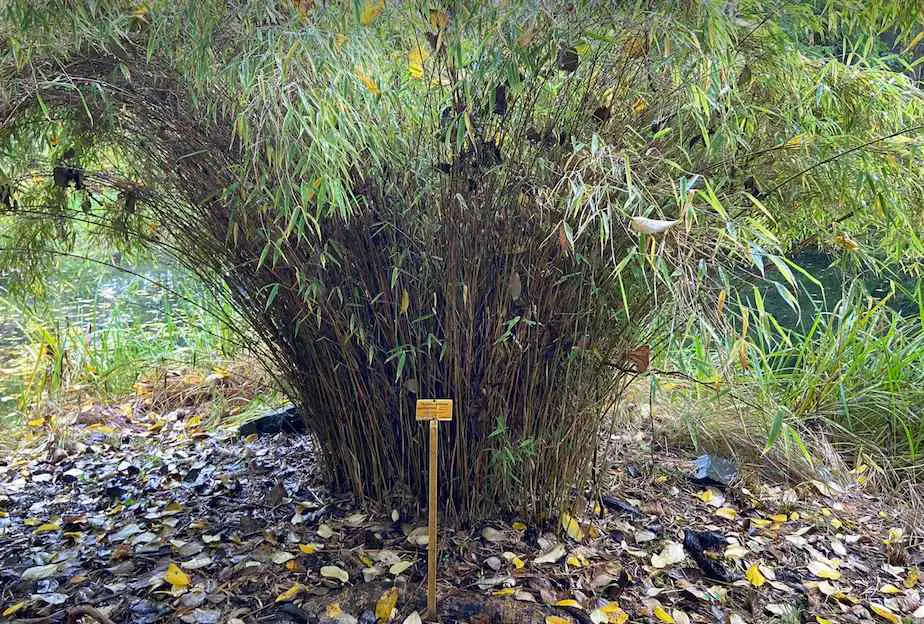 Finding clumping bamboo that can withstand the cold is a challenge that many European and North American gardeners encounter. But don't fret, there are a handful of bamboo outliers that fit the bill. And of course, you can see some on display in Berlin's Botanical Garden.
I was able to find a few clumps of medium-sized, gently arching bamboo on the premises. All the plants are well-marked in these German gardens, which I just love. And the signs identified these bamboos as Thamnocalamus spathaceus, native to southern China and the foothills of the Himalayas. But most authors now refer to this species as Fargesia spathacea, an exceedingly cold-hardy strain of clumping bamboo.
Tropical bamboo in the greenhouses
The cold-hardy clumping bamboo is something of a rare gem for the bamboo aficionado, but most visitors will consider the tropical bamboo of Southeast Asia far more impressive. Indeed, you can even find a few of these growing in Berlin, but you'll have to step inside the greenhouse. At this point, you may also wish to remove your coat.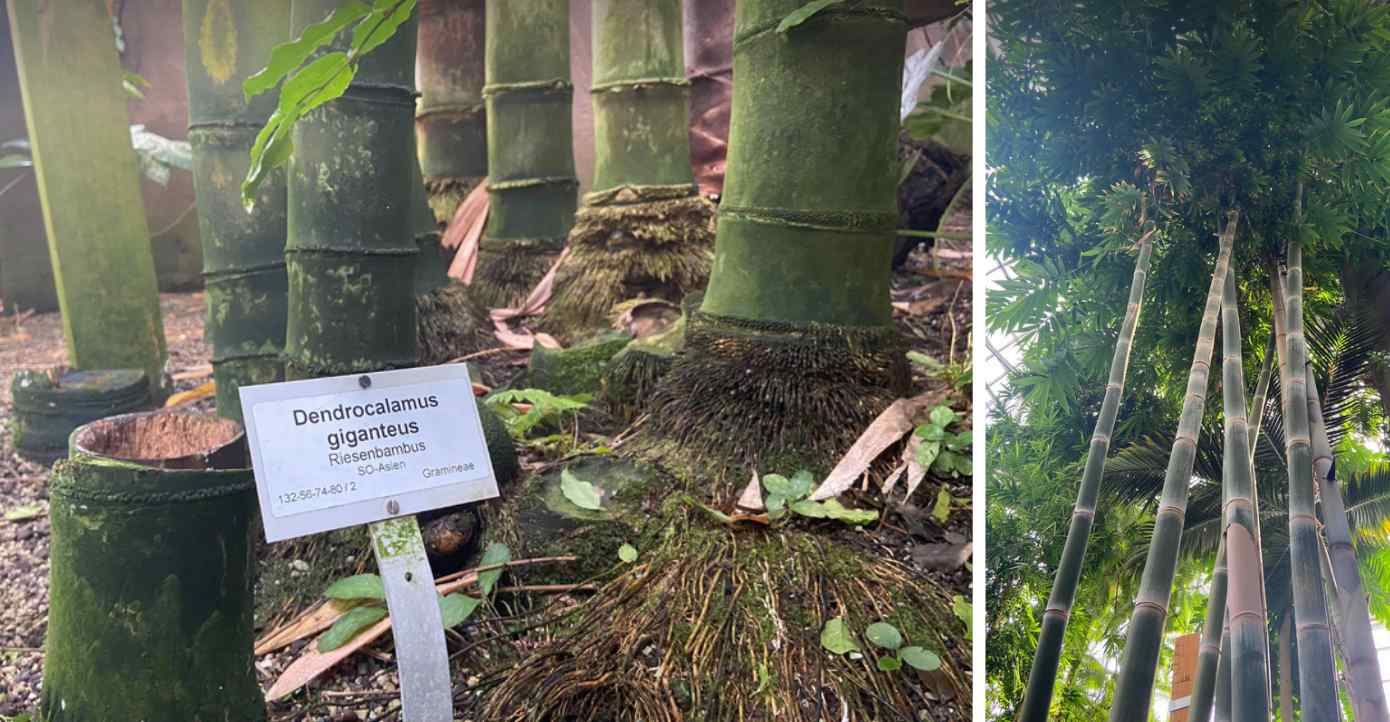 I was delighted to find a small patch of Dendrocalamus strictus, which in its native Indonesia sometimes goes by the name Bambu Batu. As the namesake of our business, it was a real treat to find this rare breed growing here in Germany.
Next to this, they have a more aesthetically pleasing specimen of Bambusa vulgaris with its distinctively striped culms. But the focal point of this bamboo grouping must have been the Dendrocalamus giganteus.
One of the most massive of any bamboo species, this giant timber variety commonly exceeds 100 feet in height. It was hard to gauge the height of these towering canes, but a measuring stick next to a new shoot, already 20-30 feet tall, was marked with dates as evidence of its remarkable daily growth rate.
In the shadows of these giant bamboos, I also discovered a modestly-sized but lushly-leaved clump of Thai bamboo. I knew they had to have some bamboo somewhere in these gardens, but the exquisite assortment of unusual species truly exceeded even my greenest expectations.
Bamboo along the boulevards of Berlin
Outside the Botanical Gardens, bamboo is a bit harder to come by in the thrumming city of Berlin. But again, I was surprised to see at least a couple of pots of bamboo on my daily walks through the Teutonic metropolis.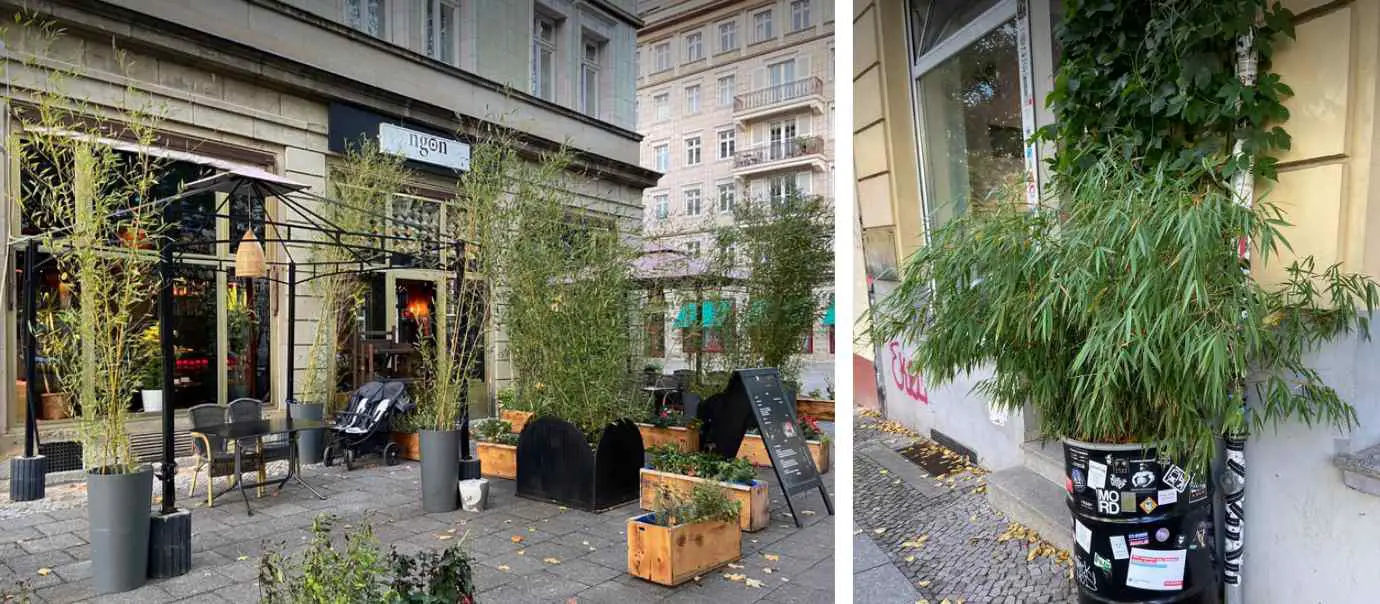 Most of the time, these urban planters seemed to contain the familiar strain of golden bamboo, Phyllostachys aurea. But every now and then I'd come across a less-common and harder-to-identify species.
Bamboo in Germany's National Museums
Few cities in the world can rival Berlin for its formidable assortment of art galleries, archaeological collections, and natural museums. Between walks in the park and falafel sandwiches, I only had time to tour a couple of them, but my time was very well-rewarded.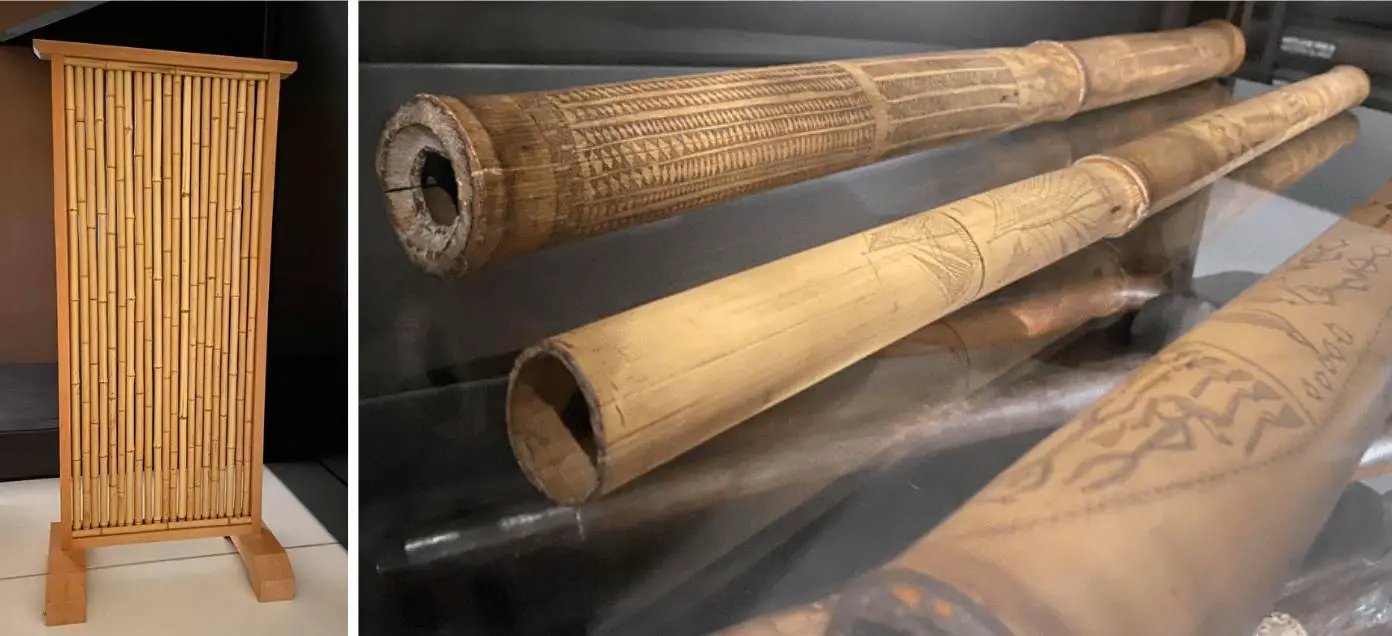 Reconstruction of the Berlin Palace on Museum Island was completed last year and the grand opening fortuitously coincided with my visit. The newly rebuilt edifice now houses the Humboldt Forum museum, with an astonishing collection of ethnological artifacts from Asia, Papua New Guinea, and Germany's former colonies in Africa.
The Tour Continues
If you enjoyed learning about where to find bamboo in Germany, you'll surely want to check out some of our other articles about where bamboo flourishes across the globe.
FEATURED PHOTO: A dense thicket of Thamnocalamus spathaceus, more commonly known as Fargesia spathacea, growing among a collection of plants from Southern China, in the Berlin Botanical Garden, Germany. (All photos by Fred Hornaday)