Thailand's friendly people, exquisite cuisine and idyllic beaches make it one of the most popular tourist destinations on earth. The tropical climate appeals to international travelers as well as a prolific diversity of native plant species. And like most of Southeast Asia, Thailand is teeming with bamboo.
Thailand is home to at least 80 species of tropical bamboo, including both native and naturalized species. In recent decades, many dozens of foreign species have also been introduced as ornamentals, mainly from China or other parts of Southeast Asia. Visitors who come to Thailand to savor its biodiversity will have no difficulty finding an abundance of bamboo, either growing in the wild or maintained in botanical gardens. The best-known collections are at the Bambusetum Baan Sammi and the Boonthammee Bamboo Garden, both in the vicinity of Chang Mai, in northern Thailand, and Wongphai farm, two hours west of Bangkok.
NOTE: This article first appeared in August 2021, last updated in August 2023.
Bountiful bamboo in Southeast Asia and Thailand
The tropical latitudes and varying altitudes of Thailand offer some of the most ideal conditions for bamboo, among other luscious plant life. Like the rest of Southeast Asia, the balmy climate is most suitable for tropical bamboos.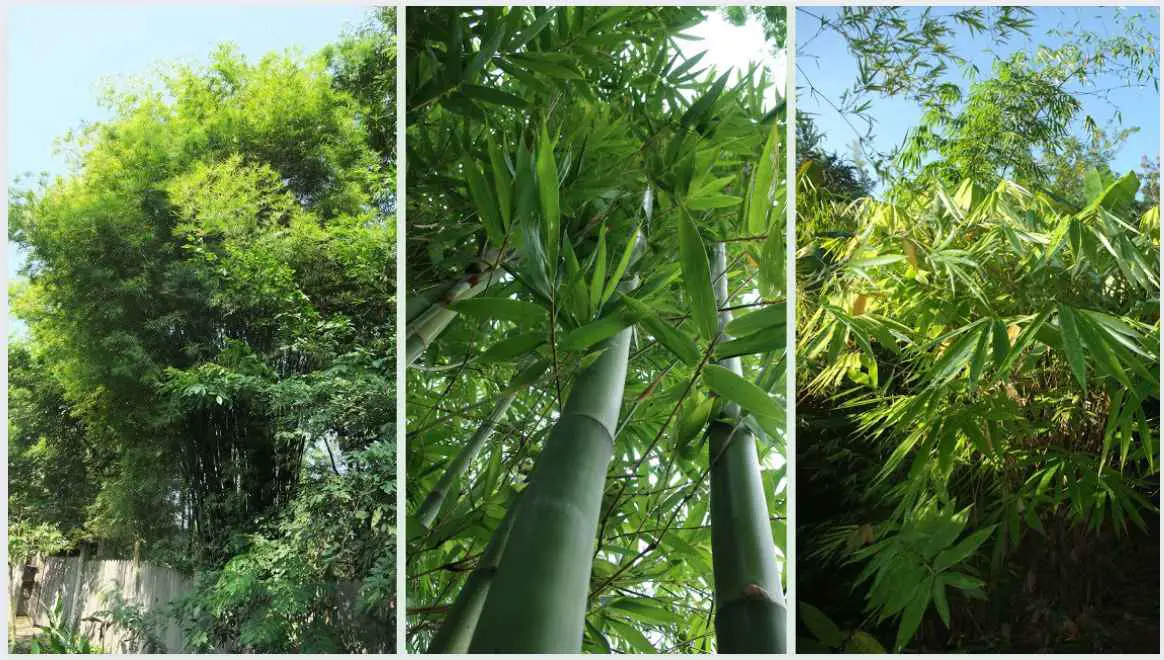 Identifying bamboo species and distinguishing between native species that have always been here as opposed to naturalized species that came later can be a real challenge. But the local experts say there are about 80 species, most of which are native and a few are naturalized. In addition to that, many travelers and horticulturalists have been introducing ornamental species from China and elsewhere.
Endemic genera and species
Local bamboo aficionados claim to have identified very few species of bamboo that are endemic to Thailand and not found in any other country. These include Dendrocalamus khoonmengii, Phuphanochloa speciosa, and Temochloa liliana. But given the close similarity between bamboos and the extensive wilderness of Thailand, it's not easy to be certain. There may be several other species that remain to be discovered, but because records of bamboo occurrences in neighboring countries such as Myanmar, Laos and Cambodia are missing or insufficient, an assessment of endemism may be premature.
Thyrsostachys siamensis takes its name from Siam, the old kingdom of Thailand. So the botanical name literally translates as "Thai Bamboo", but it also goes by the name "Monastery Bamboo". Native to Southeast Asia and southern China, this species has a tall, elegant stature and large palm-like leaves. I took the photo below at the Berlin Botanical Gardens, where it grows happily in the greenhouse.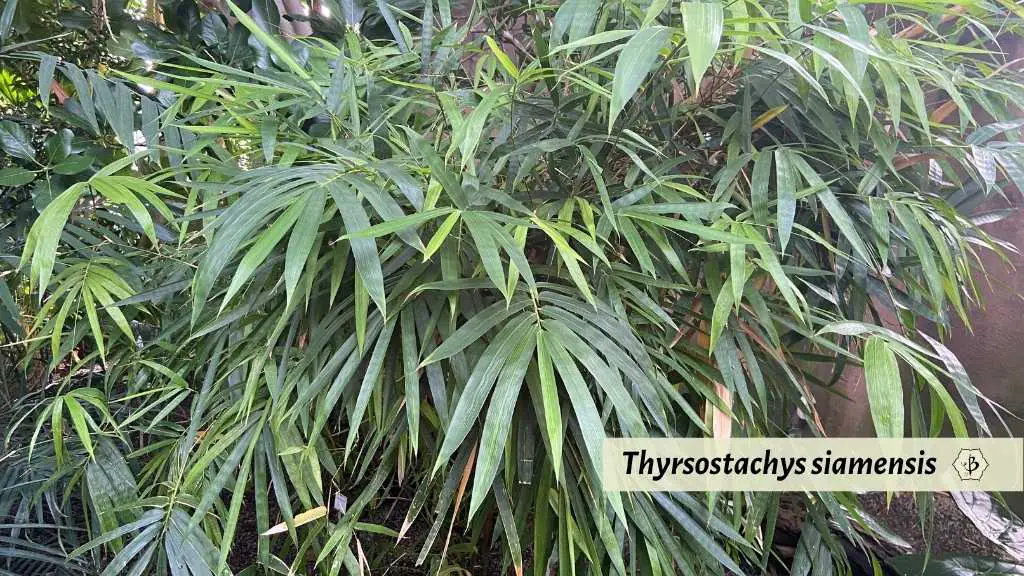 The genus Dendrocalamus is widespread throughout Southeast Asia and includes several of the most gigantic species of bamboo. Other native species belong to common genera like Bambusa, Borinda, Chimonobambusa, Gigantochloa, Phyllostachys, Pseudosasa, Schizostachyum, and Yushania. These names may be familiar to North American bamboo enthusiasts, although most of them only grow ornamentally in the warmer climes of Florida or Hawaii.
Additionally, Thailand is also home to a profusion of more exotic and less familiar genera. These include Cephalostachyum, Chimonocalamus, Dinochloa, Holttumochloa, Kinabaluchloa, Melocalamus, Thyrsocalamus, and Vietnamosasa, to name a few.
As you'll be unlikely to come across any of these bamboo species at your local nursery, and hard-pressed to identify them in the wild, you may want to visit one of Thailand's bamboo botanical gardens.
Where to find bamboo in Thailand
If it's a guided tour of Thai bamboo you're looking for, then head north to Chang Mai. Just 15 km northeast of the city, Bambusetum Baan Sammi is something of a nature retreat with over 100 species of bamboo in cultivation. A few years ago they had closer to 300 kinds of bamboo, but they've let go of some potted plants and reduced the overall numbers. To arrange a visit, contact Khun Dieter in advance. It is necessary to make an appointment.
Find the Bambusetum on google maps.
To the south of the city, Boonthammee Bamboo Garden offers a similar experience. While the Bambusetum is only a display garden, Boonthammee also operates as a commercial nursery, selling live bamboo domestically and for export. Contact Mr. Thammarat Boonthammee ahead of time by email to schedule a visit or to talk about placing an order.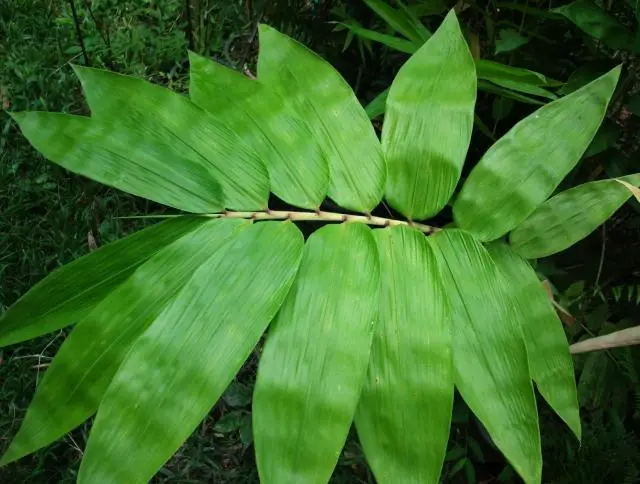 These two gardens work in cooperation, so you'll find a very similar selection of plants at each of them. In the tropical savanna climate zone, at roughly 1,000 feet above sea level, the conditions allow for a rich diversity of bamboo species native to tropical, subtropical and temperate habitats.
Khomchalat Thongting founded Wongphai in 2020, to promote bamboo cultivation and awareness. Wongphai means "bamboo family". Their flagship project is a small farm with more than 80 species of bamboo, located in the Ratcha Buri Province, about two hours west of Bangkok. Visits by appointment only.
But be sure to check your local laws on exotic flora before you try to have a bamboo plant shipped internationally from Thailand. Most states require some kind of quarantine period for imported plants. And be mindful of your climate. Don't expect anything on their species list to thrive in your backyard in Wisconsin.
Bamboo tourism in Thailand
Those looking to spend a little extra time among the bamboo should consider staying at a rental property at Baan Sammi in Doi Saket. Samran Apaipong, also known as Khun Sam, operates this house rental business on the same shared property with the Bambusetum.
The exotic retreat offers visitors four different accommodations, beautifully situated among the tropical ponds and bamboo groves. Choose from the Plumeria Bungalow, the Dillenia Bungalow, the Moonlight Pavilion, or the Lychee Lodge (pictured below). Visit Baan Sammi News online for complete details.
Find the house rentals on google maps.
Although the garden itself is not a commercial enterprise, Khun Sam often has bamboo poles, seeds and seedlings to give away, free of charge.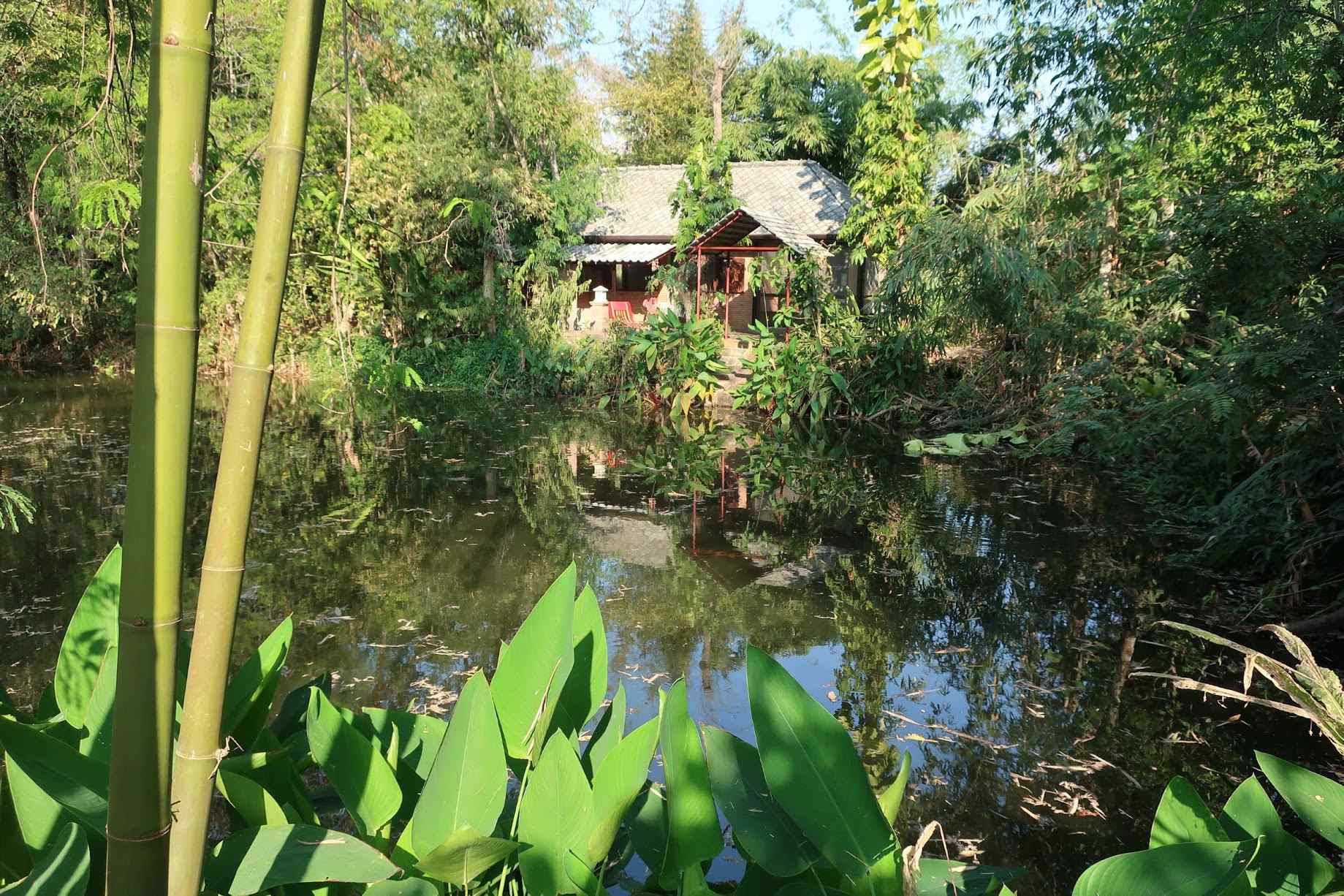 Learn more
If you enjoyed reading about bamboo in Thailand, please consider sharing the article and subscribing to our blog. You might also be interested in learning about bamboo in other parts of the world.
FEATURED IMAGE: Dendroclamus asper amidst a forest of Thyrsocalamus liang growing in Prachin Buri, Thailand. Photo by Fred Hornaday.