A directory of links to businesses and organizations in the bamboo industry.
Organizations
Bamboo Nurseries in the Western US
Bamboo Collective: Seattle, WA (206) 427-6233
Bamboo Garden Nursery: 

North Plains, Oregon (503) 647-2700 

Bamboo Oasis: B

eaverton, OR (503) 703-1345

Bamboo Ranch: Tucson, Arizona (520) 743-9879 
Beauty and the Bamboo: Seattle, WA (206) 781-9790
Blue Heron Farm and Nursery: Rockport, WA (360) 853-8449
Clinton Inc. Bamboo Growers: Seattle, WA (206) 242-8848
Delhiwind Bamboo: E

verson WA, 98247 (360) 592-5734

The Hedge Between: E

ugene, Oregon (541) 484-1164

LeBeau Bamboo: M

edford, Oregon  (541) 499-4992

Mary's Peak Bamboo: C

orvallis, Oregon (541) 760-1024

Outdoors by Design: S

helton, Washington (360) 432-8493

Raintree Nursery: M

orton, WA (800) 391-8892

Tradewinds Bamboo: G

old Beach, OR (541) 425-5177
Bamboo Nurseries in California
Bamboo Nurseries in the Eastern States
Bamboo Nurseries in the South
Bamboo Furniture Producers
Bamboo 54: Inexpensive bamboo furniture made in Vietnam and distributed out of southern California. 
Greenington: Modern, high-end furniture made from solid, laminated bamboo. Based in Washington.
Bamboo Clothing Producers
Bamboo for the Kitchen and Bath
Bamboo Building Materials
Bamboo Farming Resources
Only Moso: Assistance with commercial bamboo opportunities, based in Florida
Directory of Zero Waste Stores in California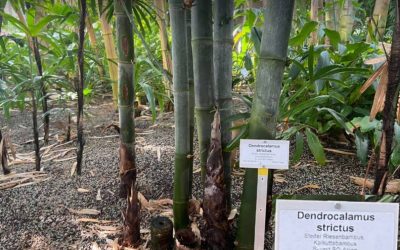 As a bamboo lover, habitual traveler, and digital nomad, there are few things I enjoy more than a long journey to an exotic bamboo grove. Travel restrictions related to COVID made these excursions pretty difficult for a while, but not impossible. In 2022 I had the...