Bamboo is undoubtedly one of the strongest, most versatile materials for construction. Lightweight, sturdy and renewable, the grass is perfect for sustainable building projects. And when you consider the fact that the construction industry is responsible for about 35-40% of global greenhouse gas (GHG) emissions, the need for more eco-friendly buildings is impossible to ignore. The processes for manufacturing steel and concrete are particularly carbon-intensive and environmentally destructive.
Bamboo construction is sustainable, durable and affordable. Once considered the poor man's lumber, new technologies and environmental necessity have made bamboo a serious option across many regions and demographic strata. Prefabricated, modular bamboo homes are especially attractive for their modern amenities, low price tag, and ease of assembly.
Also, take a look at our popular articles about The best bamboo species for building and construction and the Beauty of bamboo treehouses.
Bamboo Living Homes
Bamboo Living, a company headed and founded by Jeffree Trudeau and architect David Sands, offers gorgeous prefabricated bamboo homes ready to be assembled in the tropical paradise of your choice. You can assemble many of the designs rapidly, some in as little as two days.
The company chose bamboo for its line of dwellings in order to encourage the trend towards using materials that were both socially and ecologically responsible. By using bamboo, they could make strides towards curbing GHG emissions, restoring the native forests around the world, helping control soil erosion, and raising communities out of poverty.
They planted the first shoot in 1994 when Trudeau and Sands completed their first project on Maui. That home would lead to the construction of hundreds of others throughout the Hawaiian Islands.
In 2002, the company became the first in the world to offer International Code Council approved bamboo green houses. By 2006, Bamboo Living had established the largest bamboo house in the country and made an international name for themselves.
Currently, Bamboo Living operates through their Bamboo Works facility near Ho Chi Minh City in Vietnam where they employ over 160 local artisans.  The company has the capacity to design, deliver and build a complete green home within three months. 
Buyers can choose from over 8 different sizes and a variety of lines that includes signature selections.  Models range from individual houses to eco-resorts and development, and each prefabricated structure is backed by a 20-year warranty. In recent years, some of these homes have proven strong enough to survive 200 mph hurricane winds and a 6.9 earthquake in 2018.
Prices start at just $170 per square foot. Finally, a cost-effective and green solution to those insipid, out-of-the-box housing developments!
Modular Bamboo House Kits by CUBO
For the ultimate in affordable bamboo housing solutions, CUBO in the Philippines produces a line of amazingly easy-to-assemble, modular homes. The award-winning company began with a vision of Earl Forlales who, as a 23-year-old architecture student, took first prize in the Cities for the Future competition in November 2018.
CUBO's smallest unit, the 6.5 square-meter bamboo tiny home can be put together in just four hours. At around $1,700, the price is comparable to a laptop. A larger unit of about 29 square meters sells for less than $6,000.
But the company is very proud to offer low-income families in the Philippines what they call "dignified housing". The homes are small and affordable, yet modern and comfortable. Prospective buyers can go to the CUBO website to fill out a simple online application. Generally, they must be based in the Philippines and have an income of at least $600 a month. The company is committed to providing homes for those people who need them the most.
The price includes the entire home, with fully functioning utilities. Buyers must find the land to place their homes, but it's very common for homeless, low-income Filipinos to have undeveloped land where they can set up a tiny home.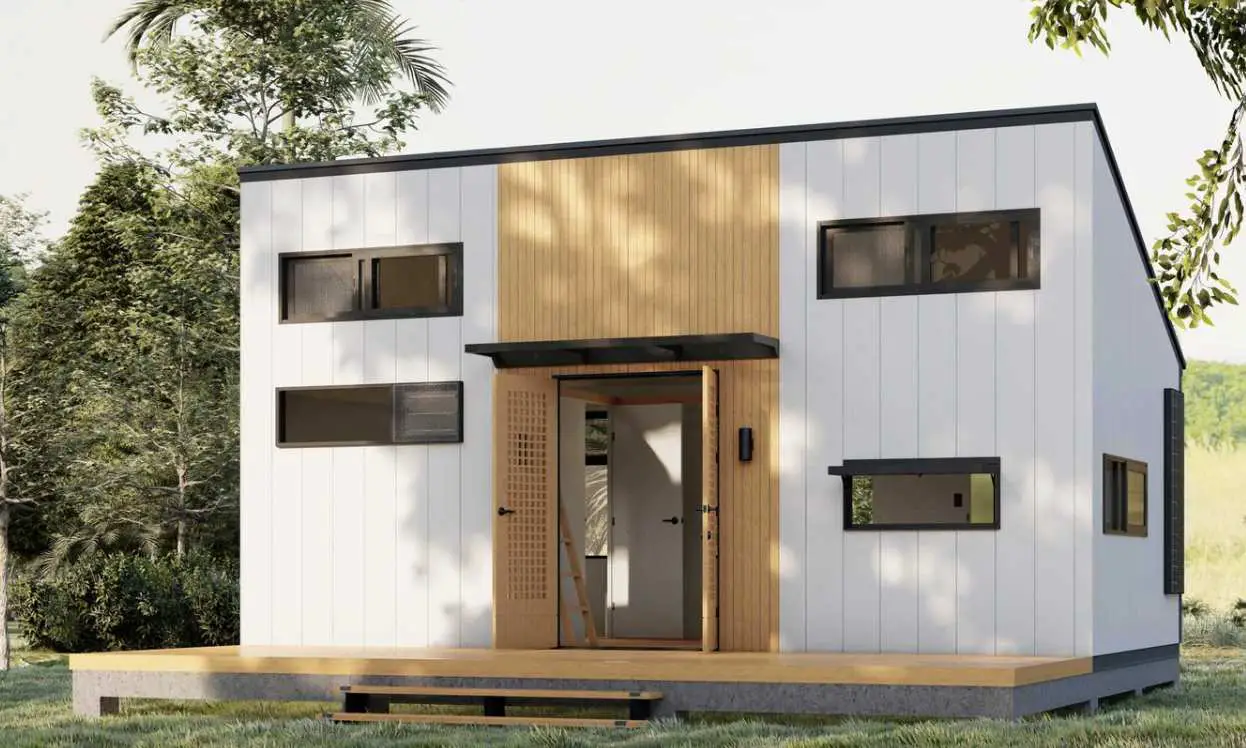 The housing shortage in Manilla and other parts of the Philippines is severe, and it's only expected to get worse in the upcoming years. Old solutions are no longer sufficient to solve the current social and environmental challenges.
But his young, visionary company has already made a huge impact, successfully disrupting the space of the Filipino construction industry. The pandemic forced everyone to reconsider their lifestyles and business strategies. And CUBO's bamboo homes offer the perfect alternative in terms of sustainable living. The resource is renewable, the material is extremely resilient, and the designs are simple yet sublime.
Check out our articles on Strand Woven Bamboo and the Future of bamboo construction to learn more.
Tiny Bamboo Homes by Simon Velez
Meanwhile, on the other side of the globe, vanguard bamboo architect Simon Velez is pioneering the concept of bamboo tiny homes in his native Colombia. Author of the seminal bamboo building handbook, Grow Your Own Home, Velez has designed and constructed some of the most impressive bamboo structures in Europe and South America. His groundbreaking book, still in print, is available through Amazon.
Better known for his more elaborate bamboo temples and pavilions, Velez also recognizes bamboo's capacity to provide durable, affordable housing for disadvantaged rural populations. As of 2022, his project is just getting underway, so stay tuned for updates on future developments.
Colombia has some of the largest forests of Guadua angustifolia, the premiere bamboo species of the Western Hemisphere. Many consider it the strongest variety of bamboo on earth, rivaling Southeast Asia's Dendrocalamus asper. As such, this tropical landscape offers the ideal setting to explore the possibility of tiny homes built from a remarkably sturdy and abundant resource.

Build up your knowledge
To learn more about the astonishing utility and versatility of bamboo, check out some of these other in-depth articles.
FEATURED PHOTO: Bamboo Living Home