With a designation like Chimonobambusa tumidissinoda, this attractive species of bamboo was just begging to be given a friendly nickname. And thanks to its distinctive shape and useful structure, settling on a suitable moniker turned out to be something of a cakewalk.
Chimonobambusa tumidissinoda is an unusual species of bamboo native to southern China, and more commonly referred to as Walking Stick Bamboo. Like all members of the genus Chimonobambusa, this is a running variety with an expansive but not particularly aggressive root system. The prominent nodal joints of this species result in an interesting appearance, making it an attractive choice in gardens and for crafts. The straight but conspicuously knobby culms are especially popular for use as walking sticks, as well as for handles or accents on certain furniture pieces.
This article is part of an ongoing series about some of the more interesting and desirable species of bamboo. Check out some of these other varieties to know more.
Characteristics of Chimonobambusa tumidissinoda
The genus Chimonobambusa includes a wide variety of about 50 species of running bamboo indigenous to China and the Far East. As runners, this class of bamboo has what are called leptomorph or monopodial rhizome structures. This means that the roots spread outward, running parallel to the ground and away from the main root ball. As these expansive rhizomes establish themselves, they put out shoots that grow upward to become new culms or canes.
Running rhizomes are typical among temperate bamboos, those belonging to the Arundinarieae tribe, as opposed to the tropical, clumping bamboos of the Bambuseae tribe. But Chimonobambusa tumidissinoda generally does not spread as quickly as many other types of running bamboo. Like most temperate bamboos, they are more cold-tolerant, not requiring the year-round warm weather of the tropics. They are accustomed to freezing winters and overall cooler climates.
As for size, Walking Stick Bamboo is kind of a goldilocks variety, not too big and not too small. In their native habitat, plants can grow upwards of 15 or 20 feet high. But in most garden settings, they typically only get 6 to 10 feet tall. Culms are usually about 3/4 to one inch in diameter. The leaves are delicate and lacy, adding to the overall elegance of the plant.
Exaggerated nodes
The most notable features of Walking Stick Bamboo are its highly pronounced nodes, which are sometimes compared to a pair of cymbals coming together. The botanical name, tumidissinoda, actually means tumescent or swollen node.
For nearly 2,000 years, at least since the Han Dynasty, the Chinese have been harvesting these exquisite bamboo poles to use as walking sticks. Like all bamboo, the culms of C. tumidissinoda are structurally very strong. They also happen to be very straight, an essential property for walking sticks.
Many varieties of bamboo have culms with interesting shapes, but those odd varieties tend to run less straight. Instead they arch, zigzag or exhibit some other irregularity. This might look great in the garden, but proves less functional elsewhere. Sections of Walking Stick Bamboo can also make excellent and attractive handles on custom door handles, drawers and cabinetry.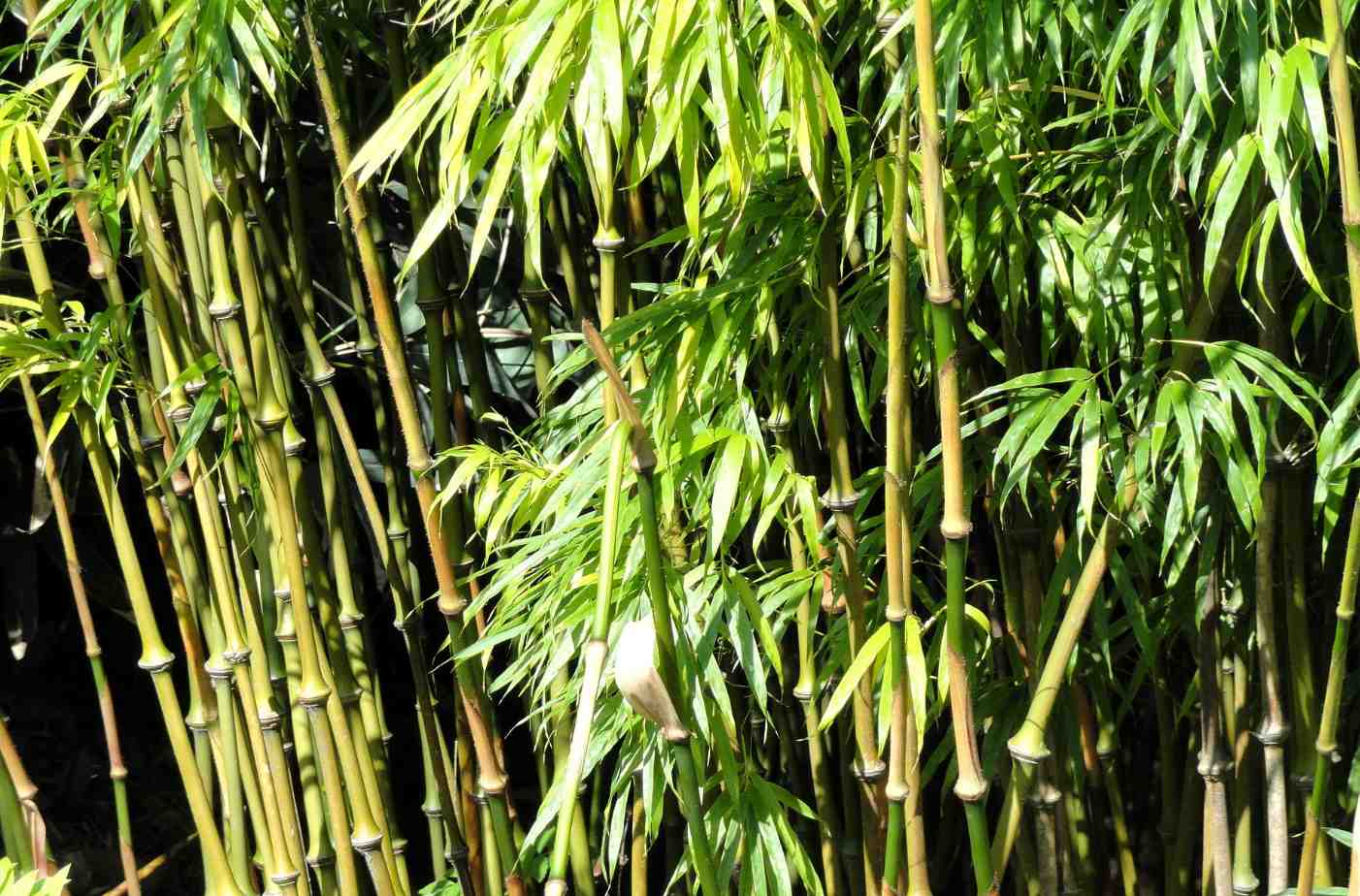 Walking Stick Bamboo in the garden
Exotic, beautiful and fun to work with, C. tumidissinoda also makes a great addition to the garden. But it's not a species you'll find at just any nursery or garden center. In fact, you'll probably have to go through a bamboo specialist to find some. Check our directory of nurseries across the country.
Does the Walking Stick run around?
One of the greatest worries people have about planting bamboo is its vigorous growth habit. Indeed, some species can really take over. Especially the running bamboos. But Walking Stick Bamboo, like most Chimonobambusa varieties, is relatively slow-spreading, despite being a runner.
Compared to many species of Phyllostachys, for example, they pose little threat of becoming invasive and problematic. Even so, it's a good idea to plant some kind of rhizome barrier around any running bamboo. If this is a concern, you might consider planting some kind of clumping bamboo instead. Or you can keep the bamboo in a large pot or container, another great way to keep it from overtaking your landscape.
Made in the shade
People often equate exotic with difficult to grow, but that's not usually the case with bamboo. It's important, though, to provide the right conditions for a given species. Walking Stick Bamboo prefers cooler weather and indirect light. This makes them ideal for planting under larger tree canopies, alongside the house, or close to other shade-giving structures.
In hot, southern climates, this species does not tend to do as well. They will definitely require more shade and an ample water supply. Cool climates are better. In fact, C. tumidissinoda is hardy down to at least 10º F.
Keep on growing
If you enjoyed reading about Walking Stick Bamboo, you might also find some of these articles useful.