Bamboo construction is on the rise
Imagine a house built entirely from bamboo. Natural yet modern, simple yet elegant, rustic yet secure. Maybe I've just watched too many episodes of Gilligan's Island, but I can already hear the palm fronds rustling in the breeze, the bamboo canes clonking softly, and the bonobo chimps making monkey love in the distance. Almost as arousing as the size of my minuscule carbon footprint.
But is this just one great tree-hugging fantasy, or can you really build a house entirely out of bamboo? Well, it probably depends on your definition of a house, and what you mean by entirely.
If you want to sleep in a grass-roof shack like Gilligan and the Skipper, then, yes. You can do that entirely with bamboo poles. Although you might still want some palm or sedge thatching for a bit more insulation. But if you're looking for a modern family home with all the amenities, then you'll have to talk to the Professor.
Today bamboo homes are springing up all over there world. And they are not just ramshackle bundles of thatching and canes. For affordable housing in the developing world, and for stylish sustainability in more upscale communities, bamboo buildings are not what they used to be. And from how-to books to intensive workshops to full-service architecture firms, bamboo resources are everywhere.
The Bamboo Gurus
When it comes to bamboo construction, there are a few names that stand out, genuine experts in the field. So let's head to Colombia.
Engineer and architect Simón Vélez has been designing incredible bamboo structures and pavilions around the world for decades. A number of his buildings and installations have received prizes, and his name is almost synonymous with bamboo housing. In fact, his book, Grow Your Own House, is one of my favorites on the subject.
Less renowned, but certainly prolific, Estaban Morales is a civil engineer, also from Colombia, with a very impressive resume of bamboo construction projects. Specializing in bamboo, earth and wood building, he has participated in the design and construction of hotels, houses, restaurants, temples and other buildings throughout Colombia and Latin America.
Estaban's website showcases a beautiful collection of building that he's worked on, including the Izakaya Restaurant in Mexico, pictured above.
The Best Bamboo Buildings in Bali
Anyone who's ever visited Bali knows that bamboo is everywhere on this Indonesian island. And this tropical paradise features some of the most impressive bamboo construction you'll ever find.
John, Cynthia and Elora Hardy, a family of architects and designers, have formed IBUKU, a cutting-edge design firm committed to sustainable building with bamboo. In addition to some of the most spectacular private homes, the IBUKU family has collaborated to help build the world's only all-bamboo campus at the Green School of Bali.
Specializing in environmental awareness and global stewardship, the Green School is the only educational institute of its kind. The school, founded in 2006 by John and Cynthia Hardy, provides K-12 instruction for forward-thinking students from around the world.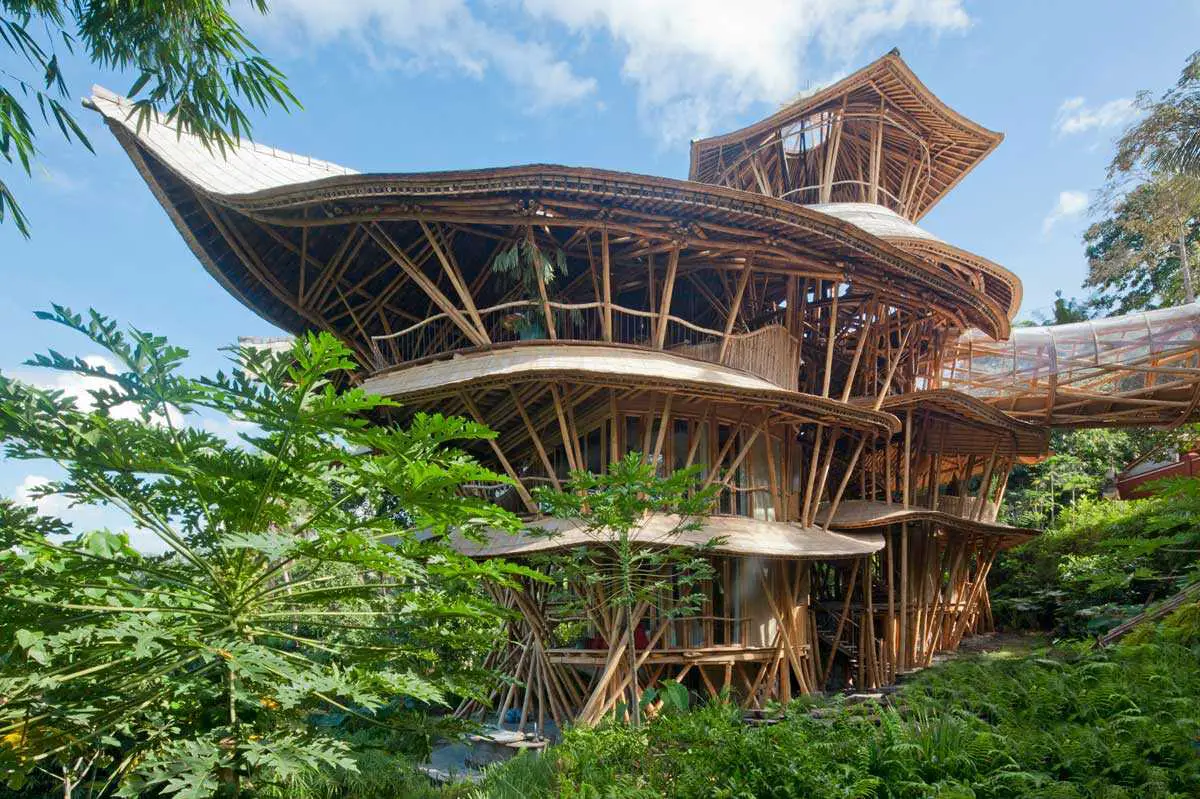 Pictured above is the Sharma Springs residence, the crowning glory of all IBUKU's bamboo houses. The tallest bamboo structure in all of Bali, Sharma Springs has six level with commanding views of the surrounding jungle. Inspired by the shape of a lotus flower, this astonishing home is both magical and majestic.
Most recently, IBUKU has launched Bamboo U, offering intensive workshops in bamboo design and construction. If you want to learn, you may as well learn from the best! (See below.)
Bamboo Housing Solutions for the Philippines
Now let's head to the Philippines, where 23-year-old engineering student Earl Forlales is making history with his cutting-edge housing solution. Inspired by the bamboo huts that cover his native islands, Forlales developed the Cubo, a simple, modular bamboo house that can be manufactured in a week and assembled in about four hours for a meager $10 per sq.ft.
Judges from the Royal Institute of Chartered Surveyors awarded Forlales first prize in the Cities for the Future competition in November 2018. His incredible design aims to address the critical housing shortage facing the Philippines. Forlales now has his eyes on some land on the outskirts of Manilla, and we're all eager to see the Cubos go into full-scale production.
Building with Bamboo in Nepal
Bamboo houses are nothing new in the tropics of Southeast Asia, nor in the shadows of the Himalayas. Habitat for Humanity, an international non-profit organization dedicated to building houses for families in need, recently launched a program to build a series of bamboo homes in Nepal.
Framed partially with concrete columns, these simple, affordable homes rely almost entirely on locally harvested bamboo for their structural integrity. Volunteers, coming primarily from western countries, assembled the homes alongside a team of more experienced local builders. Together they cleaned, split, and weaved the bamboo to construct the rustic but solid walls.
Later they mixed a kind of plaster from mud, straw, water and dung, which they used to coat the floors and walls, inside and out. Corrugated metal sheets served as the roof, and the end result was some wonderfully inviting housing, completed in less than two weeks. Check out YR Architecture Design to see the complete story with dozens of photos.
Do-It-Yourself Bamboo Homes
Now let's say you don't have the ingenuity of the Professor or the wherewithal of Thurston Howell III, and you lack the means to design and construct one of these masterpieces of green-building for yourself. Or you live in a country with much stricter building codes. No problem.
After all, you're probably not looking to build a house of God, although some of Simón Vélez's bamboo temples are pretty spectacular. You just want a modest family home with a little bit of style and the least environmental impact possible. It's all possible, and you don't even have to relocate to a developing country in Southeast Asia.
Introducing Bamboo Living Homes, based in Hawaii. For 25 years now, partners Jeffree Trudeau and David Sands have been paving the way for bamboo home enthusiasts around the world. Not only are these innovative homes easy on the eyes and soft on the earth, they're also light on the pocketbook. What's more, Bamboo Living is the first company in the world to design bamboo houses that meet international building standards.
Their prefab bamboo structures come as small as 100 square feet, making an ideal tea room or meditation space, starting at a paltry $8,300. You can assemble these small models yourself in as little as two days. But from there, the options go through the roof. Bamboo Living offers some 3 and 4-bedroom models with over 2,700 sq. ft. feet, plus porch space of up to 1,100 sq. ft. Check their website and feast your eyes on all the magnificent models and designs.
To date, the company has provided more than 350 bamboo homes on the islands of Hawaii and elsewhere around the world. The style of construction is ideal for tropical habitats, aesthetically and in terms of climate. Every model has the option of single-wall construction for temperate climates or double-wall with space for insulation in hot and cold zones.
If you're looking for the most eco-friendly and sustainable bamboo house possible, that's also reasonably priced and permitted by building regulations, look no further. For those of us who live and breathe all things green, Bamboo Living Homes are like a dream come true.
Once the home is built, you can fill it with bamboo furniture and stock the rooms with sumptuous bamboo towels and bamboo bedding. Then, of course, you'll have to invite your friends over for piña coladas and a three-hour tour.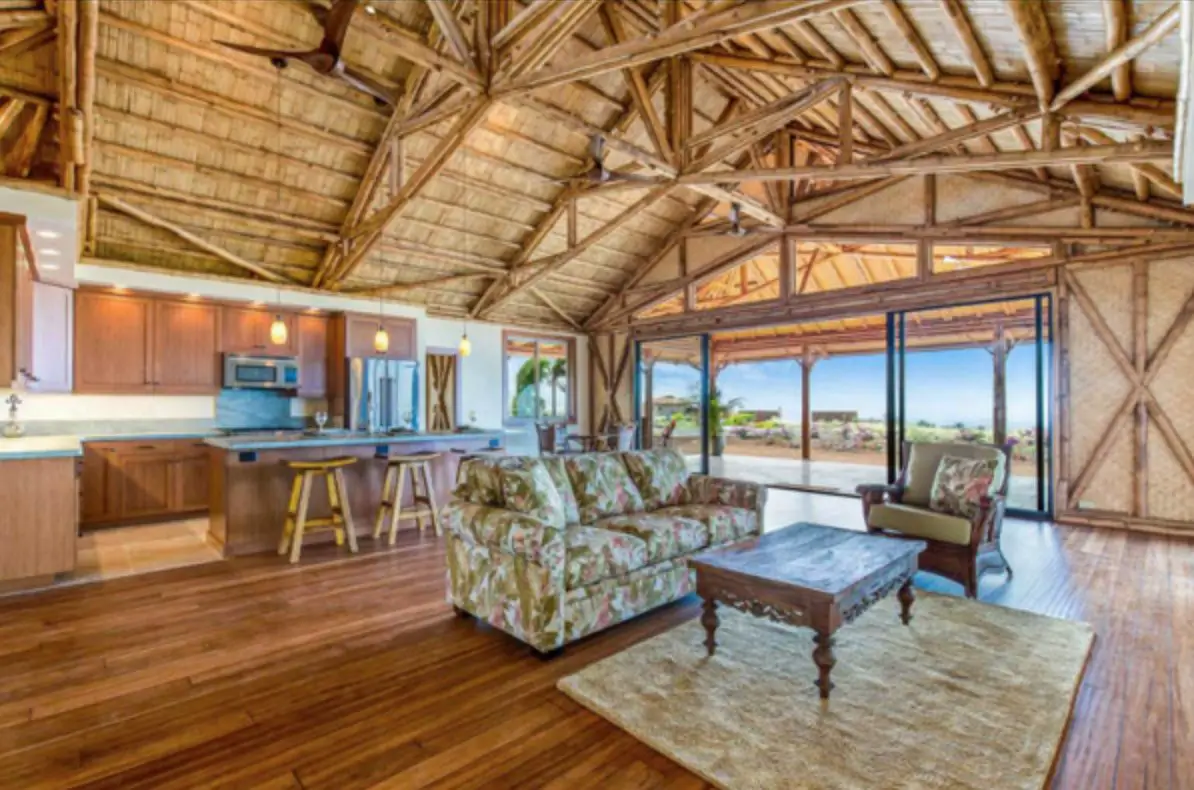 Bamboo Housing by KZ Architecture
Based in Miami, Florida, KZ Architecture designs modern homes and offices with a clear focus on sustainability. Committed to excellence and environmentally sensitive solutions, they have created some of the most sophisticated green homes in the country. Their stunning houses feature modern elegance in combination with superior materials, passive heating and clean energy sources.
Most recently, the company has drawn attention with its award-winning proposal for low-cost homes in the Caribbean, built mainly from bamboo. Designed specifically for high-risk flood and hurricane zones, these innovative homes are resilient, attractive and economical. They feature zinc roofs for passive heating and cooling, barrels for rainwater catchment, and solar energy systems for hot water and electricity.
Elevated on concrete piers, the homes are built to withstand flooding, but the flexible Guadua bamboo frame will also perform well in earthquakes. And not to overlook the importance of outdoor greenery, the plans also include generous spaces for personal gardens and bamboo hedges for both privacy and erosion control.
Affordable to easy to assemble, the 600-800 sq. ft. dwellings come with a price tag under $10,000. This includes all material and labor, as well as water tanks, solar panels, batteries and pumps. And after a grand total of $8,107, residents should have plenty left over for furniture and appliances.
Guadua bamboo is a neotropical genus indigenous to Central and South America. This clumping timber bamboo makes an ideal building material, being cultivated widely in Colombia, Ecuador and throughout the New World.
Bamboo U Design and Construction Courses
When you're really serious about building your own home from bamboo, you'll want to sign up for an intensive course at Bamboo U in Bali. Bamboo pioneer John Hardy launched the program in 2015 and now hosts 11-day workshops throughout the year, for aspiring bamboo builders from around the world.
With a couple of decades of experience in bamboo construction in Indonesia, Hardy is eager to share his knowledge with other bamboo enthusiasts. He and his family have been creating incredible, one-of-kind bamboo structures with the architecture and design firm known as IBUKU. And by collaborating with others, they hope to see the innovations continue.
Check out Bamboo U online for a list of upcoming courses.
Advice for Africans
A new book, entitled Bioclimatic Architecture in Warm Climates: A Guide for Best Practices in Africa, presents a comprehensive, hands-on approach to eco-conscious construction. The thorough study places emphasis on sustainability and bioclimatic design. To promote more sustainable practices, the authors take a close look at cultural aspects, affordability, and urban planning.
Among other things, they strongly encourage the use of more local, renewable construction materials, particularly bamboo. Using local bamboo, as they point out, strengthens the local economy and reduces the dependency on foreign imports. In addition to lowering overall building costs, it also empowers local farmers and communities.
International Efforts for Bamboo Construction
As more and more bamboo construction projects get underway around the world, one organization has been working to advance this up-and-coming industry as a whole. The International Bamboo and Rattan Organization (INBAR) is a multilateral development organization promoting sustainable development around the world.
Since 1997, INBAR has made grade strides in improving living conditions, especially in the Global South, through the use of safe, resilient and affordable bamboo materials. The organization consists of 45 members, predominantly in Africa, Asia and South America. In 2018, INBAR attended the UN General Assembly for the first time, and was active at a number of UN events.
To guide its work toward a green economy over the next decade, INBAR has identified six Sustainable Development Goals:
End poverty in all its forms
Provide affordable, sustainable and reliable modern energy services for all
Access to adequate and affordable housing
Efficient use of natural resources
Address climate change
Protect and restore terrestrial ecosystems
More recently, INBAR has set up a Bamboo Construction Task Force, to coordinate companies and organizations engaged in research and commerce with bamboo construction. Their overall mission is to raise awareness and improve standards to bring affordable, high-quality bamboo building into the mainstream.
Things to know about bamboo building
Before you jump head first into a bamboo construction project, you need to know what you're getting into. In many respects, bamboo is green architect's dream come true. But to make that dream a reality, there are some things about bamboo to be aware of.
Selecting your bamboo
First of all, most experts recognize at least 1200 different varieties of bamboo. And there may be as many as 2000. And it's true that bamboo is a remarkably useful and versatile plant. But not all is created equal.
While some bamboo looks beautiful in a Japanese zen garden, other varieties are excellent for construction. Some types of bamboo are even useful for a variety of purposes. But then there are bamboos that just take over your backyard, but you can't really make anything from it.
So if you want to build a bamboo house that will hold up over the years, you will need to work with the right kind of bamboo. If you're doing bamboo construction in a developing country, in Asia or Latin America, you will want to use local bamboo. But not just any local bamboo.
In Central and South America, the builder's choice is definitely Guadua. There are a dozen or so species of Guadua growing throughout the continent, and it's easy enough to come by. The locals have been building with these clumping bamboos for centuries, and you know it will last.
Most members of this genus are giant timber bamboo, some growing over 100 feet tall and more than 6 inches thick. The thick walls of this bamboo make it resistant to cracking and ideal for building.
If you want to build anything of significance from bamboo, Guadua is going to be your best bet. Even if you're in North America and want to build a durable bamboo structure, you probably want to got some Guadua poles to work with. You can get them shipped from Colombia.
On the other side of the world, where bamboo tends to be growing nearly everywhere, you might be tempted to build with whatever variety of bamboo is within reach. For best results, however, you will want to build with Dendrocalamus bamboo.
With numerous species indigenous to India and Southeast Asia, Dendrocalamus grows to great heights and girth. Their culm walls are also very thick, and in drier climates they grow almost solid. In Bali, they have built some of the most astonishing bamboo structures with D. Asper, all grown on the island.
Preparing your bamboo
Just because you are working with one of the strongest materials in the natural world, it doesn't mean nature has done all the work for you. Before you start building, it's necessary to dry and cure the bamboo poles thoroughly. They also need to be treated to prevent rot and termite damage.
This is especially critical in wet climates and when you are building with local bamboo. Some suppliers will treat their bamboo before they sell it. In other cases, you'll be responsible for taking care of it. Typically, borax is used to permeate the bamboo and eliminate the risk of critters.
Conclusions
If you're interested in building a house or any other serious structure from bamboo, it can absolutely be done. And there are a great range of resources at your disposal.
If you're concerned about creating a bamboo home that will measure up to strict building codes in Europe and the United States, there's no need to worry. Bamboo Living Homes has done the painstaking work to overcome those bureaucratic obstacles, delivering the ultimate in green housing.
Throughout the developing world, non-profit groups like Habitat for Humanity as well as the International Bamboo and Rattan Organization have been very active in promoting research and construction. Bamboo building projects and taking place across the globe. And most builders and architects are very happy to share their knowledge and experience in this exciting new area of green construction.
It's ironic that we're calling bamboo construction a new industry, as it is surely one of the very first building materials to be used by humans. But the renaissance of bamboo, in our post-industrial world, is opening up new possibilities new before realized or fully appreciated.
In many parts of the world, bamboo construction still has a negative connotation, as a sign of poverty. Moving out of the bamboo house and into something made of solid wood or concrete is an indication of prosperity. But the new era of bamboo construction is changing that point of view. Today you can enjoy the sustainability of bamboo without comprising on safety and aesthetics.
Related reading
If you're interested in building houses from bamboo, you will also find some of our other articles interesting:
Academic sources:
DISCLOSURE: This article may contain affiliate links to Amazon and other websites, so if you purchase any items through those links we may receive a small commission. This helps to finance the website, but we do not allow it to bias our opinions and recommendations. And we do NOT receive commissions from Bamboo Living Homes; our enthusiasm is perfectly genuine.