The U.S. state of Georgia is about as deep as you can go in the Deep South. It's famous for peaches and peanut farms, as well as Martin Luther King Jr. and General Sherman's infamous March to the Sea. There may be a few other associations you have with the Empire State of the South, like that classic song from Gladys Knight & the Pips. Keep going down the list and eventually you might think of Georgia and bamboo.
Georgia is one of the best states in the country for bamboo cultivation and bamboo tourism. There are three species of bamboo native to the contiguous 48 states, and all three of them grow in Georgia. Georgia is also home to one of the country's leading bamboo plantations, Bamboo Farming USA, as well as the renowned Bamboo Farm and Coastal Gardens in Savannah. If you're headed to the Peach State for any reason, be sure to take in some bamboo while you're there.
Growing Bamboo in the State of Georgia
Perhaps you're more likely to associate bamboo with Hawaii or Costa Rica, and of course, China. But the growing conditions in the Deep South are pretty ideal for most varieties of bamboo. Basically, it's hot and it's wet. And that's good news for just about anything that depends on rain and sunshine to thrive.
Georgia is not quite tropical, but much of it is considered sub-tropical. And prolonged freezing is almost never an issue. This makes it a superb place to grow many varieties of tropical, clumping bamboo, as well as a wide range of temperate bamboos. And with all that precipitation, the timber bamboo will grow to tremendous heights.
If you're in the northernmost portion of the state, up in the Blue Ridge Mountains, you can even do well with some of the mountainous, cool-climate bamboos like Fargesia and Himalayacalamus.
Native Bamboo in the State of Georgia
Interestingly, there are three known species of bamboo native to the mainland United States. These three varieties of Arundinaria are commonly known as Giant Cane (or River Cane), Switch Cane, and Hill Cane. They grow throughout the Deep South, into Texas, and as far north as the Ohio River Valley.
Historically, these temperate bamboos covered vast areas, especially along the rivers and waterways. They are unusually adaptable to wet soil, and extremely cold hardy, surprisingly enough.
Native Americans made great use of this abundant resource, fashioning bamboo basketry, weapons, and light building materials for shelter. But with the arrival of Europeans and the expansion of plantations and commercial agriculture, major swaths of native bamboo gradually disappeared.
Bamboo in Ocmulgee Mounds National Historical Park
Just outside of Macon, Georgia, the Ocmulgee Mounds National Historical Park preserves some major earthworks and the remarkable legacy of an ancient, indigenous culture. In addition to these ceremonial mounds, the Park is also striving to protect some of its native River Cane, or what we call Arundinaria gigantea. 
Today, the invasive privet plants are crowding out much of the native flora, including River Cane. So the Park is involved in an ongoing effort to remove the privet and make more room for the native bamboo.
Bamboo Farm and Coastal Gardens
In Savannah, the Coastal Georgia Botanical Gardens and Bamboo Farm is a must-see for any plant lover or bamboo enthusiast. The first stands of bamboo arrived here back in the 1880s, and the gardens have been spreading ever since. What began as a humble grove of Japanese Timber Bamboo quickly expanded to include a great diversity of bamboo specimens, along with an enormous collection of palms, camellias, hardwood trees, and stunning ornamentals.
Originally a private estate, the property fell into the hands of the USDA in 1919. Today the premises are managed by the University of Georgia, which runs the gardens as an educational establishment and a public research facility.
Bamboo Farming USA
Bamboo farming is finally starting to happen in the USA. And the epicenter of this budding industry may be right here at Daphne's Farm in Hawkinsville, GA. For now, they cultivate bamboo almost exclusively for the edible shoots. The market for raw poles isn't big enough, and at this point, there are no processing facilities in America to turn bamboo into paper or engineered lumber (for flooring or construction). They also use a considerable quantity of bamboo foliage as feedstock for their small herd of cattle.
Shopping for Bamboo in Georgia
Once you've looked at all this bamboo, you're likely going want to bring some home with you for your garden. Your best bet will be to run across the border to Lewis Bamboo in Oakman, Alabama. The nation's premiere bamboo specialty nursery, it's owned by Daphne Lewis, who also owns and operates Bamboo Farming USA.
Within the state of Georgia, you can also check out these two bamboo nurseries:
Bamboo in the Republic of Georgia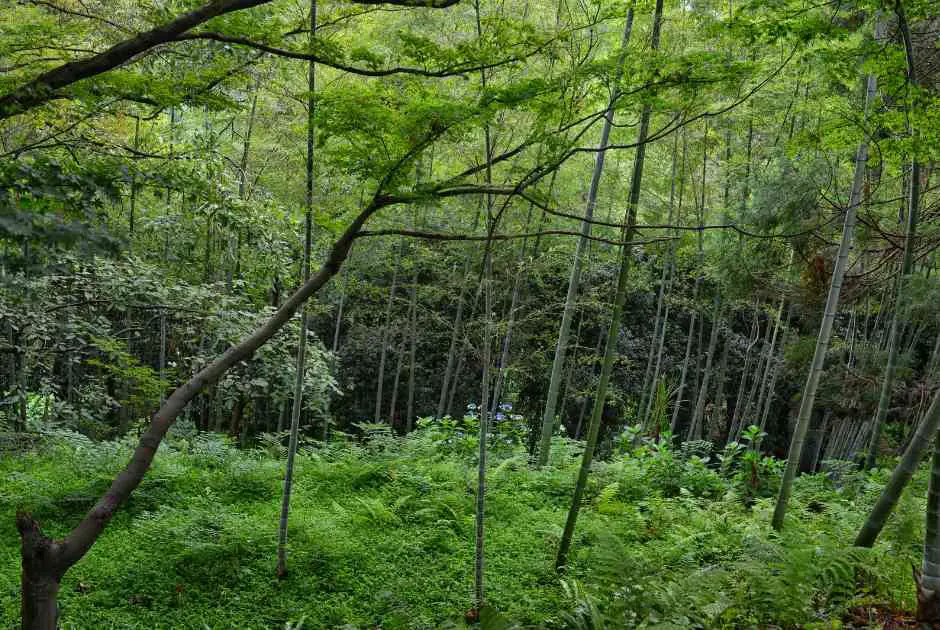 In case you failed to read the fine print and ended up in the Southwest Asian Republic of Georgia, instead of the U.S. state of Georgia, no need to worry. Unlike some of its neighbors, Georgia is a safe and stable nation, full of fascinating history and breathtaking nature, yet relatively unspoiled by tourism.
To get your fill of bamboo, definitely head to the Batumi Botanical Garden on the Black Sea coast. Located on the idyllic Green Cape of Georgia, the gardens comprise 110 hectares of subtropical flora, including a verdant plethora of bamboo. This small country might not be on every globetrotter's radar, but the botanical gardens of Batumi are absolutely world-class.
Carry on
If you enjoyed reading about bamboo in Georgia and want to learn more about bamboo cultivation in other parts of the world, check out some of these popular articles.
Featured Image: Doctored photo of the Georgia state welcome sign with River cane (Arundinaria gigantea) in the background.