Posts Tagged 'landfill'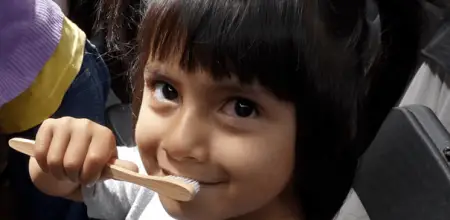 2014 Update: Bamboo toothbrushes are now available at Bambu Batu. Order yours now!
Healthy teeth are important for a winning smile and a robust immune system. A good brushing at least twice a day is optimal for keeping the pearlies white and cavity-free. Unfortunately, while we are trying to do well by ourselves, we may be causing harm to the planet. About 450 million plastic toothbrushes are thrown into landfills each year in the United States alone. Each piece takes over 1,000 years to degrade, leaving a legacy of pollution and waste. Realizing that caring for ourselves does not have to come at the expense of the environment, green-minded companies have come up with alternatives to petroleum-based brushes. Of course, our favorites are those made from the ever and always sustainable bamboo!
Brush with Bamboo- Founded by the Kumar family in Southern California back in 2008, Brush with Bamboo began as a journey towards sustainability. The family converted their suburban home into an organic farm and learning center and started Brush with Bamboo as a way to help reduce the impact of plastics on the environment. The handles of their toothbrushes are made of bamboo and are curved to feel comfortable both in the hand and mouth. The bristles are composed of a blend of 30% bamboo and tea plants, and 70% nylon. While the bristles are not biodegradable, they can be recycled. The packaging is biodegradable and made from 100% bamboo. The toothbrushes last just as long as their plastic counterparts, but are much gentler on the planet.
Smile Squared- Imagine if something as simple as brushing your teeth could change the world! During a humanitarian mission to Central America, the founders of Smiled Squared witnessed the importance of dental hygiene on a child's life. From health to aesthetics, they were determined to make a positive impact in the lives of impoverished youth by giving the gift of a shining, stellar grin. With each bamboo toothbrush purchased, Smiled Squared donates one to a kid in need. With a bamboo handle, DuPont bristles, and biodegradable package, the brushes are a wonderful way to help others while also helping yourself. Bambu Batu is proud to carry both their adult and children's toothbrushes!
For students and starving artists, it is difficult to find quality materials without breaking the bank.  Not only can hunting for the perfect component for a project be an exercise in frustration, purchasing new items can also put a strain on both the planet and the wallet.
Established in 1976 to provide materials for art teachers in the San Francisco Public School system, SCRAP (Scrounger's Center for Reusable Art Parts) is the Bay Area's oldest creative reuse center.  For over 30 years, the non-profit has supplied artists, educators, and scroungers with items rescued from their fate as landfill clutter.  Currently residing in a warehouse provided by the SFUSD, SCRAP houses over 5,000 square feet of wood, metal, glass, fabric, images, plastic, beads, buttons, toys, and nearly anything you could possibly need to complete a masterpiece.  In exchange for a place to store their "art parts" and hold workshops, the program donates its services to the community organizations, teachers, and parents working within the school district.  Sustained by the money raised from selling materials, SCRAP is able to offer free item pickup, low-cost classes, and school field trips.
Aside from their work promoting arts and culture, SCRAP has also had a positive impact on the environment.  By turning trash into treasure, the organization diverts over 200 tons of waste from the dump each year.  Through "creative reuse", artists transform the worthless into the wonderful, adding value and meaning to what was formerly seen as junk.
Start a SCRAP where you live, and take back your trash!