Posts Tagged 'portland'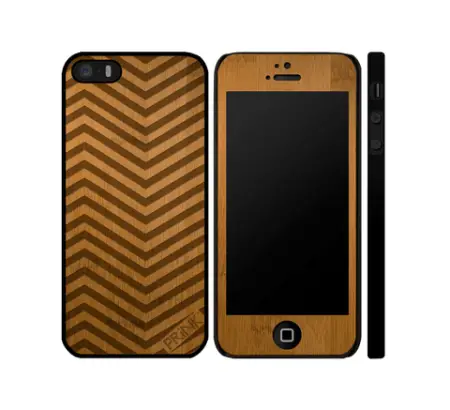 After spending a good chunk of hard-earned cash on a smartphone or tablet, it is wise to find a way to protect the device from all of the perils of the modern age. Your electronics may be powerful, but they are still susceptible to drops, cracks, scratches, and the occasional teething baby. Portland, Oregon-based company, PRiNK offers a fashionable and sustainable option for those who wish to remain tech-savvy while also keeping the health of the planet in mind. Once we saw that they produce shells for iPhone and iPad in bamboo, we took notice. Upon finding that they helped to fund the planting of 2,000 trees in the Pacific Northwest last year alone from the profits of their merchandise, we simply had to carry their cases. As an added bonus, they have a partnership with Arbor, one of the most enlightened bamboo clothing companies out there. As members of the Forest Stewardship Council and Fair Labor Association, you can be assured of a quality product that respects both humans and the environment.
Bambu Batu plans to be featuring several sizes of their bamboo mobile device cases for iPhones and iPads with the Arbor logo, our famous "Kale" emblem, stylish Om label, and "B Here Now" mantra. Custom etched designs are also available for anyone with a favorite image or artistic streak! Stay tuned for the newest exciting addition to the Bambu Batu family!
Bill Holloway and Mauro Hernandez of Masterworks Wood and Design in San Jose, CA are not only producers of beautiful works of art and utility, but responsible stewards of the environment as well.  For an example of their commitment to sustainability and technique, look no further than their reclaimed wood bicycles.
As with all of their projects, the materials are sourced from "urban" wood sources such as dismantled homes and buildings, scrap lumber, waste sites, and tree removal services.  Seals and varnishes are VOC-free, and both animal and human friendly.  Each of their six models of bicycle are made by hand from start to finish and are truly testimonials to the talent of these enormously talented individuals.  The bikes start at $5,000, which covers the cost of building materials and labor.  To visit their showroom, stop by Peninsula Building Materials in nearby Mountain View.
For a more lightweight ride, Renovo Bicycle company based out of Portland, Oregon creates custom frames from sustainable hardwoods and bamboo that are as strong and stiff as carbon.  Sealed to withstand moisture and elemental damage with VOC- free epoxy and linear polyurethane, the bicycle is sleek and durable.  Renovo demonstrates that wood can be a high-performance material, and its fatigue life rivals that of its metallic equivalents.  Each bike is made entirely in their workshop with a combination of old-fashioned human effort and high-tech computer modeling.  Built by airplane engineers, they will send you flying down the street and around mountain trails like a pro.
Return to the roots of bicycling with frames made of wood!
You see them everywhere they are not supposed to be.  Plastic bags  have become an irritating part of the landscape, lining the highways, caught in tree branches, floating in the ocean.  The buggers jam recycling machinery, block drainage systems, languish in landfills, and are mistaken for food by wildlife.  Fashioned from petrochemicals, these bags are highly resistant to degradation.  While some can be collected and recycled, and all can be re-purposed as garbage and storage bags, these seemingly convenient plastic sacks generally wind up as fodder for the dump or become one of the main ingredients for marine pollution.
While the plastic bag has its friends in high places, such as the American Chemistry Council, ExxonMobil, and Dow Chemical, cities across the country are beginning to let the flimsy film know that it is not welcome.  A quarter of the world's countries have either restricted, taxed, or outlawed single-use plastic bags, and the United States is slowly starting to follow suit.  San Francisco began the trend in 2007, and was copied on the local level by other cities including Los Angeles and Portland, Oregon.
San Luis Obispo is considering a bag ban with an additional tax for plastics, but has experienced opposition from well-funded lobbying groups and those that believe a bag restriction comes as an infringement to freedom of choice and as a burden to business owners.
One of the simplest and most effective methods of reducing your plastic footprint is to bring your own cloth or sturdy reusable bag with you to the local supermarket, restaurant, or retail store.  Here at Bambu Batu we carry cloth totes and Blue Lotus reusable produce bags for conscious shoppers.  All of your purchases from the store are bagged in recycled paper, and we are always enthusiastic to see customers bring their own backpacks, purses and satchels.
What do you think?  Should San Luis Obispo ban the bag?  Tax plastic?  Recycle reusables?  Are cities overstepping Constitutional boundaries when imposing levies on these products?  Are environmental risks enough to consider outlawing single use bags altogether?