Posts Tagged 'central america'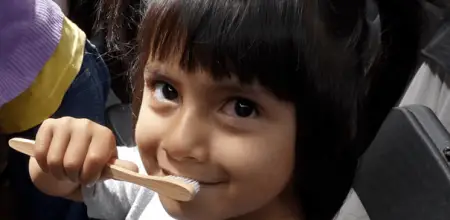 2014 Update: Bamboo toothbrushes are now available at Bambu Batu. Order yours now!
Healthy teeth are important for a winning smile and a robust immune system. A good brushing at least twice a day is optimal for keeping the pearlies white and cavity-free. Unfortunately, while we are trying to do well by ourselves, we may be causing harm to the planet. About 450 million plastic toothbrushes are thrown into landfills each year in the United States alone. Each piece takes over 1,000 years to degrade, leaving a legacy of pollution and waste. Realizing that caring for ourselves does not have to come at the expense of the environment, green-minded companies have come up with alternatives to petroleum-based brushes. Of course, our favorites are those made from the ever and always sustainable bamboo!
Brush with Bamboo- Founded by the Kumar family in Southern California back in 2008, Brush with Bamboo began as a journey towards sustainability. The family converted their suburban home into an organic farm and learning center and started Brush with Bamboo as a way to help reduce the impact of plastics on the environment. The handles of their toothbrushes are made of bamboo and are curved to feel comfortable both in the hand and mouth. The bristles are composed of a blend of 30% bamboo and tea plants, and 70% nylon. While the bristles are not biodegradable, they can be recycled. The packaging is biodegradable and made from 100% bamboo. The toothbrushes last just as long as their plastic counterparts, but are much gentler on the planet.
Smile Squared- Imagine if something as simple as brushing your teeth could change the world! During a humanitarian mission to Central America, the founders of Smiled Squared witnessed the importance of dental hygiene on a child's life. From health to aesthetics, they were determined to make a positive impact in the lives of impoverished youth by giving the gift of a shining, stellar grin. With each bamboo toothbrush purchased, Smiled Squared donates one to a kid in need. With a bamboo handle, DuPont bristles, and biodegradable package, the brushes are a wonderful way to help others while also helping yourself. Bambu Batu is proud to carry both their adult and children's toothbrushes!
Of all of the ingredients hiding in cosmetics these days, from parabens to phthalates, you may never have guessed that many of your favorite shades of lipstick, shadows, and blushes contained bugs.  Yes, that's right, our good old six-legged friends from the insect world are widely used to produce carmine, or a bright red color extracted from their tiny little bodies. And you'll find it nearly everywhere, except on the cruelty-free shelves of Bambu Batu, where we now carry All Good Lips SPF18 Beauty Tints, the newest product from Elemental Herbs, which is 100% carmine free (relying instead on mica for coloring) and boasts the same healing properties as their organic lip balms, made with five medicinal herbs.
The cochineal (Dactylopius coccus) bug is a scale insect of the suborder Sternorrhyncha, a parasite that lives primarily on the nutrients and moisture of cacti.  The red color used for dye is known as carminic acid, and is manufactured by the cochineal bug as a defense against predators. To prepare carmine for use in the cosmetic or food industry, the powdered insects are boiled in either ammonia or sodium carbonate, filtered to remove the parts that cannot be dissolved, and added to a clear salt solution to create a red aluminum salt.
The insects can also be boiled with water and treated with alum, cream of tartar, stannous chloride, or potassium hydrogen oxalate to create a salt.  We know this salt as "carmine lake", "crimson lake", or "natural red 4",  and it can be found everywhere from yogurt and Jell-O to the products we apply to our faces. There are some who are allergic to the dye, and these individuals must avoid foods and cosmetics with lake colors for risk of developing anaphylactic shock, asthma, or hives.
The dye itself has been used in Central America since the 15th century to color fabrics, but did not become an international export until the period  of  colonization beginning in the 1700s.  The demand for cochineal dye fell during the 19th century as synthetic dyes began to take the place of naturally produced coloring agents.  Currently, cochineal dyes are sought as alternatives to man-made chemicals, although many are wary about allergic reactions and killing 70,000 bugs to make one pound of dye.  In the US, carmine is approved by the FDA as safe to use, but must be clearly labeled on packaging as an ingredient.
Now that you know where that lovely red hue is made, would you still wear that favorite shade of rouge or drink that bottle of pink lemonade?  Aside from health concerns, what are the ethical implications of carmine in cosmetics and foodstuffs?