Posts Tagged 'fair trade'
Bambu Batu is delighted to offer this new line of natural fiber products made in India exclusively for Yala Designs. We wanted to share with you the steps that go into producing this block print collection.
Many skilled hands are involved in creating these prints.
First the blocks must be carved. The elaborate designs are carved into wood blocks by hand. Each color and pattern requires a new block. It takes one week for a block maker to carve the nine blocks for the Blue Lotus Quilt.
The vibrant colors are hand mixed, using a well-worn "recipe" book as a guide to create the unique colors. The colors for printing are derived from minerals, plants and Azo-free dyes.
A skilled craftsman dips the hand-carved block into the dye and then stamps the fabric. Once the first color has dried the process is repeated with each color.
The front and the back of the Blue Lotus Queen Quilt requires more than 1250 stamps. It takes a team of two printers one full day to print enough fabric for four queen size quilts.
Washing, setting the dye, and drying the fabric takes about six hours per queen quilt. After this process, the fabric will not shrink and is completely colorfast.
It takes an experienced quilter a full day to place the organic cotton filling and hand stitch one quilt.
A queen size quilt has passed through more than 30 pairs of hands on its journey from plain white fabric to becoming a quilt. These local artisans are grateful that you appreciate the care that goes into each quilt and thank you for supporting and preserving this ancient art form.
These unique quilts are available from Bambu Batu in three colors — Blue lotus, Gold fleur and Plum razia — and each is reversible with coordinating patterns. We offer them in three sizes — throw (52″x72″), queen (90″x94″) and king (108″x94″), prices starting at $149.95.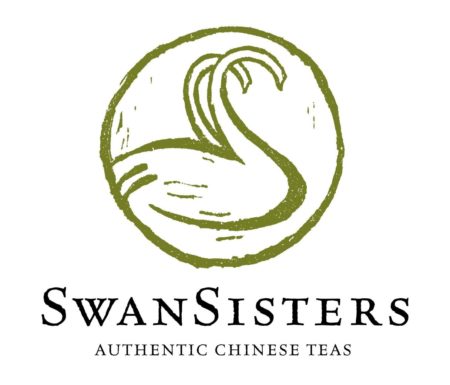 With Fall firmly established and Winter on its way, it is time to start the search for the season's perfect, warming beverage.  Luckily for San Luis Obispo residents, we have a fantastic resource for some of the highest caliber tea around.
Founded by two sisters with a passion for tea and culture, Swan Sisters Tea is a boutique company that maintains a year-round presence in the US and China in order to ensure the quality of some of the best and rarest leaves in the world.  Each harvest season, Swan Sisters travel to remote regions seeking the most unique and delicious vintages.  To them, tea is a magical beverage that encompasses culture as well as health, ceremony as well as science.  It is the mission of the company to spread the joy of tea and educate the public in an effort to share their passion and promote the drink as a way to live a healthier and more connected life.
Consistent with an environmentally conscious business ethic, Swan Sisters only sources teas that have been grown organically and without the use of chemicals, pesticides or fertilizers.  All packaging is either recycled or reused, leftover tea and cardboard are composted, and press materials are printed with eco-friendly inks.  The farms chosen to supply the company are selected based on the ethical treatment of its workers, meaning that Fair Trade practices are followed and encouraged.  It is the hope of Swan Sisters to coordinate and fund more Fair Trade certifications for their growers in the future.  To ensure freshness, each leaf is hand picked, and the dates of harvest and grade of each tea are carefully marked and recorded.
Bambu Batu is happy to announce Swan Sisters tasting and demonstrations this Saturday, November 26.  Come and sample expertly brewed and beautifully presented varieties, learn a little about the company, and take home a gift for the holidays.  For more information on Swan Sisters, contact Didi Yeh at <didi@swansisters.com> or <info@swansisters.com>.
Bambu Batu, in its undying quest to hold itself accountable and socially responsible, is very pleased to be adding an assortment of Certified Fair Trade bamboo products to its already impressive selection of eco-conscious fabrics and housewares.
In that very same spirit, Bambu Batu will also be participating in a Fair Trade Christmas Market on Saturday, Dec. 8, in the old Pier One building in downtown San Luis Obispo. (I believe that's 848 Montery St. — next door to the old HempShak.) The Copelands are donating the space for the event, which is being organized by the SLO Fair Trade Coalition (SLOFTC).
The SLOFTC and the Santa Lucia Chapter of the Sierra Club are also co-sponsoring a showing of "Maquilapolis: City of Factories," at The Steynberg Gallery, 1531 Monterey St., SLO, Saturday, Sept. 22 at 7 p.m. Don't miss this chilling documentary on factory exploitation and maquiladora madness!
Or if you can't make, just stop by Bambu Batu any time to check our our impressive selection of socially responsible and environmentally proactive bamboo clothing and bamboo housewares.