Posts Tagged 'garden'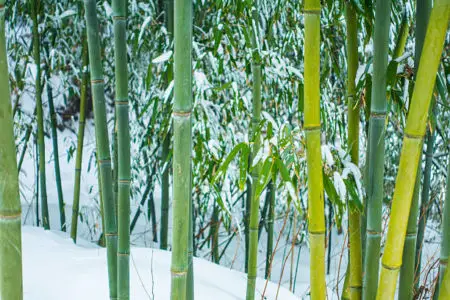 Can I grow bamboo in the snow?
We hear this question all the time, especially from our friends in Canada. Can I grow bamboo where it snows? The short answer is YES. But the long answer is that it really depends what variety of bamboo you are growing.
NOTE: To make shopping easier, this article may include one or two affiliate links.
There are more than a thousand species of grass in the bamboo family, and the majority of the most popular bamboos for gardening come from the tropics or subtropics, so they much prefer the warmer climates. But with that many varieties to choose from , you can be sure that a sufficient number of bamboos will grow happily in the snowy mountain regions and far northern latitudes like Canada.
In fact, there are dozen of varieties of cold hardy bamboo to consider. Most of them belong to either the Phyllostachys or the Fargesia group (genus) of bamboo. Phyllostachys is one of the most prevalent genera of bamboo, primarily native to China and including about 50 distinct species. Almost every species of Phyllostachys is a fast spreading runner (with an aggressive rhizome root system), and many of them are cold hardy, down to -5 or 10º F.
Fargesia is another major genus of bamboo, also indigenous to China and southeast Asia. Unlike Phyllostachys, the Fargesia bamboos are chiefly dense growing clumpers. This and their cold hardiness have made many varieties of Fargesia very popular among gardeners.
Cold hardy runners
Phyllostachys aureosulcata
: The "yellow groove bamboo" is easily recognizable for the yellow stripe that's visible on the dark green culms. A subspecies known as "crookstem bamboo" has shoots that sometimes grow in a zig-zag manner. This visually interesting and attractive variety can grow up to nearly 50 feet in height, even in freezing temperatures. But in zones were it regularly gets below -10 or 15º F, it probably won't grow more than 10 feet tall.
Phyllostachys heteroclada
f. solida: This subspecies of "water bamboo" is commonly known as "solid bamboo". It's one of the few varieties that actually has a solid stem, rather than being hollow inside. It's also a bit more cold resistant than ordinary water bamboo, hardy down to -10º F. Phyllostachys bissetii: Very dense growing, with a thick bushy canopy, and very cold hardy. The one-inch shoots will grown up to about 20 feet in height. Phyllostachys nuda: A very attractive and cold hardy species, its shoots get 1-2 inches in diameter and 25-30 feet in height. Young shoots appear very dark, almost black, turning a rich, dark green as they mature, usually with pretty, white rings around the culm nodes.
Phyllostachys atrovaginata
: Popularly known as "incense bamboo", this variety has a waxy coat that gives the culms a very pleasant fragrance in hot weather or when rubbed. Many gardeners appreciate how fast his bamboo grows, with thick culms of 3 inches or more in diameter and up to about 40 feet in height. Good at temperatures as low as -10 or 15º F.
Phyllostachys parvifolia
: Like water bamboo, the rhizomes of this species are well adapted for wet and saturated soil. Small leaves make the thick, dark green culms stand out, and the white rings around the nodes give them even more character.
Fresh shoots of this variety
are reputed to be delicious in flavor. Mature shoots can get up to 40 feet tall, and it is cold hardy down to -15º F.
REMEMBER: If you're planting running bamboo, like any Phyllostachys variety, always use a root barrier. Check out this Deep Root Barrier available from Amazon. Also check out this detailed article on bamboo containment practices.
Cold hardy clumpers
Fargesia murielae
: Commonly known as "umbrella bamboo", many consider this to be among the most beautiful varieties for cultivation. New shoots have a light blue hue, turning dark green and yellow with age. Growing this bamboo in a shady area will help preserve the rich blue shade. Thin shoots will get about 12 feet tall, and it's hardy down to -20º F.
Fargesia nitida
: "Blue fountain bamboo" earned its name from the dark purple, bluish culms and the thick, cascading canopy of foliage. One-inch poles can get to about 15 feet tall, and thrive in temperatures as low as -20º F.
Fargesia dracocephala
: "Dragon head bamboo" has think culms growing to about 10 feet, with a thick, weeping leaf canopy that can provide a good privacy hedge. Not recommended for hot, humid climates, but cold hardy down to -10º F.
Fargesia rufa
: A compact, thick and bushy variety, Rufa much prefers the cooler climates, and also does well in partial shade, protected from afternoon sun. This species is hardy down to -15º F. Thin culms grow to about 10 feet tall. Fargesia sp. 'Jiuzhaigou': This species includes many interesting and cold hardy cultivars, including "red dragon" and black cherry". As the names suggest, these are some more colorful varietals. With thin culms growing to around 10 feet, this is a more compact species of bamboo, but cold hardy down to -20º F. Pack your bags for Canada! Growing Bamboo in the Cold
As you can see, there are plenty of bamboos to choose from if you're looking to landscape an oriental style garden in the northern habitats of the US, Canada or even Europe. Most of these species are hardy into the negative Fahrenheit territory, so as long as you aren't expecting to dip below minus 20º or something, you should be fine. And even if the leaves get a little fried in an abnormally severe cold snap, the roots should still endure.
Have fun gardening, and if you have any photos of snowmen in your bamboo grove, please send them our way!
Lush, green, and hardy, bamboo sets the stage for the perfect garden getaway. When planted in thickets, the grass forms walls that provide privacy and quiet. When in clumps, bamboo is an excellent highlight to just about any backyard.
You already know who's got the best selection of bamboo clothing and textiles on the planet, but Paso Bamboo Farm and  Nursery is the only place on the Central Coast where you will find timber and exotic bamboos ready to be planted in your yard! The Nursery carries thirteen different species that tolerate extreme temperatures and are available in 5, 15, and 25 gallon containers, or can be dug to order. The staff is also able to create bamboo installations for home and business.
In addition to growing the their beautiful specimens of bamboo, the Nursery holds educational talks throughout the county. The owners love to inform the public as to the remarkable qualities of the plant. Easy to maintain, bamboo is an attractive way to sequester carbon and filter the air. Able to harvested for  building material, craft, or textiles, the giant green stalks are as practical as they are ornamental.
Interested green thumbs are encouraged to visit the Paso Bamboo Farm and Nursery at 5590 North River Road in Paso Robles. For more information, head over to their official site and discover a world of versatile, verdant bamboo!
The days are growing longer, the rain is falling — albeit intermittently — and the pollen on my porch is in an uproar. In the land of permanent sunshine and perpetual springtime, this could only mean one of two things: spring is either here or very close at hand!
And if you're a perpetual gardening enthusiast like myself, then your thumbs must be perking up, as green as the oxalis rioting in your flower beds.
I don't know about you, but when I get to feeling this way, the first thing I do is walk around the side of the house to inspect my compost pile. For me, there's nothing like a happy heap of compost to put a smile on the face of an organic gardener.
So in order to ensure that happy heap, here's a quick list of Dos and Don'ts to help you maintain a healthy, well-balanced mound of compost.
Compost Tips for the mindful gardener
1. DON'T let your compost get slimy. This is of paramount importance. If you're regularly adding buckets of wet "green" kitchen scraps to your backyard heap, you will definitely need to add some dry "brown" waste to the mix.
2. DO add dried leaves, dried lawn trimming and wood chips to help break down the wet kitchen scraps and fresh green garden waste. Ultimately, you want a mix of about 50-50 wet waste (nitrogen) and dry waste (carbon).
3. DON'T just dump your kitchen waste on top of the pile and leave it there for all the world to see. Mix it in, and try to cover it with some older and/or dryer waste.
4. DO add wood and paper ash from your fireplace. Ashes are a great source of potash, or potassium carbonate, an essential component of a rich soil mix.
5. DON'T add ash from petroleum products like starter logs, or from cigarette butts.
6. DO add eggshells in moderation, but generally DON'T add animal products like meat or cheese. They will rot rather than compost. They will also attract unwanted, carnivorous pests and scavengers.
7. DON'T put poop in your compost, either from your pets or yourself. Fecal matter can harbor dangerous bacteria and parasites.
8. DO feel free pee on you pile. A healthy compost pile needs to be kept moist, and readily-available urine actually adds trace minerals that can benefit the mix.
9. DON'T add too many orange peals. Too much of anything can throw your compost out of balance, but the acidity of citrus peels (esp. if clumped together in the pile and not spread around) makes them slow to decompose and attractive to fruit flies.
10. DO add coffee grinds and tea bags. These contain great soil-enriching ingredients. A healthy compost will also break down the paper filters and bags without a problem. Same goes for bathroom tissues and occasional paper towels.
11. DON'T expect wine corks to break down very fast, but they can make a good addition. Natural wine corks are made from oak tree bark, definitely organic matter that will eventually, slowly decompose. In the meantime, their porousness can help with aeration and provide a niche for beneficial microorganisms.
12. DO cut your twigs and branches as small as possible before adding to the heap. Thick branches can take months or years to break down. (One or two long branches across the middle of the pile can actually be helpful for aeration purposes, but they won't break down.)
13. DON'T worry too much about flies around the compost. That's pretty normal, as long it doesn't start looking like a 1950s science fiction movie. With any luck your compost will become home to herds of earthworms. We also get legions of pill bugs loitering in our compost; they thrive on the moisture. They also help break things down because they will eat anything that doesn't move, and yet they're relatively harmless as far as garden critters go.
14. DON'T expect your compost to do all the work. You'll need to prod it with a shovel from time to time to make sure it's not drying out or staying to wet. Periodic shoveling will keep it well blended and aerated. Eventually (after 3-6 months), you'll want to flip the whole pile (so the fresh top layer ends up on the bottom and the more decomposed bottom layer ends up on top), and then start a new pile.
Go Green
I hope these tips on conscientious composting will help you deal with your waste management, and at the same time get your garden revitalized. Closing that loop between the production of household waste and the need for soil enrichment in the garden is a brilliant concept that can reduce your carbon footprint and increase your vegetative bliss.
Bamboo is another great way to make use of your garden space, as it is one of the best plants for converting CO2 into oxygen. It is a remarkably functional and versatile plant. In addition to making a very attractive shrub, bamboo can also be used as a fence or a privacy hedge, and its stalks can be harvested for any number of uses, including making fishing poles and various arts and crafts projects.
If you're looking to beautify your garden with bamboo, you'll also want to check out these two articles on selecting the best bamboo varieties and coping with bamboo containment.  
Photo Credit: A healthy heap of steaming compost (Unsplash)