Posts Tagged 'paso robles'
Lush, green, and hardy, bamboo sets the stage for the perfect garden getaway. When planted in thickets, the grass forms walls that provide privacy and quiet. When in clumps, bamboo is an excellent highlight to just about any backyard.
You already know who's got the best selection of bamboo clothing and textiles on the planet, but Paso Bamboo Farm and  Nursery is the only place on the Central Coast where you will find timber and exotic bamboos ready to be planted in your yard! The Nursery carries thirteen different species that tolerate extreme temperatures and are available in 5, 15, and 25 gallon containers, or can be dug to order. The staff is also able to create bamboo installations for home and business.
In addition to growing the their beautiful specimens of bamboo, the Nursery holds educational talks throughout the county. The owners love to inform the public as to the remarkable qualities of the plant. Easy to maintain, bamboo is an attractive way to sequester carbon and filter the air. Able to harvested for  building material, craft, or textiles, the giant green stalks are as practical as they are ornamental.
Interested green thumbs are encouraged to visit the Paso Bamboo Farm and Nursery at 5590 North River Road in Paso Robles. For more information, head over to their official site and discover a world of versatile, verdant bamboo!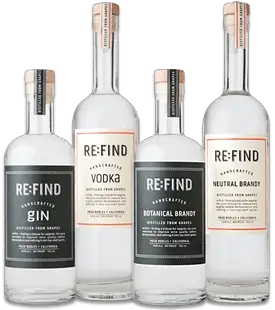 Halloween must be one of the year's best holidays. Children and adults alike have an excuse to dress as the characters and creatures they most wish to embody, and go house-to-house in pursuit of treats. For the kids, candy is the reward of choice. For those over 21, a good cocktail helps celebrate the night of spirits. For Bambu Batu's next Art After Dark Celebration on November 1 from 6-9pm, we will be holding hard alcohol tastings from Re:Find in Paso Robles. The evening will also feature astrology readings from celestial superstar Harry Farmer and Tarot card reading by Francesca, plus live music and prizes for the best costumes.
Re:Find Handcrafted Spirits from Paso Robles uses saignée, or the free-run juice from grapes removed prior to fermentation, to produce their vodka, gin, and brandy. The juice is triple distilled to create the highest small-production spirits.  The company is the result of Alex and Monica Villicana's efforts to promote sustainability through using an often ignored artisan product. While most gins and vodkas are made from grain and sometimes potatoes, grapes produce glycerol which are responsible for the "legs" found in wine. The unique base accounts for their unique flavor profiles as well as providing locavores a handcrafted option for their liquor cabinet.
For more information, or to find a location where Re:Find is sold, check out their website, call: 805.239.9456, or  email: monica@refinddistillery.com. Tours and tastings are offered from 11:am to 5pm daily at their distillery located at 2725 Adelaida Road, Paso Robles, CA 93446.
It was a blindingly sunny April day in Paso Robles, and my friend Mitch and I were too distracted talking about the grape varieties growing on the vines around us that we completely missed our turn.
"Wait, was that it? So much for my keen sense of direction. The wolves will definitely think I'm a wussy human. Guess I'll never make it as Alpha," I said, as we pulled a U-turn.
After backtracking about half a mile, we found the side road leading to our destination: the W.H.A.R. Wolf Rescue. As we pulled into the dusty parking lot, we saw that the space was inhabited by a menagerie of other animals as the Rescue shares their property with Zoo to You, an educational traveling exotic animal program. Getting out of the car, we were greeted by a rush of blistering hot air and the screeches of birds and the snorting of a host of other beasts that we could not identify. We meandered our way past giant tortoise enclosures and a porcupine pen to the high chain-linked fence marked with the W.H.A.R logo. Opening the gate, we walked towards a tiny office sitting under a massive Live Oak amidst a cluster of covered fenced kennels.
As Mitch knocked on the little door plastered with pamphlets and stickers, I turned to scan the exclosure to my left and locked eyes with one of the most beautiful creatures I have ever seen. Pacing the dirt and occasionally marking his territory was a pure white timber wolf. Long-limbed with a narrow snout and blazing yellow eyes, I immediately felt an energy that I could only describe as primal, old, and definitely wild.
As I turned back around to elbow Mitch and gratuitously point, our tour guide and founder of the Rescue, Kristi Krutsinger came out to join us. The woman could not have been much taller than 5'2" and yet she had a relaxed and strong countenance that you would expect from someone who cared for giant canines. That, I thought to myself, is definitely the leader of the pack.
For the next hour or so, Kristi took us around the facility, introducing us to the occupants and relating their names and histories. The Rescue began back in 1998 when she and her husband adopted Tundra and Chinook. Chinook was a purebred Alaskan Malamute and Tundra was a Malamute wolf mix. Strangely enough it was the mix that caused the most stress, but after a bout where Kristi established her dominance, an understanding was met and a hierarchy was established. Slowly, they began to expand the property where they kept the two, and took in other hybrids and wolves. Some came from owners who could no longer keep the high-maintenance animals, others from  rescues and control agencies.
The Paso Robles location is the Rescue's second incarnation, as CalTrans had forced the nonprofit to be moved after purchasing the original space by eminent domain. Refusing to pay for the relocation, Krutsinger tapped into her background as a journalist and fierce nature as a woman who runs with wolves to convince the public and state to compensate her for the enormous undertaking. Currently, the Rescue is completely run by volunteers and sustained by tour fees and donations. Some of the hybrids are able to be adopted, although purebreds are never released as pets. The organization also takes ambassador wolves to community events such as schools or nature hikes that help to educate and dispel the myths surrounding the incredible creatures.
Tours for the W.H.A.R. Wolf Rescue are by appointment only, and can be scheduled by calling (805) 610.6109. Donations can be made through their website at www.whar.org. If you are looking to reconnect with a bit of wilderness and also support a fantastic cause, visit the Rescue in Paso Robles to meet up to 22 unique animals. After scratching the neck of a hybrid and getting a lick or two through the fence, I was elated for a good week afterwards. Hoping to run with the pack again some time soon, I am looking for any excuse to return.