Posts Tagged 'cfl'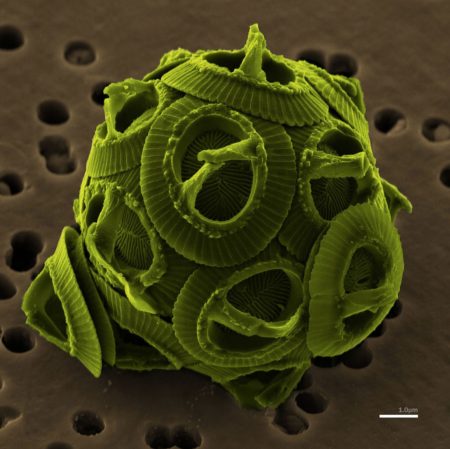 CFLs and LEDs not quite green enough for you? Solar panels too rigid and unforgiving? How about illuminating your living space with living creatures? Algae has long been used to produce biofuel and clean water, and now it is finding a brand new application as a light and power source. Far from your average pond scum, these tiny organisms are being harnessed for their ability to bioluminesce and sequester carbon. Welcome to the algae-powered age!
Gyula Bodonyi has created an algae-powered light bulb that looks like the verdant version of a standard Christmas fixture. The tear-shaped bulb works by harnessing the natural biology of algae to power and LED bulb with the aid of a tiny air pump and hydrophobic container. Carbon dioxide and water is taken in near the E27 screw-top, and as the air passes through the bulb, it helps to nourish Chlorella pyrenoidosa microalgae. The oxygen the algae generates in turn operates the LED. When not turned on, the bulb appears green due to the hue of the organisms inside.
The Latro Lamp is another great example of algae's ability to shed a little light on the subject of indoor illumination. Designed by Mike Thompson, the conical light only needs a little CO2, sunlight, algae, and water to function. The has to be set outside during the day, and a battery stores the energy created by the algae for later in the evening. A light sensor modulates the lamp's intensity and prevents the algae from becoming malnourished.  Acting as a bio-battery, the technology was made possible through research done by Stanford and Yansei universities.
Scientists at Cambridge University are laboring towards creating biovoltaic panels (BPVs) that use algae to power electronics much in the same manner as photovoltaics. Alex Driver and Carlos Peralta  understand that such a novel concept could be a little difficult for consumers to imagine, and have created several renderings of products that could possibly hit the market once the technology becomes viable. The researchers believe that their innovations could be stiff competition for solar panels in the next 5-10 years.
Are you ready for the algae-powered revolution?
Photo Credit: Wikipedia
You would think with a name like "conservative", those occupying the right wing of the political spectrum would be all about saving money and cutting energy costs. Yet, according a study led by Dena Gromet from the Wharton School of the University of Pennsylvania, CFL light bulbs labeled with a "protect the environment" sticker were shunned by conservatives. Their decision comes despite the fact that CFLs last 9,000 hours longer than incandescents and reduce energy costs by 75 percent. In an study published in the Proceedings of the National Academy of Sciences last month, she and her colleagues from Wharton and the Duke Fuqua School of Business gathered 210 potential buyers. They asked them to choose between incandescent bulbs and CFLs, some which sported a "protect the environment" sticker. Divisions were apparent until they made both bulbs the same price. Then, every subject except one chose the CFL.
"Our results demonstrated that a choice that wasn't ideologically polarizing without a ("protect the environment") label became polarizing when we included that environmental labeling," Gromet noted. "We saw a significant drop-off in conservative people choosing to buy a more expensive, energy-efficient option."So it makes that choice unattractive to some people even if they recognize that it may be a money-saving choice. When we asked afterward, those consumers identified the CFL bulbs as providing greater monetary savings over time. But they would forgo that option when that product was made to represent a value that was not something they wanted to be identified with."
Regardless of whether or not they realized that the CFLs would be more practical in the long run, conservatives still opted to go for the less efficient technology. To combat global warming and carbon emissions, the United States is one of many countries trying to persuade consumers to switch to bulbs that use little power. Last year, they took on 100 watt bulbs, and in January they introduced new efficiency requirements that went into effect for 75 watt bulbs. You would think that a bulb with a longer life and overall benefit to the consumers' pocketbook would be a win-win, but not for those who look to the government's regulations as just one more step down the road to communism….or fascism…or whatever dystopian future some out there have imagined.
To add insult to injury, there is little evidence that green PR helps boost sales of products amongst liberals. While the research team needs more data to confirm this suspicion, they did not find any support that leftists were swayed by green labeling. In addition to political prejudice, pro-planet goods have to contend with old stereotypes that they are poorly designed, overpriced, and not as high in quality as long-established brands. One small ray of hope may lie in the overall trend for consumers to look towards LEDs in favor of CFLs for their homes and businesses. While the Wharton study did not test opinions over LEDs, it would be interesting to see whether or not politics play a role in their selection and whether the CFL phenomenon is simply a fluke.
Still, with those who are under the belief that the UN's Agenda 21 is a plot to take control of the world under the guise of a green manifesto negotiated without the input of the American people, it is not hard to see how some are ruffled by being told to do pretty much anything. Sadly, they will maintain this point of view even if what they are being asked to do is for the benefit of the greater good. Unfortunately, the environment does not care whether or not you are Democrat or Republican when it comes to natural disasters brought on by a shifting climate. CO2 doesn't vote or go to the store. However, humans do, and we are the ones making the ultimate decisions on how we live ont his planet. We can only pray that we do the right thing regardless of the motivation.
Photo Credit: Wikipedia