Posts Tagged 'oregon'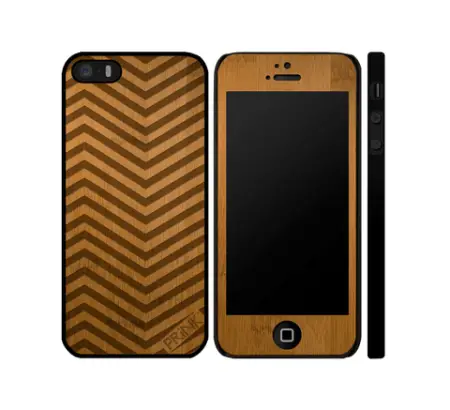 After spending a good chunk of hard-earned cash on a smartphone or tablet, it is wise to find a way to protect the device from all of the perils of the modern age. Your electronics may be powerful, but they are still susceptible to drops, cracks, scratches, and the occasional teething baby. Portland, Oregon-based company, PRiNK offers a fashionable and sustainable option for those who wish to remain tech-savvy while also keeping the health of the planet in mind. Once we saw that they produce shells for iPhone and iPad in bamboo, we took notice. Upon finding that they helped to fund the planting of 2,000 trees in the Pacific Northwest last year alone from the profits of their merchandise, we simply had to carry their cases. As an added bonus, they have a partnership with Arbor, one of the most enlightened bamboo clothing companies out there. As members of the Forest Stewardship Council and Fair Labor Association, you can be assured of a quality product that respects both humans and the environment.
Bambu Batu plans to be featuring several sizes of their bamboo mobile device cases for iPhones and iPads with the Arbor logo, our famous "Kale" emblem, stylish Om label, and "B Here Now" mantra. Custom etched designs are also available for anyone with a favorite image or artistic streak! Stay tuned for the newest exciting addition to the Bambu Batu family!
Star Wars fans, tree huggers, and perpetual children rejoice, an Oregon man living in Cave Junction has done what many of us have long dreamed of doing.  Michael Garnier has built what might possibly be the largest concentration of treehouses in the world.  Dubbed the "Ewok Village", the collection of houses complement the state's "tree-mendous" and "tree-riffic" forests.
After leaving the Army from his post as a Green Beret medic, Garnier decided that he wanted to make a living off of the scenery without having to cut it down in the process.   He loved to work with wood, and began crafting picture propellers that use the eye's natural responses towards the rapid shift between light and shadow to produce what he refers to as an "organic, psychedelic kaleidoscope".  After trying his hand at constructing fences, pole barns, and furniture, Garnier found that renting his treehouses as vacation lodgings allowed him an income and a way to give people a new perspective on how to use the land. He also sells the parts and plans of his own invention for those who wish to construct their own mansion in the branches.
Designed to work with the tree's natural biology, each house incorporates techniques that allow for the structures to become a part of the plant's anatomy.  Eventually, attaching bolts and supports merge with the trunk and branches, creating the least obtrusive and strongest possible foundation for the dwellings.  Interconnected houses utilize sliding brackets that accommodate for wind and growth.  Complete with furnishings, spiral staircases, toilets, and windows opening onto the canopy, the houses resemble comfortable, upscale cabins.  Bridges connect each residence, and luggage and cleaning supplies are hoisted from the ground by ropes and pulleys.  His own house is an 1800 sq foot building that is supported by seven trees and may be the largest treehouse ever constructed.
Between Garnier's prolific use of tree puns, amazing houses, and reportedly amazing meals cooked at this unique bed and breakfast, I am longing for an excuse to visit rural Oregon.  Branch out from a boring, tradition hotel or camping tent and leaf for a trip for the world's most incredible treesort!