Green architects and conscious homeowners understand the many benefits of bamboo flooring. Strong, sustainable, and aesthetically pleasing, it's everything you could want from a hardwood floor. But if you're in a temporary space, like a rented apartment, it might not make sense to install bamboo flooring. In this case, bamboo floor mats prove the most useful and practical solution.
Bamboo floor mats offer all the advantages of solid bamboo flooring. They're extremely durable and attractive, and bamboo is a far more renewable and sustainable resource than traditional hardwood. The mats are also very easy to clean and move around, which is perfect if you want to add some bamboo flooring in a rental unit or a converted garage.
Bamboo's superior properties for flooring
When the surging wave of bamboo's newfound popularity started, about 20 years ago, one of the first products to hit the market was bamboo flooring. Increased awareness about deforestation and rising lumber prices had builders and consumers searching for new materials. And bamboo was the obvious answer.
The fastest-growing plant on earth, bamboo is a grass that renews itself quicker than a patch of weeds in a backyard garden. Cut it down and it grows right back, only thicker and stronger. And as it does so, the bamboo captures considerable quantities of atmospheric carbon, replacing it with life-giving oxygen.
But the most amazing thing of all is perhaps bamboo's sturdy hardness. Despite being a fast-growing grass, the stems (or culms) of bamboo have a comparable tensile strength to oak and maple. That's why it's sometimes referred to as "vegetal steel".
It seems like almost overnight, mindful homeowners and yoga studios were replacing their floors with bamboo. The result was a fabulously durable surface with a remarkably attractive appearance. Not only resistant to dents and scratches, these bamboo floors also stand up against the scourge of deforestation.
Bamboo flooring vs Bamboo floor mats
Replacing old wood, laminate or wall-to-wall carpet is one thing, but sometimes you just want to cover a limited area or a temporary space with bamboo. This is where bamboo floor mats provide the perfect solution.
Under a dining room table, a good-sized bamboo mat looks great, is easy to clean, and holds up well against sliding chairs. In a rented home or apartment, bamboo floor mats are just the thing to cover up some old and unattractive carpet or hardwood.
When you're moving or storing the mats, they are easy to roll up and stand in a corner or a closet. And when they're on the floor, they have an excellent non-slip backing that helps them stay in place, even when placed over smooth tile or wood.
Bamboo mats at Bambu Batu
At Bambu Batu, our first location had low pile Berber carpet (nylon) that we weren't thrilled about. But we weren't sure how long we'd be in that space, and we weren't prepared to install 1,400 sq. ft. of bamboo flooring. So we just threw down some bamboo mats. It worked out perfectly. And it was an excellent way to demonstrate their useful potential to our customers.
Two years later, we relocated to a new storefront with some rustic wood floor. Rather than replace the hardwood, we brought the old bamboo mats along, and they were still in perfect condition. Then, a few years later, we moved once again, to the location where we would remain for a full decade. By now, we were convinced that the bamboo mats were the best solution, and we covered the whole store with them.
For ten solid years, these mats held up like steel. We had to replace the small 4′ x 6′ mat at the entrance once or twice. It was subjected to harshest foot traffic, and the dragging of feet near the front door finally caused the fabric edge to fray. But the bamboo itself was indestructible. It's only the trim that eventually had issues, after several years of wear.
Shopping for bamboo floor mats
Like so many other bamboo products, our 16 years of experience gave us plenty of time to identify the best bamboo floor mats on the market. We placed them on our floors and we put them to the test.
Without a doubt, we were the most satisfied with bamboo floor mats from Anji Mountain, which we sold in our store for many years, but you can now order from Amazon. Anji Mountain's bamboo mats use the highest quality bamboo, and they have the most effective non-slip padding on the backs, along with the widest and most durable trimming around the edges.
Go here to check prices, sizes, and styles of bamboo floor mats from Anji Mountain.
The mats come in a variety of stains, but the dark (contemporary chocolate) was always the most popular at Bambu Batu. Their striped options are very attractive as well, but a little too busy in certain settings.
They also have a great selection of sizes to choose from. The small 2′ x 3′ mats are great in front of a door, next to the sink, or coming out of the shower. The 5′ x 8' and 6′ x 9′ are the most popular sizes.
Peruse their well-organized and up-to-date Amazon page and you'll find an impressive assortment of styles and sizes, including bamboo and a range of other textiles. After doing business with Anji Mountain for more than a decade, we can attest to the quality of their products as well as their customer service.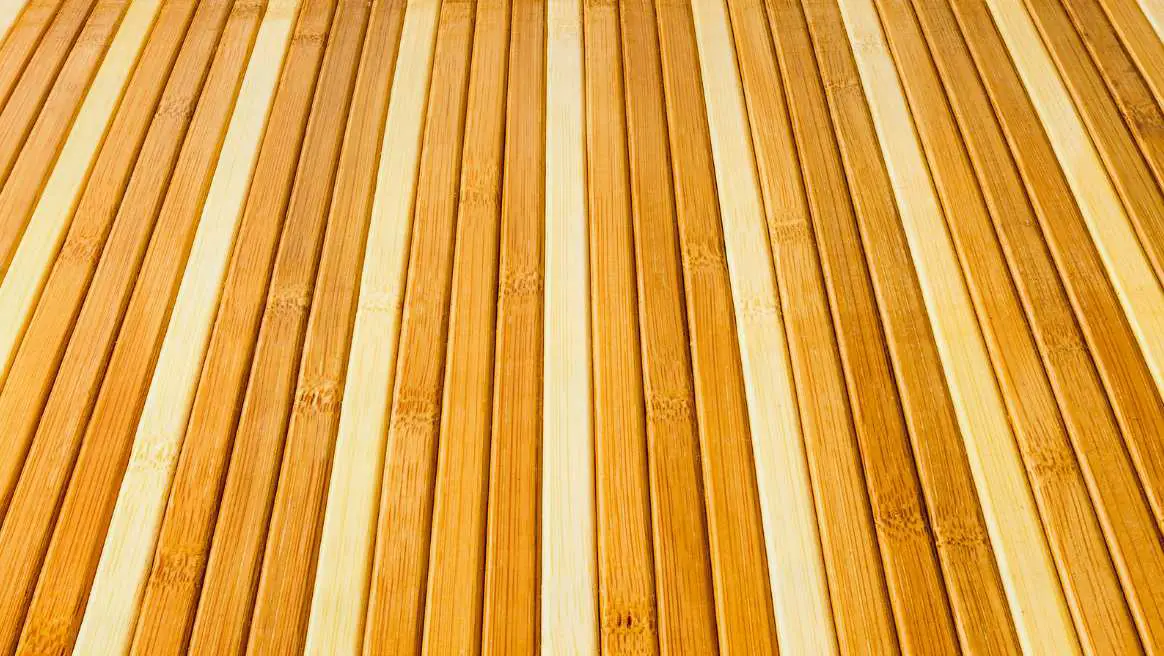 Cleaning and caring for bamboo floor mats
Besides their sophisticated appearance and superior sustainability, my favorite thing about the bamboo floor mats is how easy they are to clean. Having hosted dozens of art openings and musical events, we've seen more than enough cups of wine and beer spilled on our mats. It's never something we look forward to, but the fluids wipe up quite easily. Sometimes we miss a spot and have to revisit the mat with a damp rag the next morning. But that's really all it takes to remove the scuff marks and food or drink stains.
Otherwise, for day-to-day cleaning, I would simply sweep the mats or use a vacuum cleaner. Occasionally a damp mop is helpful to remove the dust that the vacuum can't pick up. This will bring out bamboo's lovely luster.
Although the bamboo is water resistant, the mats are not intended for outdoor use, unless it's under a good rain-proof awning or just for a temporary event. I've also taken old bamboo mats and placed them on an outdoor patio after several years of indoor wear and tear. But once they go outside, you can expect the elements to take their toll within a year or two.
Build your bamboo knowledge
If you're a fan of bamboo and bamboo construction, you might also enjoy some of these other related articles.
FEATURE PHOTO: 6′ x 9′ bamboo floor mat in contemporary chocolate, by Anji Mountain.