It's no secret that I love bamboo. I think I've enjoyed it all my life. Besides being a personal pleasure, it's also been my professional business for about two decades. And some of the only things I love more than bamboo are the people I meet when I'm working with bamboo. Case and point: Prachinburi, Thailand, where I went last month to inspect a bamboo biochar project organized by the Wongphai bamboo collective, Carbon Think international, and Planboo.
Biochar expedition with Planboo
To be clear, Planboo actually pays me to develop partnerships like this with tropical farmers of all kinds who have excess biomass and want to turn it into biochar. Our projects are not limited to bamboo, but my bamboo network happens to be pretty vast, and as the fastest-growing woody biomass on earth, there are a lot of advantages to using bamboo as a feedstock for biochar.
Planboo collaborates with projects like this, providing them with digital MRV (Measuring, Reporting, and Verifying) tools so they can generate high-value, trustworthy Carbon Dioxide Removal Credits (CDRCs). In turn, Planboo is also able to pay these projects for their CDRCs, bringing US dollar revenue to rural communities in the Global South, while promoting activities that utilize agricultural waste, capture atmospheric carbon, and regenerate depleted soils.
This was the business that my colleague Ben Bennet and I were engaged in when we flew off to Bangkok on the last weekend of July 2023. I first connected with Khomchalat "Khom" Thongting, the founder of Wongphai, around the end of 2022. The two of us were both happy to hop on a call and share our bamboo plans and ideas with another die-hard enthusiast. Khom was promoting bamboo education and utilization with his organization, Wongphai, which means "Bamboo Family", and he had watched several of my Bambu Batu videos on YouTube.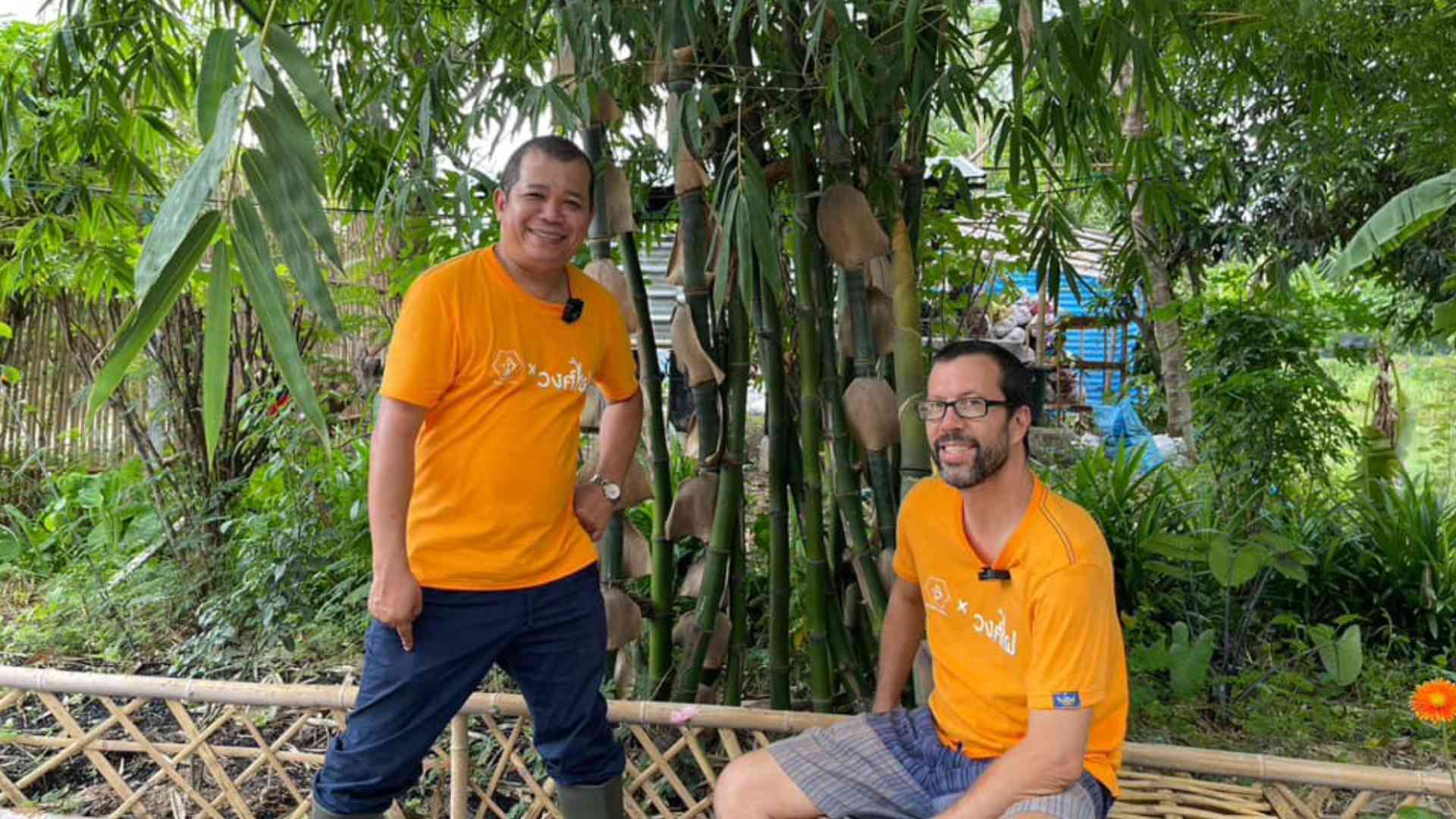 Khom, at that time, had recently discovered the fascinating potential of biochar, and so I was eager to introduce him to Planboo's program to generate carbon credits through biochar production. Making bamboo from biochar is not that complicated, in fact, it can be done quite easily with some fairly simple and low-tech equipment. But as I've learned from working with Planboo, the process of documenting your biochar production and earning carbon credits can be somewhat cumbersome. (Although at this point, in late 2023, we've refined this process considerably and gotten it pretty well streamlined.)
So I spent a few months reviewing Khom's project and making sure that it satisfied all the basic requirements for a biochar project to succeed and create carbon credits. To put it concisely, there are four essential elements to consider for such a project.
Biomass: The biochar feedstock must come from a proven waste stream or a dedicated crop that is sustainably harvested. (In this case, the bamboo feedstock is a waste product from numerous processing facilities that cover the province.)
Pyrolysis: The methods of turning biomass into biochar must satisfy the standards, as defined by CSI, reaching high enough temperatures and having low enough emissions. (This project uses a pair of 1500-liter Kontiki kilns, fabricated locally, based on an open-source design.)
Mixing: To bring the greatest benefit to the soil, it's imperative to mix the biochar with some sort of compost or manure. This will also prevent the biochar from ending up being used as charcoal, as the two substances are almost identical. (We decided to soak their biochar in a solution made from concentrated compost tea, brewed here on the premises.)
Application: Finally, before you can claim any carbon credits for creating a carbon sink, the biochar has to be placed in the ground, preferably around some sort of farmland. (Here in Thailand, they started by applying their biochar back into the bamboo groves – achieving circularity – and adding it to nearby rice paddies, which are ubiquitous in this part of the world.)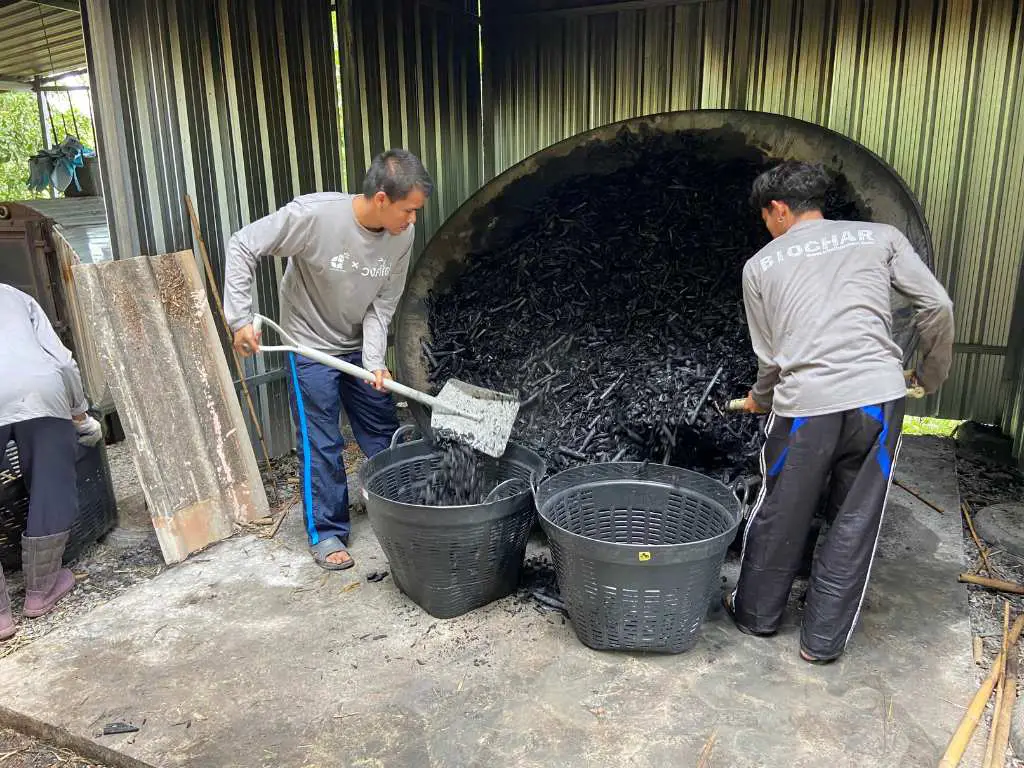 Beyond biochar
Observing the incredible team that Khom had put together — including his wife and partner Nui, the founder of Carbon Think, Duncan Stewart, and an exceptional ground crew directed by local mother and entrepreneur, Wanphen — Ben and I had no doubt that these bamboo experts and biochar enthusiasts could maintain a smooth and successful operation.
Their supply of bamboo waste seems almost inexhaustible. They can collect several tons a day, without having to drive more than 15 minutes. And their skill with Kontiki kilns was incontestable, although we were able to make a few minor improvements, thanks to Ben's extensive experience with this sort of equipment.
Every time we turned around, we were continuously dazzled by their ingenuity and efficiency. But after spending a week in this remote village, I can say without hesitation that nothing impressed us more than the people we met on the project. The kindness, the hospitality, the sense of team spirit, and the sense that they were participating in something meaningful. Day in and day out, we were greeted always by smiling faces and a warmth far more profound than the heat radiating from the Kontiki kiln or the tropical swelter that filled the air.
We arrived in Prachinburi to deliver a five-day training on the production of biochar and the operation of Planboo's hardware and software solutions. On the surface, it may have sounded rather dry and technical, unless you happen to be crazy about biochar or obsessed with bamboo. But be that as it may, we received something tantamount to a hero's welcome.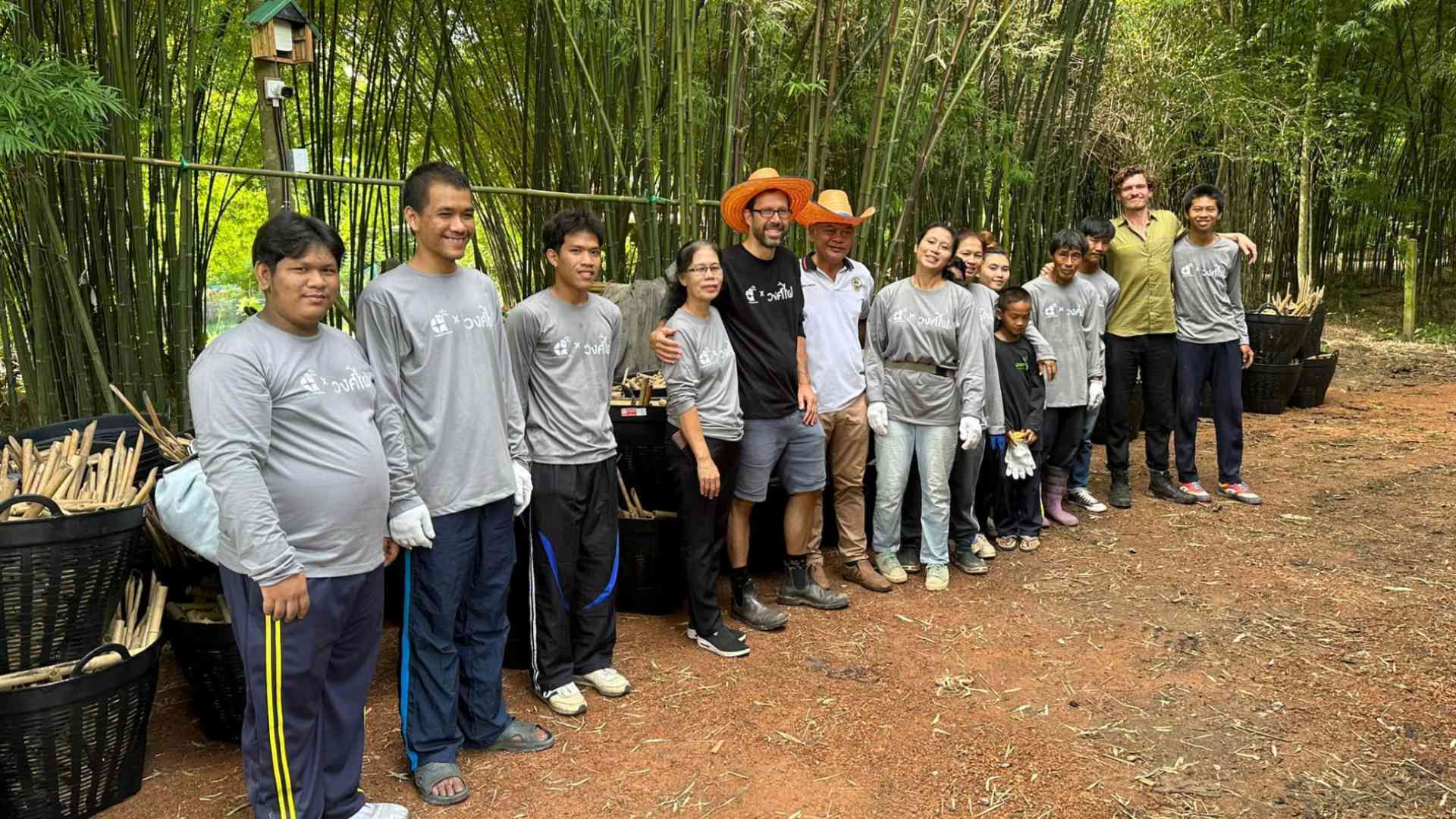 Throughout the course of the week, nothing ever felt merely transactional or like business as usual. Despite the language barrier between us and the crew, they seemed to welcome us right into their extended family. Never was that more evident than at mealtime.
I've always had a taste for Thai food, which is not difficult to come by in coastal California. But eating homemade Thai food three times a day was a glorious experience. And it only seemed to get better with each passing day. When they learned that Ben and I liked our food spicy, and they didn't have to tone down the flavors for the foreigners, I think they were especially delighted. The flavors were genuinely off the chart. Whether it was Tom Yum soup or bamboo shoot curry or fresh river fish barbecued in a bamboo tube, my taste buds steadily trembled in ecstasy.
Even before my preoccupation with bamboo, I had long dreamed of venturing to Thailand and backpacking around Southeast Asia. I ended up touring many corners of the world, but somehow never made it here until now. But I'm absolutely convinced that I waited for just the perfect opportunity to visit. Sure, I could have reached some impressive temples and enjoyed some delicious curry, but I never would have had a bamboo experience like this one, and I never would have luxuriated in the generous hospitality of Wanphen and her remarkable family and biochar crew.
Keep on burning
To learn more about our great adventures with bamboo biochar in Prachinburi, Thailand, take a look at some of these other articles and videos.