Incredible, indelible and infectious, just a few words to describe the year 2020. Among other seminal events, Bambu Batu permanently closed the doors on its brick and mortar store in downtown San Luis Obispo. But with the election behind us and Thanksgiving just around the corner, what better time to stop and reflect on that unforgettable 14-year stretch at the House of Bamboo.
It is with deep nostalgia and heartfelt gratitude that I've put together this retrospective gallery of images from Bambu Batu, the House of Bambu. I built this business on a dream, and though it never grew to become the WalMart of bamboo products, it was always a shop like no other.
Bambu Batu was the product of earnest values and genuine personal relationships. Our customers came to trust us as a source for conscious gifts and ethical fashion. With that trust came responsibility, and we strove each and every day to live up to the highest expectations.
If you were there, you will surely recognize a few of the images in this pictorial history. At the same time, you are likely to come across some forgotten gems. A lot of good times at the House of Bamboo, so let the memories live on!
A bamboo seed sprouts in Grover Beach
Those who discovered us in downtown San Luis Obispo may never have realized that the store first opened in Grover Beach. That was on the corner of 8th Street and Grand Avenue, next door to the Bible Depot, back in February 2006.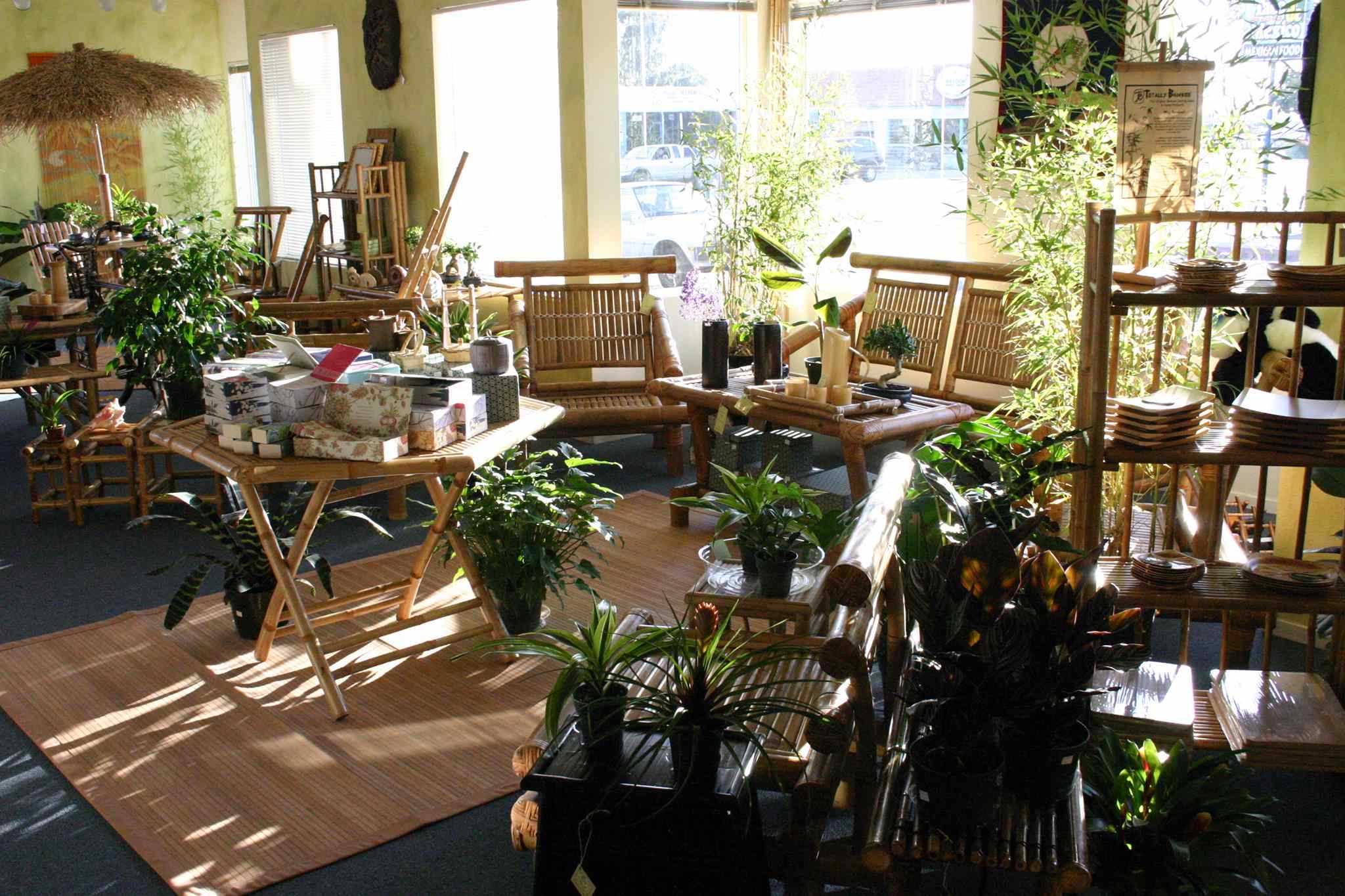 Just eight blocks from the rolling dunes and the sparkling waters of the Pacific, our original space was a bright, sunny tropical paradise. We spent a year and a half in that location, primarily selling bamboo furniture and an eclectic selection of bromeliads and houseplants.
Bambu Batu transplants to San Luis Obispo
In November 2007, Bambu Batu took a step up and relocated the store to downtown San Luis Obispo, right next door to Big Sky Cafe. It seems we weren't able to take a lot of pictures in that space, but we did create some priceless memories. And with a shifting economy and a new demographic, the store also adapted its inventory. It was here that we changed from a furniture store to a clothing store.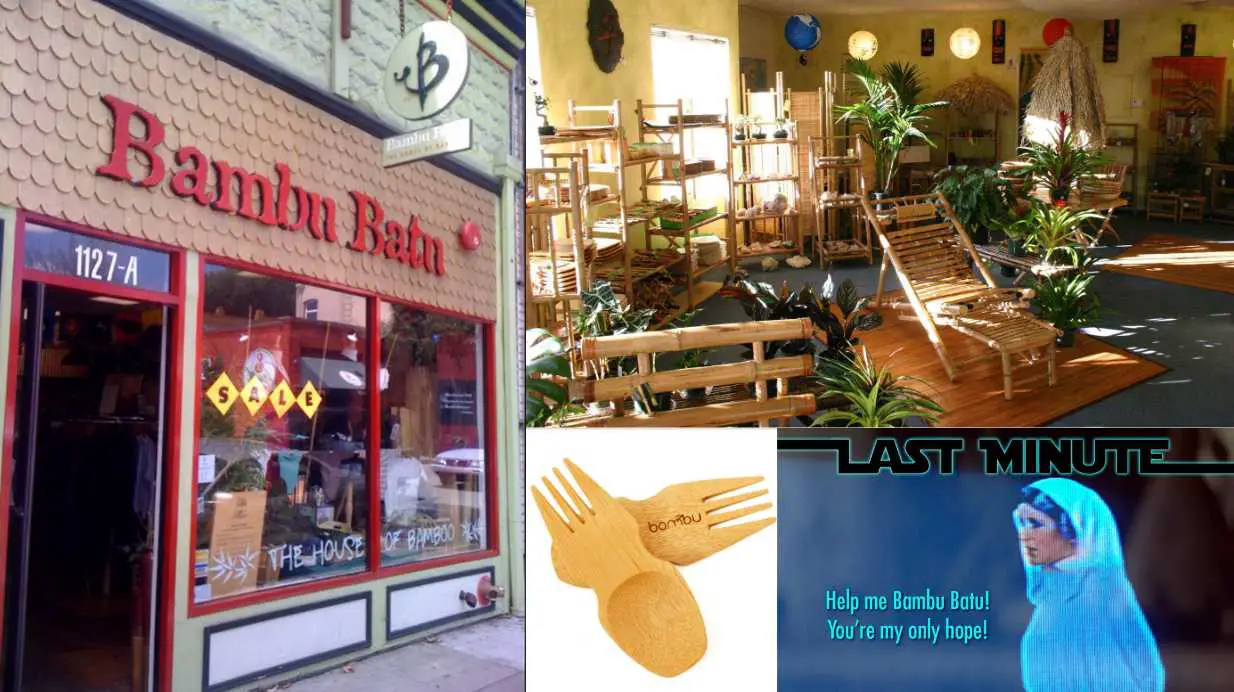 But ultimately, the space was not quite right for the House of Bamboo. We loved being next to Big Sky, but the space was cramped and the small window afforded little natural sunlight. Then one day, right around the 4th of July, I discovered a vacancy just a block away. And it was perfect.
The House of Bamboo goes Creekside
On September 1, 2010, Bambu Batu moved to its third and final location, at 1023 Broad Street. Right on the creek and across the street from the Arts Museum, the feng shui was unsurpassable. The windows were big, the ceilings were open, and the basement was something magical.
Finally, we had arrived. This space had everything we wanted, and we quickly filled it with good vibes. The positive energy was so palpable, it drew bamboo enthusiasts from around the world. And never were they disappointed.

Bamboo, Kale and Marriage Equality
Who can forget the story of Kale? Possibly Bambu Batu's greatest triumph of all was the Kale t-shirt. A parody woven through the beef council slogan, the Coca Cola image, and a sharp critique of Chick-Fil-A's policies toward gay marriage and free press, the bamboo t-shirts carried a positive message that resonated.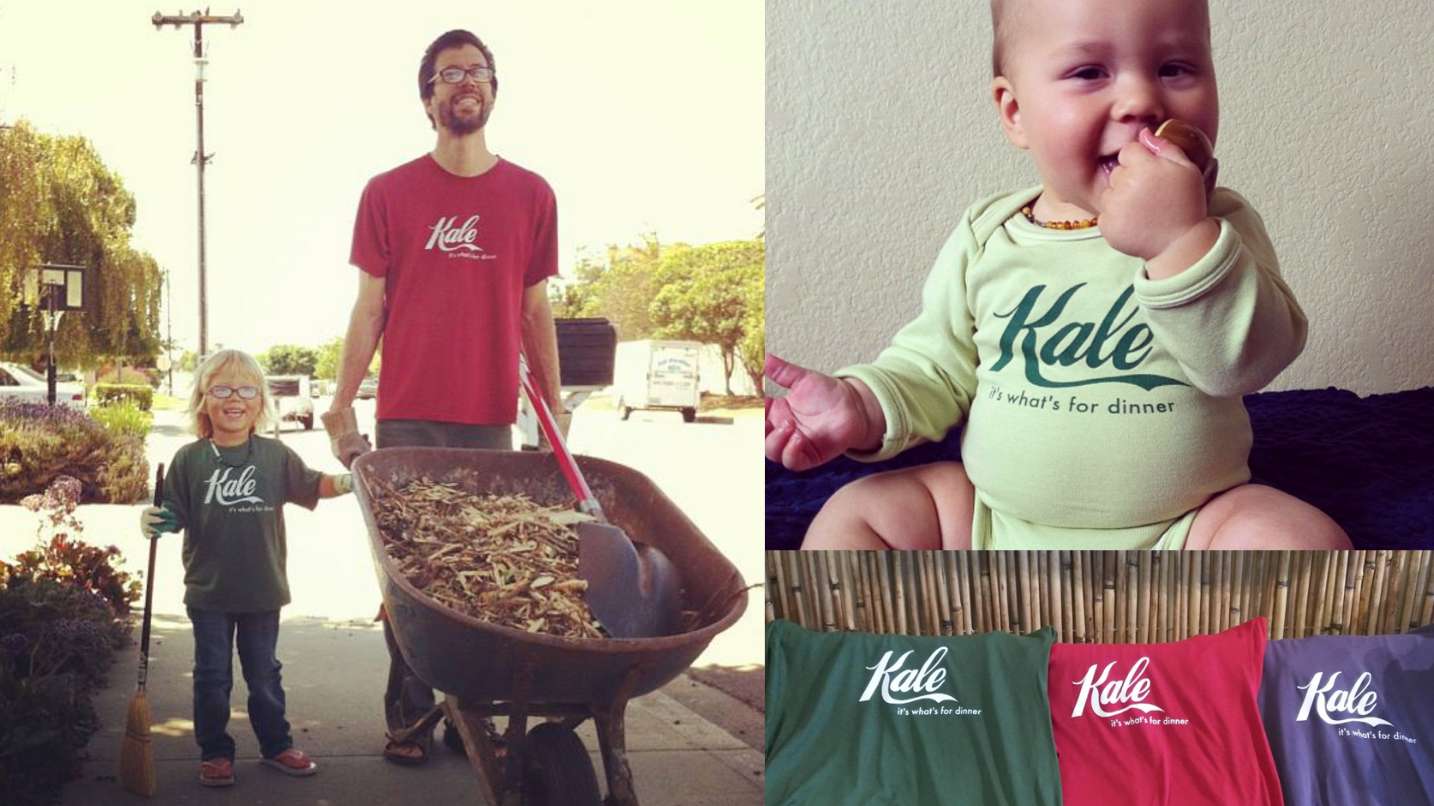 The story of Kale for Marriage Equality was somewhat convoluted, but the t-shirts were a hit. And we ended up raising thousands of dollars for gay rights charity organizations.
Some of our other classic bamboo t-shirt designs included Life in the SLO Lane, Support Your Local Farmer, and Roundup: It's what's for dinner.
Art After Dark at Bambu Batu
Another of Bambu Batu's most beloved attractions was Art After Dark. On the first Friday of each month, along with dozens of other participating venues, we hosted a free, three-hour event, featuring live music, local arts and crafts, and local libations. The monthly event consistently drew big crowds, and many fine times were had.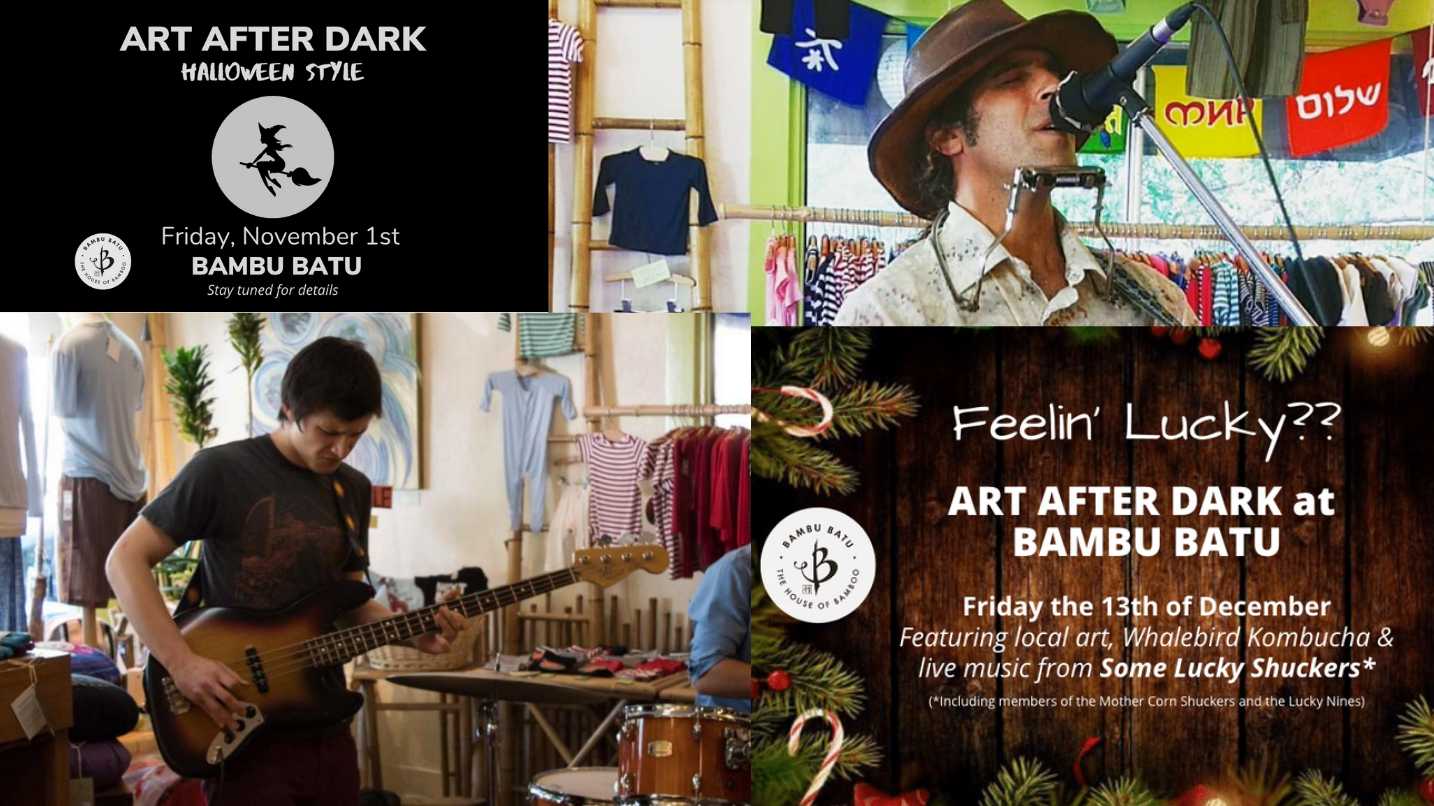 I'm sure that the live music was the secret ingredient. Artists like Anthony Roselli, Forrest Williams, P-V Herrera and the Lucky Shuckers never failed to transform the House of Bamboo into a Salon of Sound.
Passing the Bamboo Torch
After 10 wonderful years in the bamboo business, I decided to open a new chapter in life. We sold the shop and took our family on an international adventure of nomadism and outdoor education. It was (and continues to be) an exceptional experience, especially for our kids, who are now 7 and 11.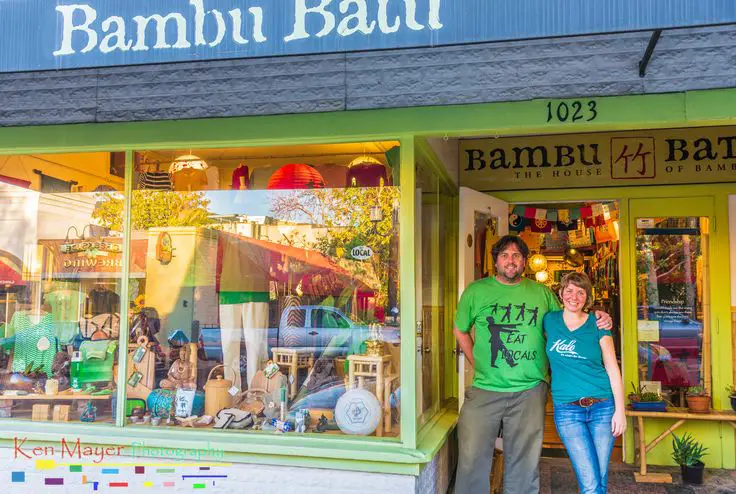 But things at the House of Bamboo lost a little continuity at this point, and everything sort of went pear shaped. Bambu Batu wasn't just a House of Bamboo. It was also the House of Fred. And without Fred, it just wasn't the same.
(Perhaps some of you even remember the original House of Fred, also known as HempShak. Here we are below, in the very first location, in San Luis Obispo's historic Creamery, back in 1996.)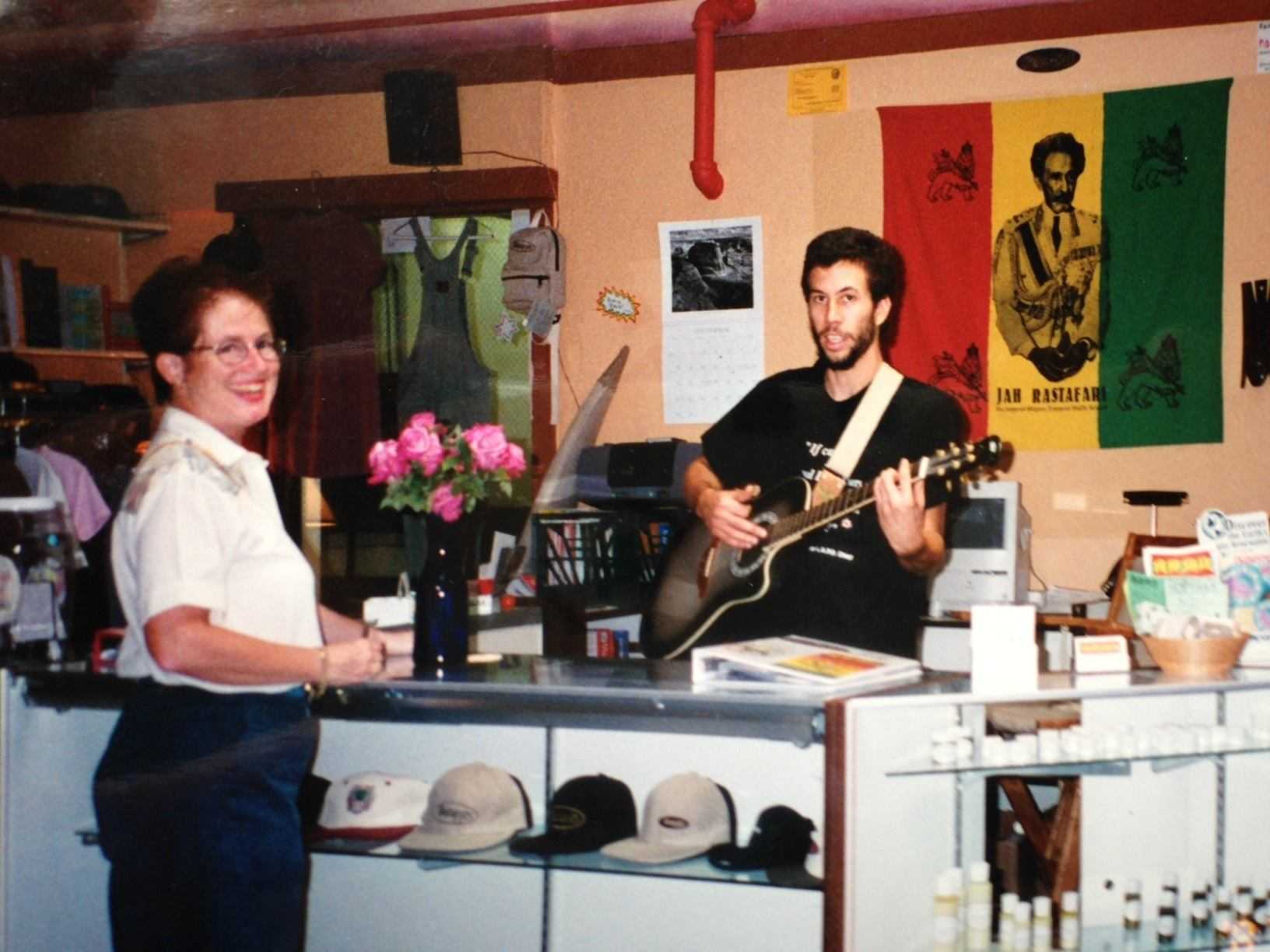 So in October 2019, I descended the mountain top, repossessed the store and put Humpty Dumpty back together. The Phoenix rose from the ashes, only to be crushed six months later by the Orange Plague, also known as COVID-19. And that's when we put on a Going-Out-Of-Business sale that couldn't be beat.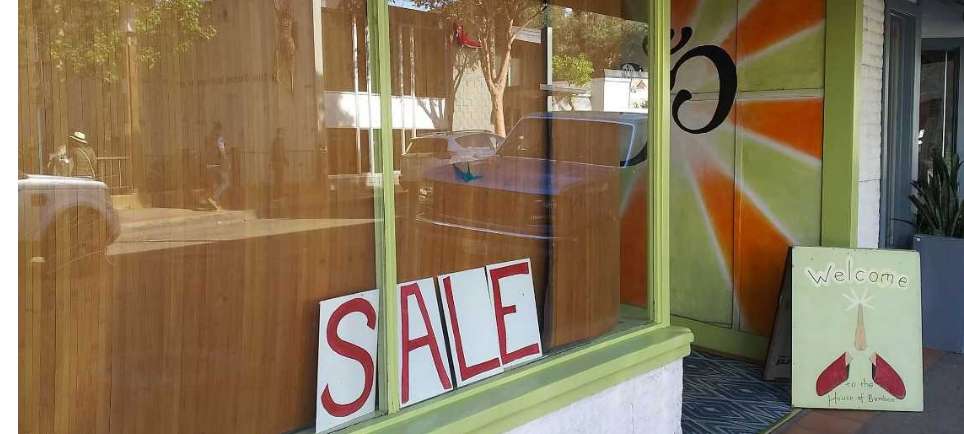 Onward and Upward With Bamboo
The 2020 pandemic destabilized us in so many ways — culturally, financially and politically — even forcing us to relocate Bambu Batu from our creekside Shangri-La to a virtual office on the Orient Express. But our commitment to bamboo, as both an ornamental plant and an industrial alternative, remains as strong as ever.
Get a taste of our flourishing enthusiasm and see what else we have to say about bamboo and eastern mysticism by visiting a few of our most popular articles.