2020 Update: The storewide clearance sale ended on May 31, 2020, when the Brick & Mortar shop closed permanently.
In these disturbing times, we could all use a little more comfort. I wouldn't mind a nice handshake. But we might have to settle for a cozy new pair of socks or pamper ourselves with a luxurious set of bamboo sheets.
Honestly, we don't know what's going to happen next. But we know that everyone could use a break. So we've got an incredible sale running right now in our online store.
Here's a quick rundown of where we've reduced our prices to make the comfort of bamboo a little more accessible for everyone.
Currently all of our bamboo sheets are on sale at 20% off. The pinnacle of night time comfort, these sheets could nearly keep you in quarantine for months. Yeah, nearly. They are just the softest and coziest things you've ever slept on.

We just updated our inventory of bamboo towels so you can now shop for Daisy House towels at 20% off while supplies last.
Also on sale, the men's bamboo boxers and boxer briefs which happen to be among of my favorite bamboo items of all time. Now 20% off. The first time you heard about bamboo underwear, you probably laughed, or maybe even scoffed at the idea. But if you've ever worn bamboo boxers, you understand the incredible comfort of bamboo in a way you never could have before.

With changing times, we will be discontinuing some of our most popular t-shirt designs, so now's the time to get your Kale: It's what's for dinner shirt or your Life in the SLO Lane shirt. These bamboo t-shirts are 20-50% off, depending on your size. (We've got some great deals in the store on men's small and XX sizes.)

Of course, we have plenty of women's bamboo t-shirts on sale as well. That includes many of our most popular designs, like Kale, Be Here Now, Be Happy, and Free Range Vegan. These shirts are all 20-33% off.

We're also liquidating our Canadian-made bamboo tank tops and v-necks from Jerico. Classic eco-comfort with 70% bamboo and 30% organic cotton, and made in North America.

Tons of other items are also on sale, but not available in the virtual store. We will be adding more products every day, including half price furniture and more gifts and decor.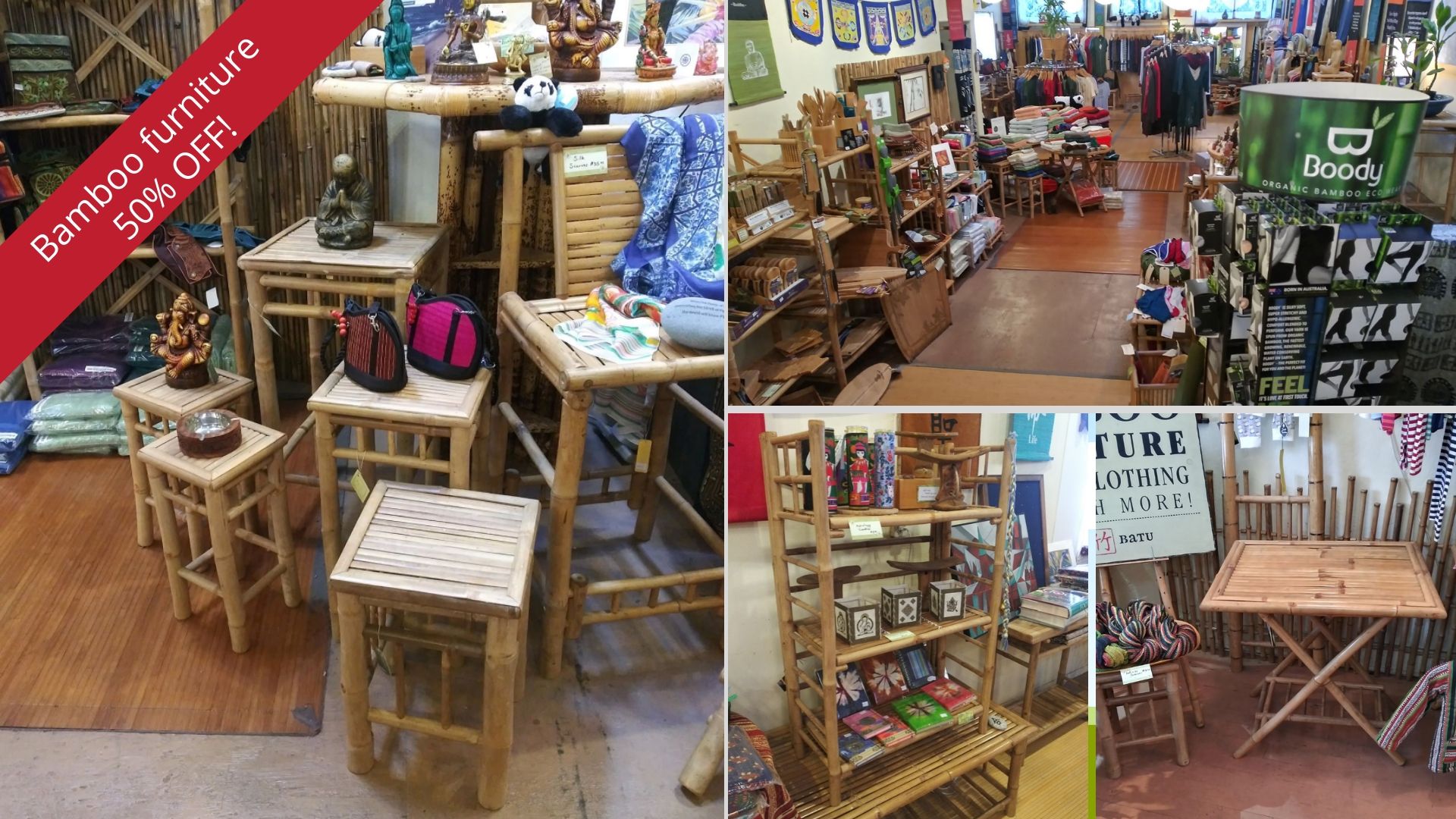 As we continue to get more of these sale items online, we want to make it easier for you to shop for bamboo comfort from the safety of your own home.
You should also feel free to call 805-316-1233 or e-mail the shop for more details about any of our other exquisite products. Be sure to check our Facebook page for special offers and updates as well.
What else is going on at Bambu Batu?
Meanwhile, you can check out some of our recent blog posts to know more about what's been going on over here during the COVID-19 crisis and leading up to it.