UPDATE: Bambu Batu, the House of Bamboo, closed its doors for good in May 2020, at the onset of the pandemic. So we are no longer able to host community meditations or any other local events. But the mindful gatherings were great while they lasted. And the benefits enumerated later in this article are as relevant as ever.
After a prolonged hiatus, Bambu Batu in San Luis Obispo is very excited to start hosting mindfulness meditation circles once again. Beginning Wednesday, October 16th, at 6 p.m., we look forward to reimplementing what was once a regular event in the store.
We hope to make this community meditation a regular weekly gathering at the shop, depending on public response. For now, the plan is to conduct a meditation circle every Wednesday evening at 6 p.m. after the shop closes. The community gathering is free, but donations are welcome. No previous experience with meditation is necessary.
We were formerly located at 1023 Broad Street in San Luis Obispo. Please contact Fred for details: fred@bambubatu.com.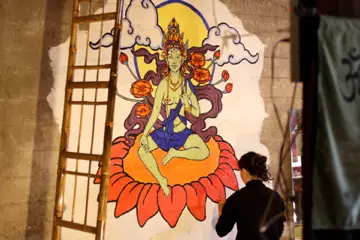 We have an excellent space downstairs where we have hosted classes and Tarot readings in the past. The space has been decorated with murals, tapestries and paintings depicting a panoply of worldly deities. Meditation will begin 6:15, at which time the front door (upstairs) will be locked. (So please be punctual!)
Before and after the meditation, we will have a short discussion to discuss the experience. The meditation itself will last about 45 minutes. Generally speaking, we will be engaged in mindfulness meditation, similar to Vipassana.
As a community event, the group will determine what direction we go with these meditation sessions. Let us know what you are interested in. Share with us your questions, your goals, and what you hope to get out of meditation.
Benefits of mindfulness meditation
The benefits of mindfulness meditation, or the reasons people do it, can be boiled down to two basic points. See Morgana's article on Meditation and the Brain to learn more.
1. Reduce suffering
To frame it in Buddhist terms, one major goal of meditation is to reduce suffering. This doesn't necessarily refer to physical pain or psychological depression. In the Buddhist sense of suffering, it only means that we tend to spend more time in a negative state of mind than we would like.
Living in the paradise that is the Central Coast of California, we have most of our needs met, and we're better off than 99.9% of the population of the world. Even so, it might seem like you don't have access to all the positive mental states that you want.
Many people meditate simply because it makes them feel better. Hopefully, we can feel better together when we meditate in a community circle.
2. Understand human consciousness
In addition to just feeling better, there's a certain intellectual curiosity about how the mind works. Where do our thoughts come from, and what control do we have over them? Do we produce our own thoughts, or do we merely observe them? Can we separate ourselves from our thoughts in a way that eliminates, or at least redefines, the whole notion of self?
These are questions that many practitioners ask. And through meditation, many of us come to understand and appreciate the mystery of human consciousness just a little bit more.
Methods and issues in mindfulness meditation
In our community meditation sessions at Bambu Batu, we approach the practice free from desires and expectations. But there are a few techniques we try to follow.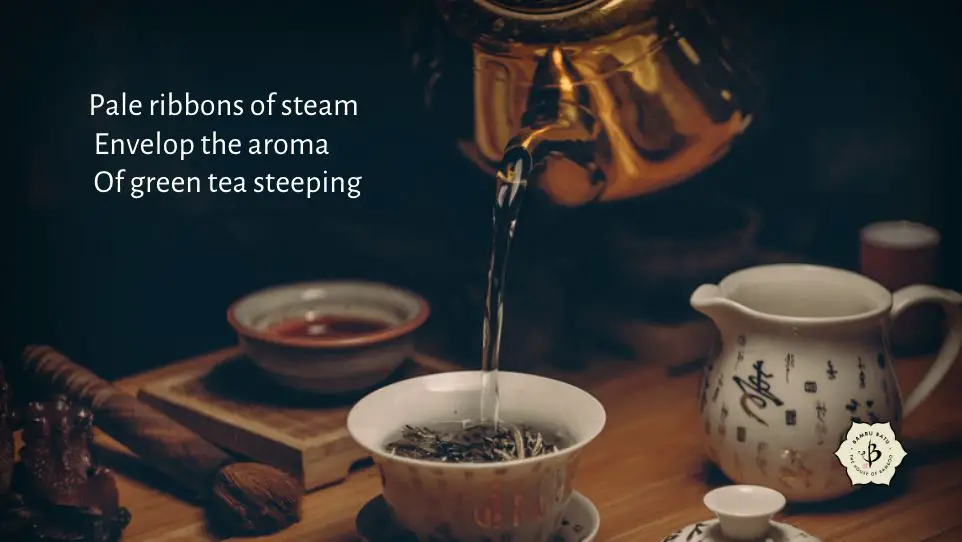 Come to rest in the present. As we sit quietly in a dimly lit room, we try to focus on our breathing. The breath is synonymous with the present moment, something you cannot hold onto. And when you give your full attention to the present, you stop trying to relive a moment in the past or fretting over an event in the future.
Let go of your thoughts. Many people say they cannot meditate because they can't simply free their minds of thought. The thoughts keep coming, no matter how hard they try. That's perfectly natural, and you shouldn't expect your thoughts to cease and your mind to empty like a blank sheet. The idea, more accurately, is to take a step back from the thoughts and observe them like an impartial witness.
As you slow down and observe your thoughts, you become aware of their impermanence. Thoughts come and go, from where we do not know. But as we stop trying to control them, we see how diverse and impermanent they can be. And by recognizing this impermanence, we are better able to distance ourselves from the negative mental states when they come to visit.
Liberation of consciousness. The more time we practice observing our thoughts, trying to distinguish between the thinker and the thought, the more we are able to live freely without falling victim to negative thought patterns. When you feel fear or anger, you recognize them as just another mental state that will come and go. At the same time, you don't need to feel a longing attachment to those positive mental states that you've had in the past.
Instead, you can be content and composed, at peace in the present moment, regardless of where your thoughts may want to take you. Many successful meditators compare this realization to waking up from a dream.
Meditation groups in San Luis Obispo
Bambu Batu is not the only place for meditation in San Luis Obispo. Here are a few other venues that host similar groups.
White Heron Sangha: As a community of practitioners, White Heron Sangha encourages understanding of and respect for the basic goodness inherent in all individuals, groups and cultures. WHS is dedicated to fostering a welcoming and open-hearted refuge for all people to explore the life-transforming practice of meditation and the teachings of the Buddha. WHS in Avila Beach offers meetings and activities throughout the week.
The Diamond Way: Diamond Way Buddhist Group of San Luis Obispo belongs to an international non-profit network of over 600 lay Diamond Way Buddhist centers of the Karma Kagyu lineage of Tibetan Buddhism. The group meets every second Tuesday. No previous experience with Buddhism or meditation is required to attend. Questions are always encouraged. The entire program lasts approximately 30 minutes, and is free of charge. Please call (805) 543-8763 for exact date and location.
Transcendental Meditation in SLO: Come to a special introductory talk on the Transcendental Meditation (TM) technique in San Luis Obispo County. Admission is free. You can reserve a seat by calling (805) 471-9100.
Smiling Dog Yoga: A full-service yoga studio on the edge of downtown SLO, Smiling Dog sometimes offers meditation classes. Contact them directly for the current class schedule.
Learn more
If you'd like to know more about meditation and Eastern spiritual practices, check out some of our other popular articles.