We can argue about whether or not bamboo can really save the planet. Not surprisingly, I'm optimistic that it can. But at the same time, I try to maintain realistic expectations about bamboo's full potential. Turning to Africa, which sits at the forefront of the climate crisis and the epicenter of global inequality, Okere City in Uganda provides an inspiring model for sustainability and rural development. And bamboo, of course, is part of the recipe.
Okere City refers to itself as "a community working collectively and sustainably to thrive." The Guardian Newspaper calls it "the Ugandan city built on solar, shea butter and people power." Bamboo is a ubiquitous plant and a vital natural resource throughout Uganda, and Okere City is no exception. Ojok Okello founded this project with the goals of promoting local economic development, creating more educational and athletic opportunities, protecting the environment, and advancing public health. Along with abundant, local resources like shea and eucalyptus, Okere City makes extensive use of bamboo for construction and domestic use.
What is Okere City?
Okere City is a community development project founded to undertake, influence and direct holistic rural development initiatives to create socio-economic opportunities for prosperity in Okere Parish, Adwari Sub-county, Otuke District. This is a small community located in the northern region of Uganda, near the border with South Sudan. It's really more of a village than a city, but despite its modest size, Okere City has earned international recognition as a hub for sustainable development and innovative solutions to regional challenges.
According to its comprehensive and highly professional website, the Okere City concept is premised on the belief that using an integrated rural development approach based on social market economic principles to design and implement community development projects can create catalytic rural transformation and sustainable agrarian reforms.
Ojok Okello launched this visionary project in 2019 and is already very pleased with its accomplishments and the progress that the community has made. "Okere City's core objective in its foundational stage," says Okello, "was to establish relationships, and identify and tap various opportunities whilst working closely with the different layers of our community stakeholders."
Okello's organization is committed to working directly with rural households to foster greater social and economic opportunities in this region of northern Uganda.
Bamboo at Okere Village, Uganda
There are several species of bamboo growing throughout Uganda, the most common ones being Oxytenanthera abyssinica, or African lowland bamboo, and Yushania alpina, often called highland bamboo.
The citizens of Okere have plans to cultivate bamboo around the village, but for now, they simply collect it from the wild. When harvested responsibly and sustainably, bamboo keeps giving, year after year. The canes of lowland bamboo are mostly solid, and they provide a very sturdy and inexpensive material for construction and furniture-making.
Alongside bamboo, eucalyptus is also very widespread in Uganda. The fast-growing tree also provides valuable construction material for the community. If you take a look at the simple structures that make up the village, you'll find that most of Okere City consists of a combination of bamboo and eucalyptus. This use of readily available and carefully harvested materials bears witness to the community's commitment to sustainability. We should also mention that solar power keeps the village well-lit and high-functioning, even after the sun goes down.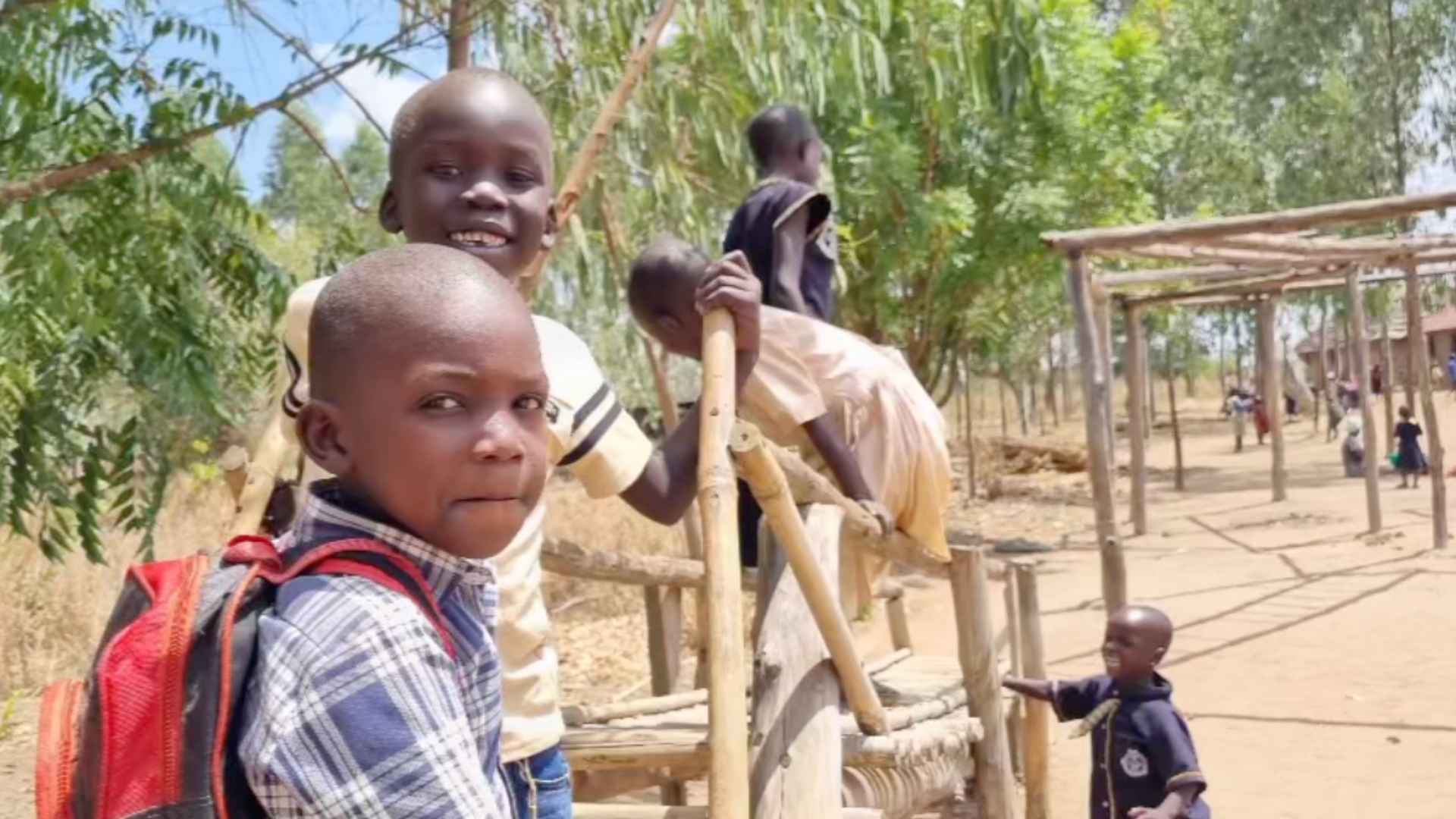 Shea trees and shea butter in Okere
In addition to bamboo and eucalyptus, shea trees (or Vitellaria paradox) are among the most vitally important natural resources here. While they once covered the landscape, blessing the Ugandan plateau with shade and clean oxygen, more than half of these trees have disappeared in recent years, due to illegal brush fires and agricultural expansion.
To protect the forests, while also advancing the local economy, Okere City has embarked on an ambitious plan to plant more shea trees. Almost like avocado, the fruit of this tree contains a large seed, that's very rich in high-quality oil. From this oil, they make shea butter, an extremely nourishing and moisturizing product for skin care.
Here in Okere, they've made a cottage industry out of harvesting these fruits, extracting the oil, and producing pure, undiluted, organic shea butter. The butter, now sold all across Uganda, has a host of nutraceutical benefits and provides important jobs and revenue for the local population.
Educational programs in Okere City
Education is an essential part of Okere City's efforts to promote sustainable development. The community recognizes that education is a powerful tool for empowering individuals and communities to take control of their own futures and address the many challenges they face.
To this end, Okere City has developed a number of educational programs aimed at promoting sustainability and empowering local residents. The three pillars of their educational mission include early childhood development classes, youth vocational training, and adult literacy classes.
To develop political leadership skills and promote grassroots civil engagement, Okere has partnered with Konrad Adenauer Stiftung, a German political foundation. Together they advance political leadership and work to achieve greater representation and influence in the local government of Okere Parish.
The community has implemented a village banking system and is also developing greater financial literacy. A group of community members in Okere City has come together to save and borrow to fight financial exclusion through Voluntary Savings and Loan Association (VSLA) activities.
Further development
Ojok Okello's passion and dedication are evident in everything that Okere City has accomplished as a model for sustainability and rural prosperity. Beyond the use of bamboo, eucalyptus, and shea trees, the community is tackling the whole gamut of Sustainable Development Goals, including, food security, clean water, clean energy, quality education, gender equality, and more.
Bamboo's potential for utility, ecology and economy in the developing world cannot be overstated. Uganda is one of more than a dozen African countries where bamboo thrives, and where local communities are growing increasingly aware of its usefulness. Take a look at these other articles to learn more.