When we leave the US mainland, the possibilities for bamboo cultivation really start to multiply. Of course, there's no shortage of temperate bamboo species that can thrive in the lower 48. But in tropical habitats, we encounter a whole other world of biodiversity. This includes stunning specimens like Monastery Bamboo from the genus Thyrsostachys.
Thyrsostachys siamensis, sometimes called Monastery Bamboo or Thai Bamboo, is a medium or large-sized clumping bamboo native to Southeast Asia. This tropical species is common in Thailand and is named after Siam, the former name for that country. Thick, upright culms can reach 30 or 40 feet tall, with long, slender leaves on the upper third of the plant. Young shoots of this bamboo are edible and have earned the name "Tiger Sweet Shoots".
This article is part of an ongoing series about different species and cultivars of bamboo. To learn more, take a look at some of these other detailed articles.
Characteristics of Thyrsostachys siamensis
Monastery Bamboo, as it's commonly known, is a tropical bamboo species with a tightly clumping growth habit. The plants are most distinguishable for their dense clumps and tall, upright poles. The lower two-thirds of the plants typically have few or no leaves and branches. Thick, exposed poles have something of a regal aspect, which could explain the popular nickname.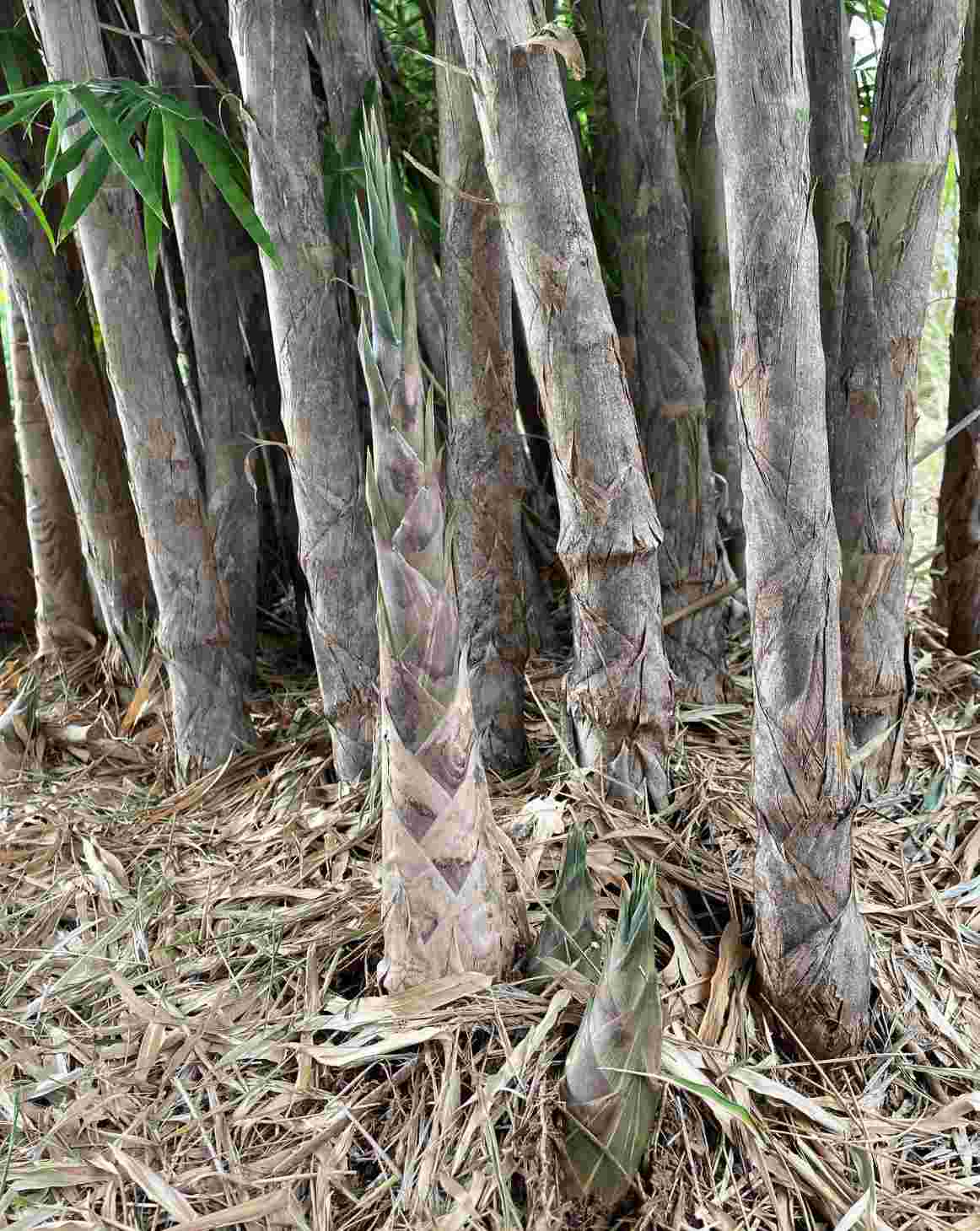 The poles usually grow about 30 to 40 feet high, sometimes taller in optimal conditions. Yet the base of the plant remains very compact as the poles grow very close together. At the upper third, Thyrsostachys siamensis bushes out with leaves and branches. The culms begin to fan out there, too, arching gently to produce an interesting, umbrella-like appearance.
The only unfavorable attribute would be the persistent culm sheets of grayish-brown color. These make the otherwise handsome bamboo look rather dirty. Young shoots, which are also prized for their sweet flavor, come up dark green but quickly lose their luster.
The stately appearance of Thyrsostachys siamensis makes it a popular ornamental bamboo species, but only in suitable climates. As a tropical variety, Monastery Bamboo will languish if temperatures fall below about 25º F. But the dense clumps can provide attractive centerpieces, or they can be used as privacy screens in tight, narrow spaces.
Particularly thick culm walls, especially on the bottom halves of the poles, make Thyrsostachys siamensis a superior choice for building and light construction. Near the base of the plant, the culms are nearly solid.
Thyrsocalamus liang
In parts of central Thailand, you can find vast areas of Thyrsocalamus liang (or Phai liang in Thai), an endemic and intergeneric species that is a cross between Thyrsostachys siamensis and Some species of Dendrocalamus. This wild species is used widely for its particularly straight and upright poles, which are useful for light construction and a variety of other applications.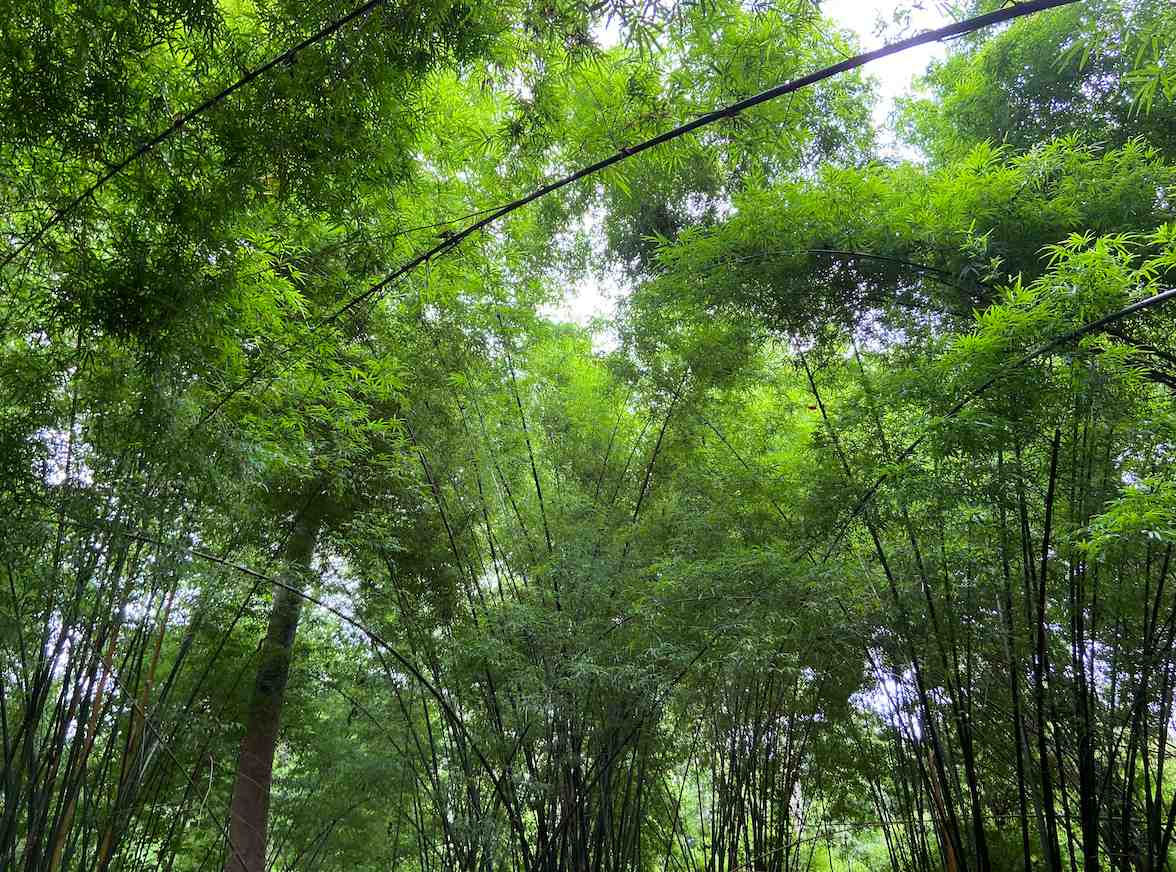 Compared to T. siamensis, the poles of this species are straighter and the culm sheaths are quicker to fall off. Although unusually elegant, attempts to domesticate Liang have not met with spectacular success. The plants are far more impressive in the native habitat.
Thyrsostachys oliveri
The genus Thyrsostachys only has one other species. Thyrsostachys oliveri, sometimes called Oliver Bamboo, is similar in most respects. Common throughout Southeast Asia, it is widely used as a culinary product and for building material. In warmer climates, like Southern Florida or Hawaii, it's also cultivated as an ornamental.
Thyrsostachys siamensis vs. T. oliveri
The differences between these two species of Thyrsostachys are subtle. The main difference is that T. oliveri has much larger leaves, almost twice the size of T. siamensis. Furthermore, the internodes of Oliver are fuzzy, covered with silky, white hairs. Monastery Bamboo, by contrast, has smooth, glabrous culm internodes.
Sometimes it is said that T. oliveri is taller than T. siamensis. However, the location and other factors can affect the plants' maximum height. In addition, both species may have been subject to human selection for hundreds if not thousands of years. One of the selection criteria was certainly height growth, both in terms of lower height and greater height. So this would not appear to be a reliable differentiator between cultivated plants.
Related reading
If you enjoyed reading about Thyrsostachys siamensis and Thyrsostachys oliveri, and you want to learn more about growing and using bamboo, take a look at more of our in-depth articles.
FEATURE PHOTO: A young clump of Thyrsostachys siamensis in the Berlin Botanical gardens. (Photo by Fred Hornaday)