A fast-growing clumper with well-defined culms, Buddha Belly stands out as one of the most popular varieties of ornamental bamboo. While its irregular shape makes it less than ideal for poles and other uses, Buddha Belly Bamboo looks gorgeous in any garden.
The botany of Buddha Belly Bamboo
Buddha Belly and Buddha's Belly are common names for the species of bamboo known as Bambusa ventricosa. Bambusa is a large genus of clumping bamboo, native to tropical and subtropical climates. Typically, Bambusa varieties have multiple branches coming off of each node.
Most species of Bambusa, including Buddha Belly, are native to Southeast Asia, China and Melanesia. More specifically, Buddha Belly is indigenous to Vietnam and the Guangdong province of southern China. It can also grow happily in subtropical regions around the world.
And ventricosa, the speciation, means wide in the middle and tapering at the ends. This accurately describes the distinctive culm shape that earned this strain of bamboo its common name.
Why is it called Buddha Belly?
Under most circumstances, the culms of Bambusa ventricosa grow more compact, with shorter internodes that bulge out in the middle. So unlike most of the more common bamboos, with their stick-straight canes, the bulbous culms of this variety look like chubby little bellies. And when you think of chubby bellies in Southeast Asia, it's hard not to think of the laughing Buddha.
Buddha's Eightfold Path promises to bring deliverance from suffering. And Buddhism is the most popular religion in this part of the world. Furthermore, bamboo is already recognized to be something of a magical plant. So naming an already attractive variety after the Buddha just makes sense.
Why is Buddha Belly so popular?
Of course, nearly every variety of bamboo has a look of tranquil elegance. But to the untrained eye, most types of bamboo look very similar. Buddha Belly's distinctive shape is what gives the plant its unusual appeal. Also, in addition to the bulging bellies, the canes will sometimes grow in a zigzag, rather than simply upright. Neither straight nor narrow, this plant has real character.
Also, this species of bamboo grows quickly, but not aggressively. This is an ideal combination. Furthermore, it's an excellent candidate for bonsai. (See Growth Habit, below.)
And naturally, it doesn't hurt to have a great name. Invoking the name of Buddha adds an air of majesty to the plant. At the same time, the mention of his belly brings a sense of levity to the situation.
Bamboo, in general, already holds a high place in Asian culture and religion. And its association with Buddha is nothing so unusual. The fact that bamboo has such strength and resilience, but also flexibility, gives it a sort of Taoist connotation, too. It's important to be able to bend in the breeze and flow like water. Also, bamboo is hollow, reminding us of the Buddhist principle of emptiness.
For more great examples of bamboo in Eastern legend and folklore, check out our extensive article on Bamboo Symbolism.
One of the most highly sought-after subspecies is the Yellow Buddha Belly Bamboo (Bambusa ventricosa kimmei). The young shoots come up green, but gradually turn to yellow, sometimes producing some beautiful stripes. The Yellow Buddha can easily get up 40 or 50 feet tall, but the bottom few feet are usually bare, leaving the handsome culms visibly exposed.
Buddha Belly Bamboo's growth habit
One of the most important things to understand about bamboo, when you plant it in your garden, is how it grows. Some running bamboos are incredibly aggressive and must be vigilantly contained. Other clumping varieties are pretty tame. And some are downright unpredictable.
How fast does Buddha Belly grow?
Part of what people like about Buddha Belly, besides it bulbous culms and irregular shape, is just how fast it grows. It is a clumping variety, as opposed to a runner, with those out-of-control rhizome roots. But even so, it is an unusually vigorous clumper.
So give this plant some room to spread out. If you're looking for a privacy barrier, the Buddha Belly will fill out quickly. Or if you've got the space, give it a central position in the garden and make a showpiece out of it. It looks stunning at night with some good lighting.
How big will it get?
Your standard variety of Buddha Belly can get up to about 30 feet tall in the best conditions, with 2.5-inch culms. But there are also a number of subspecies to be aware of.
Giant Buddha Belly will reach full maturity after several years. At that point, the whole clump can be about 15 feet in diameter with poles as much as 45 feet tall.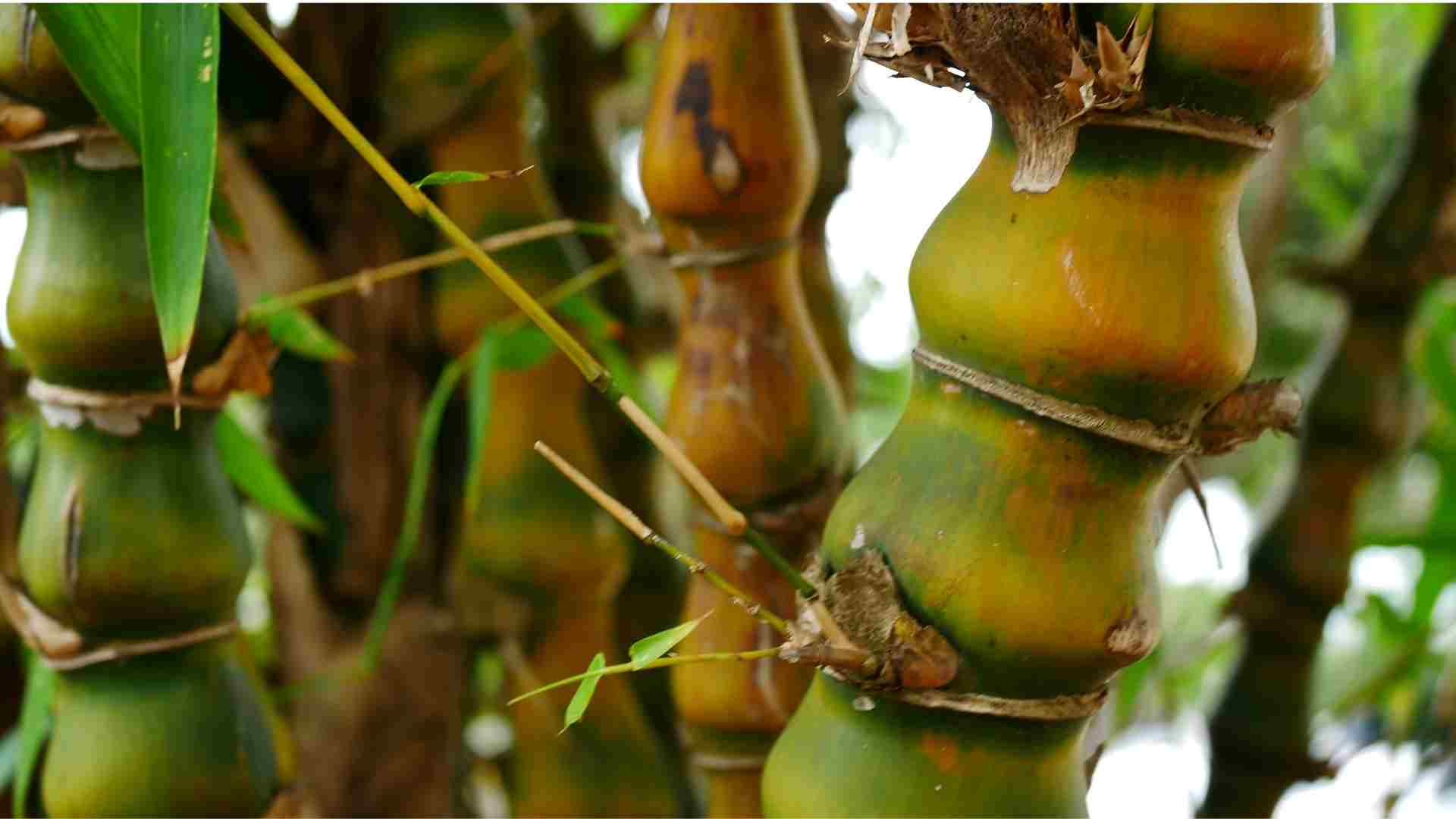 Another subspecies is known as Dwarf Buddha Belly (Bambusa Vulgaris cv. Wamin), and this one is much more compact, as the name implies. Still, it's a fast grower and can reach full size after just a few years. A mature plant will get up to about 12 feet tall. A bit more manageable, but equally attractive, this variety is very popular, especially in warmer climates.
Can I keep my Buddha Belly in a pot?
Yes, this variety does pretty well in a container. But like most large plants, they are more comfortable in the soil where the roots can stretch out and drain well. A potted plant will require more attention, and it won't grow nearly as tall as a Bambusa planted directly into the earth.
If you prefer potted plants, and you have time to give them extra care and attention, Buddha Belly also makes for an ideal bonsai specimen. (See below.)
How much water does it need?
Under normal conditions, you'll want to give your Buddha Belly a deep watering about once or twice a week, depending on the weather. If your bamboo is in a pot, just be sure it has good drainage. It should be able to dry out thoroughly in between waterings.
Will Buddha Belly survive in cold, freezing temperatures?
Buddha Belly and Giant Buddha Belly are somewhat cold-hardy, and a mature plant will be more cold-resistant than a young one. In some cases, they can survive temperatures as low as 20º F.
Dwarf Buddha Belly bamboo is going to be less cold hardy. For this reason, the dwarf variety is more popular in places like Florida and Southern California where it's not likely to freeze. But a little overnight frost probably won't kill it.
Why is my Buddha Belly growing without bulbous culms?
In some cases, you might find that your Buddha Belly culms are growing like ordinary bamboo, without the characteristic bulging or zig-zagging. But don't worry. Master bamboo gardeners have developed some tricks to help encourage this desirable trait by inducing stress.
One way to promote bulging culms is to prune the tops of the poles at least once a year. Without their tops, the bamboo will also tend to do more zig-zagging.
Stressing the plants with water deprivation is also a very effective method. Of course, you have to be careful not to over-stress and kill the plant. Generally, the leaves will start to curl when a bamboo is in need of water.
Buddha Belly Bonsai
One more reason that Buddha Belly is so popular is its adaptability for bonsai. Whenever you take a tree and miniaturize it in a small Chinese pot, you have a pretty great effect. Some trees can't handle this kind of stress, but Buddha Belly, as mentioned above, thrives under stress.
Maintaining a bonsai means pruning the tops as well as the roots on a regular basis. This keeps the plant or tree small and prevents the roots from getting bound. With some trees, it also has the effect of making thicker bark and smaller leaves.
If you have the patience to do this with a Dwarf Buddha Belly Bamboo, you'll surely be delighted with the results.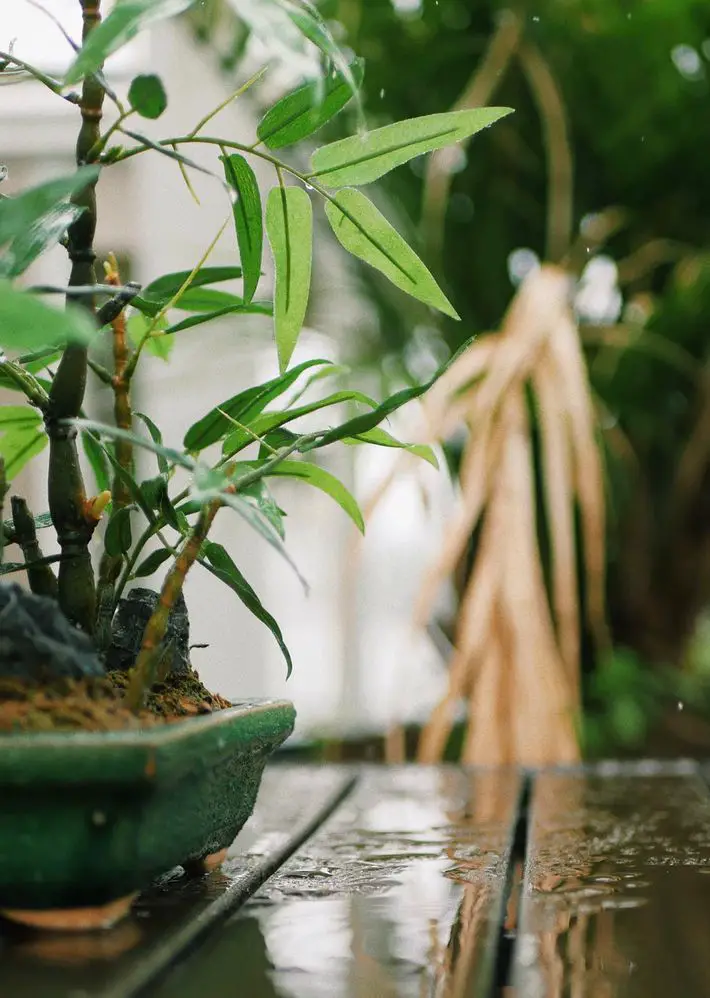 Can I grow this bamboo indoors?
Ordinarily, growing bamboo indoors is a very bad idea. Bamboo is a grass and wants to be outdoors in the sun and the breeze. But Buddha Belly is quite adaptable. Although it prefers full or partial sun, it can grow acclimated to an indoor climate. Keep it close to a window with good lighting and fresh air.
Can I propagate my Buddha Belly?
In general, it's a bit more difficult to take cuttings from a clumping bamboo than a running bamboo, but it can certainly be done. Buddha Belly is a fast grower, so you usually end up with more bamboo than you need anyway.
Take a look at our in-depth article on Bamboo Propagation to learn more.
For best results, try and break a small clump, with at least two or three culms, off of the main root ball. You will need a sharp saw to make a clean cut. Do this during the growing season and when the soil is damp. Keep the roots of the cutting intact, and transplant quickly into fresh soil.
Further reading
To learn more about some of the most popular varieties of bamboo, take a look at these other informative articles.