Last night we took the kids down to the beach for an end-of-summer picnic, and picnics always remind me of how much I love my Reusable Bamboo Spork. So I figured, what better time than now to honor and reflect on one of our all-time coolest products.
So simple, so functional, and so aesthetically pleasing, the reusable Spork is the epitome of sustainable simplicity. Crafted from bamboo scraps at the Bambu® factory where so many of our bamboo kitchenwares are produced, each Spork rescues a sliver of bamboo from the waste heap, and then, over the course of its long life, goes on to eliminate the need for thousands of disposable plastic utensils. With just a few basic tools, the individual scraps of bamboo are readily shaped into Sporks — no glues or wood stains required.
I always keep a Spork behind my desk here Bambu Batu, and believe it or not I've been using the same one for about 5 years now. And the thing is good as new. Whether I'm picking up lunch from one of our cafe neighbors or bringing in some snacks from home, my trustee Spork is always here, ready to get the job done. And it didn't take long at all to train the cafe staff NOT to put the usual plastic forks and spoons into my take-out lunch.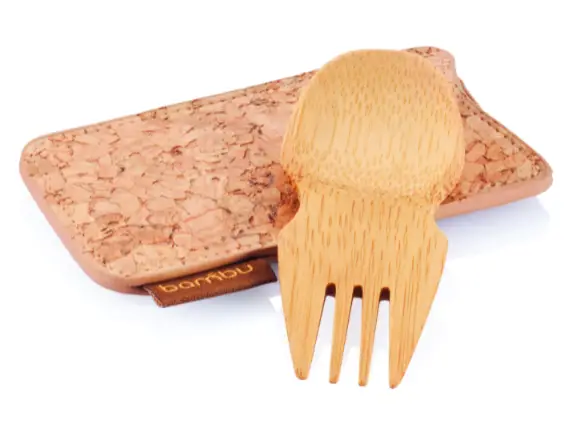 If you need to improve your workplace utensils, or want to be prepared on your next picnic, road trip, or backpacking excursion, we have several options to meet your needs. For the serious Spork enthusiast, check out the Spork n Cork (a bamboo Spork in a stylish cork carrying case). Or step it up a notch with the To-Go Ware utensil set, which comes complete with bamboo fork, spoon, knife and chopsticks, in a handy case with velcro closure and carabiner clip.
Related stories
If you enjoy hearing about the Hornaday family and their adventures with bamboo, check out some of these other fun stories.