Selecting the best variety of bamboo for your garden can be a daunting task. Depending on your soil type, your climate zone, your current landscape and your own personal preferences, you could spend hours—possibly years—trying to settle on the best species. But when it comes to finding the most eye-catching varieties, many gardeners prefer planting bamboo with stripes. Amidst the tall, noble canes and the fine, feathery foliage, a green stripe here or a white stripe there can really add an extra something special.
You can find a number bamboo varieties with stripes on either the leaves or the culms. Whether you're looking for dwarf bamboo with striped leaves (Pleioblastus) or a big tropical bamboo with stripes running down the culms (Bambusa), or a more moderately-sized hedge with irregular canes (Phyllostachys), there's always an abundance of bamboo species to choose from.
For more lists of specialized bamboo varieties and how to find them, have a look at some of our other popular articles:
Species of striped bamboo
The following types of bamboo have striped leaves or striped poles that can make an exquisite garden even more interesting and exotic. Whether you choose to plant them as decorative accents or focal centerpieces will depend on what other flora you're working with.
Bambusa multiplex "Alphonse Karr"
Elegant stripes and manageable size make Alphonse Karr one of the most popular bamboo cultivars as either a functional hedge or a decorative specimen. This clumping variety has beautiful golden culms with thin green stripes. (See photo above.) Native to tropical regions, it will perform best in hot humid climates, growing up to 30 feet tall, with 1.5 inch poles. It also grows well in cooler, more temperate regions, but might only get 10 or 15 feet in height. Alphonse Karr is cold hardy down to about 15º F, but it does prefer warmer conditions to really thrive. To show off the attractively striped culms, it's best to prune back the leaves and branches from the lower portion of the plant.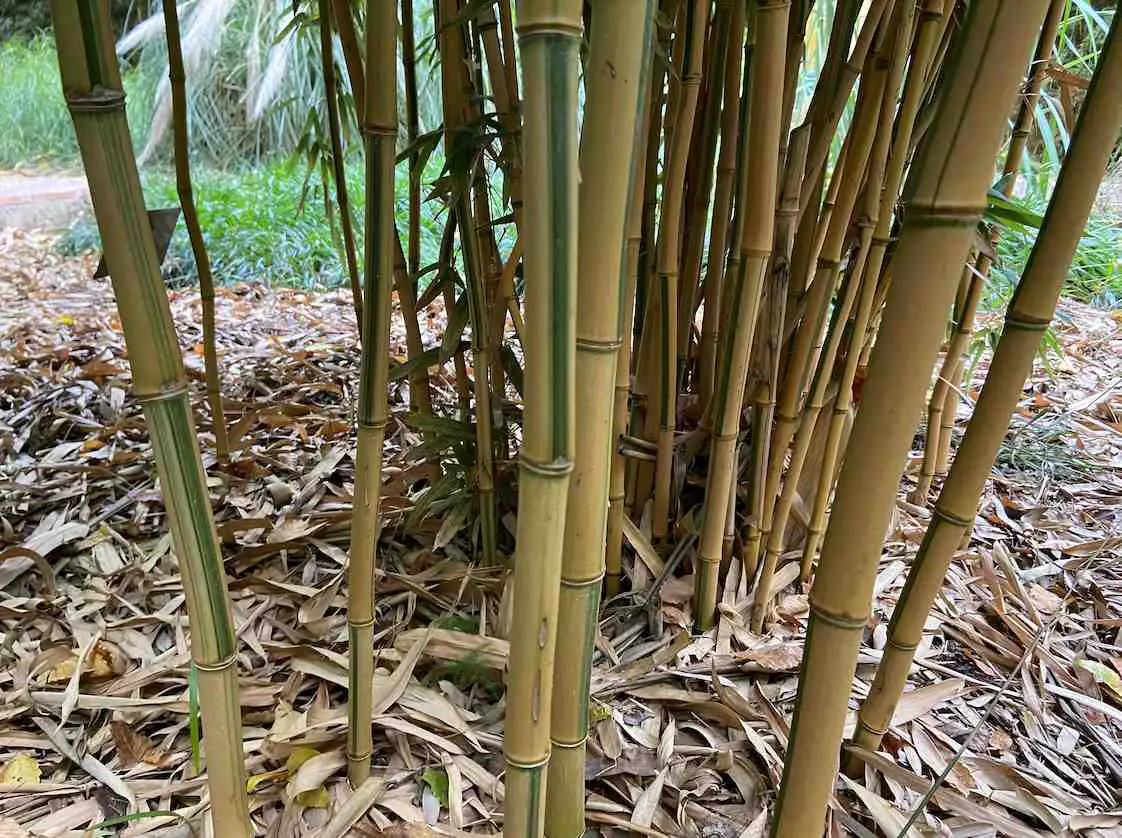 Bambusa multiplex "Fernleaf stripestem"
Another cultivar of the same species, Fernleaf stripestem is a shorter, bushier and more cold hardy cousin to the Aphonse Karr. Even in a warm climate like Florida, mature plants will only get about 10 or 12 feet tall, with 3/4 inch culms. Fresh shoots are reddish with lovely green stripes, gradually turning yellow while keeping the green stripes. Small, delicate leaves make this an overall very attractive specimen. A compact clumper, Fernleaf stripestem grows pretty slowly, which could be a benefit or a drawback, depending what you're looking for. It's cold hardy to at least 10º F.
Bambusa multiplex "Tiny fern striped"
One more cultivar of B. multiplex, this dwarf variety only gets about 3 or 4 feet high and makes a great accent piece as a potted specimen, short hedge or tall ground cover. Like most species of Bambusa, this is a tropical clumper that prefers warmer conditions. As a dwarf variety, Tiny fern striped will do better than most bamboos indoors or in a container. The thin yellow culms have pretty green stripes. And as the name suggests, its delicate foliage resembles fern fronds.
Bambusa nana striata "Candy cane bamboo"
An especially attractive variety of bamboo, as the name suggests, but not to be confused with "Candy stripe". This tight-clumping bamboo is native to Southeast Asia and seems to prefer the subtropical environments, including Florida and other areas in zone 9. Culms can get a couple inches in diameter, with new shoots taking on a range of colors including pink, orange, and purple. The lower few feet of the canes normally have no branches, which naturally allows this bamboo to show off its stripes.
Bambusa vulgaris "Vittata" or "Painted bamboo"
This giant clumper is one of the most popular ornamental bamboos in the tropics. A subspecies of Common Bamboo (Bambusa vulgaris), it also grows well in temperate climates with mild winters. In ideal tropical conditions, it can grow up to 50 or 60 feet in height. And the richly colored culms will get about 2-3 inches in diameter. But it will not survive in cooler climates, as it is only cold hardy down to about 28º F.
Canes are mostly lemon yellow, with multiple stripes, both thick and thin, that look a bit like green paint dripping between the internodes. The striping is unique on each culm. Often the lateral shoots will also be striped as well. Painted bamboo is especially popular in India and the warmer parts of China and Japan.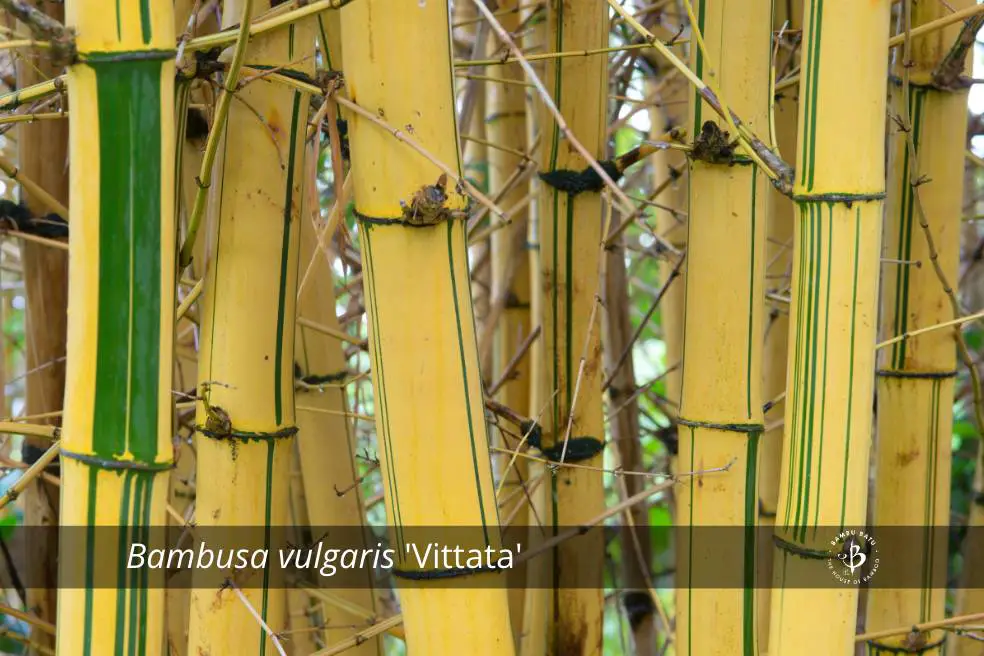 Chimonobambusa quadrangularis "Suow" or "Golden square stem"
This is a particularly interesting variety of ornamental bamboo because its culms are both square and striped. A modestly sized running bamboo, like most Chimonobambusa species, the poles can get about 15-25 feet tall. Suow is cold hardy to about 15º F, but will not grow as tall if it has to withstand freezing winters. It might even die back in the winter, and return in the spring. But it is a truly spectacular specimen for the real bamboo collector. Some shoots come up solid green, and some have yellow stripes. Many gardeners prefer to remove the solid colored stems to accentuate the stripes.
Short in stature, but long on favorable characteristics. Click the link above to get the whole story about Hiroshima bamboo. The versatile species grows well in the sun or the shade. It's drought-tolerant, and the leaves won't lose their shine in a freezing winter. It's also one of the few species that grows well indoors.
Himalayacalamus falconeri "Candy stripe"
One of the most colorful varieties of ornamental bamboo, Candy stripe bamboo has canes that are yellow with green stripes and sometimes turn a light or even deep pink. A clumping variety from the lower Himalayas, this one is somewhat cold hardy and prefers to grow in areas of shade or partial sun. It also likes to be very well watered. In most gardens it can grow 15 or 20 feet tall with 1-1.5 inch culms.
Gigantochloa atroviolacea
If you thought you had to choose between black bamboo and striped bamboo, you'll be happy to know about this species, also known as Java black or Tropical black bamboo. This giant tropical clumper can get 30 to 40 feet tall with 3-4 inch thick poles. The culms have a deep purplish-black color, with thin green stripes running lengthwise, and white rings around the nodes. Outside of the tropics, this species does not perform well, as it cannot easily survive temperatures below freezing.
G. atroviolacea is often confused with Timor black bamboo which is now classified as a distinct species (Bambusa lako).
This dwarf variety only gets 2 or 3 feet tall and makes a great ground cover or potted accent piece. The culms are only a fraction of an inch thick, but the leaves have interesting green and white stripes. It is very similar to Pleioblastus distichus and Pleioblastus fortunei "Little Zebra", all of which are fast-spreading running bamboos. They prefer shade and can tolerate temperatures down to nearly 0º F. In hard frost the leaves may brown or die back. Then it's best to prune it all down and let them come back fresh in the spring.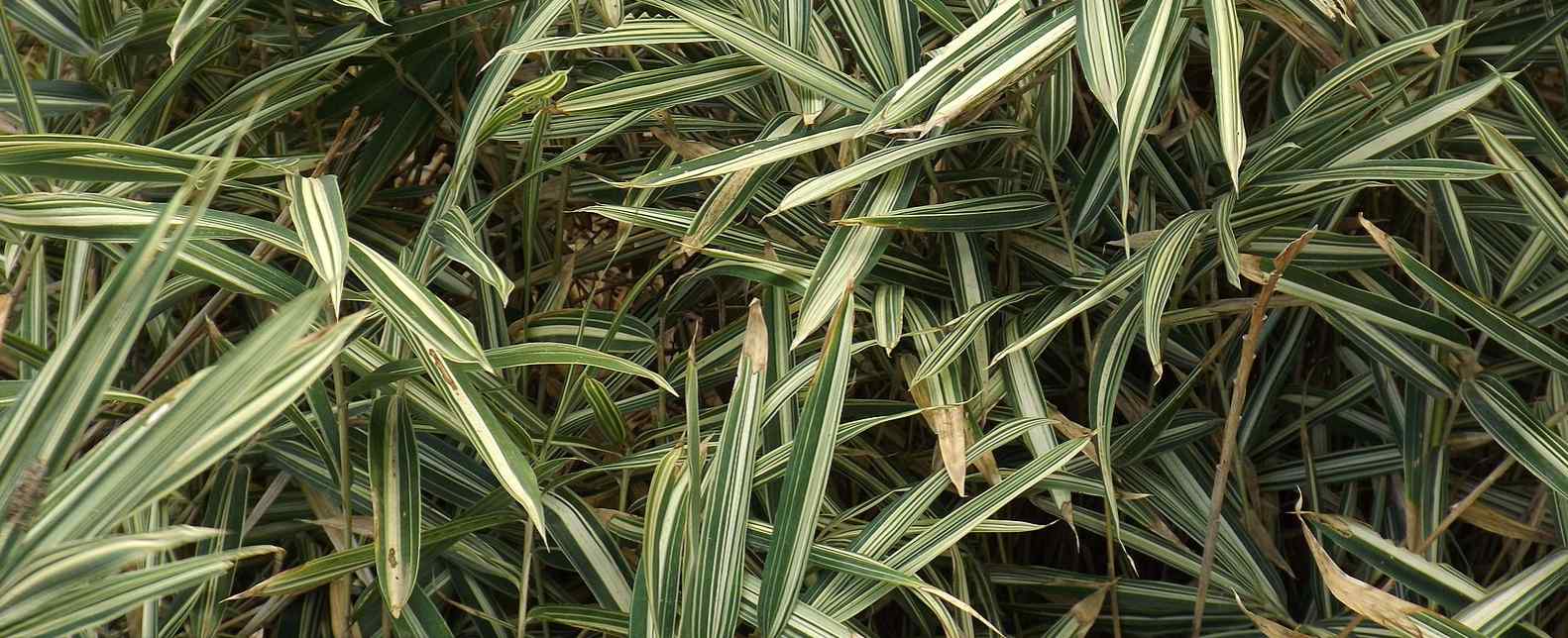 Phyllostachys aurea 'Aureocaulis'
The genus Phyllostachys includes a vast variety of bamboos, primarily native to China and Japan, but which thrive throughout the world. Their running roots make them vigorous growers, and their tolerance to weather extremes makes them especially resilient. Phyllostachys aurea, or Golden Bamboo, is one of the most widespread and successful species of bamboo. It's a very typical, medium-sized variety with yellow culms and dense foliage that makes an effective privacy screen. The subspecies 'Aureocaulis' has some uniquely striped culms that make for a beautiful plant.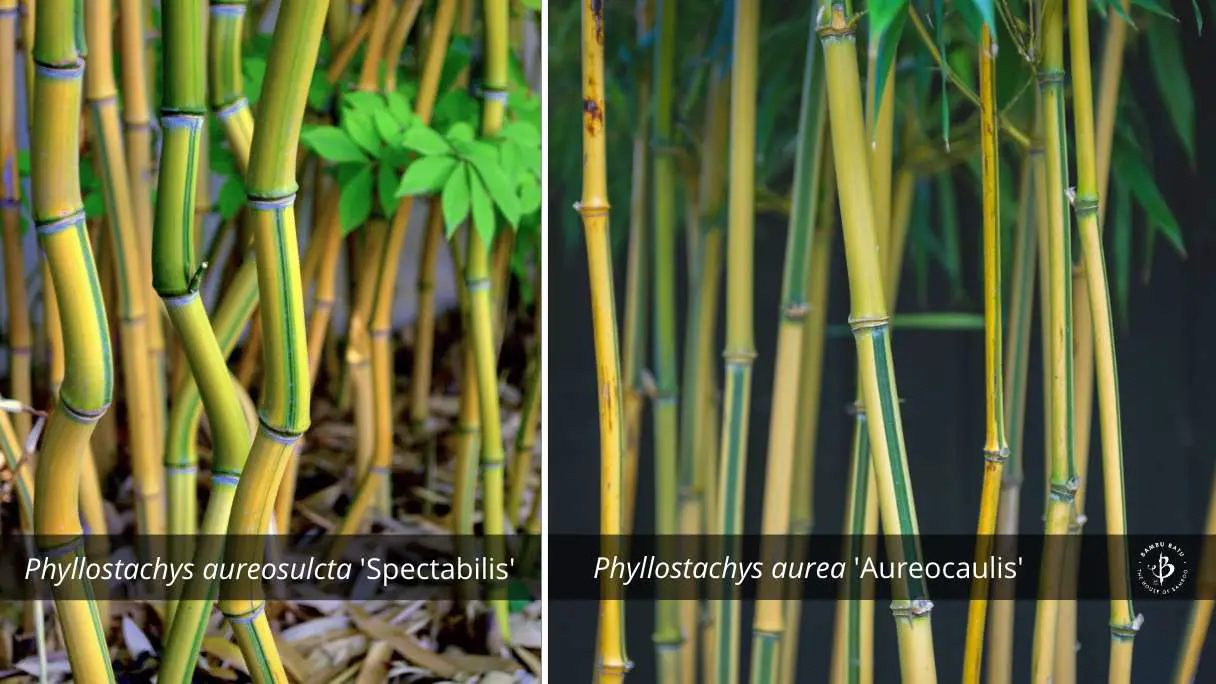 Phyllostachys aureosulcta 'Spectabilis'
Yellow groove bamboo, or P. aureosulcta, is another fairly common and hardy species of bamboo. But the 'Spectabilis' cultivar is especially popular among bamboo aficionados for the striking combination of variegation and zigzags. As with any Phyllostachys, these are pretty aggressive runners, and should always be contained with some sort of rhizome barrier. (Check out our list of recommended bamboo gardening supplies.)
Phyllostachys viridis "Robert Young"
Last, but certainly not least, Robert Young is another of the most popular ornamental bamboos in temperate climates. Phyllostachys bamboos are all runners, but this one spreads relatively slowly. It can get quite large however, up to 30 or 40 feet tall and about 3 inches in diameter. The culms are buttery yellow with multiple green stripes that give the plant a uniquely handsome appearance. It looks pretty similar to the Alphonse Karr, but grows larger and tolerates cooler climate zones, down to about 5º F. Prune back the lower leaves and branches to make the striped poles really stand out.
Conclusions
With so many varieties of bamboo to choose from, you can always find one that works in your garden. No matter what climate, growing conditions or space restrictions you're dealing with, there is sure to be a bamboo that's right for the job. Even if you want something exotic like a striped bamboo, you can see that there are several bamboo cultivars of different sizes, whether you live in cold mountains or warm tropics.
If you found this article useful and interesting, please consider subscribing to our blog. And always feel free to share your bamboo experiences in the comments section.
NOTE: This article first appeared in August 2019, most recently updated in January 2023.