If you're living in California, you probably already know where to get your bamboo. Of course, if you're in San Luis Obispo, Bambu Batu once had everything to satisfy your appetite for bamboo socks, towels, and bedding, as well as an endless array of gifts and decor for the conscious lifestyle. 2020 Update: Bambu Batu's brick & mortar store permanently closed when the pandemic began.
In today's global village, someone on any corner of the planet might take an interest in something they read about on some other corner of the planet. For example, I regularly get people from Europe and Canada asking me where to find good bamboo products. If they're in Canada, it's not too unreasonable to have something shipped from California. But in Europe, the cost of shipping and customs makes it pretty impractical.
Europe and Antarctica are the only two continents without native species of bamboo. But gardeners can certainly grow bamboo in Europe, Fargesia murielae being one of the most popular species. And Europeans use vast quantities of bamboo, importing more finished bamboo goods than any other global region. Due in part to this high demand, interest in farming bamboo is growing. Bamboo is hot commodity in the Netherlands, but the most significant and impressive groves of European bamboo are down in Portugal, Spain and southern France.

Where can I find the best bamboo in Europe?
Versatile and multifarious, bamboo comes in all shapes and sizes and formats. We could be talking about bamboo for your garden, bamboo for your kitchen floors, or bamboo to replace your worn-out bed linens. So let's just tackle one category at a time.

BAMBOO BUILDING MATERIALS IN EUROPE
Apart from a few ornamental gardens and arboretums (see below), hardly anyone in Europe is currently growing a significant crop of bamboo. (Check out our article on Bamboo Farming in Europe.) The most useful varieties, being predominantly subtropical, just won't thrive in a European climate. So if you're shopping for bamboo flooring, bamboo thatching, or bamboo poles for a special building project, you'll be buying imported bamboo, just like you would in California.
Bamboo Import Europe
Our extensive research of the continental market led us to Bamboo Import Europe, based just outside of Amsterdam, in the Netherlands. Their vast showroom is open to the public, Monday through Saturday. If you can't make it up to Holland, they also ship anywhere in Europe, usually within 3-6 days.
Bamboo Import's selection of building materials is as impressive as any I've ever seen. Peruse their website to view an immense assortment of bamboo poles, fencing, plywood, pergolas, picnic benches and more. No project is too big or too small.
Their site also features an epic photo gallery that could inspire even the most reluctant bamboo skeptic with visions of tropical dream homes and architectural marvels that range from the truly exotic to the immaculately modern. And if you find any of these visions irresistible, Bamboo Import's installation team can come to your home and help turn your bamboo fantasy into a reality.
Bamboo Import works directly with longstanding partners in China, Indonesia and South America to source the very best materials and maintain the highest levels of quality control on all their bamboo products.
Bamboe & Zo
Also located in the Netherlands, Bamboe & Zo specializes in the production of solid bamboo furniture. In their own workshop, they design and fashion an impressive line of high-quality tables, stools, bookshelves and more, attractive and sustainable. The innovative team of woodworkers often combine vintage elements to create a stunning selection of one-of-a-kind pieces. Because all manufacturing takes place on-sight, clients also have the option to order their own custom-designed furniture, with virtually no limitations.
Bamboe & Zo (which translates as Bamboo & Sun) is located in Ede, a small city in the center of the Netherlands. They are open to the public with somewhat limited hours, and also available by appointment.
BAMBOO AND NATURAL FIBER CLOTHING
I'm pleased to report that eco-boutiques specializing in natural fiber clothing are not an altogether rare site in Europe, at least not in the larger cities. I've seen several in Barcelona and in Germany, even in some smaller cities. If you can visit one of these small boutiques, that's always your best option. There's nothing like seeing, feeling and trying it on in person. You can also reduce your carbon footprint by avoiding shipping.
Thought
If you can't find a shop close by and you're happy shopping online, we can earnestly suggest Thought, formerly Braintree Clothing, based in the UK. Originally founded in Australia, this small team of forward-thinkers have been developing their brand since 1995, in accordance with the strictest standards of sustainability and social responsibility.
It's clear that this visionary company of eco-fashionistas has put a lot of thought into everything they do. From their sleek website to their elegant garments, everything has been done with care. Today they offer an extensive line of men's and women's wear, made from naturally grown bamboo, cotton, wool and hemp, as well as tencel and modal.
Thought's stunning selection of sustainable clothing will leave you feeling good, and their mantra will give you something to think about. "Wear Me, Love Me, Mend Me, Pass Me On." Their website has a whole section devoted to promoting better care for your clothing, which translates into taking better care of our planet.
Bamboo Belgium
If you make your way to the capital of the European Union, consider stopping by Bamboo Belgium, probably the widest selection of bamboo clothing on the continent.
With a passion for slow fashion in combination with sustainable entrepreneurship, Fina Vanbuel started a search for a sustainable, renewable and pleasant raw material for comfortable clothing that is good for people, animals and the environment.
"With Bamboo Belgium, I am 100% committed to helping the world in which we live. I take the well-being of everyone who works on my collection very seriously," says Fina. "My entire production process is transparent from start to finish and as sustainable as possible."
Boody EcoWear
Based in Australia, Boody has an international presence, making their fine bamboo fashion available from anywhere in the world. As a B Corporation, their pledges to social and environmental responsibility are certifiable. Furthermore, this pioneering producer of ultra-cozy bamboo underthings is one of the few on the market to be using a bamboo lyocell process, significantly greener than the more common bamboo viscose.
BAMBOO TOWELS AND BEDDING IN EUROPE
Finding bamboo towels and bamboo bedding remains a challenge, which is too bad, because these are two of my favorite bamboo applications. We're still looking for the best source (or any source, really) for sheets, but we have found a German towel manufacturer with a line of bamboo towels.
Möve (that's German for seagull) is based in east Saxony and has stores all over Germany, mostly in the east and the north. Furthermore, they produce all their towels in Germany. German craftsmanship is something I've come to love and trust, but unfortunately, their selection of bamboo bath towels is a bit limited at the moment. Black, white and hot pink are not my favorite bath colors. But they do have a wide variety of bamboo hand towels and washcloths. And until further notice, this is our best lead.
BAMBOO GARDENS IN EUROPE
If you're looking to buy live bamboo for your garden, you can start by just visiting your local nursery and checking out some seasonal garden shows. They take place all over Europe in the spring and summer.
Or if you just want to see a pretty bamboo garden, check your nearest botanical garden. Just about every city has one, they are often affiliated with the local university. In France, Germany and northern Europe, they are particularly impressive, and I recall that Berlin has an especially nice bamboo collection.
But if it's Europe's most incredible bamboo garden you're looking for, you'll want to head to the south of France. About 30 miles northwest of Nimes, the Bambouseraie has been propagating vegetation and welcoming visitors since 1856. Today the spectacular garden includes about 300 varieties of bamboo, making it one of the most diversified bamboo collections on earth. (Experts put the total number of bamboo species somewhere between 1200 and 2000.)
Among the 80+ acres of bamboo groves, you'll also find a flourishing boscage of century-old magnolias, ancient ginkgos, and majestic oak trees. The Bambouseraie even has a bamboo hedge labyrinth, so you can truly get lost in the sticks!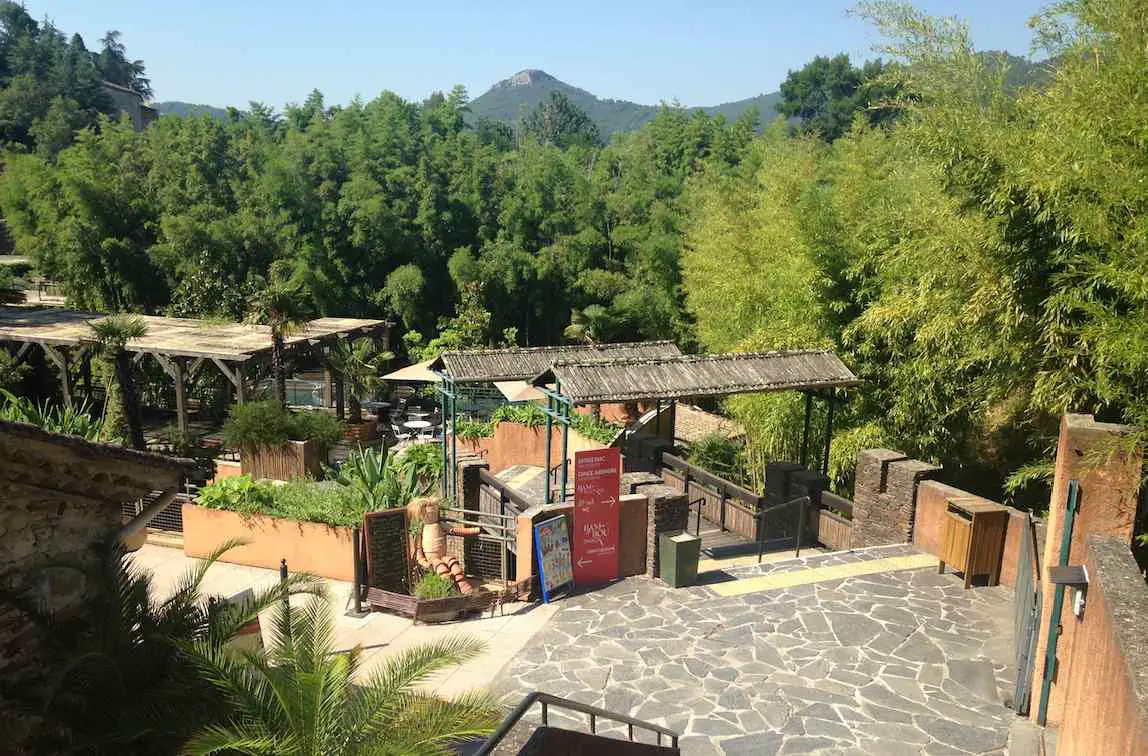 BAMBOO NURSERIES OF EUROPE
The biggest bamboo nursery in Europe is located in southern Portugal. Bambu Parque has a prodigious selection of tropical and temperate bamboo, including more than 100 species.
If you're in France, Germany or the Low Countries, check out the Esprit Bambou nursery in Mommenheim, France, close to Strasbourg and the German border.
There's also the Kimmei Bamboo Nursery in the Netherlands, with a vast selection of about 300 bamboo species. Not every species is available at any given time, but their nursery is well worth a visit. Hours are subject to change, so call ahead if you're making a long drive. They also ship live bamboo within Western Europe; contact them for details.
International Sensation
In California, we sometimes like to think we have a monopoly on all things hip, cool and eco-conscious. It's true, California has produced and popularized some pretty cool things: Vans, Frisbees, the Tesla Roadster, the Grateful Dead. I could go on and on. Just check out this documentary on California Innovations.
But Californians certainly cannot take credit for bamboo. Bamboo is a prolific plant with an ancient history and widespread appeal. Some of today's most important innovators and producers of modern bamboo products may be based in California and Oregon, but we could hardly refer to this miraculous plant as a West Coast original.
Bloggers Without Borders
The fact is, I do some of my best writing when I'm traveling, on the road and away from California. At the same time, our international readership is growing. When we launched the Bambu Batu blog back in 2008, we were writing for the small, local community of the Central Coast. But today we get readers from across the country and around the world, so we see it as our duty to cover a more cosmopolitan array of bamboo topics.
A recent sojourn through the Old World made me aware of a growing bamboo scene in Europe. Germans and Scandinavians are somewhat well-known for their progressive energy and environmental policies, so it should come as no shock that alternative materials like hemp and bamboo are as popular in Europe as they are in the Golden State. Still, it's always a bit of a surprise to wander through a city of gothic cathedrals, black turtle necks and heavy trench coats, and then come across an island tiki bar or a colorful boutique filled with tree hugger t-shirts.
Now if only I could find a decent Frisbee anywhere between the Amstel and the Ebro.
Further reading
To learn more about the wide world of bamboo, check out some of these related articles.