NOTE: This article originally appeared in 2012, last revised in 2021. It's remarkable how much has changed in that short time, but clearly, we were on the right side of history with this one.
It was unfortunate that the COVID-19 lockdowns, starting in spring 2020, forced Bambu Batu to close its doors for good. Luckily, we still have 15 years of fond memories to cherish for a lifetime. One of the many highlights, in my opinion, was the "Kale: it's what's for dinner" bamboo t-shirt and our 2012 campaign to raise money for marriage equality. For those of you who missed it, or simply enjoy reminiscing, let's take a little stroll down memory lane, back to the Salad Days, if you will.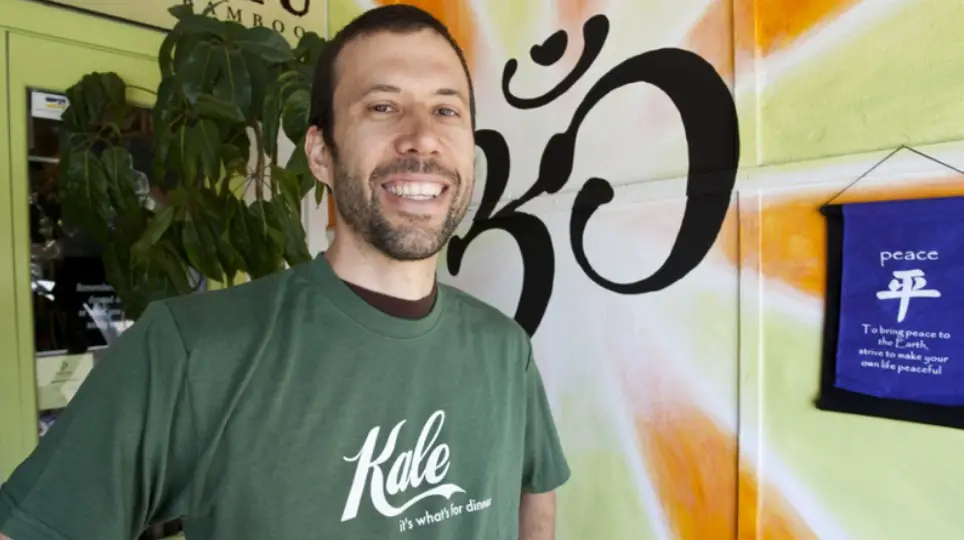 Why Kale for Marriage Equality?
What do leafy green vegetables have to do with gay marriage? That's what people are asking when they hear that Bambu Batu is sending $5 to a pro-marriage-equality organization every time they sell a bamboo t-shirt emblazoned with the parody slogan "Kale: It's what's for dinner."
The connection can be traced back to the Baptist-owned fast-food chain Chick-fil-A, based in Atlanta, Georgia. Last fall (2011), Chick-fil-A went after independent shirt maker Bo Muller-Moore and charged him with copyright infringement for selling hand-printed t-shirts that say "Eat More Kale." The junk food juggernaut claims that this slogan is a direct violation of its own motto, "Eat mor chikin" (scrawled by cows). Muller-Moore refused to comply with their order to cease and desist, and a legal drama ensued.
As an avid kale enthusiast himself, Bambu Batu owner Fred Hornaday was disappointed to learn of Muller-Moore's harassment by corporate bullies. But when it recently came to light that Chick-fil-A had also been donating millions of dollars to organizations fighting same-sex marriage, Hornaday, a self-described human rights champion, had no choice but to cry "fowl!"
Bambu Batu, an all-bamboo store based in San Luis Obispo, CA, specializes in ethically produced goods and natural fiber clothing and holds social responsibility as a top priority in its business model. The family-owned eco-boutique already has a series of original shirt designs addressing issues from clean energy to small-scale farming to spiritual awakening. And this month Bambu Batu is releasing its own pro-kale message, hand-printed locally on 70% bamboo viscose and 30% organic cotton.
Moved by Chick-fil-A's saga of unapologetic tastelessness, Hornaday has decided that with this product it's not enough to simply send a mindful message on a natural fiber t-shirt. So with every garment sold, Bambu Batu is paying it forward and donating five dollars to the pro-marriage equality organization of the customer's choice, or to MEUSA if no preference is expressed.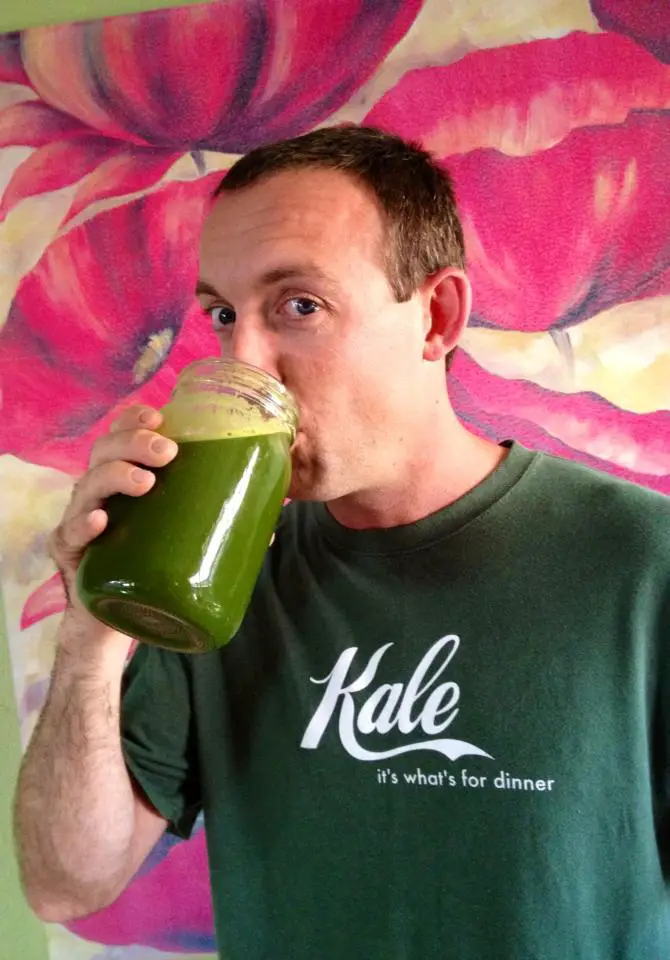 Recipe #1: Kale for chips
The first time I heard about Kale Chips I thought it was some kind of joke: a recipe concocted by The Onion as something a hairy hippie might serve as an appetizer to go with a glass of patchouli-carrot juice.
Don't get me wrong. I like kale as much as anyone. I've actually got at least two varieties growing in my backyard garden. We steam it, we stir fry it, we throw it into our soup pot. Its nutritional properties are formidable, and its uses are manifold, but I had no idea.
Then my wife presented a bowl of dark green, crispy kale chips. In three minutes or less the entire bowl had been devoured, inhaled actually. (They're pretty light.) Yep. That good. And it was a big bowl, too. No kidding. But it gets better because — guess what? —  the preparation could not be simpler.
Here's how it's done. You can make it more complicated if you want, but all you really need are two bundles of kale, a couple tablespoons of olive oil, and a little salt. A dash of nutritional yeast helps too.
Begin by separating out the fibrous spines of the kale, either by hand or with a knife, and set them aside for your compost.
You'll probably want to rinse your kale too, but just be careful to dry the leaves very thoroughly. If it goes into the oven wet, it will cook rather than dehydrate.
Then cut the leaves into large bite-sized pieces. (Remember they will shrink down during the dehydration.)
Now throw this heap of kale bits into a large mixing bowl, and add 2 tablespoons (1 Tbsp per kale bunch) of high-quality olive oil. (I get mine from SLO Grown Produce.)
Go ahead and add a couple pinches each of salt and nutritional yeast, and stir thoroughly. You might not think you've got enough oil, but once you've mixed the leaves, you'll see that two tablespoons are really enough.
Now, spread the leaves evenly, don't crowd them, on a couple of baking sheets. (see photo above) It's probably going to cover about four baking sheets altogether. Place them in the oven for about 15 minutes at 300º, and pull them out when they're thoroughly dried — thin and crispy.
That's it… serve and enjoy!
One last thing, you might want to brush afterward, before going into public, because those crispy flakes of kale have a tendency to stick all over your teeth.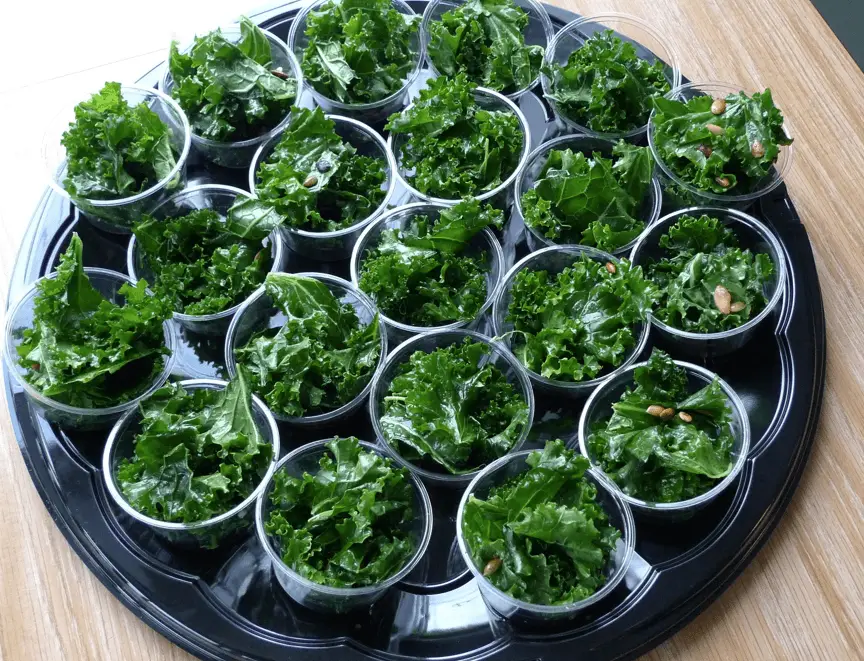 Recipe: Kale for salad
Recipe serves two simple meals or four lip-smacking kale salad appetizers. Prep time approximately 15 minutes. No cooking involved.
Start with one hearty bunch of kale — Tuscan, dino, curly, any variety will do. Carefully remove the leaves and tear them into more-or-less bite-sized squares, discarding the fibrous stalks into your nearest compost receptacle.
Mix the following in a measuring cup:
1/4 cup olive oil
1/4 cup lemon juice
1/4 cup Braggs® aminos
Then add roughly 1/4 cup of minced red onion, to taste. Let the onions soak in the juices for about 10 minutes if you want to take the edge off of the raw onion flavor.
Pour the dressing over the bite-sized strips of kale and massage gently and evenly until the kale feels tender. NOTE: it is important to actually massage the kale, rubbing and squeezing with your hands to really get the oil and lemon juice in there and soften up the leaves.
Finally, sprinkle with roasted pepitas and call it done. You can add a pinch of salt and pepper, but it's really unnecessary. You can also add other salad toppings, depending on what's in season. Our summertime kale salad often has fresh tomatoes and avocado. Serve it up with some homemade sourdough bread, and you're good to go!
Mothers have reported that "the teenagers just devour it!" But rest assured, ordinary children and adults clearly crave it as well.
Bamboo for shirts and textiles
Like us, you're probably a little disappointed to know that Kale bamboo t-shirts are no longer available. To learn more about bamboo's amazing properties for clothing and fabric, take a look at these informative articles.