Based on the history of bamboo construction on Gilligan's Island and in rural villages of the developing world, bamboo has earned a reputation as the "poor man's lumber". But as traditional forestry resources are shrinking, and the need for more sustainable construction materials is spiraling upwards, the perception of bamboo is changing. At the same time, technological advances from companies like Lamboo are positioning bamboo to be the timber of the future.
Lamboo is a US-based manufacturer and supplier of architectural bamboo products and systems for the construction industry. Since 2007, Lamboo has specialized in state-of-the-art building solutions using one of our planet's most readily renewable resources. From small residential projects to large multi-phase commercial projects, Lamboo has architectural products suitable for interior and exterior as well as structural applications.
Bamboo's place in the building industry
Bamboo, a subfamily of the grass family Poaceae, includes about 1,500 species, among them the fastest-growing woody plants on earth. As a renewable resource, bamboo is unsurpassable. As a grass, it can be harvested continuously without replanting. Bamboo forests comprise over five million hectares worldwide, mostly in the tropics and subtropical regions.
Yet, bamboo does have its limitations. Traditional bamboo construction is done with round poles that are inherently irregular and inconsistent. While the results have a delightful, rustic charm, the potential for widespread use in the construction industry is seriously restricted.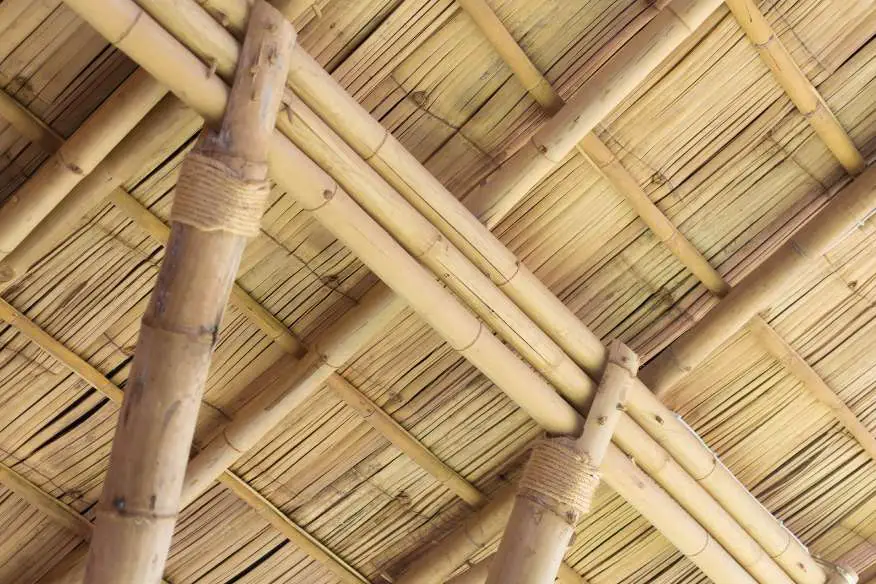 Around the turn of the century, however, material engineers in China started tinkering with bamboo to create composite lumber products. It didn't take long before bamboo flooring and bamboo cutting boards could be found in houses and hardware stores around the country. Engineered bamboo building material unlocked a whole new world of possibilities from this woody grass.
But even now, when most people hear of bamboo for building, they usually only think of bamboo flooring. Indeed, bamboo floors are quite attractive, and they are an excellent alternative to conventional hardwood, both for durability and sustainability. But bamboo can do so much more.
Lamboo and the future of bamboo
Since 2007, Lamboo has been a pioneer in the field of bamboo for exterior and structural use. If your only exposure to bamboo building material is from walking on bamboo floors, you might be shocked to see the stunning level of quality available for structural beams and exterior roofing and cladding. (See the featured image at the top of the page.)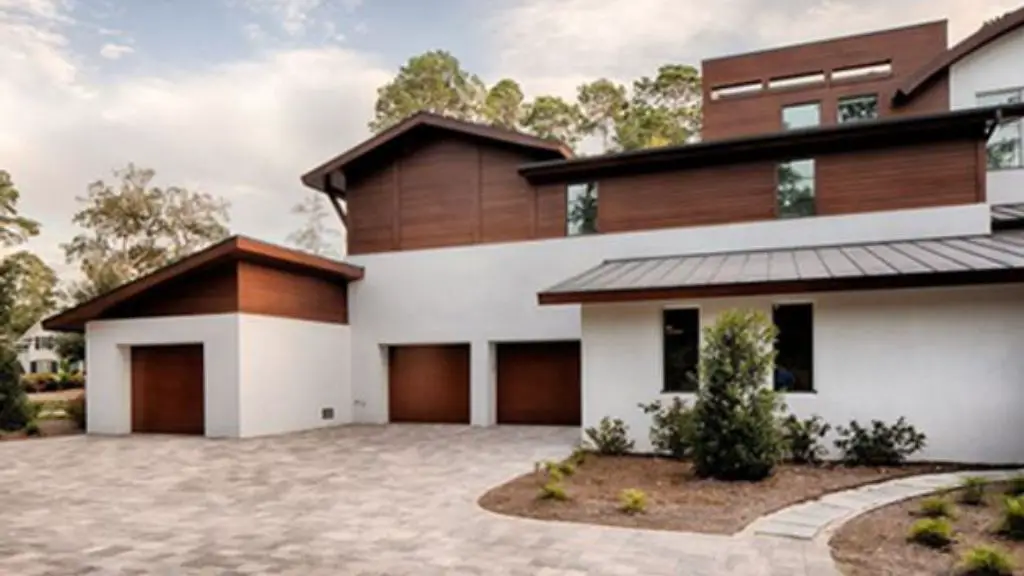 Based in Illinois, Lamboo works with small-scale but high-end residential construction projects as well as major commercial developments. And they are determined to change the way people think about bamboo buildings. From luxury homes to high schools and fitness centers, Lamboo's state-of-the-art solutions have proven that there's literally nothing that can't be done with bamboo. Anything the architect can imagine is now possible with bamboo, and the results are magnificent.
Visit Lamboo's website to learn more.
Currently, the company relies primarily on Guadua bamboo sourced from South America. This neotropical timber species is renowned for its size and strength. And like other timber bamboo species, it has an incredible capacity to sequester atmospheric carbon. But as the awareness and demand for bamboo continue to soar, Lamboo may need to seek other sources and suppliers for its raw materials.
Other pioneers in the bamboo sphere
While Lamboo operates at the cutting edge of the bamboo building industry, it's not the only company in America with such innovative aspirations. Dasso is an international enterprise with a US headquarters in Atlanta. They've been experimenting and innovating with Chinese Moso bamboo for decades.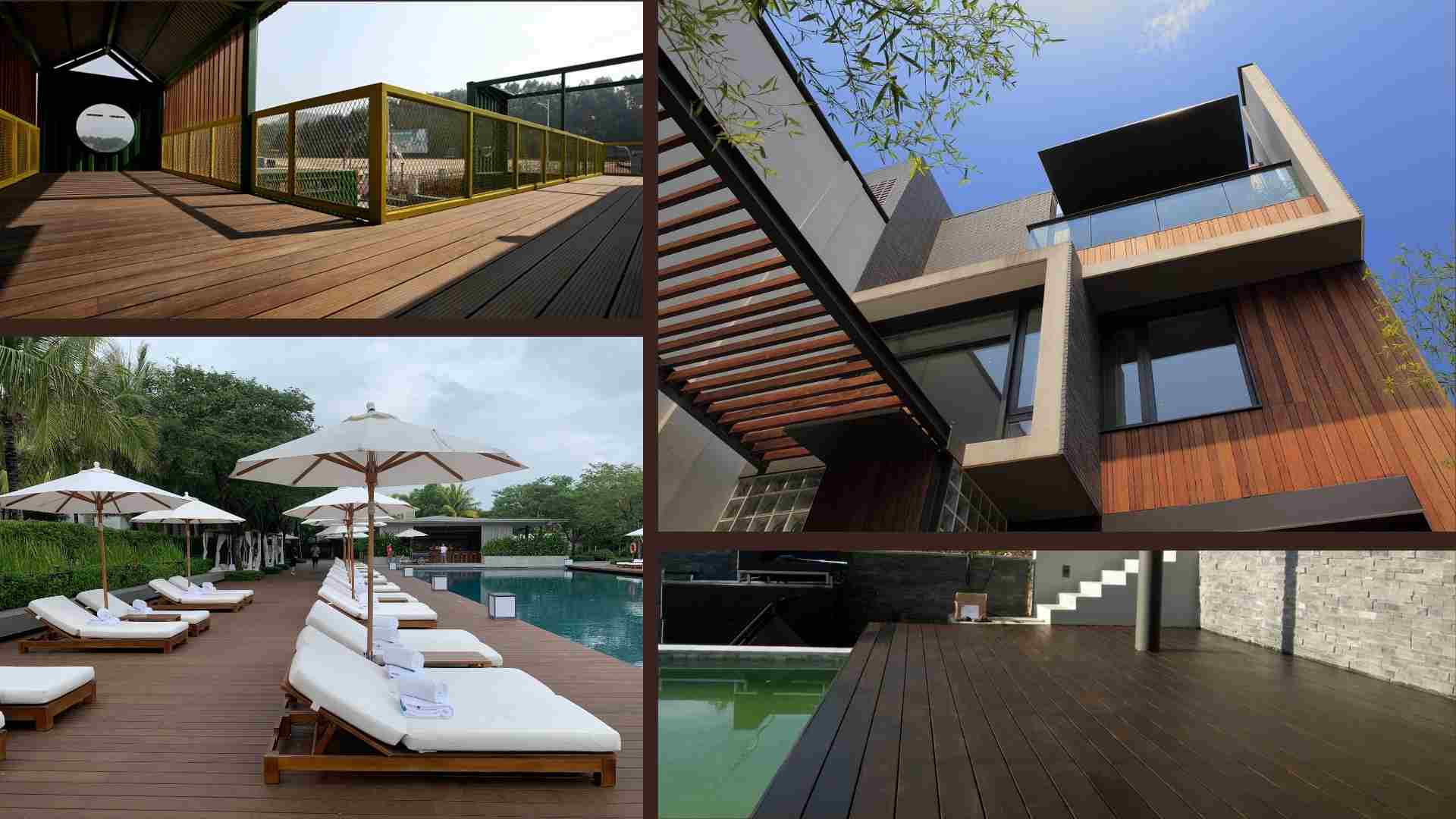 As shown in the collage of images above, Dasso's fused bamboo is fully weatherproof, like Lamboo, and suitable for siding, roofing and decking.
Meanwhile, in California, BamCore has developed a revolutionary system for building modular homes with bamboo panels and patented technology. Their unique system leverages not only the most sustainable materials, but also a technologically savvy software solution that streamlines the home assembly process, making it fast and easy.
According to their own literature, "BamCore's signature Prime Wall® System is a prefabricated stud-less wall manufactured from timber bamboo through a low-energy-intensive process, using no heat, chemicals, or water, to create a strong, fibrous feedstock. BamCore walls are two to four times stronger than conventional stud-based frame walls, are made from materials that sequester five to six times as much carbon, and are up to 60% more thermally efficient."
Bamboo foundations
Bamboo is an essential resource in the fight against climate change and deforestation. If you want to read more about bamboo's remarkable properties and other progressive companies like Lamboo, take a look at some of these in-depth articles.
FEATURED IMAGE: Bamboo for interior, exterior, and structural construction. Courtesy of Lamboo.