Bamboo is an amazing material to work with. It has a strength-to-weight ratio superior to steel, meaning that it's super strong yet remarkably lightweight. The round, hollow poles make bamboo attractive and versatile for things like bike frames and rain gutters. And in certain parts of the world, like Asia and Central America, bamboo is incredibly abundant. But bamboo is not your standard construction material, so to build with it most effectively, you might need some special training. All of which leads us to Bamboo U, the bamboo institute of higher learning.
Bamboo U, in Bali, Indonesia, is the world's premier program for bamboo design, architecture and construction. Master builder John Hardy launched Bamboo U in 2015, in collaboration with Orin Hardy and Maria Farrugia. A decade earlier, the Hardys conceived the renowned Green School with its all-bamboo campus also located in Bali. Today, an elite faculty of innovative engineers and designers lead online and in-person courses highlighting the astonishing potential and practicality of bamboo construction as a greener, more sustainable solution. From one-day tours to 11-week immersion courses, nowhere else on earth offers a comparable education in bamboo.
Who they are: Meet the Hardys
Before opening the Bamboo U in 2015 to share the secrets of bamboo engineering with the world, John Hardy first had to gain the expertise for himself. In addition to being an international spokesperson for bamboo, featured on TedTalks and elsewhere, John also has real, hands-on experience working with this hardy grass.
Since 2006, John and his daughter, Elora Hardy, have built hundreds of bamboo structures in Indonesia and around the world. Elora is also the founder and creative director at IBUKU, a pioneering architectural and design firm specializing in "magical structures inspired by nature."
John and his wife, Cynthia, are also the founders of the spectacular Green School. Inspired largely by Al Gore's eye-opening documentary, "An Inconvenient Truth", the Hardys set out to establish a school where they'd be proud to send their homeschooled daughters, and they wanted to stay in Bali. Thus the Green School was born. And today it serves as a model not only of green architecture, but also a paragon of alternative education, focussing on environmental stewardship and global citizenship.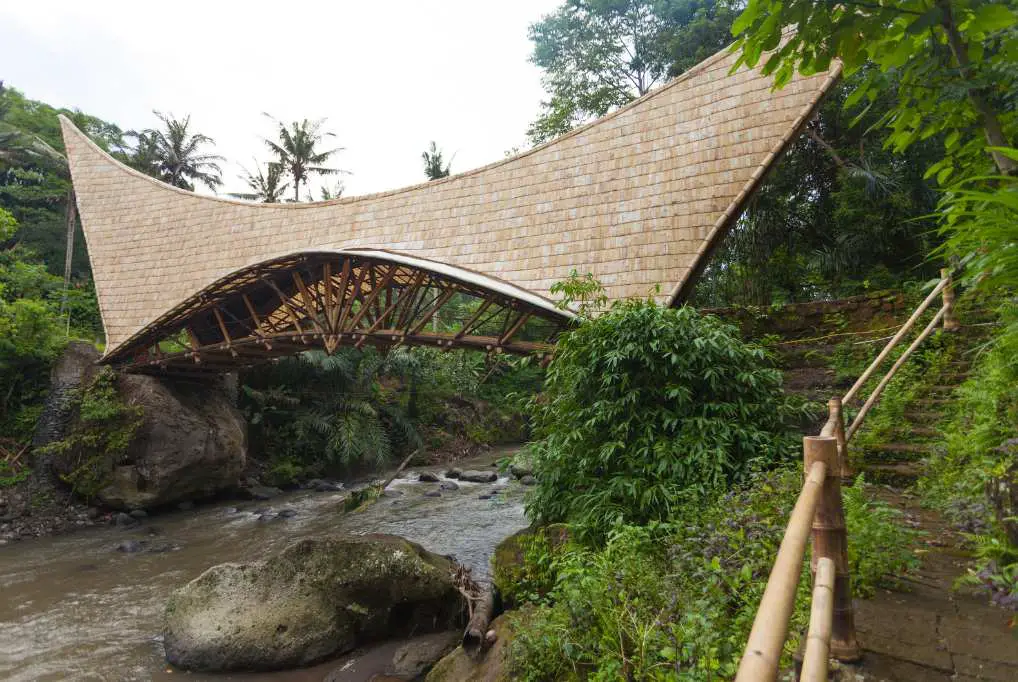 The Green School received the Greenest School on Earth award from the U.S. Green Building Council in 2012. The campus, set in the idyllic rainforest of Bali, is built entirely from bamboo, in perfect harmony with its natural surroundings. Private students from around the world pay a premium to attend the remarkable school. Tuition fees range from $12,000-24,000 a year. This makes it possible for local, Indonesian students to attend the school at little or no cost.
Courses from Bamboo U
When you're ready to hone your bamboo building skills for real, sign up for a workshop at Bamboo U. It's an experience you'll never forget. Begin by learning the tricks of the trade from some of the most accomplished bamboo architects and designers to have ever lifted a power tool. And end up networking with an amazingly inspirational and forward-thinking cohort of students who share your passion for this glorious grass.
With the COVID19 restrictions, all of Bamboo U's classes moved online. But that's expected to change soon. As for the remainder of 2021, there are still options for online learning. Students can choose between 4-week and 11-week immersion courses. These distance learning classes cover all the necessary skills for designing, building models and building with bamboo.
The 4-week online course costs $400. And the 11-week series usually costs $700.
Under more favorable conditions, business as usual includes on-site, in-person tours and courses that range from one to 11 days. We all hope and expect these classes to resume soon. The variety of courses offered in Bali is much greater. And, of course, experiencing the bamboo in its natural habitat is truly awe inspiring. Shorter classes cover the basics of bamboo ecology and cultivation. Longer courses get more in-depth with harvesting poles, developing original designs, and the nuances of bamboo engineering.
The 11-day immersion course, one of their most popular programs, costs $2,500. Basic dormitory accommodations are included, but premium lodging is also available. The intensive course includes a tour of the Green School and a tour of the bamboo factory. Wide ranging classes cover bamboo forestry & harvesting, treatment & preservation, traditional Balinese carpentry, basic bamboo engineering, and model making.
Contact Bamboo U at info@bamboou.com for more details, or visit their website.
Keep on learning
If you have an insatiable curiosity to learn everything you can about all things bamboo, then you've come to the right place. Before enrolling at the Bamboo U, you may want to peruse our website and check out some of these other in-depth articles.