While rural communities in Asia and the developing world still regard bamboo as the "poor man's lumber", we know in the West that bamboo can offer a more elegant and eco-friendly alternative to cutting down trees. In equatorial regions, this woody grass may seem too abundant to be of any value. But to those who have seen the consequences of deforestation, and who recognize the versatility of bamboo, we have ourselves a building material too precious to ignore. Not only can you build a more sustainable house with bamboo, but you can also furnish it with high-end, solid bamboo furniture.
Solid bamboo furniture, like bamboo flooring and other construction material, consists of laminated layers of bamboo with superior strength and integrity. Unlike rustic bamboo furniture, with its simple poles and thatching, solid bamboo has a very modern appearance, sleek, smooth and angular. All manner of solid bamboo furnishings are available for bedrooms, dining rooms and so forth. Options include standard laminated bamboo as well as a heavier and sturdier strand woven bamboo with a closer resemblance to wood grain.
Old school bamboo furniture: Rustic charm
The typical image of bamboo furniture evokes scenes from Gilligan's Island, a tropical patio, or the dimly lit interior of a tiki bar. The natural tubes and curves of bamboo poles have a nostalgic feeling. There's something intrinsically relaxing about it, conjuring images of luaus and fizzy drinks with umbrellas in them.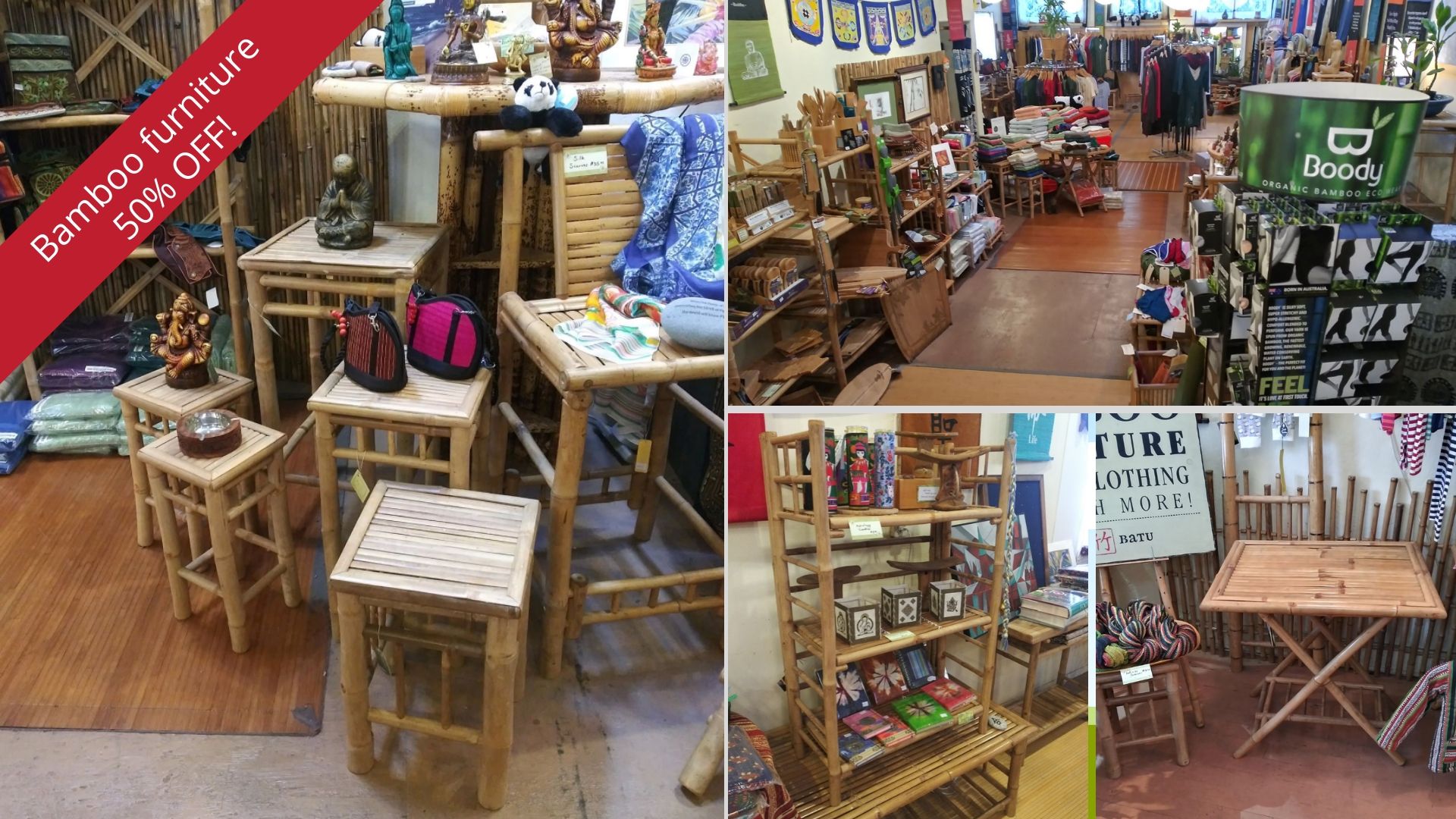 The bamboo poles, in varying sizes and diameters, can be attached with screws, notches, thatching, or any combination of the three. Simple designs have a rustic charm. And the natural variations in the bamboo ensure that every piece of furniture is unique.
The simplicity of this type of furniture, and the fact that bamboo is so abundant in places like Southeast Asia and Indonesia, results in a fairly affordable finished product. It's a great option in any casual setting, from dorm rooms to lounges to poolside patios.
You can find a variety of rustic bamboo furniture on Amazon.
What is solid bamboo furniture?
In contrast to the old-fashioned bamboo furniture with its rustic poles and natural allure, solid bamboo furniture has undergone some processing to achieve a more modern aspect. As with bamboo flooring and bamboo cutting boards, this more sophisticated furniture consists of laminated strips and planks that have an exquisitely clean and smooth appearance.
The natural color of this bamboo is very light, sometimes identified as "blond". More commonly, the bamboo is steamed so that the heat caramelizes the natural sugars in the bamboo to produce a darker color. In this way, you can get make the bamboo into a range of honey-colored shades.
At this time, the vast majority of laminated and strand woven bamboo lumber comes from Moso bamboo (Phyllostachys edulis) out of China. This is the most common bamboo species for commercial construction materials. In other parts of the world, they are beginning to make bamboo lumber from South American Guadua and Southeast Asian Dendrocalamus asper.
Laminated and strand woven bamboo
A more important option or distinction is between basic laminated bamboo and strand woven bamboo. While the standard lamination process simply stacks layers of thin bamboo strips together, similar to plywood, the strand woven method crushes the bamboo under extreme heat and pressure.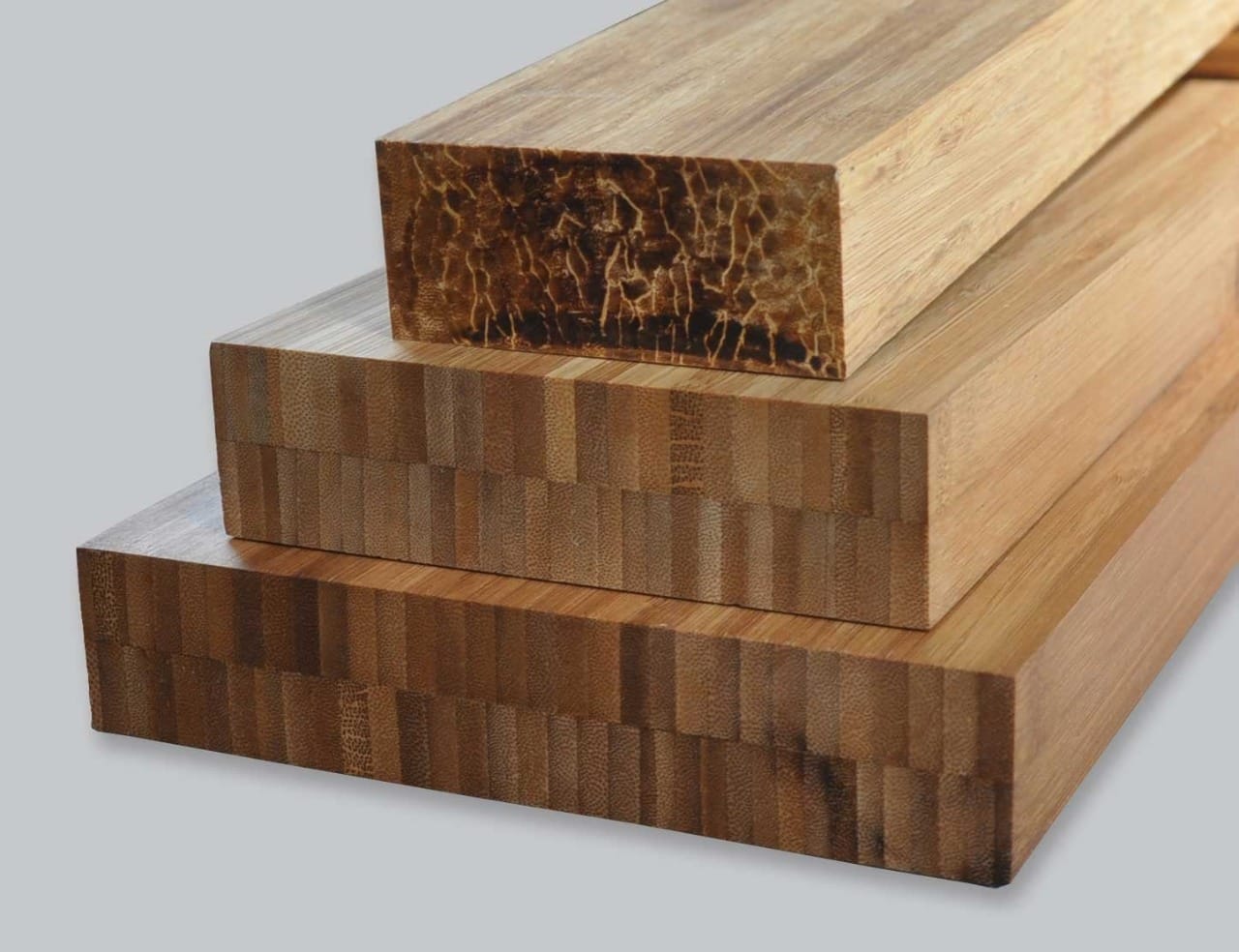 Ultimately, the strand woven bamboo is far denser, heavier and stronger. It's easy to see the difference when you look at the end-grain of the individual bamboo planks. With the strand woven, the individual bamboo strips are no longer distinguishable. Instead, they are all smashed together. And lengthwise, the grain is more similar to hardwood. It's also darker, due to the high heat used to compress the bamboo.
If you want furniture that's more recognizable as bamboo, the standard laminate is the way to go. It's also a bit more affordable. The strand woven material is generally about 50% more expensive, but it's also more durable and has a strikingly exotic appearance.
Shopping for solid bamboo furniture
Solid bamboo furniture has only been available since around 2010. These days you can find all sorts of household items, from cutting boards to dishracks to bathroom shelves made from this type of laminated bamboo. Major department stores as well as Target and Ikea are bound to have a few pieces of solid bamboo furniture.
But if you want the kind of bamboo furniture that really makes a bold statement, they are a few manufacturers who have raised this technique to something of an art form.
GREENINGTON
At Bambu Batu, when we still had our brick and mortar retail store, we proudly offered Greenington bamboo furniture for many years. I'll never forget the first delivery we received and what a remarkable impression their stools and coffee tables made. From the ordinary rustic bamboo to Greenington, it was like a quantum leap into class and sophistication.
The stunning bar stools were always a top seller for us, but we also had bamboo enthusiasts ordering dressers, bedroom sets, and bistro tables. Today their designs include the pleasingly simple Scandanavian styles and the more modern and angular, but always exceptionally tasteful and attractive.
Greenington's website displays a full range of products, but to make a purchase, you need to find a local retailer or order online through Amazon. Rest assured, the quality is top-notch and even more impressive in real life than they appear in the photos.
MOSO BAMBOO
Specializing in bamboo flooring since the 1990s, Moso takes its name from China's immensely versatile species of timber bamboo. Based in China, they have an international presence, producing building materials and home furnishings. Moso offers an extensive array of wall units and interior panelling, as well as individual pieces for the dining room, living room and office, with a modern flair.
Unlike Greenington, we have no direct experience in working with this brand or enjoying their furniture. But everything I can see suggests the highest level of quality and attention to detail.
HAIKU DESIGNS
If money is no object and customer service is a low priority, you might also check out Haiku Designs. Solid bamboo furniture is not a low-ticket item, but the prices on their website do seem out of line with similar products from Greenington.
Furthermore, our attempts to contact the company for more detailed product information resulted in an extraordinarily unpleasant response. If I'm paying that much for furniture, I would expect to be treated with a little more courtesy. Of course, your experiences may vary.
A solid source of knowledge
Our website is filled with reliable information about all things bamboo. To learn more about using bamboo as an alternative and eco-friendly building material, take a look at some of these other in-depth articles.