The story of zero is a long and baffling one. The Mayans dabbled with it, the Ancient Greeks resisted it, and not until the 13th century did Europe fully embrace it. You might argue that it's good for nothing. You might even say it'll never amount to anything. But I beg to differ.
Putting aside the whole binary revolution, the zero today plays a vital part in one of the 21st century's most progressive and common sensical innovations: the Zero Waste Shop.
NOTE: The article first appeared in January 2019, last updated in August 2023.


What is Zero Waste?
The phrase "Zero Waste" refers to a certain lifestyle choice that involves trying in every possible way to reduce your production of trash and recycling by composting more and avoiding packaging and things like single-use bags and utensils.
Realistically, living Zero Waste is not an all-or-nothing affair. Zero Waste is an ideal. The fact is, it's next to impossible to live in this world without making an occasional trip to the garbage can. No, reverting to hunting wild game and gathering berries is not the solution. But taking small steps forward is — small steps toward the ideal.
And it's a philosophy we fully support at Bambu Batu. Our reusable bamboo sporks and bamboo utensil sets are a perfect example of how you can eliminate your need for disposable plastic utensils.


What is a Zero Waste Shop?
In order to accommodate this growing lifestyle choice, eco-entrepreneurs are increasingly opening businesses to cater to and promote the Zero Waste mentality.
For the most part, these Zero Waste shops are grocery stores that use as little packaging as possible. They encourage you to bring your own reusable containers — glass jars, cloth bags, etc. — and fill them with bulk goods. Pretty much any health food store you visit will have a bulk section offering grains, legumes, granola, and more. But some will go a step or two further, giving you the option to refill your own shampoo bottles and almond butter jars.

Where can I support some Zero Waste shops in California?
NORTHERN CALIFORNIA
1) With locations in Arcata and Eureka, the North Coast Co-op is fully committed to the reduction of waste and often sponsors local events encouraging others to do the same. The grocery stores feature a vast array of bulk goods, including nuts, grains, pasta, maple syrup, soap, shampoo and much more. They also offer an extensive selection of locally grown vegetables and dairy products
2) In Nevada City, S.O.A.P. touts itself as Northern California's original eco-friendly refill shop. Since 2010 this progressive business has been encouraging its customers to bring in and refill their own containers. In their crusade to eliminate the need for single-use plastics, SOAP estimates that they have helped their clientele refill more than 35,000 reusable bottles.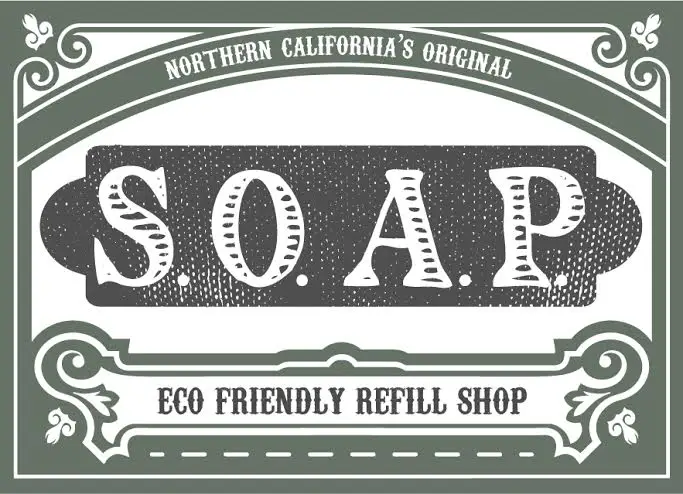 3) A truly pioneering retail shop, Refill Madness is a family-owned and operated soap refillery and gift shop in Sacramento. The store offers an immense selection of ecological products for personal hygiene, household cleaning, and so much more. They always encourage customers to bring and refill their own bottles, and they try their best to only carry products that use biodegradable packaging.
THE BAY AREA
The San Francisco Bay Area is teeming with forward-thinking health food stores with a growing emphasis on bulk goods and refillable containers. Sprouts and Rainbow Grocery are a couple of prime examples, but you can find dozens of smaller shops and food co-ops as well.
4) The Daisy Refillery has no permanent location, but this San Francisco-based and female-owned business serves the local community in three ways. Daisy Refillery shows up in person at various pop-up events, they deliver online orders, and they make scheduled house calls. Of course, everything they sell is free of single-use plastic and made with earth-friendly ingredients and materials. A certified California Green Business since September 2022, Daisy is also a 1% for the Planet member. Karen Chaw, owner and founder, goes to great lengths to engage with other small businesses, vetting them to ensure ethics and sustainability, and working primarily with B-Corporations and other 1% members.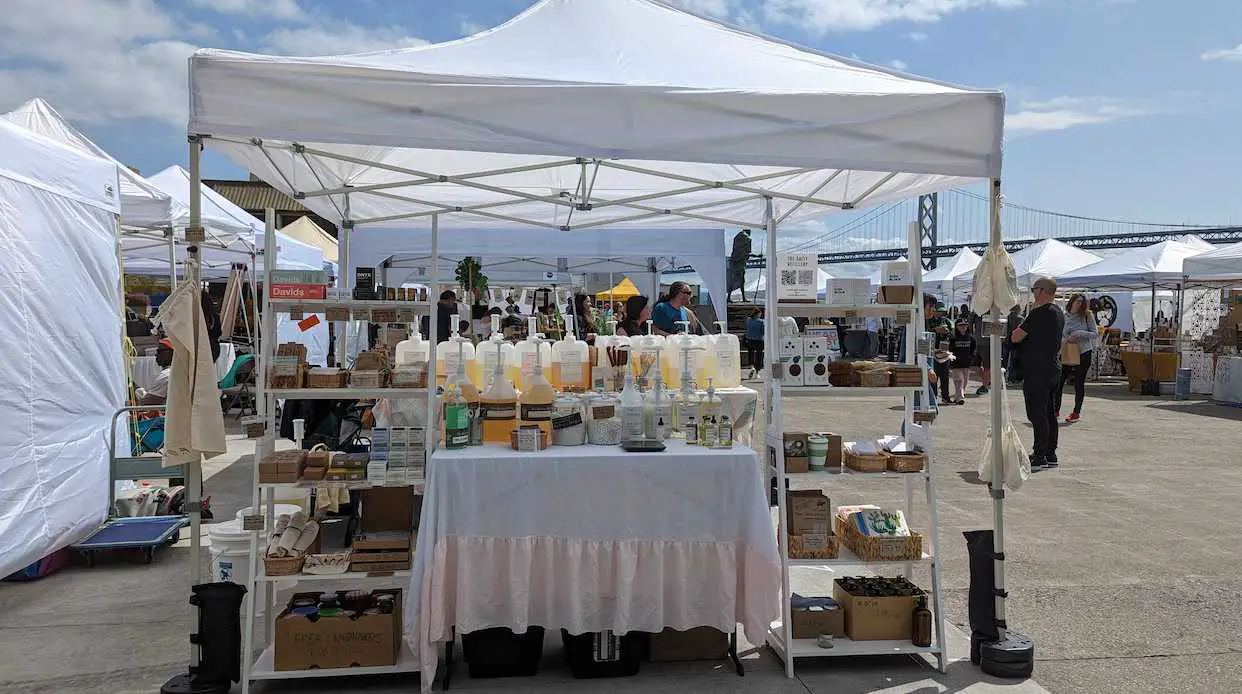 5) Fillgood.co offers a truly unique Zero Waste delivery service throughout the Bay Area. Basically, they'll provide you with the reusable containers for a countless variety of groceries and household items. On delivery day, you leave your empties outside in their special reusable black bag, and they come in the hybrid-powered delivery vehicle to refill or replace as needed. When necessary, dirty containers will be taken, washed and sterilized to be used again. Check their website for complete details on how their service works and what products they offer.
6) Ethos, with locations in Capitola and Los Gatos, aims to serve as a resource for the building of more ethical and sustainable habits in our everyday lives.  They strive to create a positive impact on the community and beyond, for the health and future of the planet, by providing products that support a low-waste lifestyle. Their brick-and-mortar shop, just outside of Santa Cruz, offers a great selection of kitchenwares and personal care products. The ethos of this business is all about empowering consumers to hit the refill and avoid the landfill. (See featured image at the top of this article.)
CENTRAL COAST
7) Small but progressive, San Luis Obispo has a fabulous Natural Food Co-op. Over the years, their bulk section has steadily grown, and today you can even refill your containers with fresh nut butter, local honey, and local olive oil. Of course, they also offer a wide array of local, organic and non-GMO produce.
8) The Secret Garden is a tiny but terrific resource for top-quality teas, herbs, and traditional medicines, all sold in bulk. Remember to bring your own jar.
9) If you're looking for additional ways to reduce waste, Bambu Batu in downtown San Luis Obispo has a great selection of reusable utensils made from durable, sustainable bamboo. Also, check out their water bottles and stainless steel lunch box sets. [2020 UPDATE: Shop closed in Spring 2020.]
10) The Apothecary Refill Station in Arroyo Grande specializes in unscented hand soap, detergent, dish soap, shampoo, and conditioner, and also offers a popular Fragrance Bar made from essential oils and phthalate-FREE fragrances.
SOUTHERN CALIFORNIA
11) In Ventura, the Refill Shoppe has a great selection of bulk products for the bath, home and body. Refill your own containers with soaps, shampoo and household cleaners, and revel in their eco-friendly assortment of natural cleaning products.
12) The SustainLA Refill Station is a mobile operation that provides refill service at different farmers markets and events throughout the southland. In their effort to eliminate disposable plastics, they can refill your containers with packaging-free soaps, shampoos and other cleansers. Visit their website to see their schedule and learn more about their services for catering and special events.
13) Just opened in 2017, BYO Long Beach offers a sensationally sustainable selection of reusable personal items, like water bottles, bamboo utensils, and stainless steel straws. The also carry bulk teas, soaps and cleaning products. As their name suggests, you are expected to Bring Your Own containers.
14) Eco Now prides itself on being Orange County's first Zero Waste Shop & Refill Station. In addition to bulk goods and reusable housewares, the store also features items from local makers and uses beeswax from a local rescue hive. Eco Now opened in the Costa Mesa Anti-Mall in 2019.
15) Naked Frankie was founded by three Women of Color on a mission to increase accessibility to sustainable practice by providing the easiest way to consume refill products. Customers order online and have refill products delivered right to their door. When customers finish the products, they can schedule a free bottle pickup. Serving the Los Angeles area.
ELSEWHERE
If you're not in California, a quick online search will provide you with a wealth of Zero Waste resources in your area, as the movement is spreading quickly across the U.S. and Europe. Here's a great list of Zero Waste Shops in Canada. Waste no time and do it today!
Also be sure to visit our articles on Green shopping in San Luis Obispo, Going Zero Waste with Bamboo and Stainless Steel and Bamboo Toothbrushes.

Zero Waste Products
Make a habit of keeping a set of bamboo utensils in your car, in your purse, in your desk, or all of the above. Our family has been using re-usable To-Go Ware utensil sets for years and we love them. They are durable, easy to clean, and come in a nice carrying case that includes fork, spoon, knife and a pair of chopsticks. They also make sets for the kids, ideal for the lunch box.
Finally, stop throwing away those pesky plastic straws after one use. Instead, you can order a set of 8 stainless steel straws that basically last forever. The set even comes with a nice little brush to keep the straws clean.
Check out this set of three cotton canvas grocery bags from Amazon. Or this set of organic canvas and jute tote bags.
Disclosure: Bambu Batu is a participant in the Amazon Services LLC Associates Program, an affiliate advertising program that helps pay for the maintenance of the site. When items are purchased through our links, Bambu Batu receives a small commission at no additional cost to the customer. It's a free and easy way for you to support a small, family-owned business like ours.


Why is Zero Waste so important?
Some years ago, when I was a junior writer at the SLO New Times, I took a trip to the Cold Canyon Landfill. I was working on what I thought would be a hopeful, uplifting story about the county's fabulous new recycling program. Instead, it was a shocking, eye-opening revelation, one that would leave me with permanent psychological scars.
The sheer magnitude of this modest-sized garbage dump, for a small college town with a population of 40,000-ish, was enough to send shivers through my brain. I watched the trucks come rolling in, one after another, hour after hour. And I could see that our accumulating waste was literally transforming the landscape. I tried as I could not to ponder the number of similar dumpsites littered across the state, the country, and the planet, but to no avail.
Not only is our garbage creating actual mountains, large enough to rival some of the county's most stately landmarks. No, it's worse than that. Of course, for anyone or anything downwind, the stench is unspeakable. And the land itself will be permanently poisoned and unapproachable, for centuries anyway.
But no, it's even worse than that. Landfills like this are major producers of methane. Methane comprises about 20 percent of the greenhouse gases in our earth's atmosphere. And what's more, as a greenhouse gas, methane is about 34 times more potent than carbon dioxide.
And the landfills (as we so affectionately call them) are just where the responsible people's garbage ends up. Don't even get me started on the litterbugs and the islands of plastic and manmade detritus drifting across the world's many oceans. Scientists currently estimate the Pacific Garbage Patch to be somewhere between the size of Texas and the size of Russia!
As you can clearly see, our clever species is literally smothering the planet with garbage. And the Zero Waste movement is but one simple and elegant approach to counteracting this calamitous trend. So what are you waiting for?
FEATURED IMAGE: Ethos Low Waste Shop, in Los Gatos, California.