When it comes to promoting bamboo, our small team does all it can to provide the highest-quality and most informative content on the interweb. We've been working in the bamboo world since 2006, but we obviously weren't the first people to have the idea of endorsing bamboo for all its high virtues. At Bambu Batu, we stand on the shoulders of giants, international alliances like the World Bamboo Organization and INBAR.
INBAR, the International Bamboo and Rattan Organisation, is an independent intergovernmental organization of 48 member nations working in cooperation to promote and advance the sustainable development of bamboo and rattan. Operating formally since 1997 and informally since 1984, INBAR has its headquarters in Beijing, China, and is especially active in Asia, Africa, and South America. The organization supports international research and innovative projects that involve the use of bamboo to relieve poverty and restore the environment.
INBAR as an international coalition
Based in Beijing, China, INBAR also has regional offices in Cameroon, Ecuador, Ethiopia, Ghana, and India. With a total of 48 member states (as of winter 2022), the international network is especially active in the equatorial regions of the globe where bamboo is most prolific.
Originally formed in 1984 as an informal alliance of researchers under the aegis of the IDRC and the Canadian federal government, the "International Network for Bamboo and Rattan" achieved its formal independence in 1997. At that time, the eight founding members included Bangladesh, Canada, Indonesia, Myanmar, Nepal, Peru, the Philippines and the United Republic of Tanzania 
As the coalition grew and evolved, it gradually shifted its focus from research more towards action and projects. In 2016, INBAR adopted its current name, the International Bamboo and Rattan Organisation.
INBAR also works in collaboration with a number of NGOs, including The Food and Agriculture Organization of the UN, CGIAR Research Program on Forests, Trees and Agroforestry, and the International Union for Conservation of Nature, just to name a few.

Bamboo vs Rattan
We generally speak of INBAR in the context of bamboo and bamboo-related activities. But of course, the organization is also very active in promoting the sustainable use of rattan.
Similar in many respects, in terms of sustainability and versatility, bamboo and rattan are only very distantly related. While the 1,400 or so species of bamboo belong to the grass family, Poaceae, rattan refers to around 600 species of climbing palms, or lianas, from the family Arecaceae.
These woody vines are widespread in the understory of Southeast Asian rainforests. Abundant and resilient, rattan is regularly used for making furniture, basketry and other crafts. Because it grows in the lower canopy, depending on other trees, the use of rattan actually discourages deforestation. So unlike many plants of economic importance, rattan protects rather than threatens existing forestry.
Take a look at our informative articles about Plants that look like bamboo (but aren't) and Bamboo vs. Rattan.
INBAR supports bamboo research and action
In the last decade or so, INBAR has grown and expanded its scope to become more involved with significant developments and activities in the developing world. While it still supports research related to bamboo cultivation, that's no longer the area of emphasis.
(Peruse our article on Bamboo Research to discover more resources in that arena.)
INBAR continues to host a wide variety of webinars addressing important issues in the field of bamboo, focusing on different topics and featuring speakers from around the globe and from various sectors of the bamboo industry. Richly diverse, some of their recent webinars have covered subjects like the state of the emergent bamboo industry in Europe and the basics of traditional bamboo weaving.
The organization also offers a panoply of publications. Farmers, investors, policymakers and other potential stakeholders can find a wealth of information about bamboo's ecological advantages, such as carbon sequestration and the development of a green circular economy. They also provide details on the many industrial aspects of bamboo, including the proper management of plantations and the conversion of bamboo into biofuel.

Bamboo case studies in the developing world
Some of INBAR's most interesting and inspiring activities involve the promotion of bamboo projects for poverty mitigation and reforestation in Africa and South America. It's easy to talk about the incredible things we can accomplish with bamboo, but INBAR is one of the few organizations that are out there on the front lines making it happen. They are currently engaged in nearly a dozen international projects.
(Check out our articles on Bamboo for poverty mitigation and Bamboo for reforestation to learn more about these topics.)
Bamboo for sustainable construction in Ecuador
Like many equatorial nations, Ecuador is home to an astonishing diversity of forestry and wildlife. It's also home to great swaths of native Guadua bamboo. But over-logging, population growth and climate change all pose major threats to these precious tropical habitats.
INBAR is currently working with different universities to advance research and innovation with bamboo architecture in Ecuador. In 2021 it created the International Network of Universities and Research Centers related to Bamboo. Building with bamboo relieves pressure on local hardwood forests, creates economic opportunities for local communities, and provides a sustainable alternative to concrete and steel which are major carbon polluters.
The Inter-Africa Livelihood Development Programme
Many are surprised to learn that African has the second largest area of native bamboo after Asia. But the absence of industrial infrastructure and efficient value chains means that most of this bamboo remains an untapped resource.
(Read more about Bamboo in Kenya and Bamboo in Ethiopia.)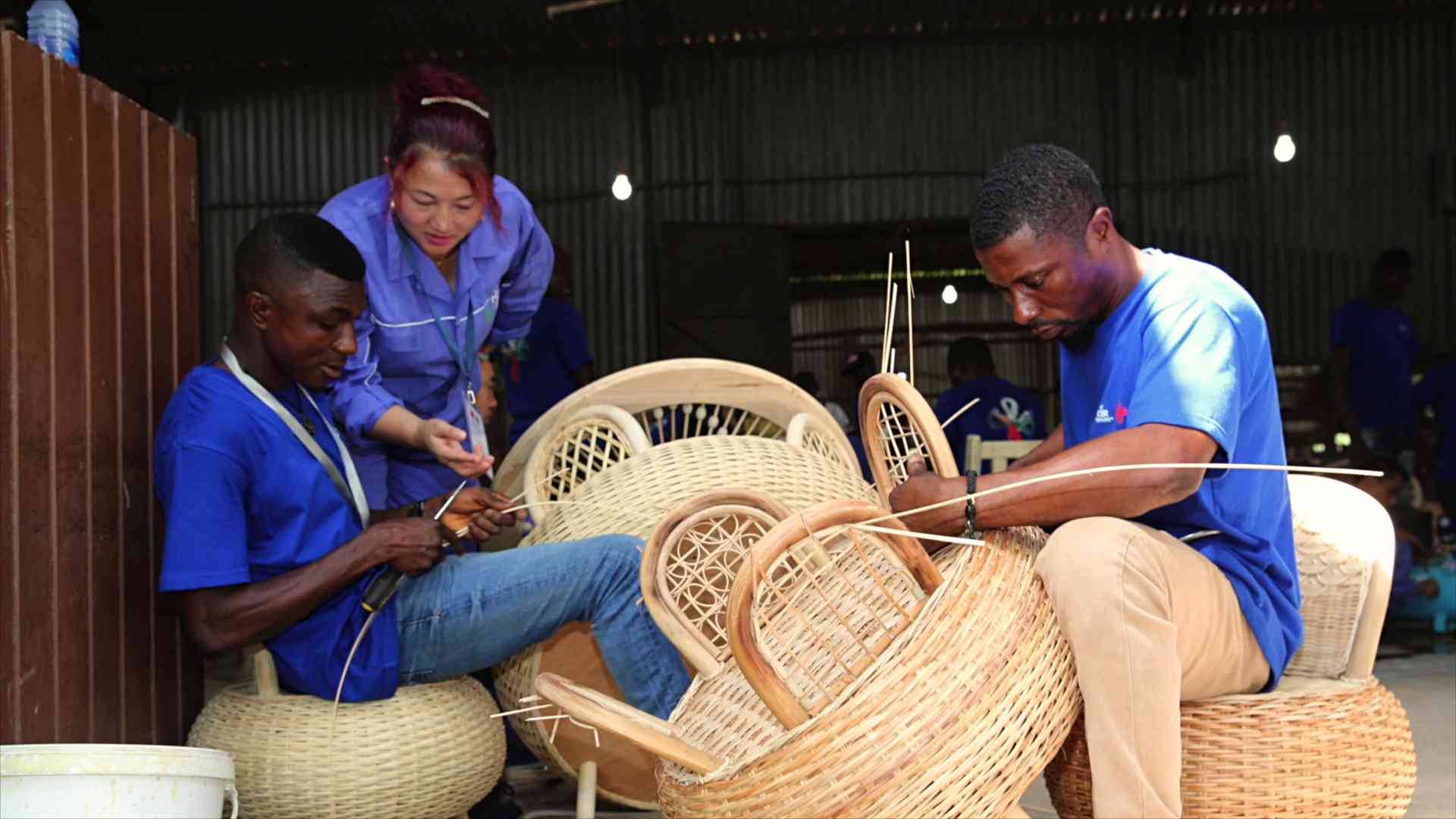 One of INBAR's most ambitious projects is now underway in Ghana, Cameroon, Ethiopia, Ghana, and Madagascar. This wide-ranging program aims to capitalize on the current quantity and value of natural bamboo resources already available in these regions. As part of the project, INBAR is training and educating thousands of Africans about the proper management of bamboo and its enormous potential. At the same time, they are working through political channels to raise greater awareness and promote more favorable policies towards unlocking bamboo's great potential in these economically challenged nations.
Chishui Sustainable Livelihoods
In Chishui, China, INBAR's collaboration with a UNESCO World Heritage Site continues to empower local community leaders, promote sustainable livelihoods, and safeguard natural resources and World Heritage using bamboo cultural products.  
This project aims to enhance sustainable livelihood development of the local communities by strengthening local capacity building and exploring ways for the Chishui World Heritage site to develop both economically and socially within the framework of heritage conservation guidelines by using local bamboo resources.
Get in on the bamboo action
If you're interested INBAR's activities and curious about other groups and events that promote bamboo around the world, you may want to check out some of these interesting articles.