If you've walked or driven up Broad Street near the Mission in the last couple days, you can't possibly have missed the new mural, now virtually completed, by the visual artist and bamboo aficionado known as Pacha. Thanks to her impeccable handiwork, the entryway to Bambu Batu is now adorned with a mesmerizing depiction of the Sanskrit symbol OM in the center of a spellbinding burst of orange and green rays. We can't imagine a better way to say "Welcome Om."
The next logical thing to do is explain the meaning behind this ancient Indian symbol, so often seen, yet so difficult to thoroughly understand. You could always peruse the original Mandukya Sutra of the Upanishads if you want to engage in some serious scholarship. But for a quick and accessible exposition, check out my penetrating essay on the subject: Om is where the Heart is: Meditations on the One.
Bambu Batu: A business with a purpose
Unlike so many other boutiques and nicknack vendors that line Higuera Street in San Luis Obispo, Bambu Batu was always committed to a higher purpose. Operating from 2006 until 2020, we were dedicated to providing the most upstanding, respectable and sustainable line of bamboo products anywhere to be found. As the owner and founder of more than one eco-boutique, it has always been my philosophy that a future of sustainability would be impossible without a culture of responsible consumers.
More than a gift shop, Bambu Batu, the House of Bamboo, was an educational experience. Shoppers came for the seductive smell of Nag Champa, but they always walked away with a greater understanding of bamboo and its astonishing versatility. Where else could they possibly go to discover such a collection of products made from a single plant? Bamboo clothing, bamboo sheets, bamboo towels, and so much more.
Rather than just jump on the latest trend in an effort to make a quick buck, we were also determined to push the conversation forward and promote the conversion towards a more socially and environmentally responsible marketplace. We were careful to study our vendors and their business practices before welcoming their merchandise into our store. In addition to diligently sourced bamboo, we proudly carried hemp and organic cotton products and a variety of Fair Trade crafts and handbags.
Good for the earth, good for the soul
At Bambu Batu, our green commitments didn't end with our merchandise. For me, it was a way of life, rooted in a philosophy of unity and interdependence. And nothing expresses that philosophy quite like the Om, which is why we painted it on our mural and the entrance of our store.
The sacred syllable signifies the sound of all things in the cosmos resonating at once. More importantly, it acknowledges the fact that all things are connected in some state of harmony. Tug on one string here, and the reverberations will be felt everywhere. Cut down an ironwood tree in the Congo, and ramifications will be felt across the globe. At the same time, by saving a tree in the Amazon, a positive vibration will ripple out everywhere.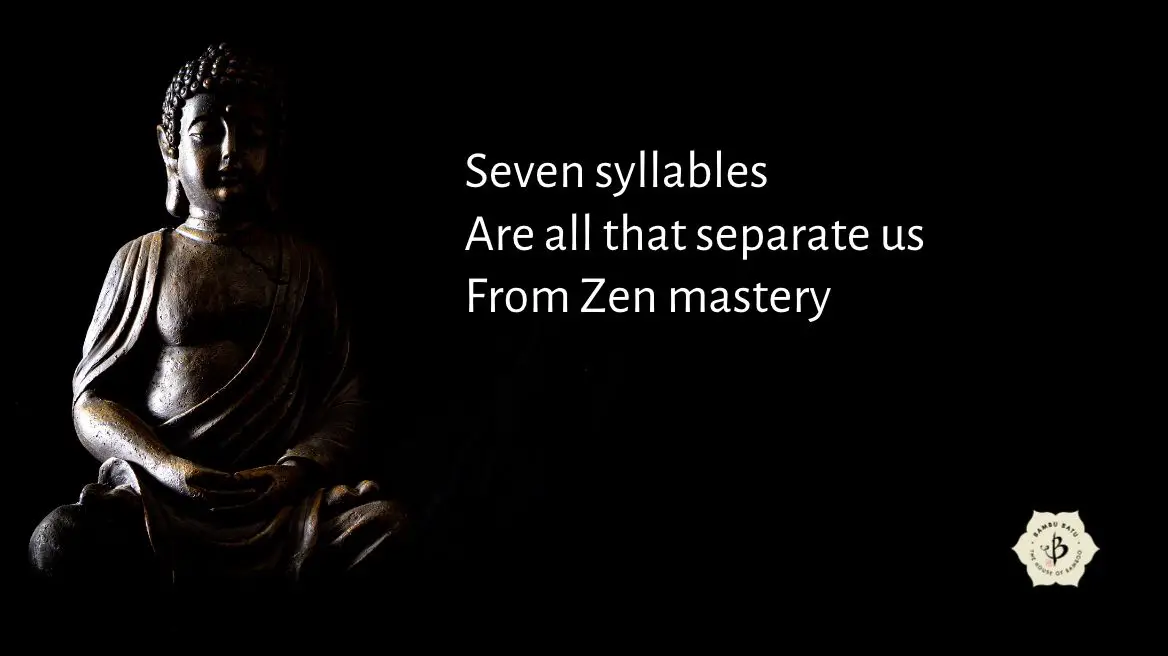 As with trees and nature, so with thoughts and spirits. Speak an angry word, and the negative emotion reverberates into the world. Focus your mind on thoughts of loving-kindness, and that too will radiate outwards. The om is the symbol, or syllable, of this endless vibration. It begins in one corner of the cosmos, and it continues until it circles right back to the point of origin, like a cycle of karma.
Where you understand this level of interconnectedness, the realize the importance of minding your thoughts and actions. Strive to contribute only positive thoughts and actions, and the balance of energy will grow more positive, and in time, that positivity will come to you.
NOTE: This article first appeared in the spring of 2011. Most recent updates were made in May 2022.
Positive living
Bambu Batu permanently closed its doors in 2020, and the Om mural is no longer there. But the spirit lives on. Today our activities in the bamboo industry reach far more people than we ever did in the small town of San Luis Obispo.
Take a look at some of the following articles to learn more about what we do to make a more positive impact on the planet.