The first time you feel the luxurious softness of a high quality bamboo sheet set, you enter a new world of comfort and coziness. Try sleeping on them for a night, and you'll have a terribly hard time going back to the ordinary cotton sheets of your former life. A bit like letting the genie out of the bottle, it's an experience that cannot be undone. The softness, the elegance, the remarkable temperature regulating properties, all of it makes you want to spend the whole day in bed. But it also forces you to ask, how do I take care of this beautiful bedding? How do I keep my bamboo sheets clean, and make them last, without losing that miraculous softness.
Bamboo bedding is truly sumptuous, but washing and caring for it does not have to be difficult. For best results, simply wash your bamboo sheets in the machine on a cool water temperature setting. Then throw them in the dryer on low heat. For best results, and to prevent wrinkling, remove them from the dryer before they are completely dry, and hang them up or lay them flat to finish drying. Alternatively, you can hang the sheets to dry, which is one of the best ways to bring down your utility bills and reduce your carbon footprint. There's no need to use a fabric softer; your bamboo sheets will stay lusciously soft without it.
Support the bamboo movement when you shop for bamboo clothing and bamboo bedding.
Washing bamboo sheets and fabrics
Despite the sense of elegant luxury, bamboo sheets and fabric are not at all high maintenance. Washing and caring for your bamboo bedding and bamboo clothing is actually quite easy. The instructions for best care are actually the same optimal care for any other natural fiber clothing. Simply put, that is, wash cold and dry low.
Washing and drying tends to incur the greatest wear and tear on your clothing. Unless you're a kid who loves to jump in the mud, slide on the grass and fall on the asphalt, most of your damage is going to take place while tumbling in the laundry. And the higher the water temperature, the greater impact on the threads and fibers of your garments. This is true not only for your bamboo articles, but most all of your laundry.
Unless you're washing some greasy kitchen towels and some especially stinky socks, you really don't need to use the high temperature settings on your washing machine. Hot water can help to get the mud, chocolate and grass stains out your kids' shirts and pants, but the way kids outgrow their clothing, you can't expect much of a lifespan out of them anyway.
Drying bamboo sheets and natural fiber textiles
Here is where you want to exercise the greatest caution. Probably even worse than the washing machine, for the longevity of your garments, is the dryer. Just think about all your nice clothing tumbling around in there, practically cooking, for 30 or 40 minutes at a time. And then look at all that gunk in the lint catcher. That great ball of fuzz is the result of your threads coming undone.
So if making your clothing last longer is important to you, then keep your dryer setting on low. A low setting on the dryer also mean less energy consumption and a smaller carbon footprint. And if you're buying bamboo and organic natural fiber clothing, then minimizing your environmental impact is probably something important to you. You'll also want to remove the sheets promptly from the dryer, maybe even before they are entirely dry. This is an effective way to keep them from wrinkling.
If you're really serious about prolonging the life of your bamboo sheets and keeping your carbon footprint to a minimum, then you should avoid the dryer altogether. The dryer is probably the single highest energy consuming appliance in your house. And unlike most other appliances — including cars, dishwashers and refrigerators — dryers really haven't improved in efficiency in the last 2 or 3 decades.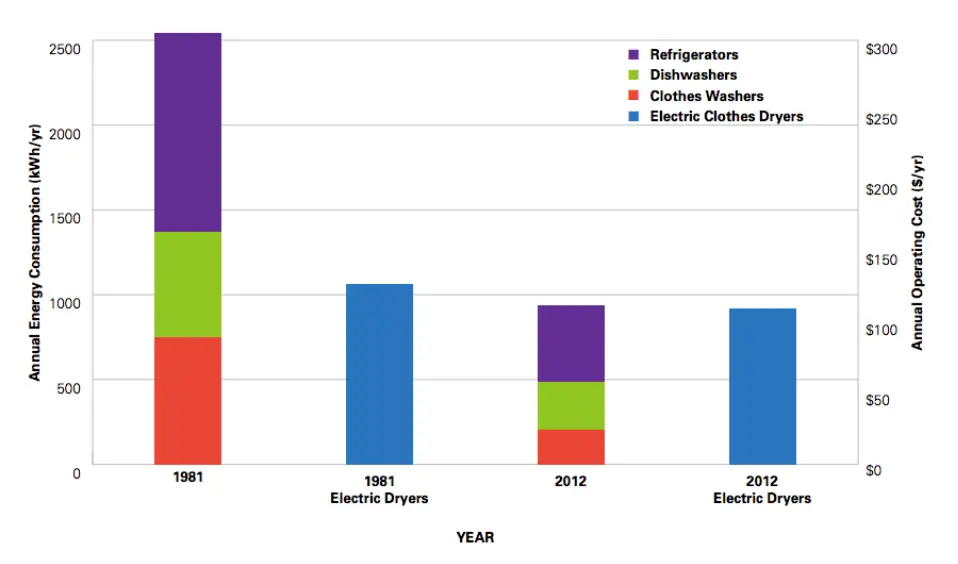 According to the National Resources Defense Council, Americans spend about $9 billion annually to operate their clothes dryers. And, in fact, thanks to outdated technology and a lack of public policy to push the industry forward, a modern American dryer can still use as much electricity as the washing machine, dishwasher and refrigerator combined.
So minimizing or eliminating the time your clothes spend in a hot dryer will not only help your sheets and clothes to last longer, it will also save you money and reduce your personal contribution to climate change.
When bamboo sheets spend more time in the dryer, they wear out faster. And sometimes you'll also get some pilling. Pilling refers to those little balls that form on the surface of the fabric. And as the sheets and garments go in and out of the dryer, more and more of those little balls end up in the lint catcher. And that means less and less of your garment remains intact.
At the very least, keep the dryer set on low. But if you're willing spend an extra 10 or 15 minutes a week hanging your clothes and sheets on the line, you could make a significant dent in both your electric bill and your climate footprint.
Shrinkage when washing bamboo sheets and clothing
Shrinkage tends to be pretty minimal on the bamboo clothing, but it can depend on the specific item. Our bamboo sheets are made 4% larger to accommodate the shrinkage on the first wash. So you will want to wash them before using them for the first time. Otherwise you'll notice that they don't quite fit your mattress right. If you're looking for additional shrinkage, you can dry on high heat once and that should do the trick.
As far as bamboo clothing made from 95% bamboo and 5% spandex, like the BambooDreams® fabric from Yala, there's really no shrinkage at all. Other bamboo articles, like our t-shirts, are usually made with 70% bamboo and 30% organic cotton. These items will have a small amount of shrinkage. Again, one cycle in the hot dryer will get even more shrinkage, if that's what you want.
Wrinkling and ironing bamboo bedding
Many conventional sheet manufacturers actually use formaldehyde to keep their bedding from wrinkling. Formaldehyde is a potent chemical that holds fibers in place. It's also an important substance for affixing plywood and embalming corpses. But it's not something you should be sleeping on. Bamboo sheet manufacturers avoid formaldehyde, and consequently, bamboo bedding does tend to wrinkle a bit more.
The best way to avoid wrinkling on your bamboo bedding is to remove the sheets from the dryer before they are thoroughly dried out. Lay them flat or hang them up to allow the final drying to happen. Wrinkling usually happens when items tumble too long in the dryer, or when they just sit in the dryer (for hours or overnight) after the cycle is finished.
If you need to remove your wrinkles, it is safe to iron your bamboo sheets. Just be gentle. Like the dryer, you'll want to keep your iron on a low or delicate setting.

Retaining softness
There's no need to worry about keeping your bamboo bedding soft. If you follow these basic care instructions — wash cold and dry low — your sheets will stay deliciously soft. We discourage the use of fabric softeners, as these products simply add a chemical coating to your fabrics. And bamboo sheets are plenty soft just naturally. Fabric softeners are an especially bad idea on towels, by the way, as the unnatural coating interferes with the absorbency of the material.
Further reading
If you found this article about washing and caring for bamboo clothing useful and interesting, please consider sharing the link and subscribing to our blog. You might also enjoy some of the these other popular blog posts.